Members of the Board
These Ocean City boardwalk businesses are synonymous with summer.
While there's been a sea change in culinary options along the Delaware and Maryland beaches, the boardwalk is like an old friend. So, when we're tired of fussed-over fennel salads and camera-ready plates of slow-roasted salmon, seaside staples such as Old Bay popcorn and chocolate-covered crabs are always there for us. In ever-fickle beach towns, restaurants tend to come and go with the tide. But these boardwalk businesses—357 years old, in total!—remain constant. What explains their enduring appeal? Maybe it's the salt air that makes us crave things both salty and sweet. Or maybe it's that, without sun, sand, surf, and soft-serve, it just wouldn't be summer.
---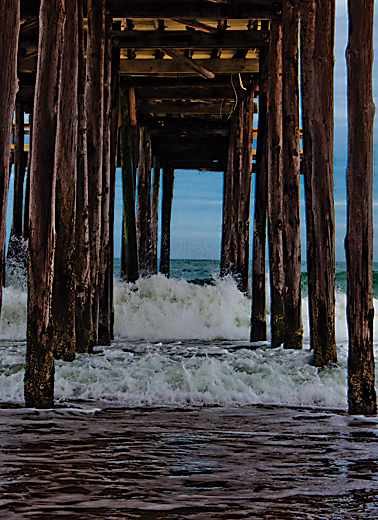 Room and Boards
The Ocean City boardwalk was first built in 1902 as a temporary convenience for oceanfront hotel guests to walk along the waterway or get to the beach. At high tide, it was rolled up and stowed away on hotel porches. In 1910, a permanent walkway was built. It was expanded to its present 2.5 miles after a March 1962 storm washed it out to sea.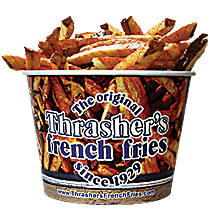 Thrasher's French Fries
Don't look for pizza or hot dogs at this classic fry stand with a trio of Ocean City boardwalk locations and a line down the block. At Thrasher's, the only game in town is spuds. The recipe, unchanged since its opening by J.T. Thrasher in 1929, is closely guarded but includes Idaho potatoes fried in peanut oil and topped with apple cider vinegar. To date, the business has stayed in two families over five generations. "A Thrasher's French fry is what every potato wished it could be," raved one fan to Urbanspoon.
Best Bite: An XL bucket of fries with vinegar. (Duh.) At the Boardwalk Pier in Ocean City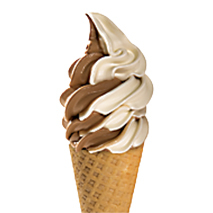 Dumser's Dairyland
In this day of unconventional ice-cream flavors such as bubble gum and strawberry cheesecake, stick with the classics at Dumser's, an OC beacon since 1939. Whether served in a stainless or paper cup or a sugar or waffle cone, flavors such as butter pecan, coffee, and plain old vanilla allow the creamy, dreamy deliciousness of the dairy to shine through. Dumser's claim to fame is that it's served within minutes of being made.
Best Bite: Skip Starbucks and get yourself a scoop of coffee ice cream made with real java and none of that artificial flavor. 601 S. Atlantic Ave.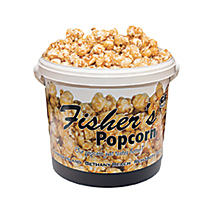 Fisher's Popcorn
As the saying goes, there are plenty of fish in the sea—but on the Ocean City boardwalk, there is only one Fisher's. Founded in 1937 by Everett Fisher, who prided himself on using only the best ingredients, the fourth-generation family business was passed on to his son, Donald, his wife, Calvina, and their children, Cindy, Marty, and Don, Jr., who opened their own shop down the road (and across state lines) on Fenwick Island in Delaware. Customers (including late chicken magnate Frank Perdue) come from far and wide to get their Fisher's fix and the fare is sold up and down the East Coast. "The recipe hasn't changed in 81 years," says Don, Jr. "My grandfather used to say that the secret was the copper kettle and the wooden paddle—everything is mixed by hand."
Best Bite: Go big and order The Big Momma, a 6.5-gallon tin of caramel corn sprinkled with Old Bay. Mother Lode: At Fisher's, corn kernels come from Kentucky. "We buy it by the tractor-trailer load," says Don, Jr. "There's 48,000 pounds in a load and we make more than a ton a week." 200 S. Boardwalk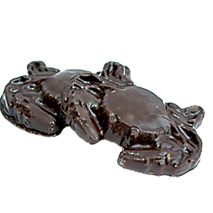 Dolle's Candyland
Dolle's enjoys four locations in Ocean City and a separate store in Rehoboth (owned by a former business partner). The fourth-generation family business was founded in 1910 by Rudolph Dolle, Sr., who purchased a piece of land on the boardwalk at Wicomico Street in Ocean City to open his first sweets shop and a handmade carousel. Though the business turns 108 this year, the recipes for caramel popcorn, saltwater taffy, and fudge—all made on site (even the boxes are made locally)—stay the same. "I eat it every day," says Anna Bushnell, co-owner of Dolle's in Ocean City. "And I just got my first cavity at 39. I was so upset about it, but my dentist said it was my age and not the candy."
Best Bite: Show your state crustacean pride with chocolate crabs, which come in milk, dark, and white. No mallet required. Variety is the Spice of Life: Dolle's originally started with three flavors of taffy: chocolate, vanilla, and strawberry. To date, they have 45. And though the three originals remain their top sellers, banana has seen a recent rise in popularity. 500 S. Boardwalk (and other locations)
Hot Stuff
Necessity is the mother of invention, even when it comes to candy making. Prior to the advent of air-conditioning, candy makers had to diversify their products because chocolate was a melty mess in the summer. For that, other items had to populate the shelves in sweet shops. "Candy makers had to stop making chocolate in the spring," says Tom Ibach, owner of Dolle's Candyland. "The melting point of chocolate is 80 or 90 degrees, depending on what's in it, so they started making taffies, caramels, and brittles—all of which hold up better in the heat."