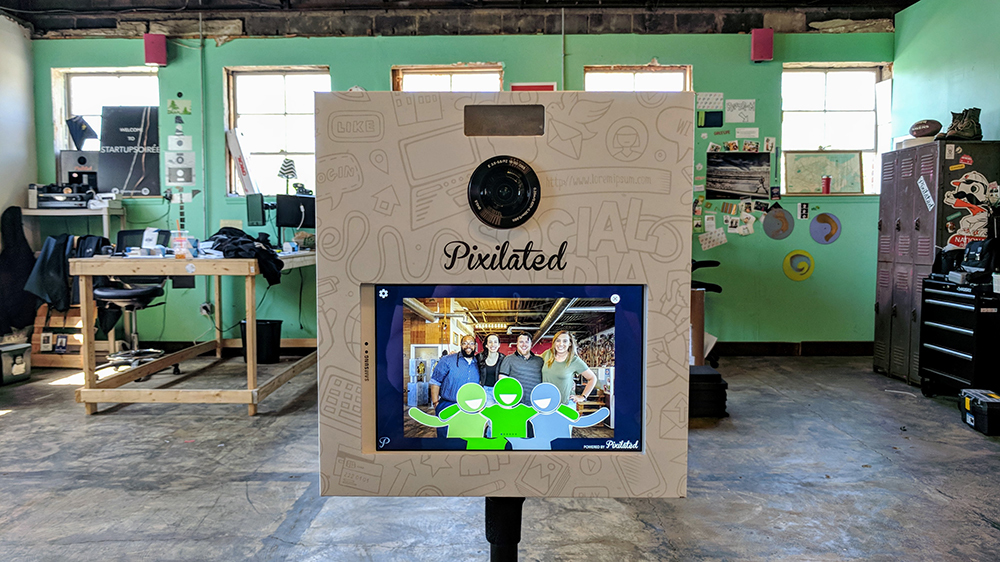 Pixilated
With as little as $100, you can own a part of your favorite local company. Thanks to equity crowdfunding, several Baltimore-based startups are turning to user-focused funding options to help accelerate their businesses in exchange for a portion of company ownership.
Traditionally, only accredited investors with greater amassed wealth or income could invest in private companies, but the Jumpstart Our Business Startups (JOBS) Act was created in 2012 to increase investment in small businesses after the recession. Patrick Rife and Nicolas China, co-founders of Baltimore-based photo booth and marketing technology company Pixilated, are running their first equity crowdfunding round through June 27.
"It's imperative to tap into your tribe," China says. "Our fans shout our praises and help us spread the word, so activating your customer base is crucial. Our customers validate everything that we're doing."
Rather than traditional perks of sites like Kickstarter, like early access to products, an individual investor hopes to see the value of their initial investment appreciate. If the company goes public through an IPO or is acquired by a public company, individual investors can see a return. If the company folds, the entire investment is lost.
Rife and China are using Indiegogo's platform, MicroVentures, and set Pixilated's investment minimum at $25,000 with a $100 buy-in per investor. (Should the company not reach its minimum, investors' dollars will be returned.) To date, the largest individual investment is $5,000 and they feel confident that shareholders will see their investment grow. "If you look at our month-over-month growth and track record, you'll see operators who have the capacity to take dollars and make them more than they should be," Rife says.
Erin Lord has known the Pixilated founders for years and her investment is her first in equity crowdfunding. "Any company bound for success starts with the people who lead it and the team they grow. [Pixilated's team is] rock solid, incredibly creative, and roll-up-your-sleeves hard workers," she says.
Pixilated isn't the only Baltimore company turning to equity crowdfunding. Single-serve coffee company MoJoe Brewing Co. is currently hosting a round that closes on June 22—the largest investment is $5,000 to develop its patent-pending portable single-serve coffee maker. Polling and analytics app Arbit saw a $15,000 investment from one shareholder and raised $700,000. And Artichoke, a client-management service for appointment-based businesses, received a $5,000 single investment and almost $52,000 in total funds.
"The idea of democratizing access to capital markets and allowing actual subscribers to become investors was very much in line with our core belief in including customers in the process at every stage [of growth]," Artichoke founder Justin Shelby says.
Equity crowdfunding may not be right for an individual and may not be the right funding route for a company. Campaigns have to be built within the structure of the selected platform, which can mean reworking executive summaries, exposing financial records and creating additional collateral. Sharing that level of information means that competitors can also see financial statements.
"You're putting everything about the company out there for the world to see," MoJoe Brewing Co. co-founder Joseph Hyman says. "If you don't strategize the dissemination of your intellectual properly, competitors could use the information or you may breach your rights to intellectual property protection."
"The risks of equity crowdfunding are the same as angel investing," Canty Ventures founder Jedd Canty says. (Canty has invested in Baltimore-based startups Hungry Harvest, ReThink Water and Parkofon.) "You should go into every deal thinking there is a 70-80 percent chance you will lose your entire investment." Canty notes that equity crowdfunding investors may also pay a fee to the funding platform and for the management of the investment.
Despite the risk, Maryland investors are taking interest. To date, 26 percent of Pixilated's investments have come from Maryland. Nine percent of its investors are Baltimore-based and MoJoe Brewing Co. has seen as much as 10 percent of its investments from Baltimore. Utilizing the platforms also allows for global exposure—Arbit saw investments from England, Dubai, and India.
A Baltimore connection did play a big part in Arbit's success. When the co-founders of Baltimore-based investment newsletter, Early Investing, recommended the company's equity crowdfunding to its readers, Arbit saw $200,000 in investments in one day. "Rather than having a few institutional investors, we now have 1,300 people who are supporting the growth of Arbit," founder Alex Bullington says. Those shareholders own 14 percent of Arbit's business.
"I think equity crowdfunding works particularly well in Baltimore because there are a lot of entrepreneurial venues like City Garage and Emerging Technology Centers and venture capital and private equity isn't as prevalent," Hylete founder Ron Wilson says. (Wilson is the co-founder of Baltimore-based 180s, which was acquired in 2006.) Wilson shares that Hylete's equity crowdfunding investors spend up to four times as much on products, becoming true ambassadors of the brand.
Rife and China had hoped to see the investment rise more quickly but know that as much as 40 percent of total funds can come in the final week, according to MicroVentures. "We're scrappy. We're from a challenging city to build the type of product that we've built," Rife says. "We're consummate underdogs."