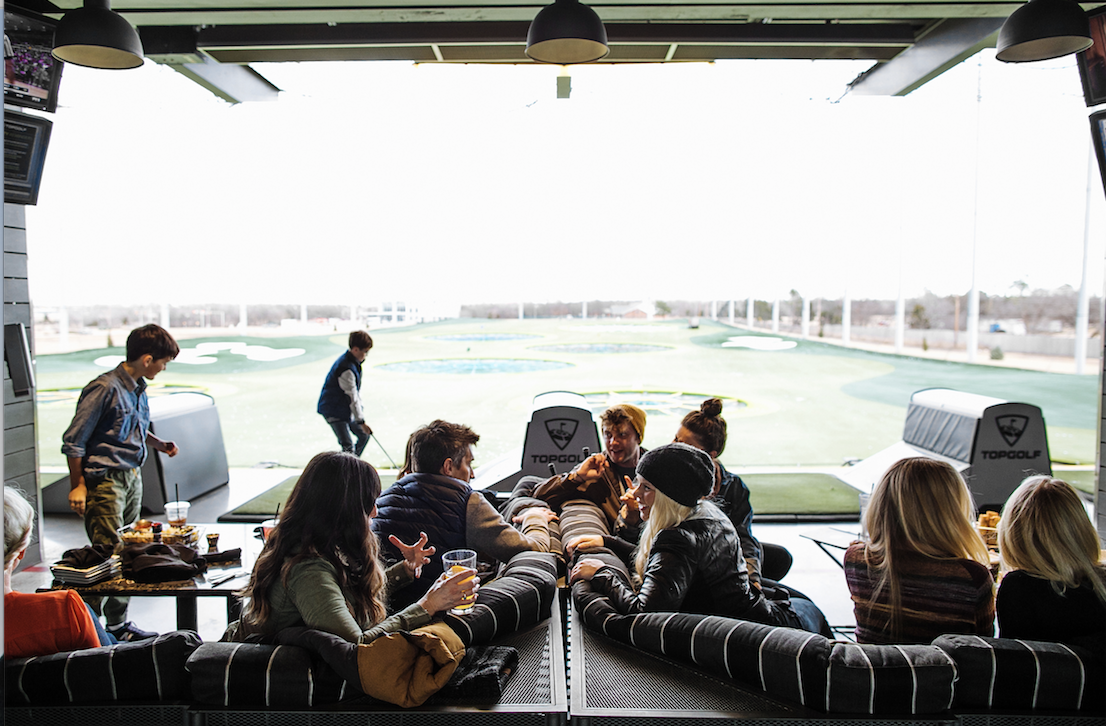 Courtesy of Topgolf
A procession of golf carts drove onto Lot J in South Baltimore this morning, transporting a number of city officials onto a festive green carpet. Among them was Mayor Catherine Pugh, who made a few brief remarks and even participated in a putting contest while posing for cameras.
The fanfare was all to celebrate the upcoming arrival of Topgolf, an interactive driving range with locations scattered all across the country—plus a few in the United Kingdom.
"I can't tell you how excited I am to be able to stop by here and play a little bit of Topgolf every now and then," Pugh said. "But I'm even more excited about the visitors that are going to come here. It's yet another attraction that's going to make a difference in terms of economic development and creating more jobs." 
Expected to debut in 2020, the golfing facility will take over the current home of The Baltimore Animal Rescue and Care Shelter (BARCS) and the adjacent Lot J on Stockholm Street near Horseshoe Casino. The Board of Estimates recently approved a move to a larger home on Giles Road in Cherry Hill for BARCS, which has long been planning to expand its accommodations for animals in need.
"I want to say to Topgolf, welcome to Baltimore. I just wonder what took you so long getting here," said City Council President Bernard C. "Jack" Young, with a laugh. "I've been saying for weeks 'When are we going to get it? Are we going to get this land deal done? And finally, we got it done."
Topgolf is part of a larger vision to transform South Baltimore's Warner Street corridor (from Horseshoe Casino down to M&T Bank Stadium) into a bustling entertainment district with food and drink, family-friendly sports, and live music venues. Charm City's famed rock club Hammerjacks, which announced plans to reopen in the area back in 2015, will also be an anchor in the forthcoming development when it opens its doors next year.
Overseeing the plans is CBAC Gaming, a partnership between Caesars Entertainment, Rock Gaming, and Towson-based developer Caves Valley Partners (CVP). CVP partner Arsh Mirmiran says that the hope is for the district to mirror other entertainment corridors in big cities like Chicago and Atlanta. He anticipates the Topgolf franchise to play a big role in attracting visitors from other counties.
"That's going to be their Baltimore City, Anne Arundel County, Howard County, and Baltimore County destination, and I think downtown will also use it a lot for corporate events," says Mirmiran, who has visited the Topgolf location in Las Vegas. "It attracts a really good mix of people. The diversity of age, gender, and golf ability is insane."
The high-tech concept uses microchipped golf balls that allow participants to compete against one another. Golfers aim for light-up targets on the 215-yard range and earn points for accuracy and distance. Though it may seem like a pro's paradise, the facility offers various games and scoring systems to accommodate all skill sets.
Topgolf COO Craig Kessler assures that beginners shouldn't feel intimidated: "Everyone should come out and give it a shot," he says. "Even if you don't pick up a golf club while you're at Topgolf, there's something in it for you." 
The social component highlights live music and a full food and beverage program with its own scratch kitchen. A sample menu lists shareable eats like warm pretzel bites and tortilla chips with beer cheese fondue, as well as flatbreads, salads, sandwiches, and vegetarian options. Kessler says that the kitchen will also be adding some locally inspired eats to the menu when the Baltimore location debuts. Bartenders will pour local and domestic beers, and shake up seasonal cocktails like a spring sangria or pineapple-mint margarita. 
Construction on the new facility is slated to begin in the fall, with a grand opening estimated for 2020. Officials are looking forward to what an amenity like Topgolf can do for the city's appeal.
"The location here is pretty special," Kessler says. "To be in the hub of the urban environment located next to the stadiums and the casino, there's really nothing like it." 
Mirmiran, who is also currently overseeing redevelopment plans for Cross Street Market in Federal Hill and the multi-phase Stadium Square project in Sharp-Leadenhall, is eager to continue his efforts in South Baltimore. He says it won't be long before visitors start to notice an altered skyline while traveling into the city from I-95.
"As you're coming into town from a visibility standpoint, you're going to see a bunch of new buildings," he says. "It's almost like an entire extension of downtown."