Sea Change
When the first women entered the U.S. Naval Academy 40 years ago, it wasn't exactly smooth sailing.
It's part of the Annapolis civic rhythm: More than a thousand teenagers from every corner of the country descending on the burg for a bittersweet annual affair known as Induction Day. This arrival of the newest class at the U. S. Naval Academy is a whirlwind, as kids have their locks shorn and trade colorful T-shirts and baseball caps for clean "white works" sailor uniforms and "Dixie cup" hats. Bands play, oaths are taken, and erstwhile civilian high schoolers turn into entry-level midshipmen called plebes.
Parents are on hand for most of the spectacle, swelling with pride. And rightly so, given that the Naval Academy's acceptance rate is just north of 7 percent. But there's apprehension in the air, too. Worry over what lies ahead. In the short term, the concern is Plebe Summer—the seven-week, boot-camp-esque baptism-of-fire into the world of naval discipline and a plebe's bottom-rung place in the hierarchy. Sir, yes, sir! Ma'am, yes, ma'am!
Sharon Disher knows this all too well, and not just as an Annapolitan who's gotten caught in the annual traffic jam of out-of-state plates. Forty years ago, her parents delivered her to "the Yard" (as the academy's campus is called) as part of the Class of 1980—the first class to include women since the school's founding in 1845.
On a broiling hot July day back in that bicentennial summer, her arm stinging from inoculations and her eyes welling with tears, Disher threw her Air Force-officer father her first salute. She hugged and kissed the whole clan who'd come out to see her off and joined a swelling stream of white works marching down to dinner at Bancroft Hall, the world's largest dormitory, which dominates the Yard like a run-aground, beaux-arts battleship. Its looming metal door shut behind her.
"I was like, hang it up? Oh really? Just watch me," recalls Sharon Disher.

For Disher, it was her first Navy chow—and her first taste of what life would be like over the next four years. "When I asked to be excused from the table, I did it the wrong way," she says. "An upperclassman stood up, put his knuckles on the table and stared at me, saying, 'I don't like women at my school. I don't want women at my school. It will be my mission to make sure you're gone before I graduate. Is that clear?'
"I'm like, oh my gosh, welcome aboard."
Ultimately, Disher persevered and became one of the first 55 women to graduate from the Naval Academy. And the country has since watched as many of the women from those early coed classes launched brilliant naval careers—becoming admirals, astronauts, and aircraft-carrier fighter pilots. Today, the "armored ceiling" appears broken. But it's still too soon to say all is right between the sexes. Accusations of disturbing episodes at the academy have filled headlines these last few years. Sexual harassment and assault plague the military schools as they do civilian universities. Nonetheless, that plucky band of brave women who made history four decades ago certainly helped steer the ship in the right direction.
On this, the 40th anniversary of women being accepted into the U.S. Naval Academy, the incoming class includes the largest number of female plebes ever enrolled. The 2020 class starts this fall with 331 women, including 19 daughters of academy alumni.
But, no, it wasn't going to be smooth sailing for the ladies who had burst into this 131-year-old boys' club. "Everything we did was wrong because we were girls," Disher says of the days—the years—that followed her initial Navy meal. "Everything. We were fat. We were ugly. We didn't belong there."
Not every male classmate shared this view, but thanks to the power of peer pressure, such gender animosity was the norm. "The females had an incredibly tough time—much harder than I did," says Severna Park resident Tim Kobosko, also a member of the Class of 1980. "I don't think they got treated fairly. There was a lot of groupthink going on and it was unfortunate."
Even the ladies' room wasn't safe. When the academic year began after Plebe Summer, Disher was assigned a new dorm room with a new women's lavatory. A surprise, however, awaited the first time nature called and she closed the stall door behind her. "Somebody had taken a pencil and written on the back of the door: 'Hang it up, bitch!'" Disher recalls.
But this toilet-stall graffiti energized more than it angered. "We never erased it," Disher continues. "We never really talked about it, but we left it there on purpose. I was like, hang it up? Oh really? Just watch me."
It was no coincidence that all this was going down in the 1970s. The U.S. Education Amendments of 1972 included Title IX, which ended sexual discrimination at any education program receiving federal aid. The service academies, including West Point and the Air Force Academy, were ripe plums for women seeking equality. In exchange for at least five years of military service as officers, the academies provide a free, first-rate education—and even small stipends.
Some big guns were opposed from the get-go, however. The giant general of the Vietnam War, William Westmoreland, said accepting women at the academies was "silly," while George C. Scott, the actor who portrayed Patton, the giant general of Word War II, called the concept "tragic." It's perhaps fitting that the Naval Academy doors opened to women in 1976 when academy grad Jimmy Carter was elected to the White House. To be fair, however, it was President Gerald Ford, himself a former Navy man, who'd signed the enabling legislation a year earlier.
Barbara Morris Ives, raised in Langhorne, Pa., and now living in St. Mary's County, was unaware that the Naval Academy was accepting applications from young women until a high school guidance counselor mentioned it to her. She had several uncles in the Navy and initially planned to go to another college through the Navy ROTC program, but was lured to Annapolis by the promise of a more direct route to becoming a Naval officer. She felt male animosity right away, and the intent of many upperclassmen to run the women out.
"Some guys swore the only reason we were there was to get a 'Mrs. Degree,'" Ives says. "Like we'd put up with so much junk just to get married."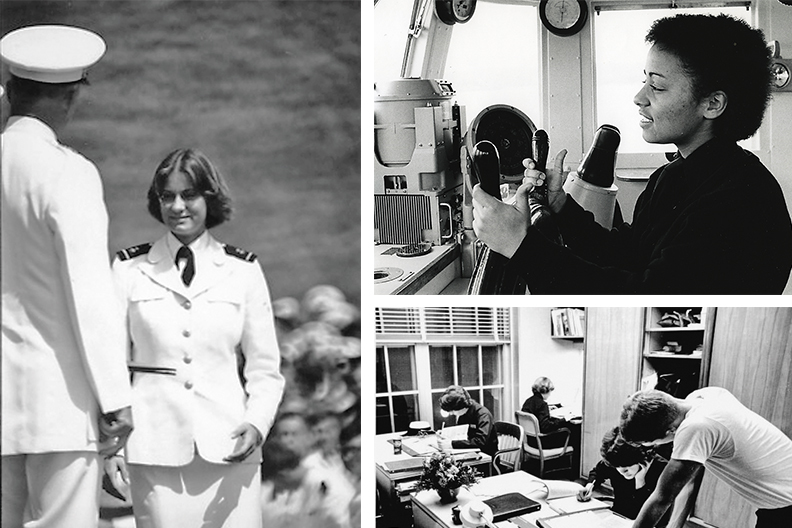 The women, widely dispersed among the thousands of men, experienced isolation within their isolation. Aside from spending time with their roommates, there were few opportunities for women to get together. Ives thinks the Naval Academy brass might have kept women apart by design.
"I think they were worried about what kind of bad publicity they could get if we got together and compared notes," she says. "There were a few midshipmen that were harassing us in ways that were really not good."
"How men and women could interact were limited back then," adds Mary Andrews Gunther, '81, who says being an Annapolis native with eight brothers helped her navigate her four years. She says most of her interactions with men were positive, but acknowledges, "We hadn't developed a sense of how to walk along this mission together."
Disher had grown up loving the mobile, military-brat lifestyle and wanted to serve her country. Poor eyesight kept her out of the Air Force Academy, but she was accepted at West Point and Annapolis. The Navy's greater academic offerings brought her to Maryland.
"The administration did a pretty good job logistically and physically in preparing for us," Disher says of their efforts to put in new bathrooms and arrange housing. The uniform was another matter. The plebes' white works probably hadn't changed since the days of three-masted frigates. Only now the Navy was thrown some curves.
"A number of us girls could not get the square bottom of the blouse [in truth, a men's top] over our hips," Disher says. "We ended up rolling it under and stapling it in place just to get it to sit on top of our hips."
The patent-leather, lace-up shoes were the next problem, as the women's version included a 3-inch heel. Plebes, she adds, pretty much have to run—or "chop"—everywhere they go, stairs included. "Within a week, a lot of the gals had shin splits or were on crutches," Disher says. The women were told to take their shoes to the cobbler shop to have the heels cut down to half an inch. "But now you have a shoe designed for a 3-inch heel that has you leaning backwards with an awkward fit," she adds. Soon enough, all the women were allowed to buy new shoes.
Acknowledging that female plebes would sometimes need to carry feminine hygiene products with them—and not wanting any woman singled out when it was her time of the month—was something entirely new for the Navy as well. In response, the academy initially mandated that clunky, faux-leather purses be part of the women's uniform.
"I'm like, are you kidding?" Disher says. "I had to run up 94 stairs to my room on the fourth deck—and with this big old honking purse banging against me?"
Oddly enough, the guys complained as much about the purses as the women. They figured women could use them to carry study materials and get a leg up on all the required memorization. The purse was soon ditched for a money-belt-like pouch under the uniform—which was also inconvenient. But the tailor shop did resolve the blouse issue.
In 1998, Disher wrote a warts-and-all book about her four years at the academy, called First Class. Much of it deals with the daily struggles and indignities: pies in the face, dead mice in mailboxes, constant name-calling (dogs, dykes, ploobs, oinkers). When Disher joined the cheerleading squad, she roused more boos than cheers.
"Everything I wrote about in the book happened to somebody who told me her story firsthand," she says. Among the more harrowing tales is the story of a woman awaking to find a male midshipman in her bed kissing her neck and pleading for more. Another describes a woman abducted from her room by three male classmates wearing pantyhose over their heads, who blindfolded and gagged her, and drank shots out of her navel.
"We hadn't developed a sense of how to walk along this mission together."

Neither incident got reported. Disher chalks it up partly to the sexually unenlightened times. And then there was the impulse to fit in. "I hazard a guess that anybody who was sexually assaulted didn't report it because we were trying so hard to blend in and show we were not a problem and just another midshipman," says 1980 graduate Stefanie Goebel. "To raise your hand and say you've got a problem is only going to draw attention to your gender and how you don't fit in."
Goebel saw the Naval Academy as a way to launch a "grand adventure underwritten by the government" and escape her dusty hometown of Midland, Texas. It's a feat she accomplished in a 13-year naval career that took her from London to Hawaii to Guam. Now living in Northern California and out of the Navy, she volunteers for Academy Women, a mentoring group providing leadership development and career advice for female officers. That more women are in the upper ranks, she says, makes it easier for women to come forward with sexual complaints.
And they do. Reports of sexual assault have doubled at the academies in the past seven years. For the 2014-15 academic year, the Naval Academy had 25 reports of sexual assault and 13 for sexual harassment.
"It's definitely not good that sexual assault numbers are as high as they are, and it still shows that there is a significant cultural problem," says Goebel. "However, I think the fact that reporting is up could be a positive sign that the women—and men—who are assaulted now feel like they will receive the support they need and see justice when they come forward."
In the end, some of the biggest changes for women in the military came well after pioneering Class of '80. Until the early '90s, women faced all manner of combat restrictions that prevented them from serving on most naval ships or flying most aircraft. A constant cry during the Naval Academy's early coed days was that the women were "wasting space" since they couldn't serve the way men could. Disher, who saw her two sons and her daughter graduate from the academy, says the elimination of combat restrictions brought a "night and day" difference to male midshipmen's attitude toward women.
Of course, graduation day, like Induction Day, was—and remains—a biggie on the Annapolis calendar. Gathering with their families, graduating seniors toss their hats in the air and jets fly overhead. It's smiles all around. But it turns out that the first women who entered in 1976 had one final gender snafu waiting for them on their final day.
As they walked across the stage, they received diplomas bearing their names and the inscription: "The Academic Board confers on him the degree of . . . "
Disher says then Academy Superintendent Kinnaird McKee was mortified by the error and sent apologies to each woman along with their reprinted diplomas. She laughs about it now—about how this typo serves as a symbolic capstone of all they endured.
"I would venture to say," Disher concludes, "that almost all of us women framed the diploma that says 'him.'"