News & Community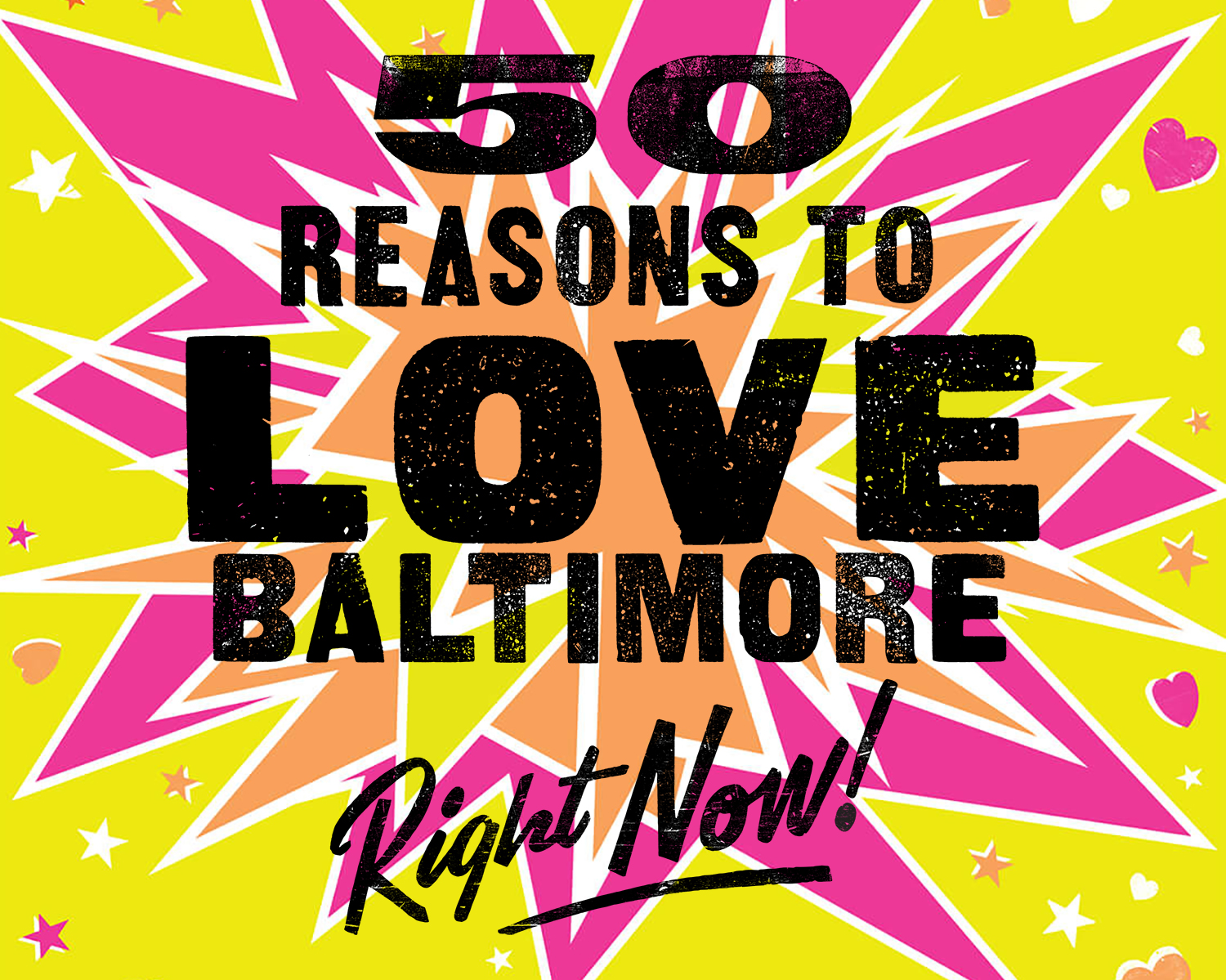 Our completely unranked, unofficial, unobjective love letter to the best city on earth.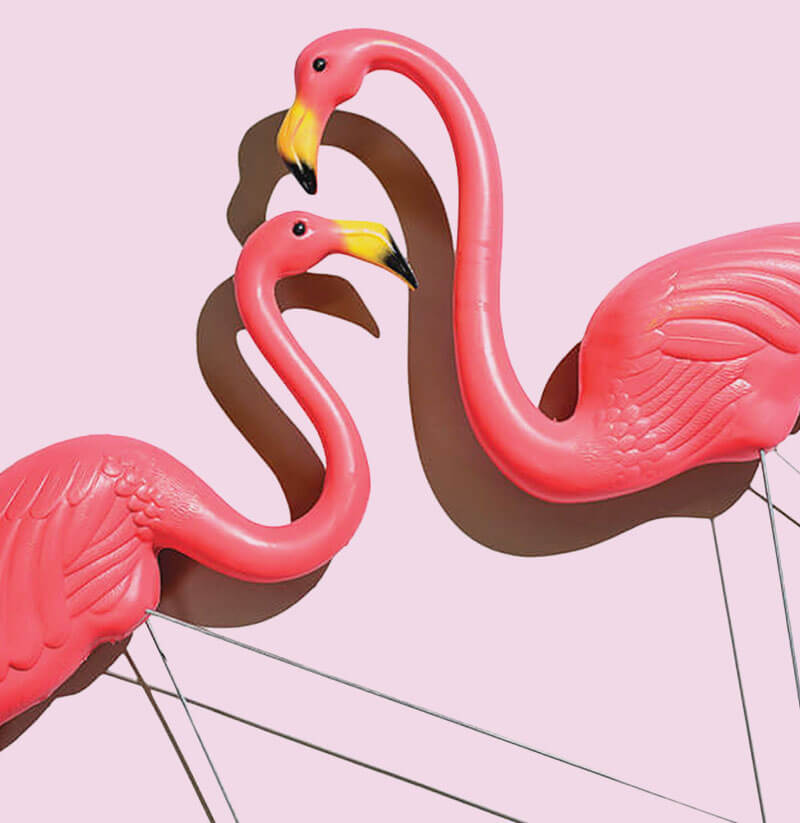 Photography by Christopher Myers
1.

We KEEP IT REAL

Maybe it's our working-class roots, our pink flamingo-ed lawns, or our eccentric hometown heroes (John Waters, anyone?) that give us a strong sense of identity that makes us quirky to the core. But that's really what separates us from other towns of similar size. Unlike some surrounding hoity-toity cities, in Baltimore we have no airs and pass no judgment. From topping our soft pretzels with blue crab to throwing toilet bowl races, we're seriously strange. But a winking neon Natty Boh sign that keeps a watchful eye over Charm City shows just how much we're in on the joke.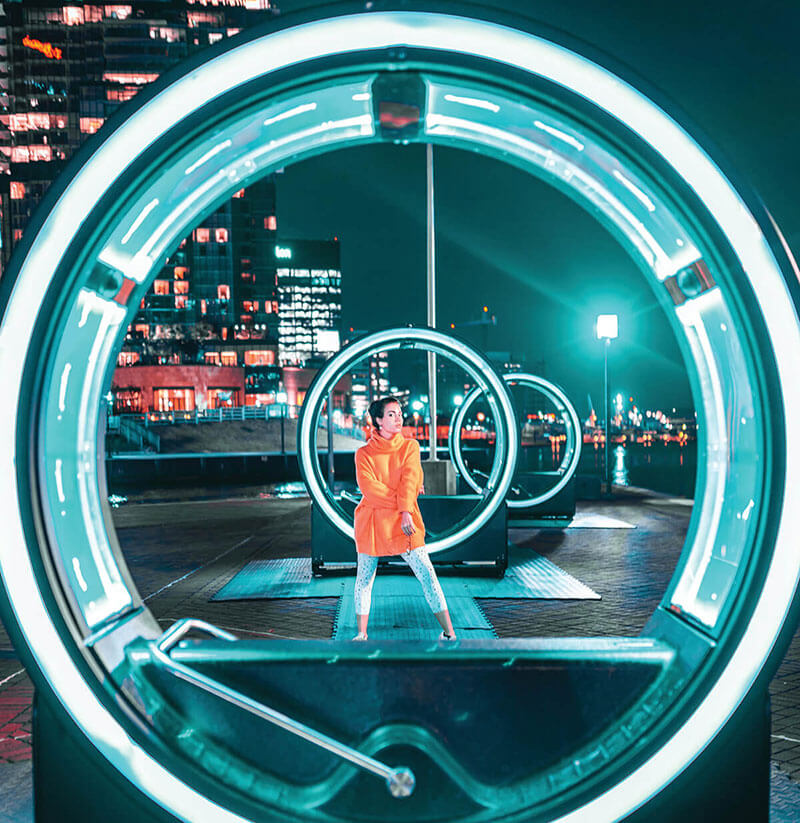 Courtesy of Light City/Jan Galvan
2.

OUR FESTS ARE BEST

Absence makes the heart grow fonder, and that is certainly true of Baltimore's many wonderful fests, most of which were canceled or completely reimagined as a result of the pandemic this year. No matter what your pleasure, Baltimore has a fest for you. The festivals reflect our diversity, not to mention our embrace of the weird, and our die hard affection for our neighborhoods. Where else but in Baltimore can you find a Best Hon contest (a staple of HONfest); elaborate, citywide light displays (Light City, pictured); the running of the pigs (Pigtown Fest); a fest with its own iconic treat (FlowerMart); and festivals named after just about every city neighborhood? Our larger festivals—like Artscape and AFRAM—show off Baltimore at its best: vibrant, multicultural, boundlessly creative, and just plain fun. Here's hoping the fests are back in full force next year.

Spot Illustrations by John Kachik
4.

CODDIES ARE MAKING A COMEBACK

It might sound like sacrilege to say, but there are days when we'd actually prefer a coddie to a crab cake. Though recently out of fashion, the fried salt cod and potato ball has been a Baltimore mainstay since the 1900s, once sold ubiquitously across the city, from candy shops to corner bars. Today, they seem to be making a comeback, and there might be no better example than the classic iteration at Dylan's Oyster Cellar, served with Saltine crackers and an irresistible dijonaisse.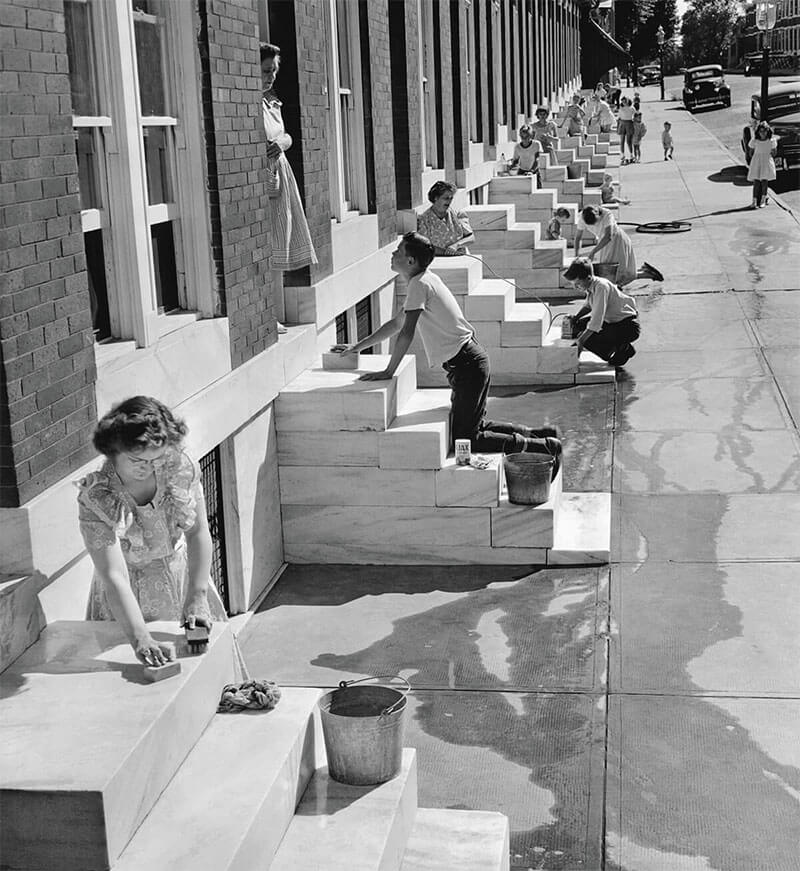 Photography by A. Aubrey Bodine
5.

WE LOVE OUR 'HOODS

Mention the once working-class Highlandtown, and it might conjure up images of homeowners scrubbing their white marble steps. But dozens of Baltimore neighborhoods exude that kind of pride and sense of community, from Mt. Washington, with its active neighborhood listserv—where residents keep a wary eye on everything from community gardens to potholes— to Guilford's beautiful Sherwood Gardens, or artist-friendly Station North. Then there's the 24-7 security and litter-pickup team in Harbor East, the enthusiasm for Charles Village's painted ladies, and those Hampdenites hooked on kitsch. That's the power—and personality—of the people!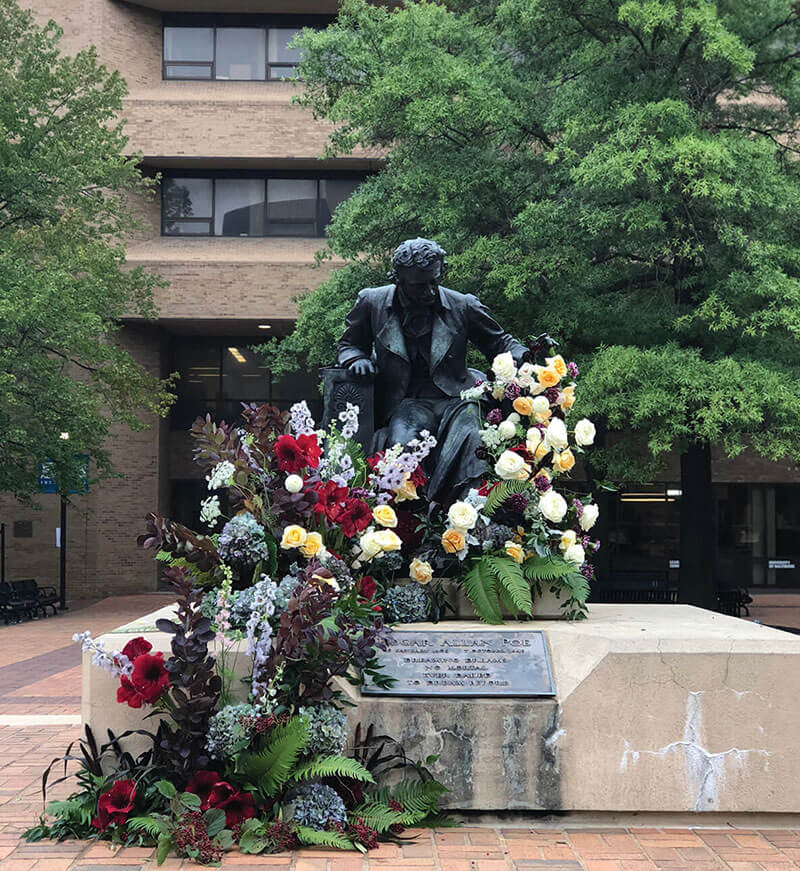 Photography by Courtesy of Steelcut Flower Co.
6.

STEELCUT FLOWER CO. MAKES A BANG

Perhaps you've seen them—the "Greatest City in America" benches draped in hydrangeas and sunflowers or the Federal Hill cannons filled with roses and baby's breath. The florist team behind Steelcut Flower Co. has built a handful of floral "bombs" or "splashes" across the city over the last few years, with whimsical installations adding a touch of public art, natural beauty, and joy to local landmarks, always serving as a little love letter to Baltimore.
7.

We Hang on to our heritage

From our old bank buildings with soaring ceilings to the 19th-century fieldstone factories along the Jones Falls, to some rare examples of historic iron facades, Baltimore is a town that preserves its architectural roots. We rarely tear stuff down, but instead readapt the classic old structures, turning them into hip restaurants, high-end condos, or unique office spaces. And it makes those spaces—and the city as a whole—feel a lot warmer, even a little more Old World, than the endless steel and glass monstrosities in other metro areas that reflect the glare of the sun, but not history.
8.

PIRATE RADIO CONCERTS BROUGHT LIVE MUSIC DURING THE PANDEMIC

How do you safely host an outdoor concert during a pandemic? Trade in the stage for a boat, of course. Just when we thought all hope of attending traditional shows was lost, the masterminds at WTMD and Stages Music Arts teamed up with Urban Pirates to organize these floating performances against the backdrop of the sparkling Inner Harbor. Since launching in August, masked groups have gathered along the shore, from Canton Waterfront Park to Locust Point, to enjoy the music.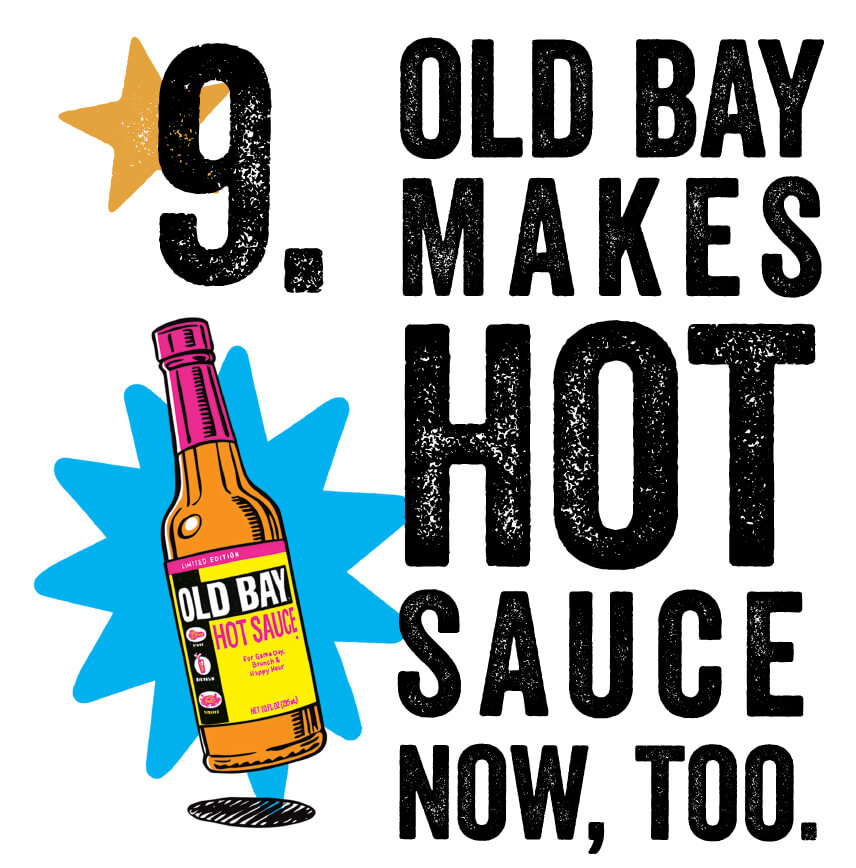 Spot Illustrations by John Kachik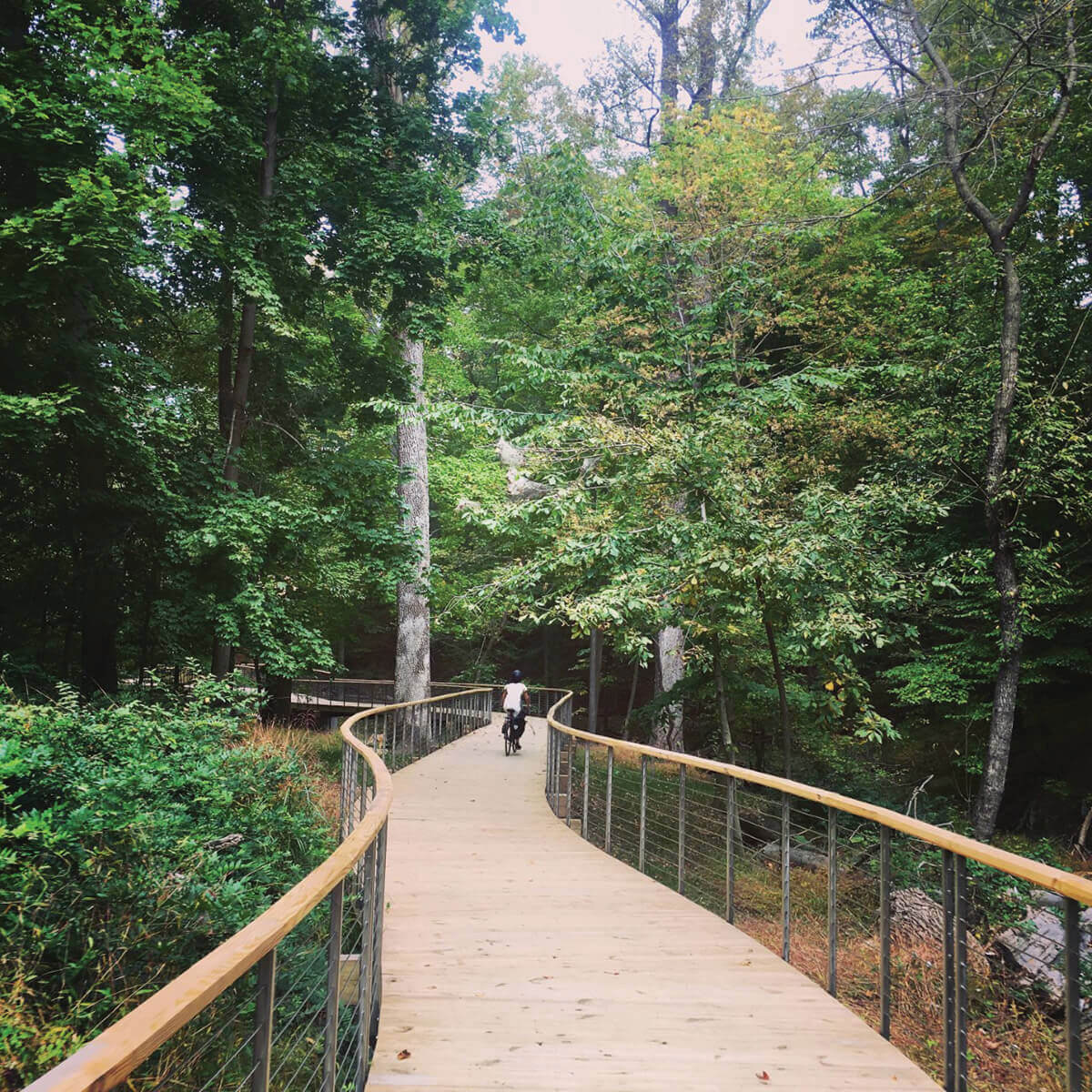 Photography by Ron Cassie
10.

Trails Are Cooler Than Roads

The Baltimore area boasts some terrific multipurpose paths for biking and walking, most notably the 20-mile Torrey C. Brown Trail and the 13.7-mile Baltimore and Annapolis Trail. In the city itself, the 15-mile Gwynns Falls Trail offers a unique trek through green sections of Southwest and West Baltimore. Now, with the completion of its final phase—from Cylburn Arboretum to Mt. Washington—the Jones Falls Trail provides city bicyclists, joggers, and stroller pushers with another top-notch example of trail infrastructure for local for exercise and/or bike commuting. Officially, the 11-mile Jones Falls Trail starts down at the Baltimore Visitors Center at the Inner Harbor, but it really gets fun as it heads up through Druid Hill Park and then past Woodberry's Rockrose Park. From there, it travels by the arboretum and then up through its new wooden bridges, winding through a small forest before reaching Mt. Washington. After that, it's just a short hop over to the Corner Pantry for a bite or the Ivy Bookshop's new location for a read.
11.

STREATERIES HAVE SPRUNG UP

As restaurants opened for outdoor dining, a new trend began to take shape. Suddenly, "streateries," with their socially distanced tables—along with yards of string lights, umbrellas, and greenery—sprouted up all over city streets, sidewalks, and public plazas, allowing restaurants and cafes to serve customers safely. (Shoutouts should also go to our government officials for cutting through the red tape by bending permit rules and hastening processing times for applications.) From Cazbar in Mt. Vernon to Kooper's Tavern in Fells Point, outdoor dining has never been more appealing—and whole 'hoods feel like they're throwing one big festive street party. In a post-pandemic world, we hope this idea sticks around for a while.
12.

Single Carrot Continues to Redefine Theater

Last year, Single Carrot Theatre left behind its Remington performance space in search of a different type of theater experience. And when COVID took over the spring performance season, boy did they get one. But the ever-innovative team continues to adapt and impress. After a fully outdoor performance of the interactive yet contact-free Keep Off The Grass: A Guide to [something] this fall, the company will return in the new year with Healthy Holly's Hidden Hideaway, a cheeky mystery that takes place entirely via calls and texts. We can't wait to see what they think of next.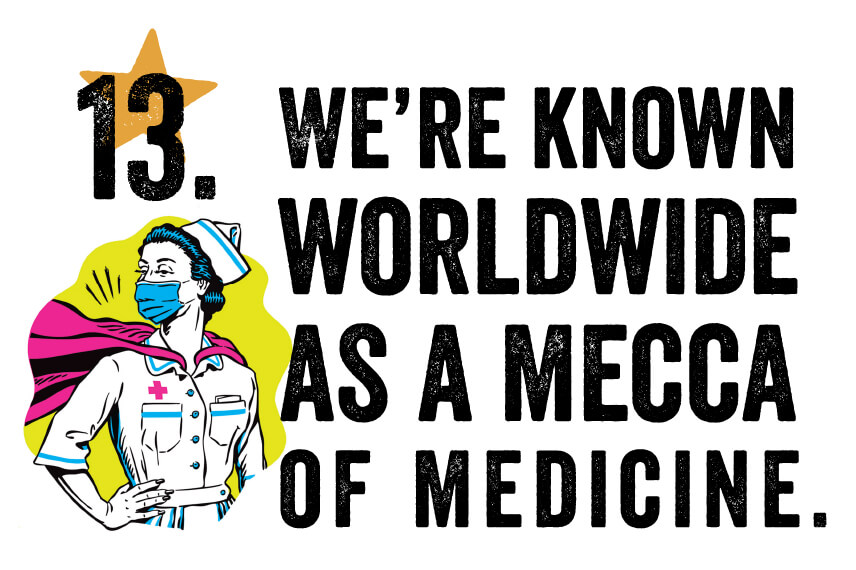 Spot Illustrations by John Kachik
14.

We're Fans of Sail in the City

Thanks to the nonprofit Downtown Sailing Center (DSC), sailing isn't just for wealthy types with waterfront properties. Located at the Baltimore Museum of Industry on the south side of the Inner Harbor, DSC has something for just about everyone. That includes recreational sails and adult instruction, youth camps, outreach programming that incorporates STEM curricula, and sailing-instructor certification. There are also programs for those with disabilities. And companies can play, too: Think corporate outings and team building, racing, and cruising. Come sail away!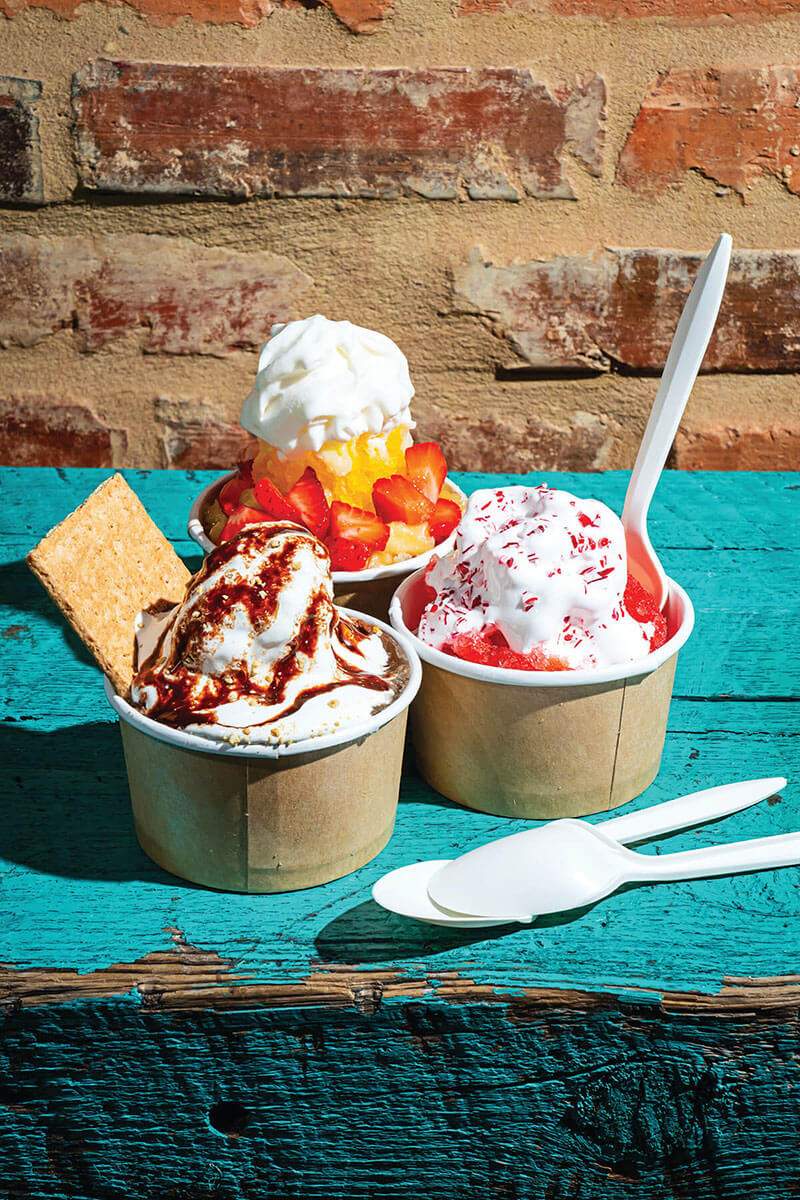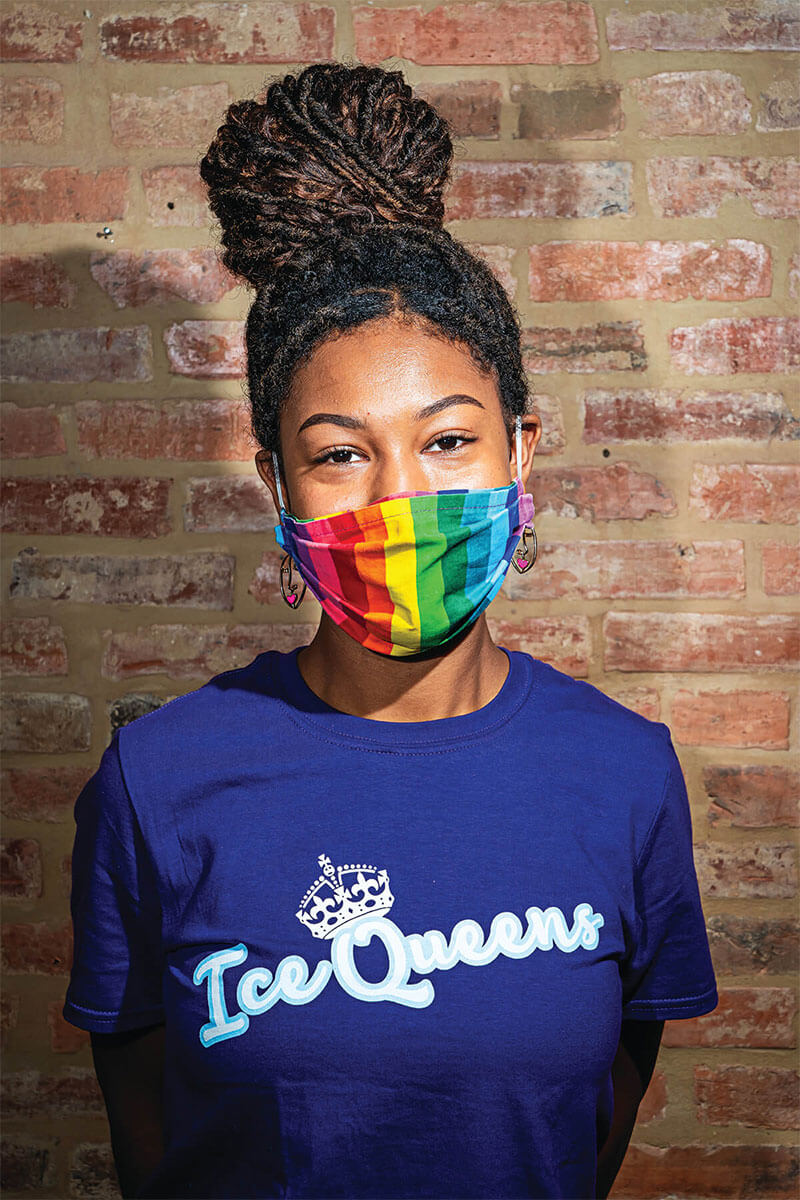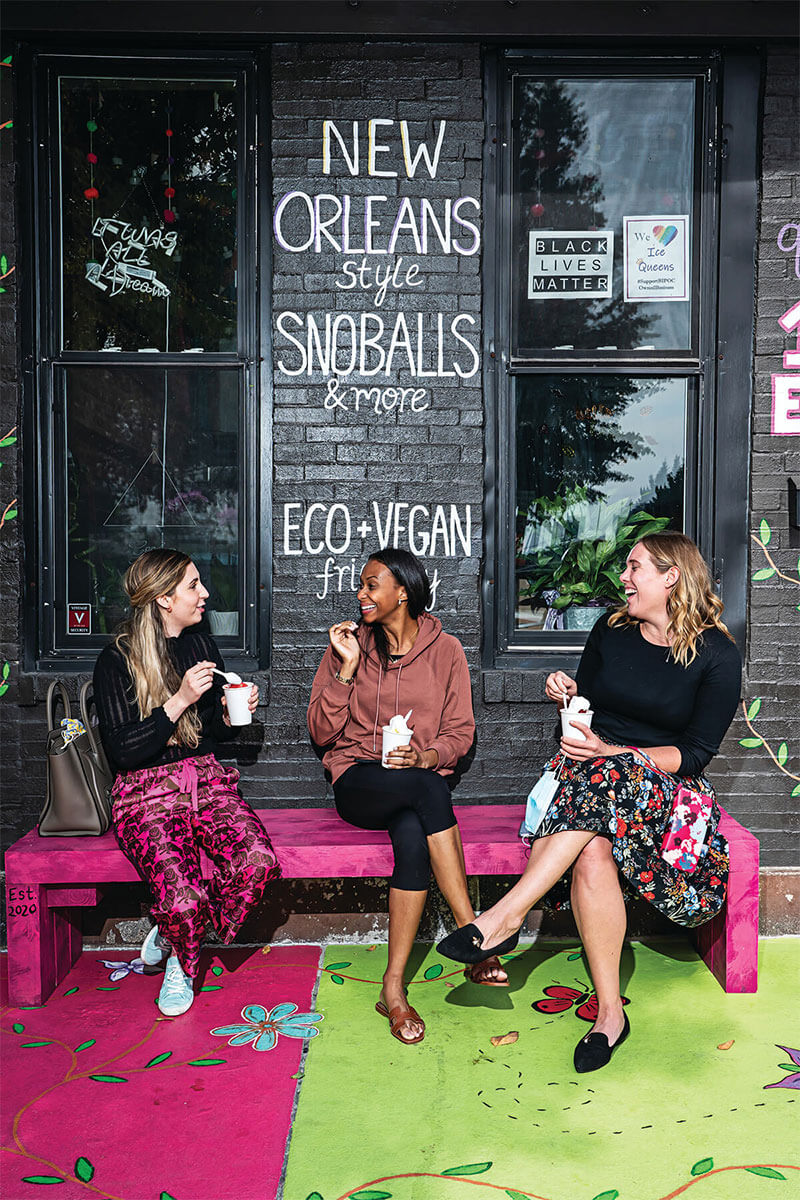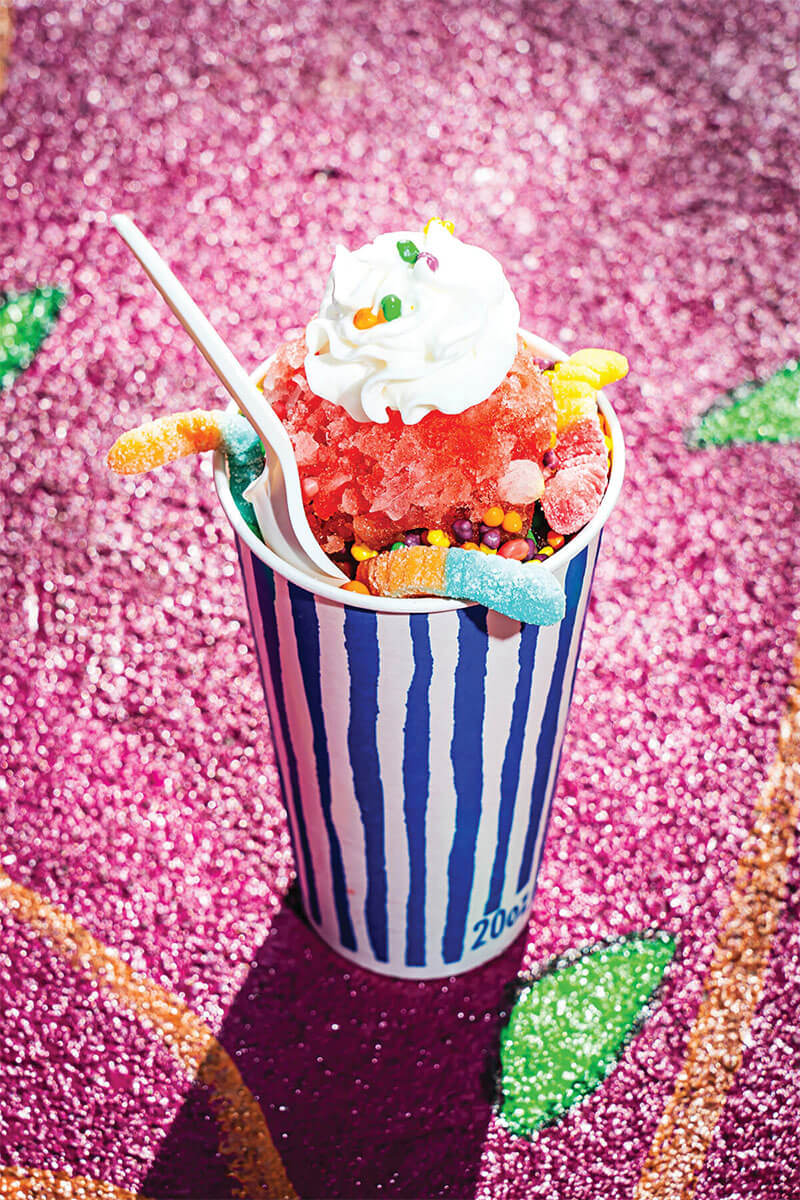 Photography by Scott Suchman
15.

WE CAN EVEN RALLY BEHIND A NEW ORLEANS SNO-BALL STAND

When Ice Queens opened in Locust Point Memorial Day weekend, the pandemic wasn't their only obstacle. Perhaps even more challenging was the fact that they were bringing a New Orleans-style sno-ball to snowball-obsessed Baltimore. Who the heck spells a snowball like that? For clarification, a sno-ball is a Louisiana confection made with finely shaved ice and flavored cane sugar syrup—the ice is soft and fluffy verses a traditional snowball that is coarse, crunchy, and granular. (The idea is that a sno-ball better absorbs the syrup—but that's a discussion for another day.) And the corner store soon won over the neighborhood, especially during the dog days of summer, when kids would ride up on their scooters and bikes and safely wait for their desserts topped with whipped marshmallow and gummies and fresh fruit and sprinkles. So it was super upsetting when the Black-owned business became the target of repeated racist incidents, from property destruction to items being thrown at customers. Community support swelled (as did the lines), and the establishment felt the love. Owner Dasia Kabia is still serving her treats (including seasonal flavors such as Cinnamon Stick and S'mores and, if you're lucky, made-to-order beignets) at least through December, when all snowball stands must disappear like Brigadoon until the spring.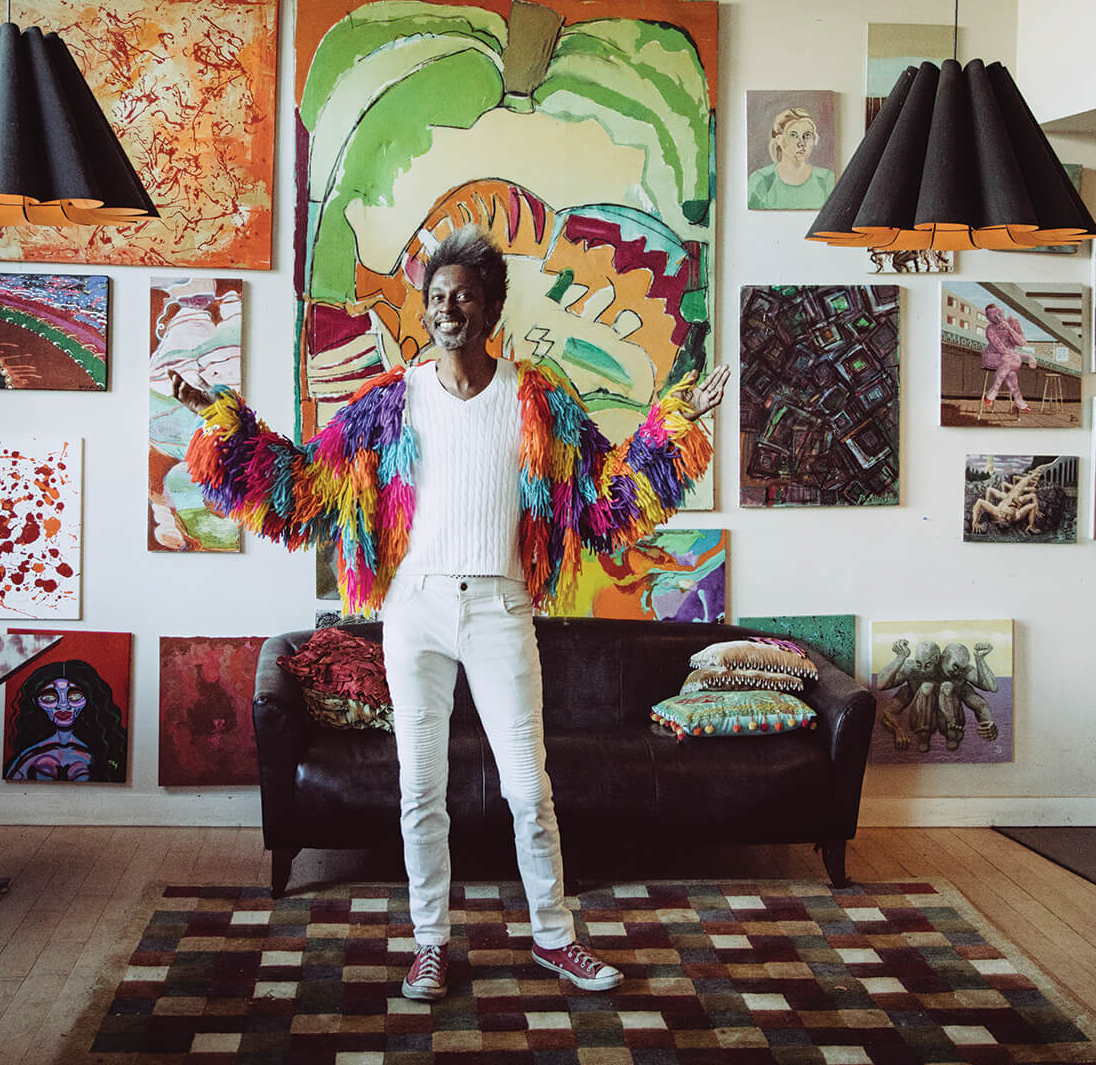 Photography by Schaun Champion
16.

KEVIN BROWN IS THE POPE OF STATION NORTH

The colorful longtime head chef and co-owner of Nancy by SNAC on North Avenue (he calls his spot "Baltimore's cultural canopy"), Kevin Brown has served on the board of directors for Station North Arts for more than a decade. But his history with and commitment to the city arts district—along with that of his partner and cafe co-owner, Bill Maughlin—dates back much further. In the early 1990s, Brown opened his first cafe, The Metropolitan Theatre Cafe at NIRVANA, in what was then known as Charles North. In 2006, he opened the Station North ARTS Cafe Gallery, which has since morphed into the current restaurant, arts space, and salon—and that's salon in the classic sense of the word, meaning a gathering and discussion place for people from Baltimore's arts, business, nonprofit, education, and media communities. Brown, who is a playwright as well, is also the founder of the National James Baldwin Literary Society, and deserves a shoutout for introducing, and reintroducing, an incalculable number of Baltimoreans (and others) to the great writer's work. That said, it's Brown himself and his sparkling sense of fun and "artmosphere," as he puts it, that is the best reason to visit the arts cafe and gallery. Oh, and you won't be disappointed by the southern-style breakfasts and lunches at his cafe, gathered from six generations of family traditions, recipes, and a commitment to "small batch from scratch" cooking.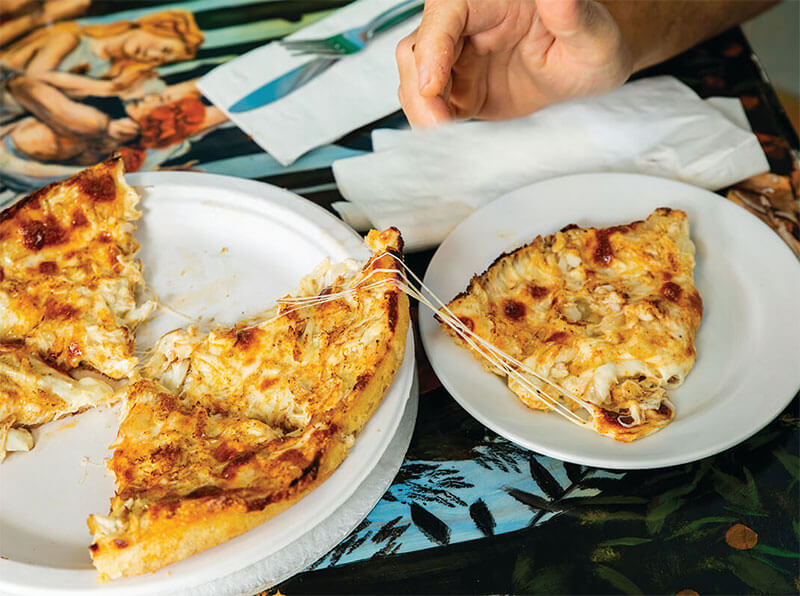 Photography by Justin Tsucalas
17.

THE CRAB PIE AT MATTHEW'S EXISTS

If crab pie didn't exist we would have to invent it—which is exactly what the folks at Matthew's Pizza did, a little more than 10 years ago. It seems strange that it took so long, considering that New Haven White Clam Pizza has been a thing since the '60s. After all, as is well documented, anything that's good with clams is even better with crab. (Not that we're biased or anything.) The Matthew's recipe is deceptively simple: crabmeat, two kinds of cheese, chopped onion, all baked into a gooey symphony on top of their crunchy, bready pizza dough. Full disclosure: The crabmeat here is pasteurized. We're okay with that. Marylanders will take their crab any way they can get it.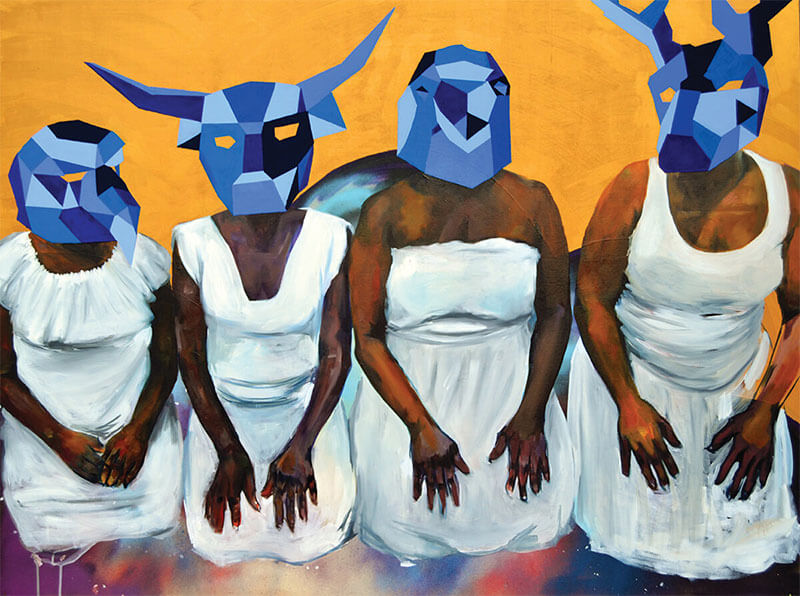 Summoning, 2020, Acrylic, Aerosol, Oil, Flashe on Wood Panel, by Shanequa Gay/Courtesy of Galerie Myrtis
18.

FROM STREET MURALS TO GALLERY WALLS, DIVERSE ART SHINES HERE

In this time of reckoning, our city's cultural stewards are working to both lift up BIPOC artists and preserve the moment for future generations. From Mickalene Thomas' A Moment's Pleasure proclaiming "Black Lives Matter, errday, erday, aerday!" at the BMA, to the reopened Reginald F. Lewis' plans to chronicle oral histories of Black Marylanders living through our current crises, there are myriad options for experiencing and supporting BIPOC art and culture. And though COVID has kept many away from viewing works in person, virtual events offer wider access to exhibitions such as SHAN Wallace, Akea Brionne Brown, and Savannah Woods' Close Read (a collection of video pieces inspired by the AFRO archives) or Galerie Myrtis' Women Heal through Rite and Ritual, pictured, which highlighted women's roles as "custodians of traditional African and Mexican religions and customs." Whether in person or virtually, there has never been a better time to explore what these spaces have to offer.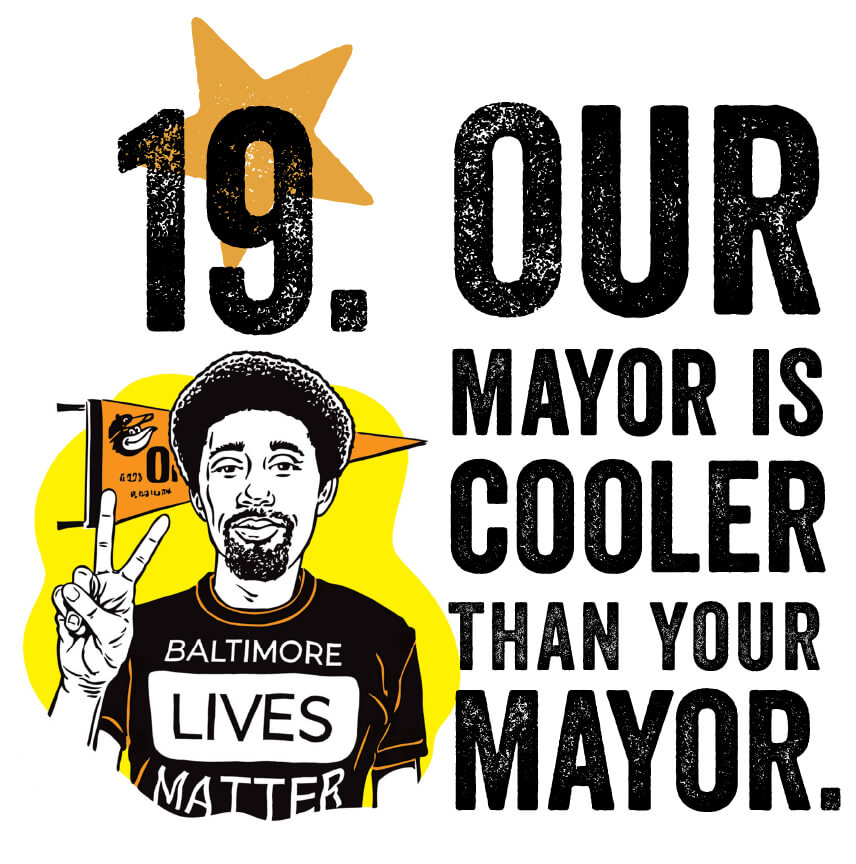 Spot Illustrations by John Kachik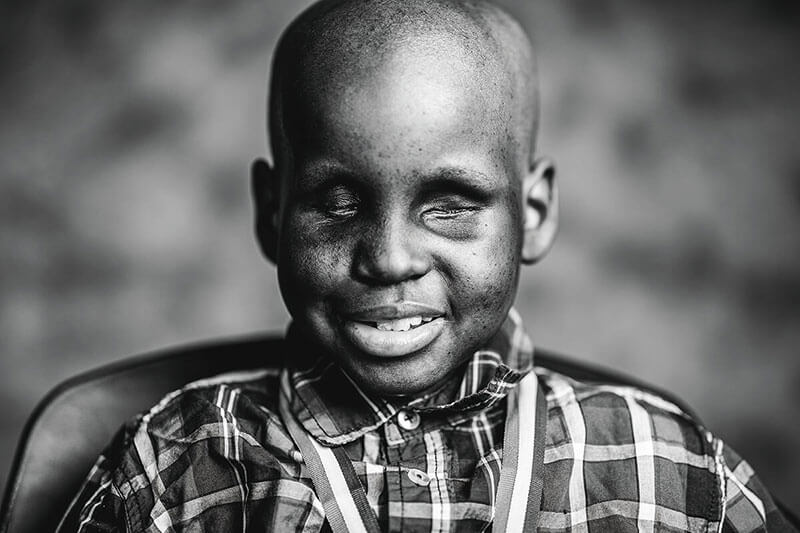 Photography by Shawn Hubbard/Flashes of Hope
20.

WE ALL LOVED MO GABA

When Mo Gaba, the 14-year-old sports superfan whose lifelong battle against cancer never dimmed his spirit or smile, passed away this summer, Baltimore mourned collectively. Gaba's quick wit, gentleness, and indomitable good cheer was something of a lodestar for us all. And our local sports teams responded accordingly: The Orioles inducted Gaba into the team's Hall of Fame mere hours before his passing. The Ravens filled one entire section of the stands for their first home game with cardboard cutouts of Mo's likeness—Mo's Rows they called them—and even painted the M and O of "Baltimore" in the end zone gold as tribute. To Mo, the players on those teams were his heroes. To those of us in Baltimore, Mo was the real hero.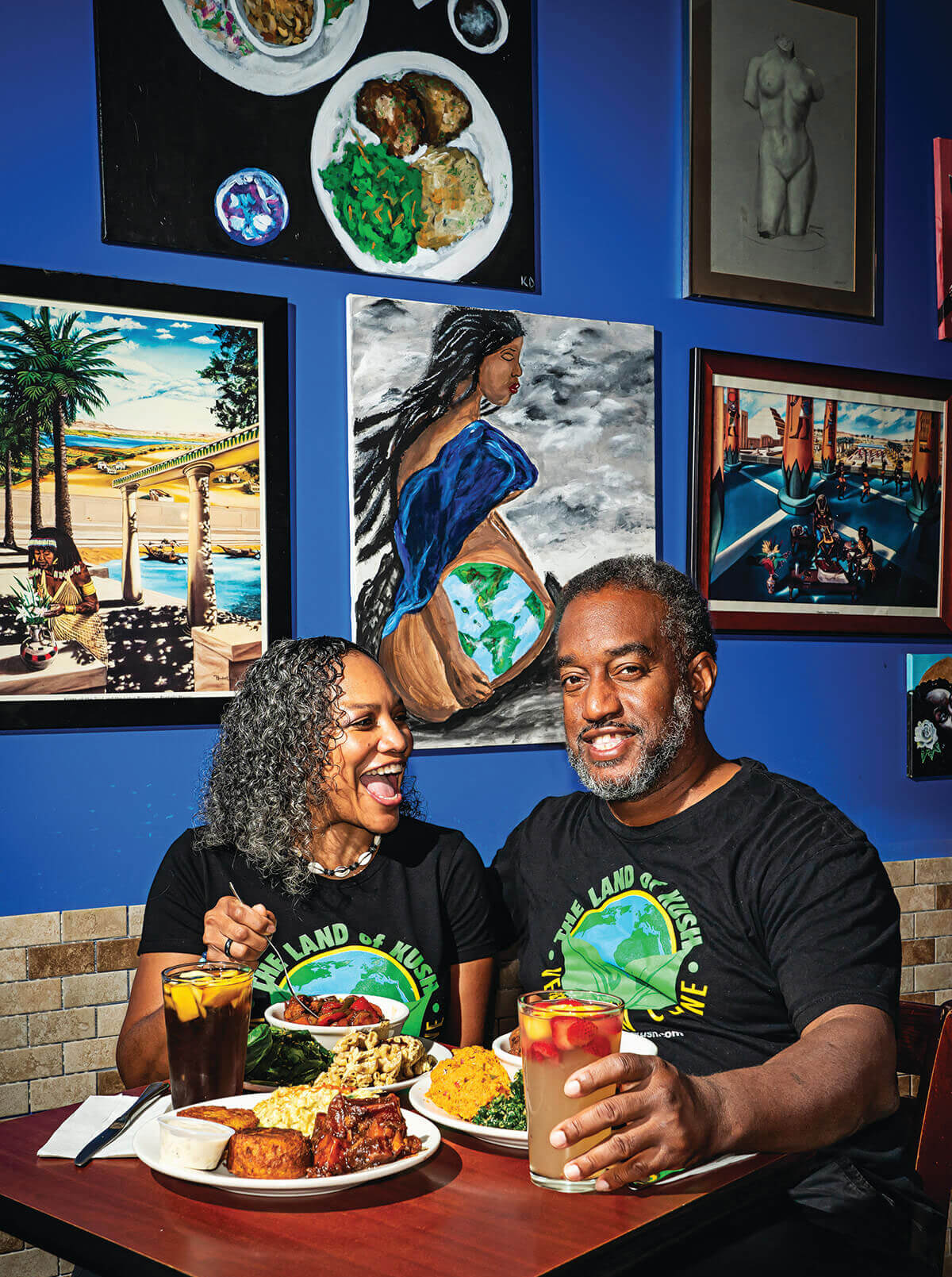 Photography by Scott Suchman
21.

WE'RE SMALLTIMORE

Everyone knows what Smalltimore means: If you've lived here long enough, you can't seem to go anywhere without running into someone you know. Mostly, the term is used affectionately, a sign of our friendly ways. But sometimes it's used pejoratively, because our Smalltimore networks are often segregated along racial and socioeconomic status. (The good news is, we're seeing improvement on that front.) In terms of square miles, the city is indeed one of the smallest big cities in the country. And we all know that most of us live in our tightly knit, distinct rowhouse neighborhoods. This intimacy—enhanced by our beautiful parks, the harbor, and gardens—engenders a sense that the city is truly home.
23.

THE WAVERLY FARMERS MARKET KEEPS THE CITY FED

This spring, when the global shutdown led to apocalyptic grocery aisles, both city and county dwellers made their way to the 32nd Street Farmers Market, where no signs of food shortages were in sight. As many other markets chose to wait out the pandemic, this year-round Saturday gathering in Waverly kept calm and carried on, providing their community vital access to fresh meat, dairy, and produce, and showcasing the strength of a local food system.
22.

VEGAN SOUL FOOD HAS FOUND A HOME HERE

The award-winning vegan soul food restaurant The Land of Kush, which sits on the western edge of Mount Vernon, has long been a go-to for in-the-know Baltimoreans, not to mention the likes of Angela Davis, Russell Simmons, and Stevie Wonder. Everything on the menu, dare we say, we love, but especially the restaurant's weekend special vegan crab cakes—made with a mix of Old Bay and seasoned, textured vegetable protein and pan-fried in olive oil. Two years ago, it was voted one of the top 10 vegan seafood dishes in the country by the advocacy organization People for the Ethical Treatment of Animals (PETA). The restaurant, which offers small tables and counter stools for dining-in, has always done brisk carryout business, making it feel even more indispensable than ever in recent months. When chef Gregory Brown and his wife and coowner, Naijha Wright-Brown, pictured, launched The Land of Kush in 2011, it seemed like a radical concept, but to its credit, the restaurant has helped build a burgeoning vegan soul food movement in Baltimore while remaining as fresh and unique as ever. Wright-Brown, who co-created the annual Vegan Soulfest and Maryland Vegan Restaurant Week, also now serves as executive director of the Black Vegetarian Society of Maryland. And she maintains a lively YouTube channel at Naijha Speaks!, where folks interested in eating, growing, and cooking vegan soul food can meet and learn from real-life practitioners.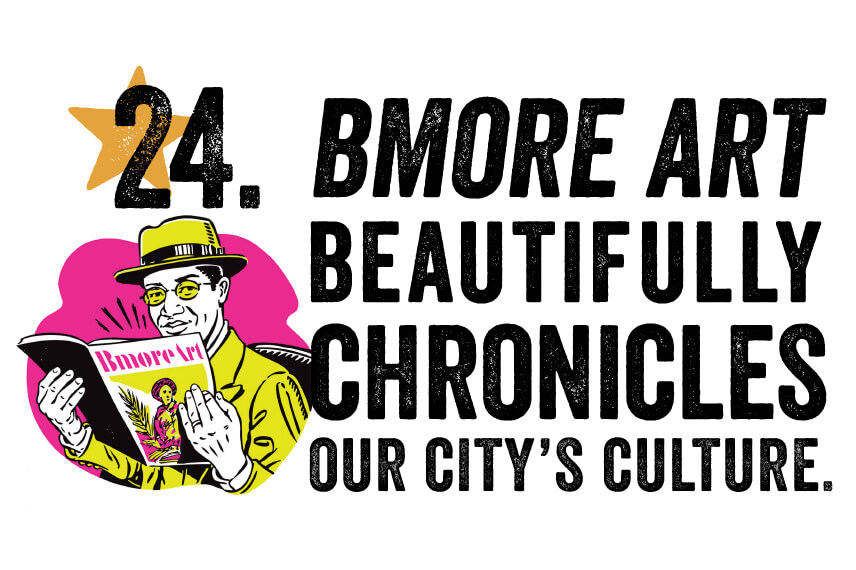 Spot Illustrations by John Kachik
25.

WE DON'T HAVE ANY CONFEDERATE MONUMENTS

While many cities dealt with serious confrontations between Black Lives Matters protestors and police, Baltimore's protests remained peaceful. Which is not to say they lacked urgency or passion. They were large, creative, often youth-led, and authentic responses that Baltimore should be proud of and pay heed to. The credit for their peacefulness has to go to the local activists who have been leading a steady call for police reform since the death of Freddie Gray in 2015. To the city's credit, Baltimore's four bronze Confederate statues came down three years ago, a symbolic start that suggests we're moving in the right direction.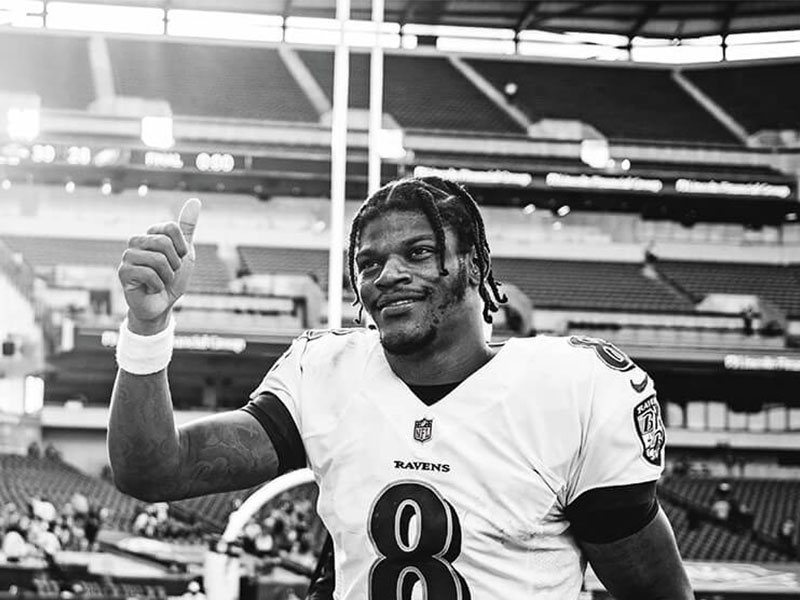 Photography by Shawn Hubbard/Baltimore Ravens
26.

OUR QB REINVENTED THE GAME

Pocket passer or running QB? For years it's been a hotly debated subject among NFL analysts. What Ravens QB (and last year's league MVP) Lamar Jackson proposes is: Why not both? Sure, it's Jackson's speed and uncanny escapability that gets the most attention, but his passing game is improving every day. And the league is (literally) scrambling to catch up.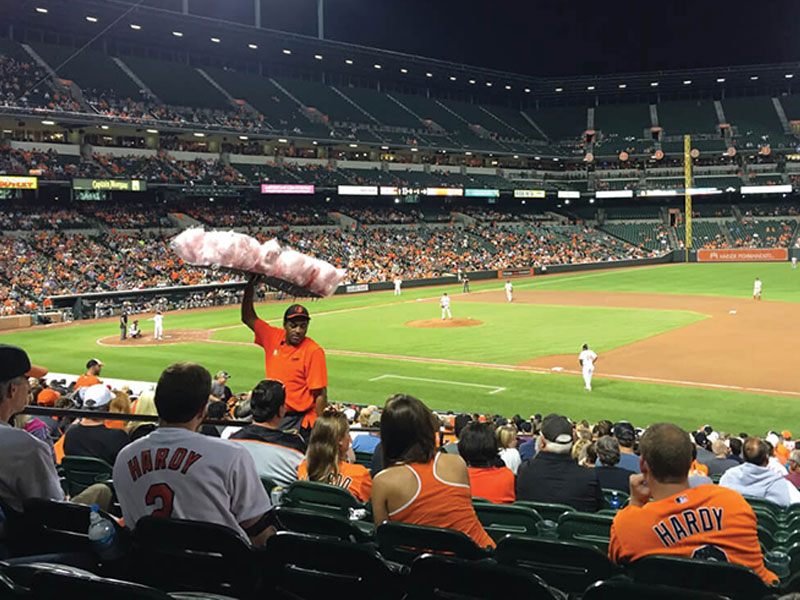 Photography by Amanda White-Iseli
27.

WE HAVE THE GREATEST BALLPARK IN AMERICA

What is a summer without a baseball season? This year, we found out, and while we eventually got to watch the O's from afar, it really cemented one thing: We frickin' love Camden Yards. We would give most things to have had just one hot, humid evening in the nosebleeds with a Natty Boh tallboy in hand, rooting for mustard in the Esskay hot dog race, singing "Thank God I'm a County Boy" during the seventh inning stretch, watching as the setting sun behind the old Sun clock oozes out across the city skyline. In that moment, whatever the score, we fall in love with Baltimore all over again, and we don't need any critic to tell us that we have one of the best ballparks in the country (it was ranked number two by Bleacher Report in 2018). Fingers crossed we'll be back in the stands next year.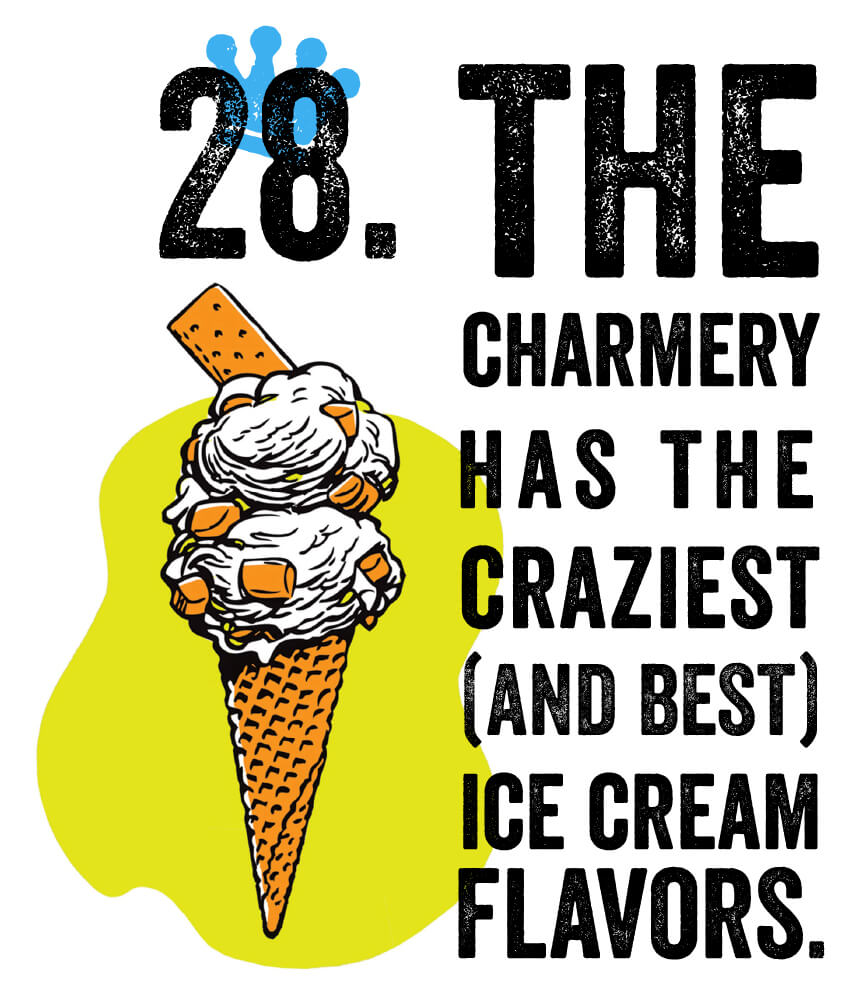 Spot Illustrations by John Kachik
29.

EVERYTHING'S CLOSE AT HAND

Want proximity to an Atlantic beach, or maybe the largest estuary in the U.S.? Check. Mountains? 10-4. Rural hiking, biking, horseback riding, and canoeing? Yup, greater Baltimore has endless destinations on that front. But what really sets Charm City apart from New York, Boston, or Philly is that you can get to most of those things quickly from downtown. Jump in the car and in half an hour, you can pick from Patapsco State Park or the Gunpowder or go rock climbing in Harford County's Rocks State Park, sailing on the bay, pedaling along the C&O canal, or jogging the wide, flat Torrey C. Brown Trail. That last one's really close: It extends 20 miles from Hunt Valley to the state line.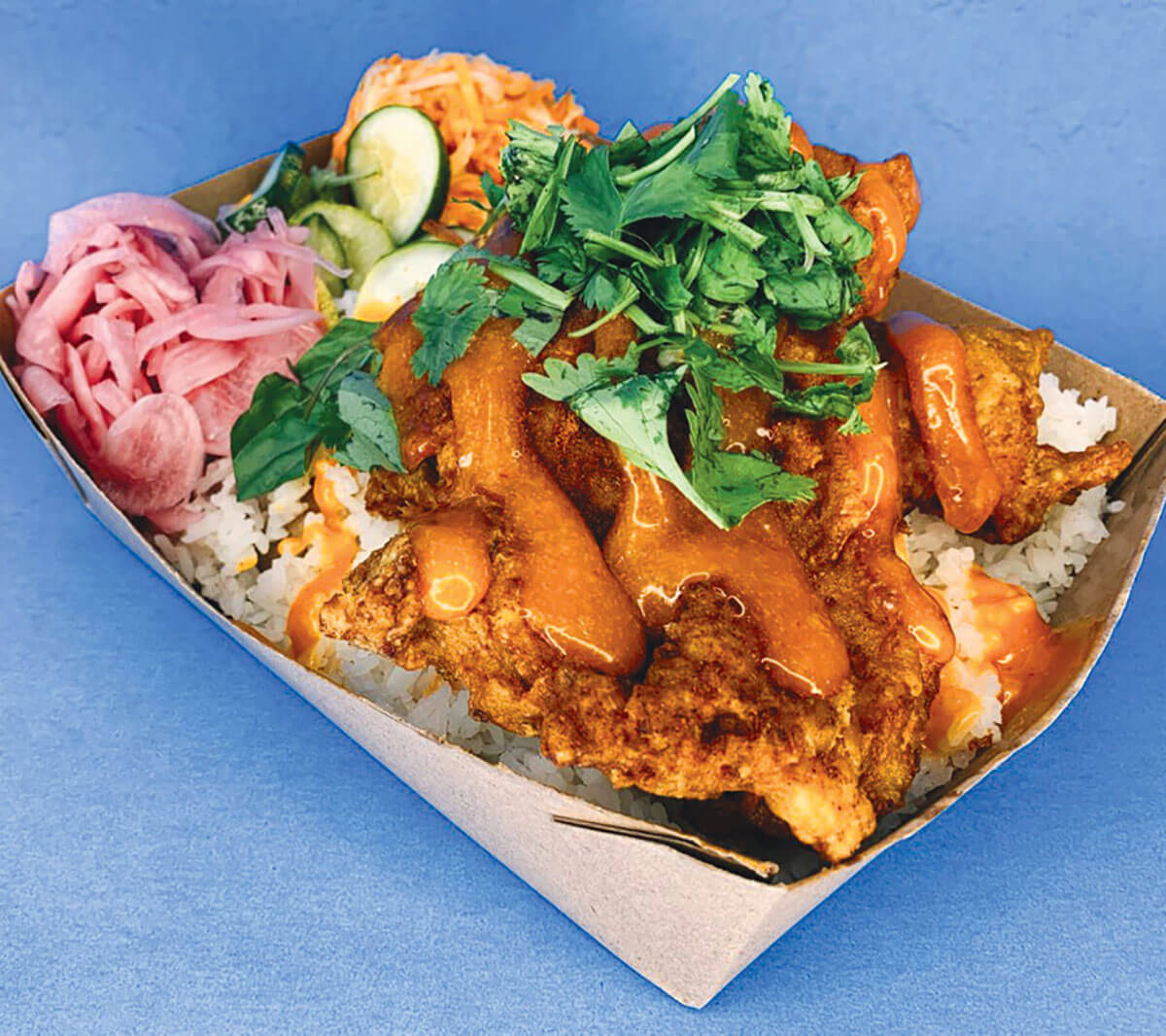 Photography Courtesy of Ekiben/Billy Carnes
30.

EKIBEN UNITES US OVER STEAMED BUNS AND RICE BOWLS

This Asian-fusion fixture, with locations in Hampden and Fells Point, is at the top of every Baltimorean's list. Here's why: The flavor combinations—from the Taiwanese fried chicken steamed buns topped with Ethiopian spices and spicy mayo to the Thai chicken meatballs in a coconut peppercorn sauce—are out of this world. (Not a tofu person? Let the crispy peanut-flavored "Tofu Brah" nuggets make you a convert.) But beyond that, co-owners Steve Chu and Ephrem Abebe let their passion for Baltimore shine through. Whether they're planning a pop-up fundraiser or collaborations with other chefs, they always show up for the community. As Chu once told us: "It's good people who really care about what they're doing—that's what Ekiben is."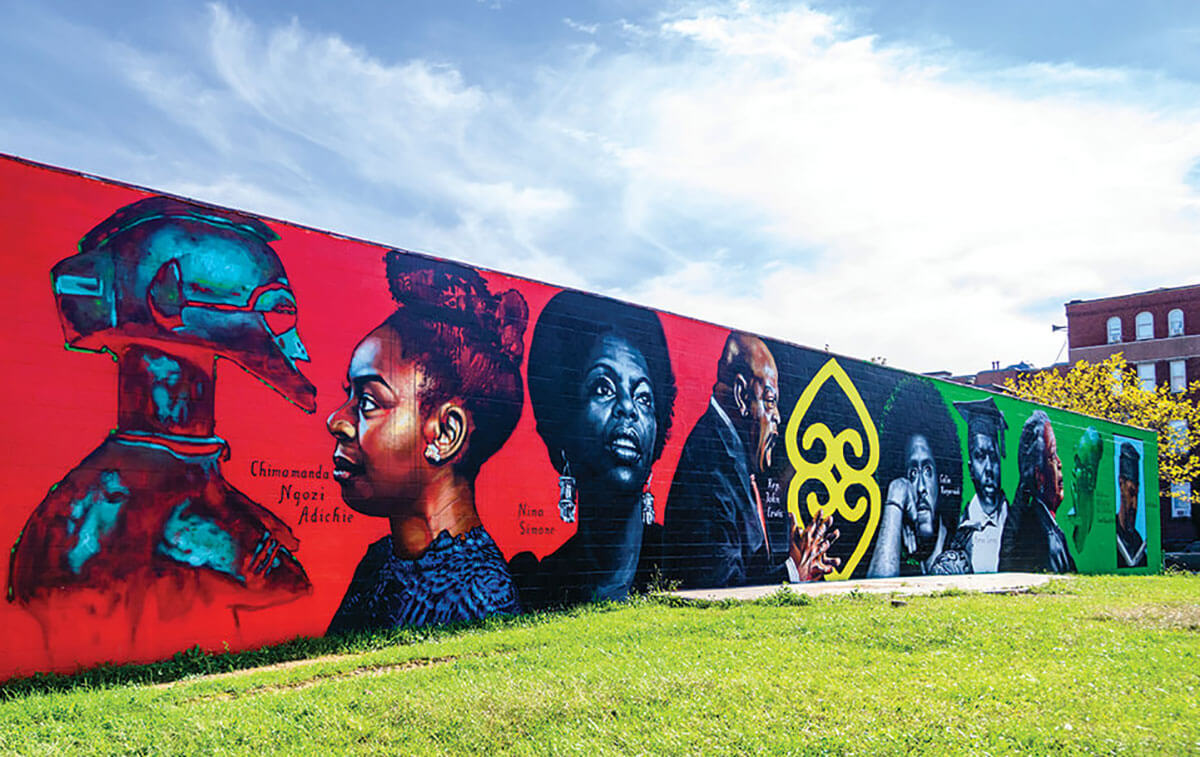 31.

OUR CITY IS A CANVAS

IF YOU'RE EVER LOOKING for a way to pass time, hop in your car, grab your bike, or even throw on your sneakers and take to the city streets in search of its plethora of public murals. Every few blocks, you'll stumble upon another towering masterpiece: hands spelling out "LOVE" like shadow puppets, a trio of alligators moving in the direction of traffic, Billie Holliday singing into a microphone, a larger-than-life portrait of legendary drag queen Divine. In Baltimore, art is everywhere, and it stands as a monument to the essence of our city—colorful, creative, industrious, hopeful. These works of art have been painted by renowned artists, from rising street artists Gaia and Nether to veteran muralists like Tom Miller, Bob Heironimus, and Ernest Shaw. Recently, several local artists, led by Shaw, restored and reimagined the hallowed "Wall of Pride" mural in West Baltimore. The original, created by Pontella Mason in 1992, paid homage to African heritage and leaders in the Black community. After a decade of planning, the new iteration carries that same torch, depicting new and old heroes alike, from Nina Simone to Colin Kaepernick.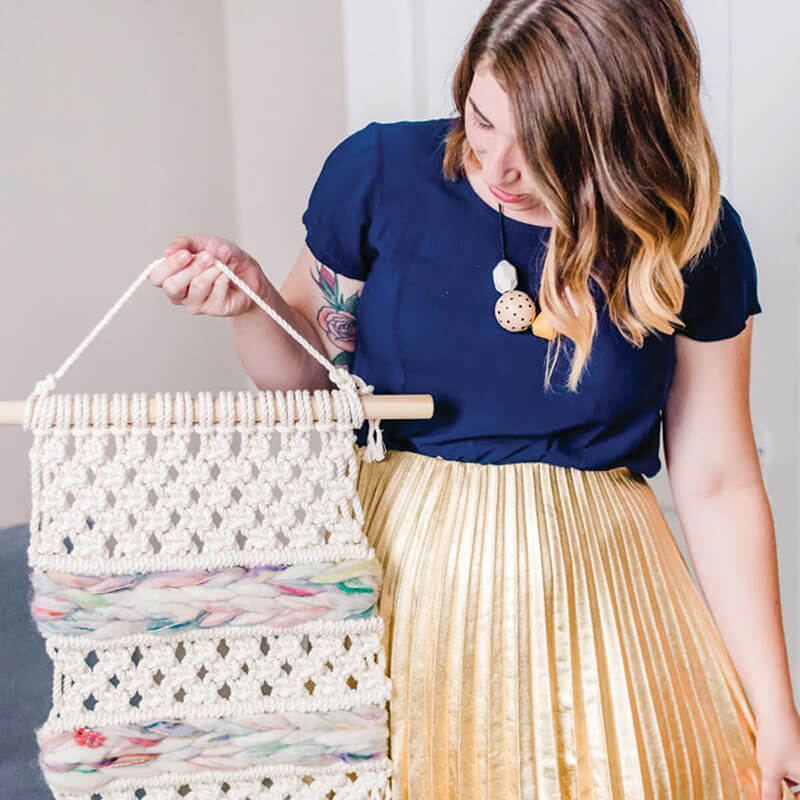 Photography Courtesy of Myth and Moss
32.

OUR MAKER COMMUNITY COMES TOGETHER

One thing the pandemic has confirmed—makers gotta make. These small, creative businesses need to create art and soaps and prints and jewelry, and we, in turn, need to support them. We were thrilled to see so many virtual events, from this spring's "Pile of Craft" by the Charm City Craft Mafia to BaM Co-Create's "Fall for Shopping Small" maker's market. The Codex Club—with 50-plus Baltimore makers—popped up at R.House, and Taken, a home goods shop featuring all Maryland-made products, is safely opening in Towson, just in time for the holiday season. And what would December be without Holiday Heap? Like everyone else, the Heap team has done the pandemic pivot and put everything online. We've already marked the three-day handmade extravaganza (December 4-6) on our calendars so we can shop. It won't be the same as being squeezed into the 2640 Space, elbowing our way to the front of the line, but it'll do.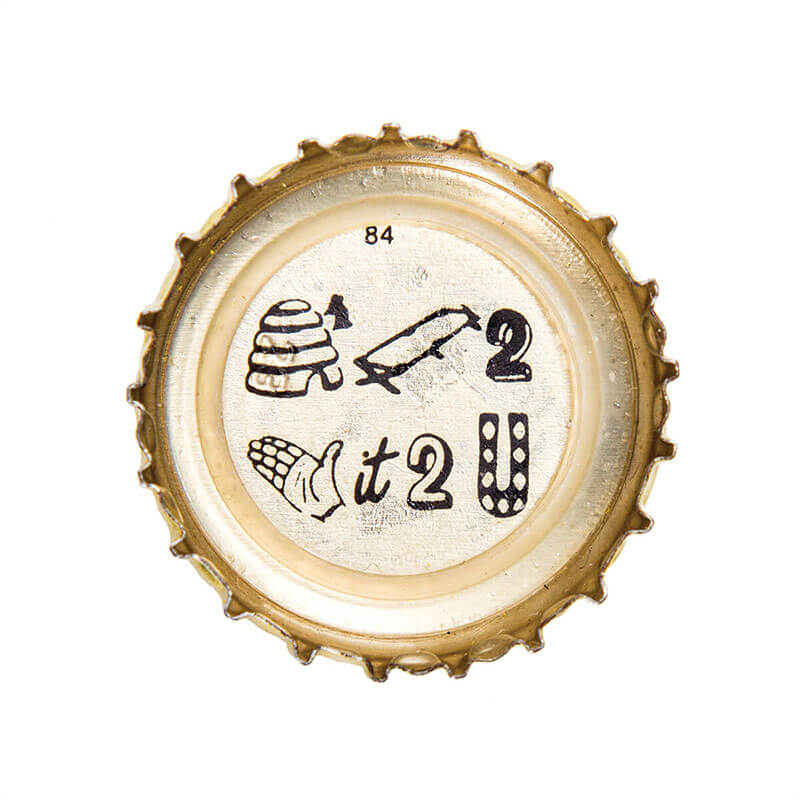 Photography by Justin Tsucalas
33.

OUR CORNER BARS ARE ICONIC

How do we love our city's bonafide dive bars? Let us count the ways: Orioles on the television, Utz behind the bar, Keno squares, a broken cigarette machine, a stillworking jukebox. Maybe if you're lucky, a last bottle of white-label Pikesville Rye. And of course, Natty Boh, everywhere. With the pandemic closing many of these beloved watering holes for months, and likely some for good, we've never wished so badly to belly up between strangers at a sticky bar top, to hear that surly barkeep yell over the crowd, "What can I get you, hon?," to order just one more at last call, before stumbling out beneath the neon sign into the lamplit dark of a city night. There's something about these tiny, unpretentious neighborhood hangouts that epitomize Baltimore—an everyman's place, maintaining the essence of this blue-collar town. When we gather there safely again, the first round will be on us.

To-go drinks from Mr. Nice Guy Cocktails in Canton. Spot Illustrations by John Kachik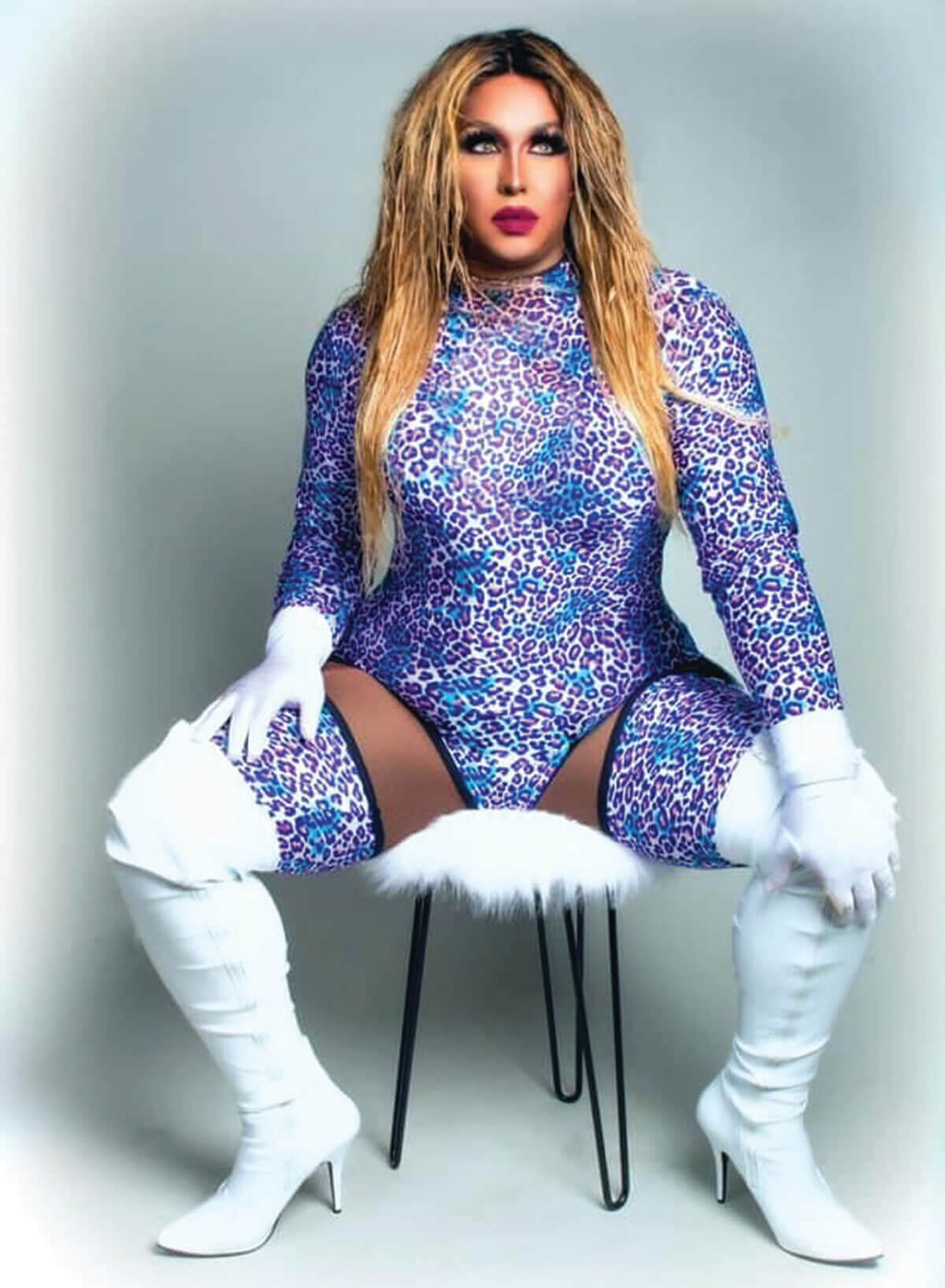 Photography Courtesy of Evon Dior Michelle/Rudolf at Studio 5
35.

OUR DRAG QUEENS AND KINGS RULE

Even with the days of sweaty dance parties on pause and cornerstone Grand Central permanently closed (RIP), Baltimore's drag scene remains a shining light of fun and artistry, from the R.House patio, to the Creative Alliance stage, to Power Plant Live!, to Enoch Pratt. And whether they're donning a face shield and gown for a sunset show at Sandlot or setting up a webcam for a virtual Drag Storytime through your local library, these talented performers give it their all. We're lucky every time we get to bask in their glittery glow.
36.

OUR YOUTH POETS ARE THE BEST

For two decades, Baltimore has been a hotbed of youth poetry and our youth poets have consistently made a name for themselves—and the city—at national slams. That's largely thanks to Dew More, founded in 2012, a community-based organization with the mission of using poetry and art to promote civic engagement and social change. It has helped sustain an infrastructure that both supports the craft of writing and the performance of spoken word. The Baltimore Citywide Youth Poetry Team, a program of Dew More, enables local youth to compete in regional and national events, as well as the Brave New Voices International Youth Poetry Slam Festival. Special kudos to Baltimore teenager Maren Lovey Wright-Kerr, who was named one of just a handful of National Youth Poet Laureate finalists last year.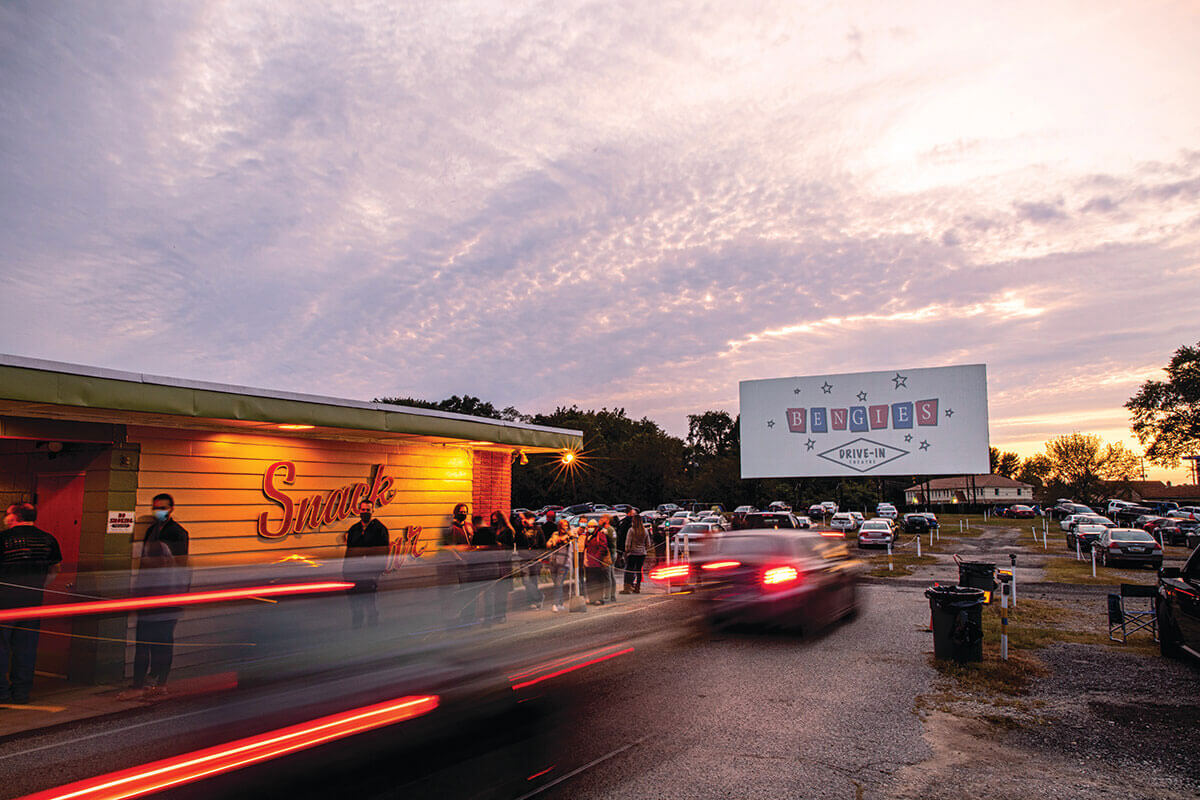 Photography by Justin Tsucalas
37.

BENGIES DRIVE-IN IS A BLAST FROM THE PAST

For decades, bengies drive-in was one of Baltimore's best-kept secrets, with a select group of film buffs treasuring the old-school, al fresco movie theater in Middle River. That is, until COVID hit and our indoor social lives ground to a halt, sending Americans in search of safer outdoor venues—including our country's dwindling number of drive-ins. Suddenly, Bengies, open since 1956, was the hot new place—although you wouldn't know from visiting it. Everything has stayed the same (thank God). You still follow Eastern Avenue until it becomes Eastern Boulevard, where you'll be greeted by red, white, and blue flags and a giant block-letter marquee that beckons you to a trip back in time. An old snack bar hawks popcorn, hamburgers, and cotton candy, while classic cartoon commercials play on the 52-foot screen before the main feature, and a grassy lawn is speckled with cars all tuned in to the same radio station. Many come for the latest blockbusters, but the best nights lie in its throwback screenings, such as The Sandlot, The Goonies, or Jaws.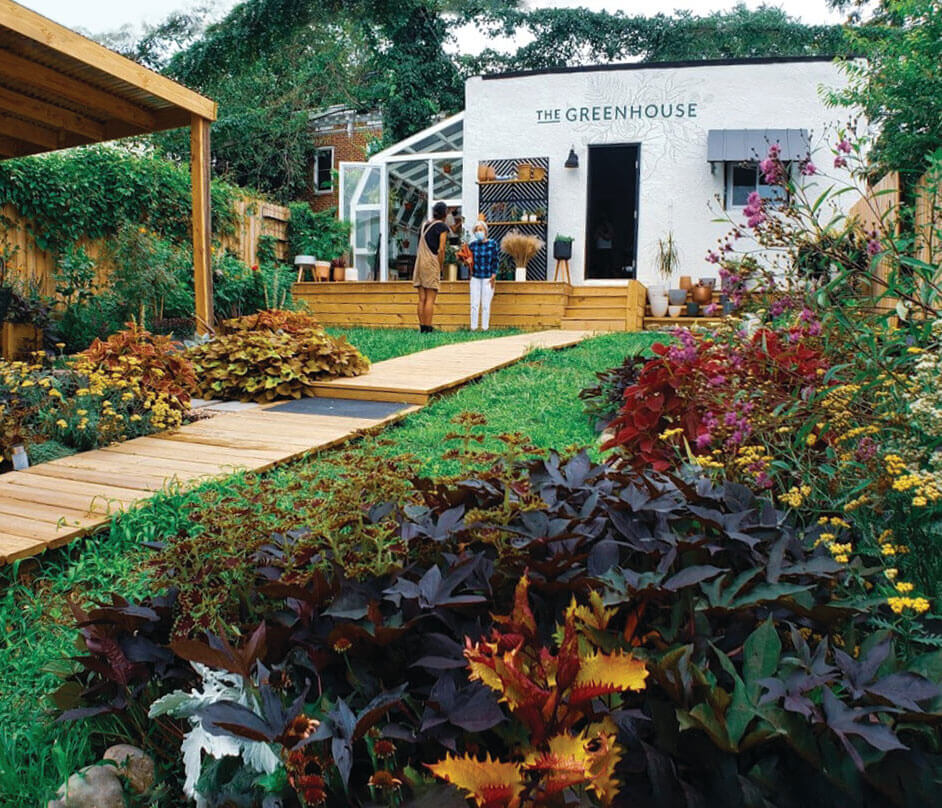 Photography by Peter Tran
38.

GOOD NEIGHBOR AND THE GREENHOUSE MAKES US HAPPY

The first time we had the full experience at this new Hampden-adjacent spot, we were smitten. We perused the home goods—ceramics, stylish chairs, and glassware—inside the coffee shop before ordering a matcha latte and rosemary lemon sourdough toast topped with sesame seeds and microgreens (try a new toast each time—trust us!). We lounged on the hill amongst all the beautiful people before making our way up to the garden shop that features a a DIY dried flower bar and fantastic houseplants. We're embarrassed to say how many times we've been back since.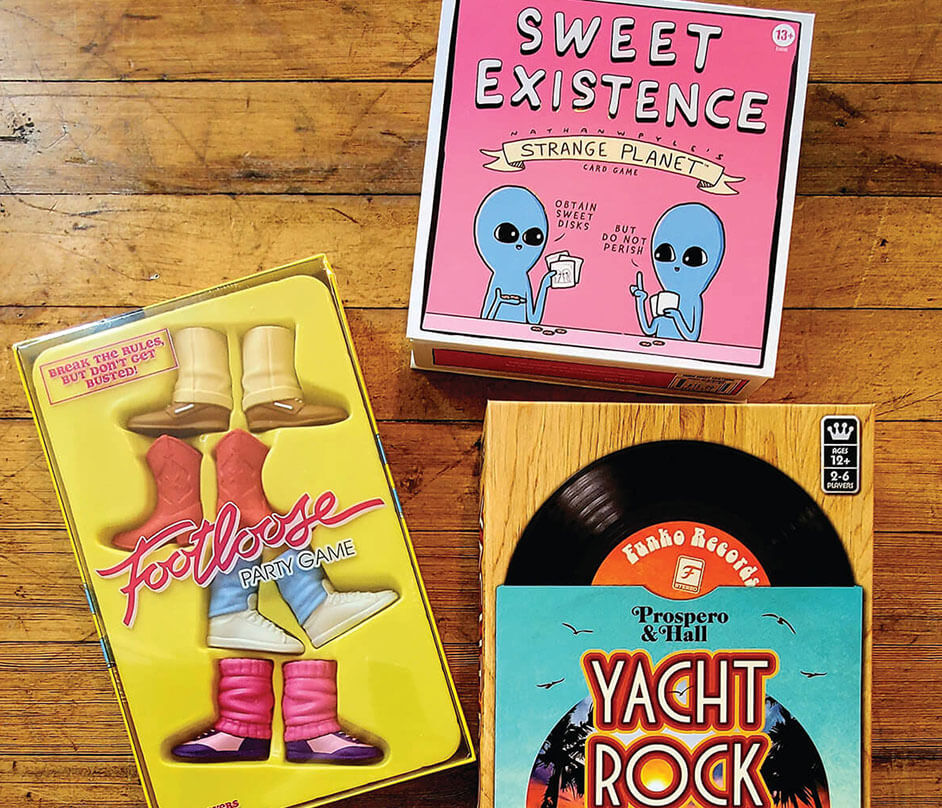 Photography Courtesy of Atomic Books/Rachel Whang
39.

WE HAVE GREAT INDIE BOOK STORES

You can judge a city by how well-loved its bookstores are—and in Baltimore, the independent bookstore scene is thriving. Off the top of our heads, we've got Greedy Reads, Charm City Books, Ivy Bookshop, Normal's Books & Records, Atomic Books, Red Emma's, Red Canoe, Ida B's, and Bird in Hand. We're sure we've missed a bunch. That's the point. We have an embarrassment of riches. Not to mention our beloved Book Thing exchange. In short, buy books, shop local, support things that are cool.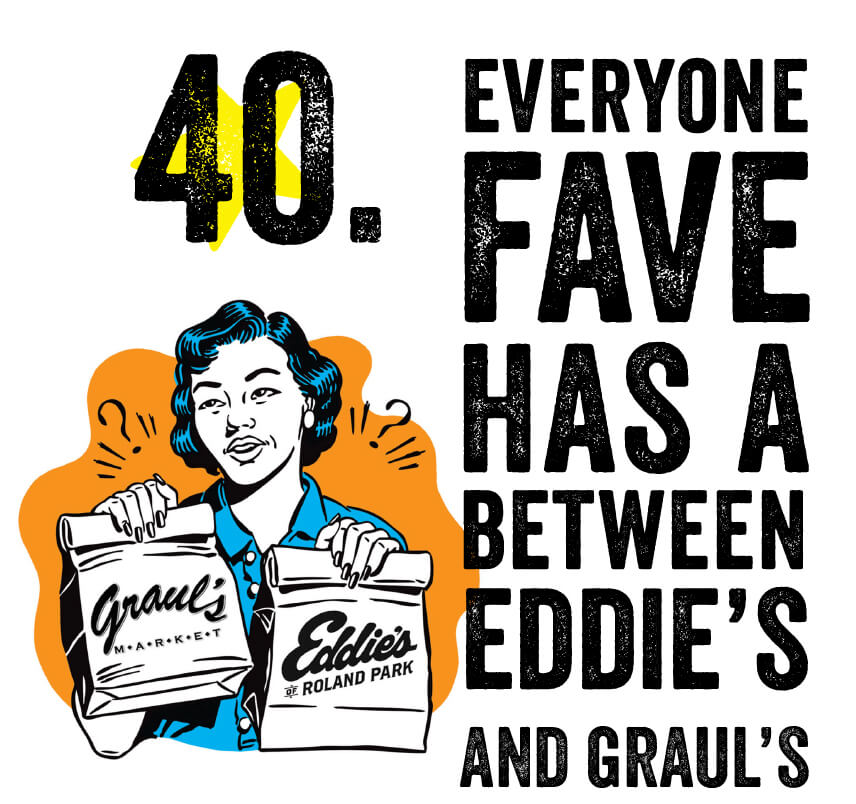 Spot Illustrations by John Kachik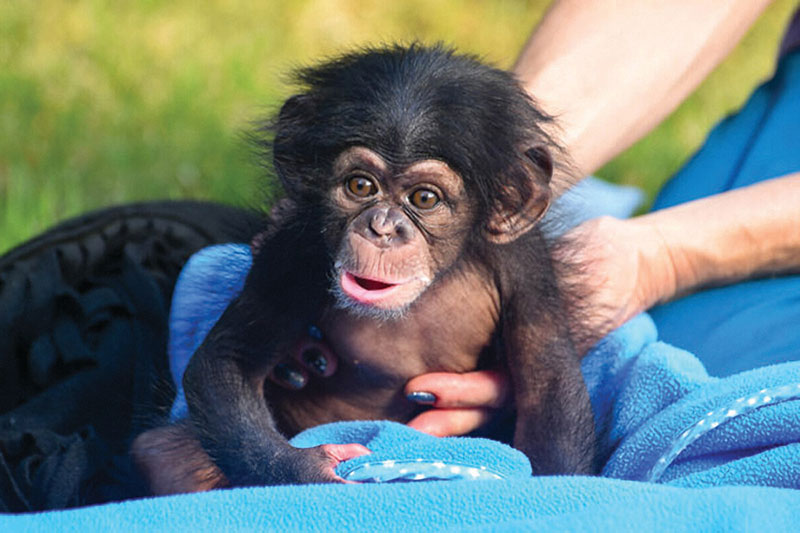 Photography Courtesy of The Maryland Zoo in Baltimore/Kaitlyn Ulrich
41.

two words: baby chimps

When the zoo reopened at the end of June, we made our reservations and hightailed it to the Chimpanzee Forest Building to visit our babies. Lola, who turned one in July, and Violet, who turns one at the end of December, continue to be a delight. They tumble and climb and wrestle and swing on ropes and cling to their mamas, Bunny and Raven. They come up to visitors and make funny faces, and for a few minutes everything else is forgotten. (The best part: A new baby girl chimp from another zoo, pictured, is being hand-reared by our zookeepers!)
42.

OUR Airport is...good?

Airports are a nightmare of parking, finding your gate, waiting on long lines, discovering you're in the wrong terminal, taking a shuttle to the right terminal, getting lost, and so on. Except for when they're . . . not? BWI happens to be one of the most accessible large airports in the country. It all takes place in one terminal and is quite easy to navigate. Plus, the dominance of Southwest Airlines means there are cheap fares to be had to anywhere the ever-expanding discount airline flies. And, most impressive, it actually has good food. Travel website Wanderu determined that BWI had the eighth best food of all major airports—no doubt attributable to the Obrycki's, Phillips Seafood, and Silver Diner, among others. Heck, we've even been known to volunteer to drop a friend off there.
43.

Guinness Picked Us

There are several reasons Guinness chose Halethorpe, Maryland, as the site of their only American outpost: Our central location—ideal for tourism—and our great tradition of craft brewing, to name two. But we also like to think they looked at us and said, "Yeah, those folks in Maryland really enjoy a pint." We'll drink to that.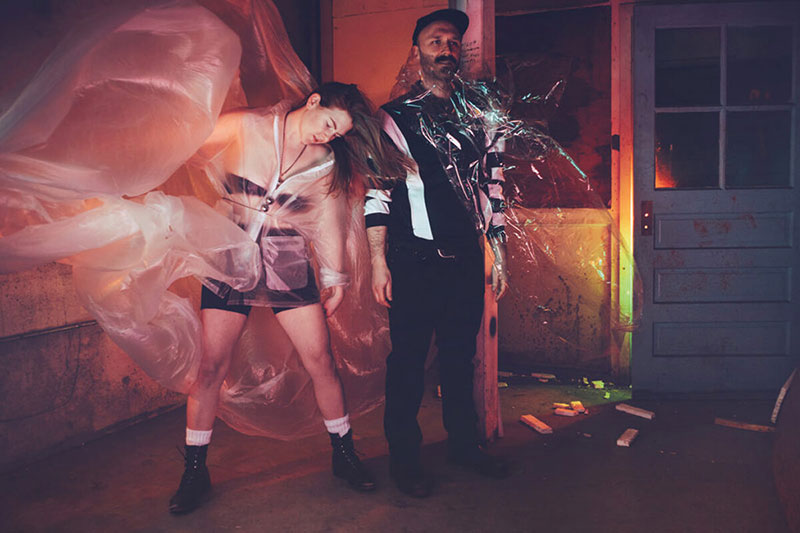 Photography Courtesy Of Homebody Band/Anja Schutz
44.

tHE CROWN MAKES MUSIC FOR aLL

Venues have come and gone, but few have been more vital to the local arts scene than The Crown. Over the past seven years, the Station North performance space has become a mecca for creatives of every medium, from patrons looking to have a go at weekly karaoke nights, to DIY artists seeking a stage to perform their poetry, comedy, or music. The North Charles Street venue was an early stomping ground for some of the city's top acts and continues to be a proving ground for the next generation of performers. Thanks to their scrappy attitude and art-school aesthetic, everyone is welcome at The Crown, and its eclectic lineups, even in the midst of COVID, are among the most diverse and dynamic in town.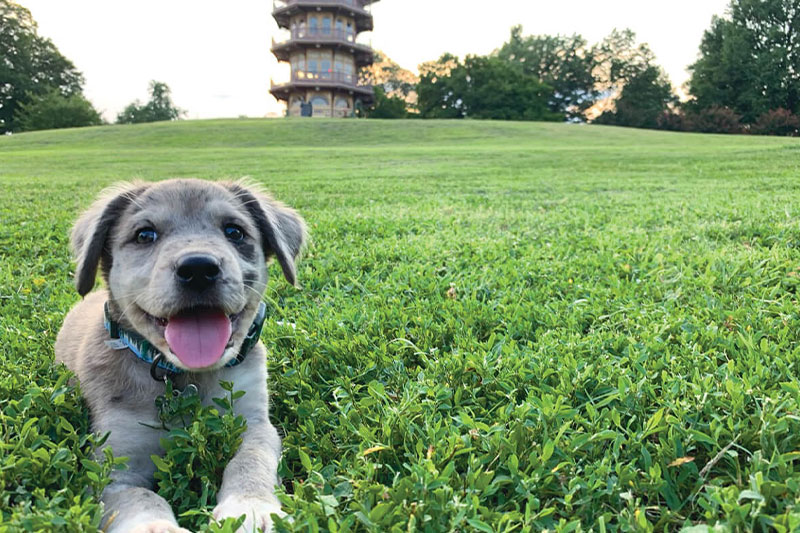 Photography by Garcia At Patterson Park/Ciarra Pollard
45.

Patterson Park is the Best Backyard in America

To residents of Butcher's Hill, Upper Fells Point, Little Italy, Highlandtown, Linwood, and Canton, Patterson Park has long been known as "the best backyard in Baltimore." In 2015, the beloved, tree-lined, 137-acre park was named of one of best city parks in the country, and during the pandemic, its walking trails, dog park, duck pond, picnic space, outdoor sculptures, and most recently, open-air art Black Lives Matter installations became even more essential. It also attracts an amazingly diverse mix of Southeast and East Baltimoreans, with a cross-section of adults and kids spread out among its baseball, football, and soccer fields; on its basketball and tennis courts; and, in the warmer months, at the pool or on the park's nearby hillside, eating handmade ice cream from Eastern Avenue's BMore Licks. The entire city, most obviously, in time of COVID-19, owes a huge debt of gratitude to Baltimore's Recreation and Parks staff and volunteers, and groups like Friends of Patterson Park.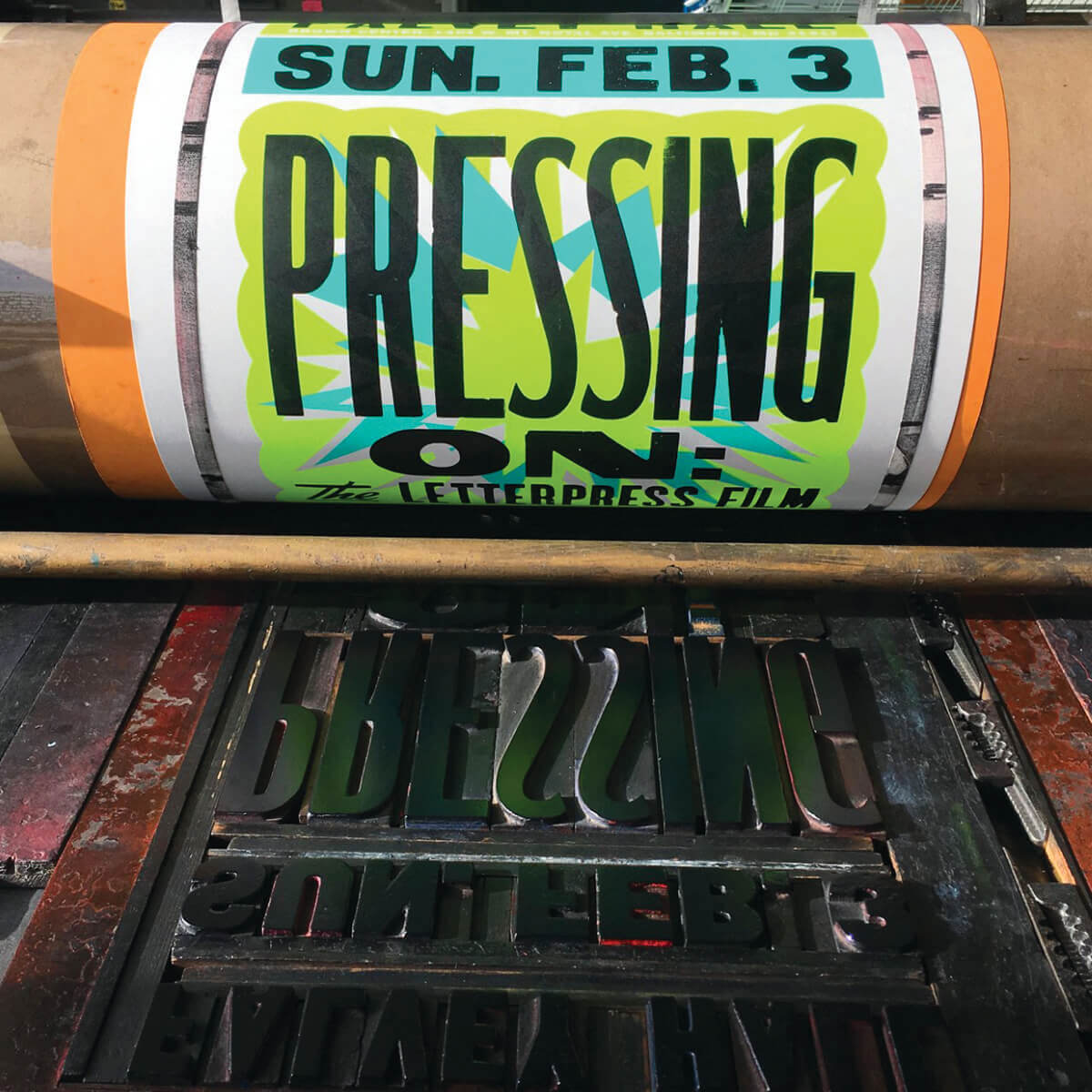 Photography Courtesy of Globe Collection at Mica/Allison Fisher
46.

Print LIVES AT Globe at mica

In a nondescript brown building on Mount Royal Avenue, the windows are filled with signs in bright, bold, Day-Glo colors—highlighter yellow, hot pink, neon orange—all printed inside at the iconic Globe Collection and Press at the Maryland Institute College of Art. Once revered for its energetic music and entertainment posters, Globe has gained new purpose in addressing social justice, from collaborating with Rock the Vote to standing in solidarity with Black Lives Matter, even printing free protest signs during this summer's citywide protests. Globe gives new meaning to freedom of the press. (P.S. We love them so much, we asked them to create our cover!)
47.

ceasefire won't give up

Launched three years ago, Baltimore Ceasefire 365 began with rallies, marches, and vigils designed to quell violence over three-day weekends. The first Ceasefire in early August 2017 included more than 50 events—and a low two homicides, which is a start—and the momentum hasn't waned since. The initiative has proven effective at keeping the spotlight on the epidemic of gun violence and reducing homicides, while also becoming a hub for organizations and residents to support one another. Today, Baltimore Ceasefire 365 serves as a citywide call to action. Thanks to founder Erricka Bridgeford, also executive director of Community Mediation Maryland, Ceasefire has additionally turned into something of a spiritual movement, hosting regular Sacred Space Rituals at the sites of deadly violence in the city, helping Baltimoreans turn their pain into transformative healing.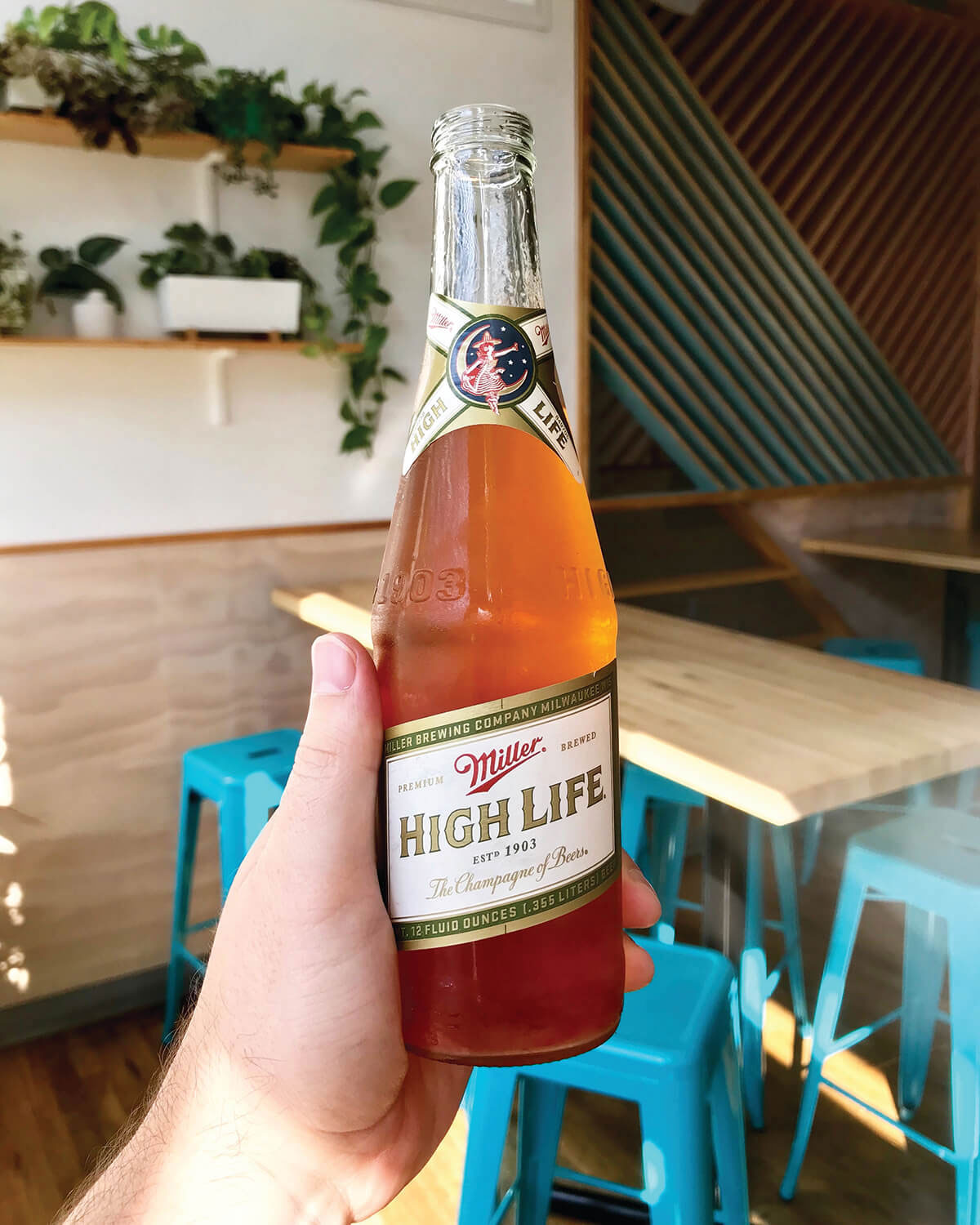 Photography Courtesy of Wet City/ PJ Sullivan
48.

we love our BSO

One of the few bright spots of 2020 was the rebirth of the Baltimore Symphony Orchestra. In the summer of 2019, musicians gathered outside of the Joseph Meyerhoff Symphony Hall with picket signs after a summer-long lockout and seemingly never-ending series of contentious contract negotiations with management. But this fall, it was an entirely different scene as the orchestra reached its first long-term agreement in years, finally achieving a meeting of the minds between artists and management. It marked a new chapter—including an innovative digital concert series and an expanded artistic team with a focus on diversity—for our beloved symphony. Long live the BSO.
49.

THE SPAGHETT WAS BORN HERE

The official drink of summer was born in Baltimore last year, when Bon Appétit stumbled upon the "Spaghett," a riff on a spritz invented by the popular Mount Vernon brewery and beer bar Wet City. Consisting of three simple ingredients—Aperol and lemon juice poured directly into a Miller High Life bottle—this highbrow-meets-lowbrow cocktail became an instant cult classic, providing us with a sweet, tart, easy aperitif perfectly suited for the hottest of dog days. We'll gladly drink them in winter, too.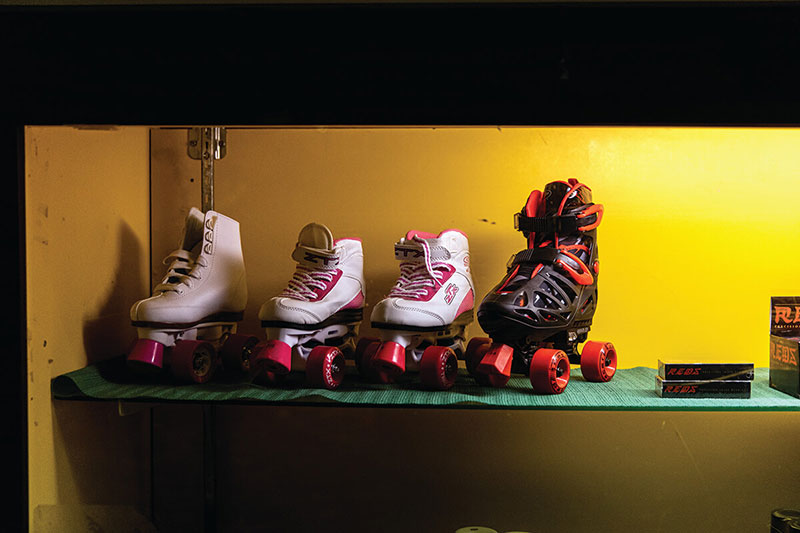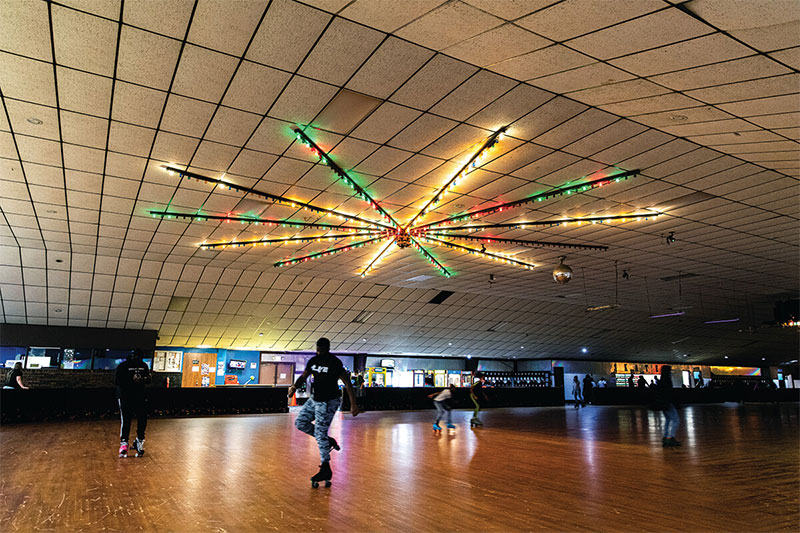 Photography by Justin Tsucalas
50.

WE NEVER STOPPED ROLLER SKATING

Even on the darkest days, we still strapped on our skates and whipped around our neighborhoods, parks, schools, and skate parks. Sure, it felt like a ghost town, but the wind blowing our hair back, our masks muffling our cries of delight, the ground bumpy and freeing beneath our wheels was a release. As restrictions loosened, we could meet up with friends and roll around places like Lake Montebello. It was an activity that felt normal, but safe. With each week we'd catch a glance of more and more fellow skaters. They, like us, preferred the off-hours when there were fewer obstacles (read: people) around—somewhere between golden hour and dusk. Novices strapped on skates for the first time and wobbled down driveways and sidewalks. Roller skates were soon as hard to find as bicycles—forcing many to go digging in their parents' basements for their old skates, pom-poms and all. And now, some indoor spots are open (at least as of press time) with strict mask wearing rules in place. "These are difficult times, and we want you to have a place where you can come and just relax and enjoy yourselves," reads the Sportsman's Hall Roller Skating Center website. "Please leave your frustrations outside of our doors, as we do not wish to argue." Skateland at Putty Hill, pictured, also has a "skates on, masks on" rule. And Shake & Bake Family Center is due to open soon—fingers and laces crossed.
S
The Readers Speak!
(Our Instagram Followers on Their Favorite Things to Do in Baltimore!):
H
W
Y
I LOVE TO VISIT MARIE LOUISE BISTRO WHEN I'M FEELING FANCY AND WANT TO ENJOY SOME FRENCH CUISINE. —@LUVINLIFE_JEETZ
H
W
Y
PLAYING PINBALL AT HOLY FRIJOLES. —@_TINY_FRAMES
H
W
Y
PAPER MOON DINER PICNIC AT WYMAN PARK DELL. —@EMMEANDJAMES
H
W
Y
ORDERING A CHEF'S BOARD AT LOBO AND GABBING OVER ENDLESS GLASSES OF WINE. —@ROBBEN.MK
H
W
Y
WALKING AROUND HAMPDEN EATING A DOUBLE SCOOP OF SATURDAY MORNING CARTOONS FROM THE CHARMERY. —@MIS.KILLIN.IT
H
W
Y
MORNING WALKS THROUGH DRUID HILL PARK. —@OLIVEBUG21
H
W
Y
BRUNCH AT THE LAND OF KUSH AND LIFE REFLECTION OVER THE SIGHT OF FEDERAL HILL. —@FIREANGELOU
H
W
Y
CUBAN CHOCOLATE OREO ICE CREAM FROM BMORE LICKS. SO DELICIOUS THAT MY BROTHER-IN-LAW FROM PHILLY HAS TO TAKE A PINT HOME WITH HIM! —@HKSOHI
H
W
Y
MY ABSOLUTE FAVORITE RESTAURANT IN BALTIMORE IS DUKEM ETHIOPIAN RESTAURANT. THEY'VE GOT AMAZING OPTIONS FOR CARNIVORES AND VEGETARIANS, AND IT'S BLACK OWNED! —@GRAYLIKETHECOLOR
H
W
Y
THE KINETIC SCULPTURE RACE! —@REVIVEFLORALS
H
W
Y
BLUE MOON'S CAP'N CRUNCH FRENCH TOAST! —@NUTMEG51587
H
W
Y
MEAD SLUSHIES FROM CHARM CITY MEADWORKS. —@S.A.L.P.A.L
H
W
Y
WHAT I WOULDN'T DO TO SEE A SHOW AT OTTOBAR THIS WEEKEND —@INSTA_MINKY
H
W
Y
BALTIMORE BIKE PARTY! —@JULIEPAT72
H
W
Y