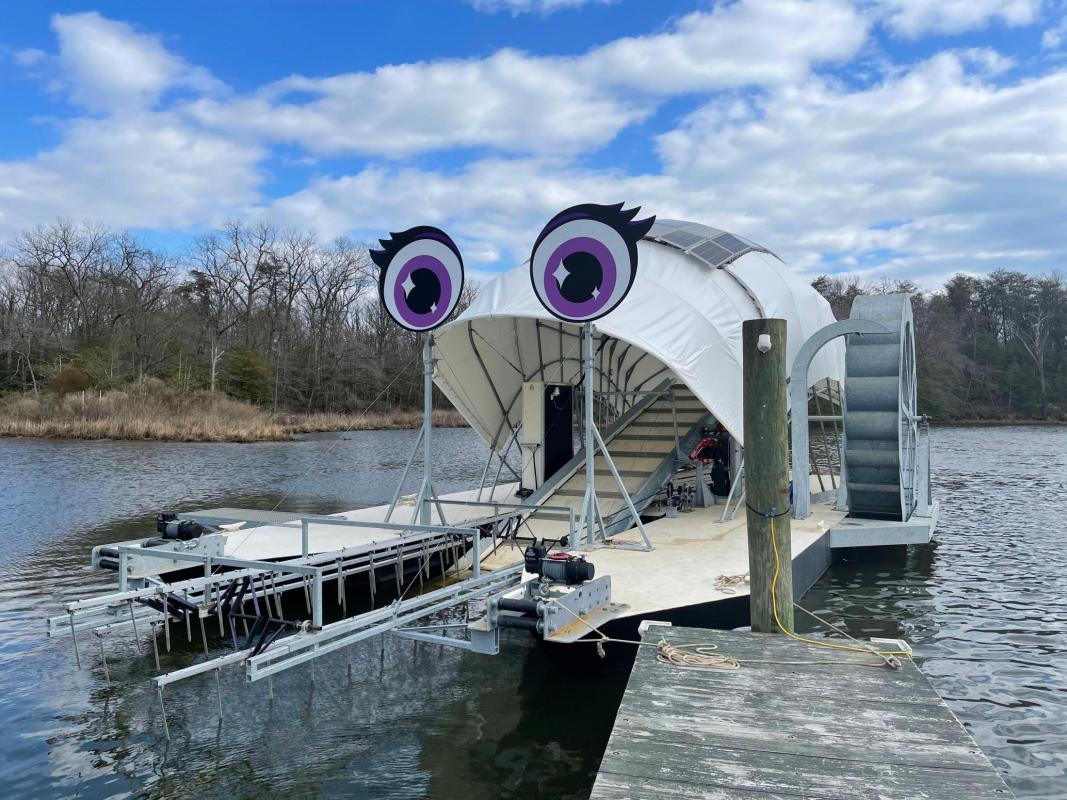 Courtesy of the Healthy Harbor Initiative
Baltimore's trash-collecting water wheels, which prevent litter from reaching the harbor and Chesapeake Bay, have become de facto environmental ambassadors for the city. You can buy stickers, branded beer, and even plush versions. The floating machines—Mr. Trash Wheel, Professor Trash Wheel, and Captain Trash Wheel—thrive on social media and have inspired years' worth of Halloween costumes.
And it's easy to see why. They have been a game changer for keeping trash and litter out of the water. The Healthy Harbor Initiative, which manages the wheels, estimates the Trash Wheel family has removed more than 1,500 tons of debris from Baltimore's waterways since the first wheel was installed. 
The newest trash wheel, dubbed "Gwynnda the Good Wheel of the West" after an online contest, was unveiled in March. She'll be the largest wheel yet, collecting more trash each year than the other three existing wheels combined, according to estimates.
Adam Lindquist, director of the Healthy Harbor Initiative, says the organization hopes to have Gwynnda up and running sometime around Earth Day, April 22. Like the already installed trash wheels, the debris that Gwynnda collects will be deposited into a dumpster, which will eventually be transported to the Wheelabrator Baltimore incinerator that's off I-95 in South Baltimore—next to, as it happens, the Gwynns Falls, where the newest wheel is being installed. 
Unfortunately, however, Gwynnda's haul, like most waste in the city, will be incinerated in a process that—while saving landfill space and generating electricity—also produces significant toxic emissions as its byproduct.
Particulate matter, precursors to smog and hazardous material like mercury, are among the material that gets put into the atmosphere during the process of trash incineration, says Scot Miller, an assistant professor in the Department of Environmental Health and Engineering at Johns Hopkins University. 
And, specifically in Baltimore, a 2017 study commissioned by the Chesapeake Bay Foundation found that emissions from the Wheelabrator incinerator cost an estimated $55 million in health-related fees annually. The incinerator has been identified as the single largest point source of pollution in the city. 
Wheelabrator rejects both of those premises. Rosanne McTyre, an environmental consultant retained by Wheelabrator, says the 2017 study is faulty due to the way it uses health modeling and because it lacks transparency.
And Jim Connolly, vice president of environmental compliance with Wheelabrator, says the incinerator is only the largest source of single-point pollution because Baltimore doesn't have any large industry left within its limits. He says other sources—like vehicle traffic—have a much larger impact on ambient air quality in Baltimore than the trash incinerator does.
But Miller, the Hopkins researcher, says "air pollution is not an either-or proposition."
"There is no scenario in which cars would magically disappear from the streets of Baltimore," Miller says. "Reducing car emissions is one component [of improving air quality in Baltimore], but reducing emissions from the trash incinerator would be another point of that."
The city recently renewed its contract with Wheelabrator, which began operating in 1985, locking it in for another 10 years of incinerating up to 2,250 tons of everyday waste to generate electricity. 
Dillon Mahmoudi, an assistant professor in the Department of Geography & Environmental Systems at the University of Maryland, Baltimore County, says that's "bucking" a national trend of local governments decommissioning waste-to-energy facilities.
"[It's] shocking for a facility that is that old," he says. 
As part of the contract with the city, Wheelabrator is required to tighten some of its emissions standards. Connolly, from Wheelabrator, says the company is in the "early stages" of that work, but did not provide a timeline for when it might be complete. 
Carmera Thomas-Wilhite, Baltimore program manager for the Chesapeake Bay Foundation, says the trash wheels are a positive for Baltimore, because they divert pollution from local waterways.
Bigger picture, though, the organization wants to see Baltimore continue with plans toward a "zero waste" future, which would involve investment in recycling, compost, and other methods of diverting waste from landfills and the Wheelabrator incinerator.
"The trash wheels are a good thing for now, until we deal with the larger issues of diverting trash," Thomas-Wilhite says.
Lindquist, ultimately, says he agrees. The trash wheels are treating a "symptom" he says, so he wants to see more education around ways to reduce waste and keep trash and litter from entering the environment. The Healthy Harbor Initiative supports a zero-waste future for Baltimore, he says. 
"Our long term plan, our goal, is to put the trash wheels out of business," Lindquist says.