Aaron Henkin's New Weekly Podcast Lets Listeners Ask the Questions
With 'The Maryland Curiosity Bureau,' WYPR's Henkin traverses the town to capture rich experiences about life in Baltimore.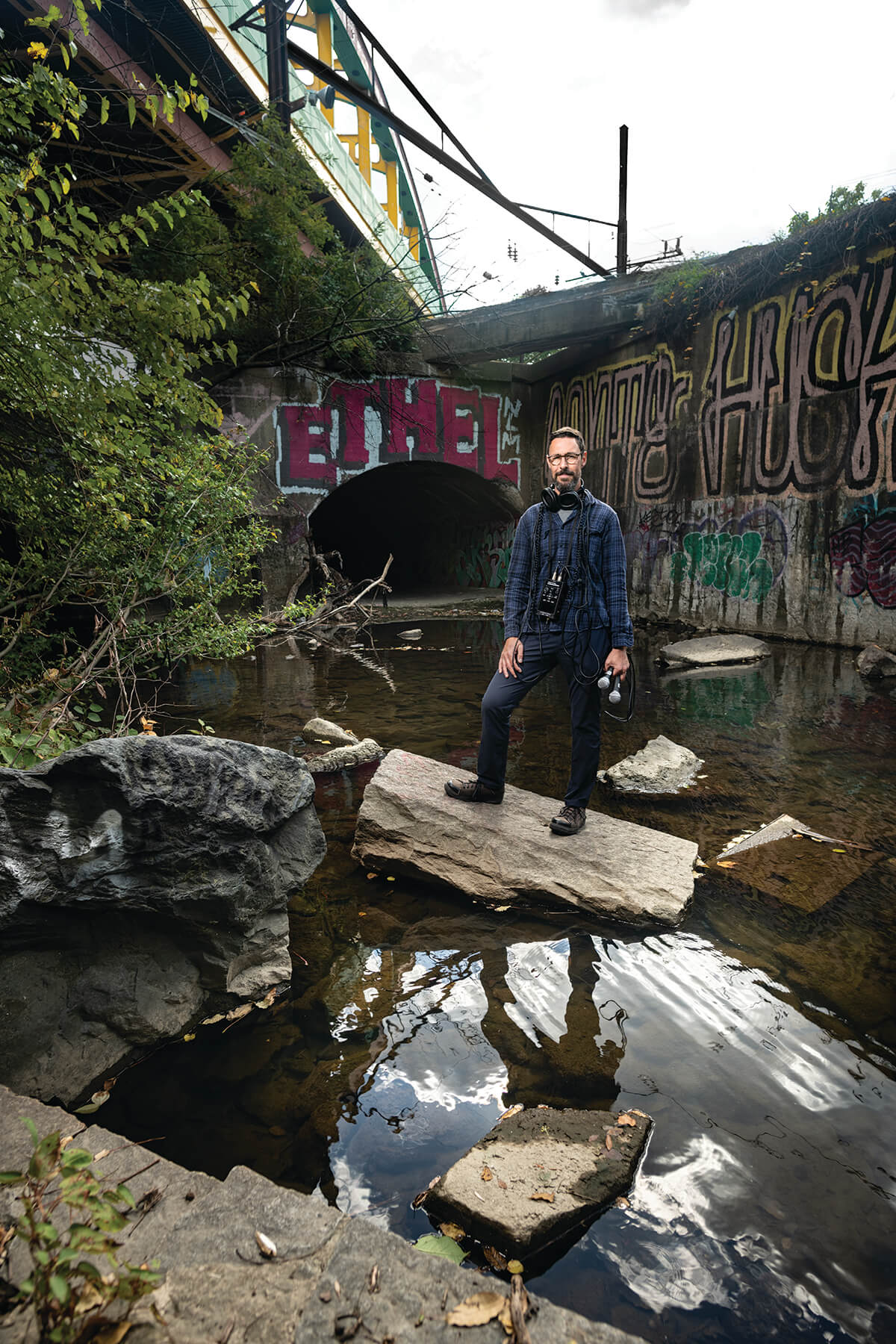 Aaron Henkin's voice might be better known than his bearded, bespectacled face, and it's that familiar dulcet tone that is floating over the brick steps of Pigtown on this Wednesday afternoon as he interviews resident Judy Aleksalza for The Maryland Curiosity Bureau, his brand-new weekly WYPR podcast that asks listeners: "What are you curious about?" Then he dives in to find the answer.
Henkin is casually dressed—slim blue chinos, plaid cotton shirt—and the only thing that separates him from just making polite conversation with Aleksalza is the headphones, recording device, and small microphone that come from a tote bag connected to the station's call signal.
"I wish this was on TV so you can see it," says Aleksalza perched on her stoop and gesturing to her home, bought 45 years ago as part of the Dollar House program. That's this episode's question: Did the program work and could it be done again?
"It's a podcast," Henkin tells her. "We can paint a picture with words."
And that's exactly what Henkin has done these past 20 years since first landing at WYPR's predecessor station, WJHU, in part because his gift is also in his silence. He's a world-class listener with the ability to draw answers out of his subjects that are honest and nuanced. When he's done interviewing Aleksalza, one of a handful of sources for this particular piece, he asks for 30 seconds of quiet to record the city sounds around him: cars driving by, leaves rustling, the whizz of bicycle wheels.
Baltimore has always been a welcome guest. First, with The Signal, a show devoted to exploring Maryland's thriving artistic and cultural scene, and then again, with Out of the Blocks, which earned Henkin the national Edward R. Murrow Award in 2018 for a podcast dedicated to exploring the lives of complete strangers and sharing their stories of one city block. That series ended this past summer after nine years.
"What I loved most about Out of the Blocks was it was an excuse to just wander around Baltimore and encounter people I never otherwise would have met," says Henkin. "The most challenging thing was that every conversation I went into with someone was from scratch, and I had no idea what kind of narrative arc would come out of that story—or if there would even be one."
But with The Maryland Curiosity Bureau, Henkin gets the same high—the ability to traverse the town and meet random people—but "there's a built-in narrative where every episode starts with a question, and it ends with an answer, or a failure to get an answer." But even in the failure, "you'll learn things that weren't even suggested in the question, and it'll still end up giving you a richer experience about life in Baltimore."
Henkin has already delved into "where are Baltimore's hidden streams" and in October, was lining up interviews for the charming question "is a city park a good place to meet someone and fall in love," posed by a single woman whose grandparents met in Patterson Park.
One man told Henkin that he always drives by a sign that proclaims, "Baltimore is a nuclear-free zone" and always wondered what exactly that meant. Says Henkin, "People talk about the wisdom of the crowd—this is the curiosity of the crowd."
It's a bit of a gamble to put his show into his listener's hands, but he has faith in his city.
"I had no idea about Baltimore when I moved here," says Henkin, originally from the Midwest. "I've been here 20 years now, but I know I've heard more than 20 years' worth of stories because I've been so lucky to do this work…It's a front row seat into everything that's interesting."