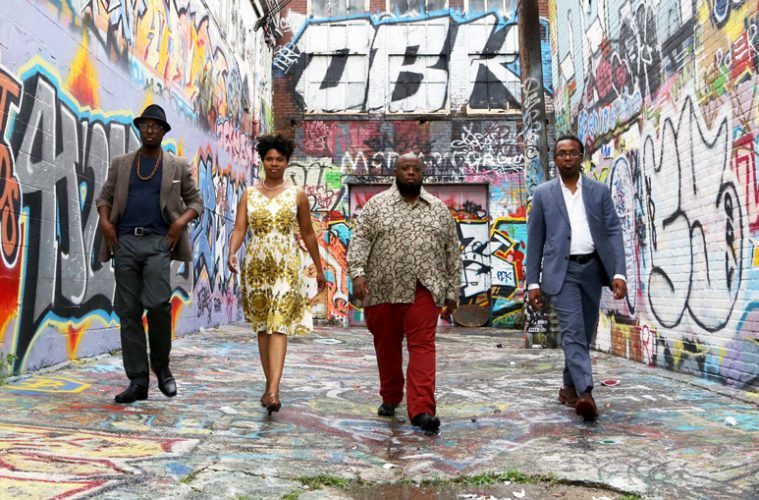 Afro House
When Afro House stages act one of the performance formerly known as "Afro Punk Ballet," which sold out shows and received rave reviews when it was performed this past October, audience members may experience a little confusion. The Afro-futuristic opera-ballet being formed on March 28 is now going by the name "Cease & Desist Ballet" following a complaint from the AFROPUNK LLC, (the company behind the AFROPUNK Festival in Brooklyn and beyond).
Afro House managing director Alisha Patterson says the arts collective received a cease and desist letter from AFROPUNK's legal counsel February 26 and was given just one week to stop all usage of "Afro punk" in their name and promotional materials. In addition to the problems created by being ordered to scrap all their planned marketing efforts just one month before their performance of the ballet at WTMD, Patterson was shocked to learn that the term "Afro punk" was trademarked at all.
"We've been working on this piece for the last five years or so, and I believe that Afro punk had been trademarked prior to that, but we didn't realize that when we selected the name," Patterson says. "We were so inspired by the movement, the culture, the genre, that honestly it wasn't even a thought. Kind of like if we would have named like 'bluegrass ballet.' Would the bluegrass people come after us? Or, you know, the hip-hop ballet. It didn't even occur to us."
The term "Afro punk" originated with James Spooner's 2003 documentary Afro-Punk, which exposed viewers to the oft-overlooked community of black musicians and fans in the punk, hardcore, and metal scenes all over the country. After the documentary's success, Spooner led the early festivals, however he dissociated from AFROPUNK after the 2007 festival due to deviation from the event's punk roots.
As for the trademarking of the term he popularized, Spooner has mixed feelings.
"On one hand, no one was using the name 'Afropunk' before my film," says Spooner. "Now all these people are using in it part because of the festival, which the people in charge worked hard to turn in to what it is. I've seen a lot of cool scenes ruined by people using the name for their own agenda, emo and straight edge both come to mind, so I get [AFROPUNK's] position. On the other hand, I think that trademarks aren't punk."
Spooner also points to AFROPUNK's past issues with inclusivity, including the exclusion of trans performers and staff, and several lawsuits as reasons not to want to be associated with the company, saying that Afro House is getting "a better name and story in the end" from the situation.
In addition to the short-term effects of the name change for Afro House, the changed ads and explanations via social posts and an open letter from the collective, the experience has made Patterson and the rest of the Afro House team reexamine their own situation as an organization named for a genre and larger community.
"Since learning that Afro punk has been trademarked, we've wrestled with what it means to trademark a genre and brand a particular experience," read the open letter penned by Alisha and co-founder Scott Patterson. "We've also struggled with what it means to be an organization founded and run by people of color that operates within the confines of capitalism. While we can appreciate the business side of protecting one's brand, we also understand that the genre of Afro House music belongs to all of us, and therefore should not be owned by a person, business, or institution."
For now, the future of "Cease & Desist Ballet" is uncertain, and the question of "what's in a name?" remains partially unanswered. Patterson says she's unsure whether the new name will stick around or be swapped for something that better describes what they're trying to accomplish with the piece.
Act one of what is now "Cease & Desist Ballet," which blends Afro punk, 20th-century French music, and black southern gospel in its soundscape, follows two sisters who take vastly different paths following their brilliant father's cataclysmic decision. The Afro-futuristic opera-ballet will be performed March 28 at WTMD and is suitable for all ages.
Scott and his collaborators are currently in the process of writing act two, and the collective is looking for residencies where it can perform and workshop it further in hopes of eventually touring with the opera-ballet. In addition to seeking out performance opportunities, the situation has forced Afro House to consider a rebrand to both protect themselves and keep the community accessible.
"We're considering what the whole rebrand of Afro House would look like and what the extent of that is going to be," Patterson says. "We really feel like we've built a brand for ourselves with name Afro House, so what does that mean to shift and change the name? Not so much our identity, because that won't change who we are, but what does it mean to change the name? It's definitely something that we're going to be doing simultaneously as we continue to develop the opera ballet."