The Well-Funded 'Baltimore Banner' Will Rival 'The Sun.' Can it Prove Sustainable?
New online-only Baltimore newspaper is set to launch in early summer.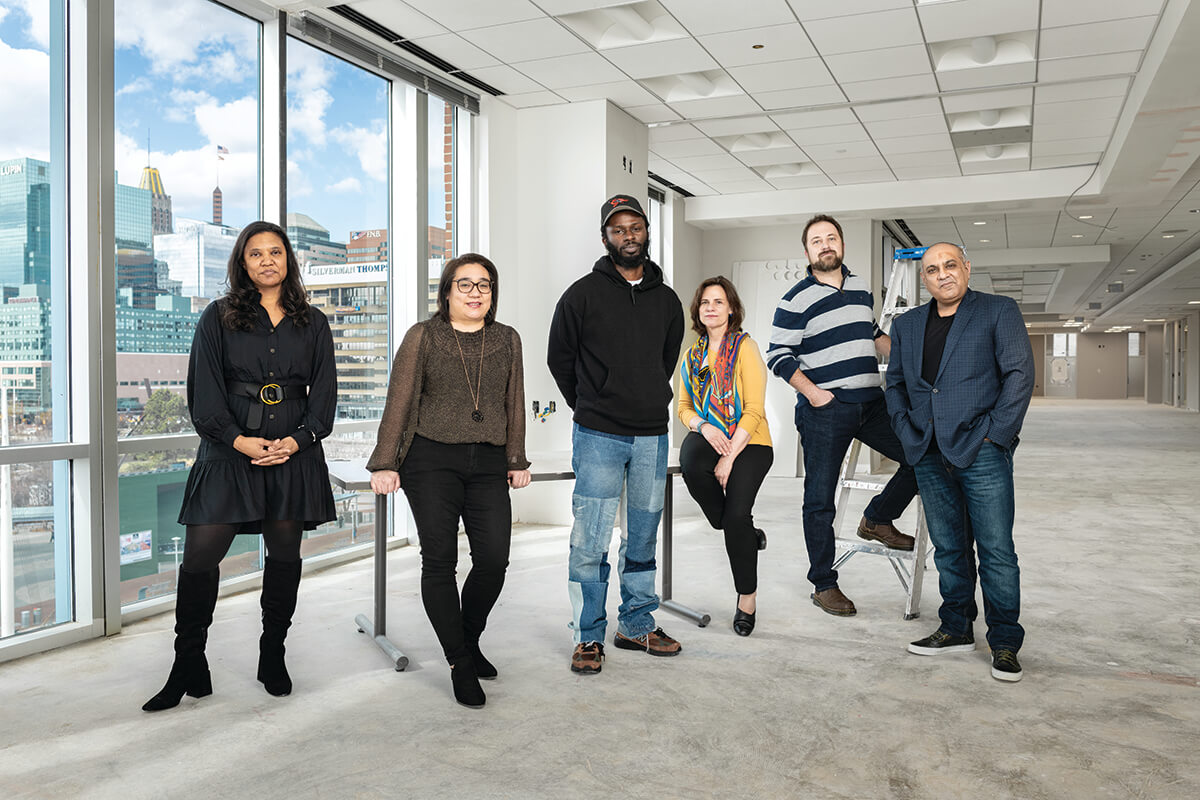 Stewart Bainum, the Takoma Park philanthropist behind the soon-to-be launched The Baltimore Banner, the new city digital newspaper, has shared this story before, but it bears repeating.
When he served in the General Assembly from 1979 to 1986, reporters from big-city papers like The Baltimore Sun, The Evening Sun, The Baltimore News-American, The Washington Post, and The Washington Star—as well as The Capital and smaller Maryland newspapers–swarmed the General Assembly like bees to a honeypot.
And for good reason. The state had been infamous for its corruption and drama long before the convictions of former governors Spiro Agnew and Marvin Mandel just prior to Bainum's arrival. Several of the reporters covering Annapolis while he held elected office went on to big careers, including future PBS NewsHour host Gwen Ifill–who covered Bainum's bill to get rid of a lucrative tax break for a politically connected all-male club in suburban Washington–and future Pulitzer Prize-winning columnist Maureen Dowd.
As for Bainum, he left politics and took over as CEO of his father's nursing-home business, which he helped turn into one of the largest in the country. He never forgot, however, the important work of those journalists covering the halls of the Maryland State House, even as The Evening Sun and The Washington Star, where Ifill and Dowd were employed, respectively, fell by the wayside–and newspapers across the board began slashing staffs in the wake of falling print revenues.
Fast-forward to May 2020. Sitting out the early months of the COVID-19 pandemic at his family's second home on the Eastern Shore, Bainum, who turned 76 last month, began brainstorming his next philanthropic endeavor. He'd made several successful early philanthropic investments in sub-Saharan Africa in recent years, including in a Liberian case-management system that improved infant mortality rates.
Plainspoken, earnest, and still curious-minded–with admittedly enough of an ego that he cares about his legacy–Bainum sought another high-risk, high-public reward venture where others were not yet willing to open their wallets. Ideally, a project with the potential to establish a model that could be replicated and have a broad impact. Ideally, closer to home.
"I started thinking about local news again," says Bainum, recalling the loss of advertising and subsequent staff cuts plaguing not just The Sun, but institutional newspapers across the country. "How can people govern themselves if they don't know what is going on in their community? There is no industry more critical to democracy."
The Sun popped up on Bainum's radar immediately when he began looking for a legacy paper to save, or at least rebuild. He'd started subscribing 40 years ago as a legislator. The Sun was always a great paper, he says, until about 20 years ago when it began heading in the wrong direction as the industry's consolidation and digital trends merged into a two-headed existential threat.
In Baltimore, the industry dynamics first shifted when Los Angeles' Times Mirror Company bought The Sun from its historic A.S. Abell Co. owners in 1986–just 30 hours after Baltimore's once-beloved News-American, an afternoon paper with a 200-year lineage, folded. They worsened when the Tribune Publishing Company purchased Times Mirror in 2000, The Sun included, on the cusp of the digital revolution. (The internet stripped advertising and subscriptions, as newspapers for too long gave away their content online for free, which proved a boon for Google, Facebook, and Twitter, but sped their own decline.)
Consider that as recently as 2002, The Sun employed some 400 journalists. Today, it's about 70. The situation went from bad to hellish just before COVID arrived in Maryland, when the hedge fund and well-known newspaper dismantler Alden Global Capital started buying up Tribune stock in a takeover move. Long story short, Bainum's bid last spring to pry The Sun from Tribune before it sold the 185-year-old paper to Alden didn't work out. Neither did his subsequent scramble to buy all of Tribune. (Bainum has a lot of money, but not that kind of cash. "I'm not a billionaire," he says.) Both efforts were rolls of the dice, but he had a back-up plan in his pocket all along–the creation of a nonprofit, digital-only metro newspaper.
"WE'RE PUSHING ALL OUR CHIPS TO THE MIDDLE OF THE TABLE."
ProPublica, the Pulitzer-Prize winning nonprofit, and The Texas Tribune, a statewide nonprofit specializing in politics and explanatory journalism–each founded more than a decade ago–are two examples of successful online-only news sites. So is the Baltimore Brew, which has been breaking City Hall stories since 2010, and Maryland Matters, which covers state politics and recently celebrated its fifth anniversary.
But what Bainum and his team at the The Baltimore Banner have in mind would break new ground. It's a thus-far illusive sweet spot somewhere between the national online journalism outlets, which generally focus on an area of expertise, such The Marshall Project and its focus on criminal justice, or more narrowly focused local outlets, like the Brew and Maryland Matters. The best current template is the Daily Memphian, an ambitious metro news site that launched in 2018 with $7 million in funding and a staff of 25, and has since added 10 more journalists. Its founder has been explicit about challenging that city's Gannett legacy newspaper, The Commercial Appeal, stating that chain ownership inevitably leads to "massive cuts and loss of local focus."
Bainum's gamble is of a different scale altogether. He's pledged to raise, or personally contribute if necessary, $50 million over the next three and a half years in start-up funding. The plan is to launch with 50 journalists–"we're hiring like mad," says managing editor Andrea McDaniels, who spent two decades at The Sun–and grow to 70 journalists, a newsroom that would essentially match The Sun.
"We could've decided to spread the $50 million over 10 years, but people who have done this tell us, and everything we've learned tells us, it's better to go big early and be competitive from the start," says Bainum. "We're pushing all our chips to the middle of the table."
The first question about The Baltimore Banner–whether or not it will produce content that rivals The Sun–was answered months ago. But not before some initial controversy. In October, The Banner announced in a Washington Post story it had hired Kimi Yoshino, then managing editor of the Los Angeles Times, to serve as as editor in chief. The hire was initially met with a less than enthusiastic response, given Yoshino is from out of town–Baltimoreans are nothing if not parochial–as are Bainum and Banner CEO Imtiaz Patel.
And that, along with high-profile supporters Michael Bloomberg and David Simon, as well as several other white philanthropic consultants, the paper appeared to lack significant Black leadership in what has long been a majority-Black city. A city that has long felt the consequences of racially biased reporting, as The Sun noted in a lengthy apology to its readers in February. Yoshino acknowledges The Post rollout was a mistake, that it was too soon and not well-considered, given her and The Banner's intentions.
"David Simon emailed me and said you can't make those kinds of unforced errors, and he put me in touch with [Baltimore native and New York Times best-selling author] D. Watkins," who is Black, Yoshino recalled recently from The Banner's temporary downtown co-working space. "D. introduced me to some other Black writers and journalists."
The Banner then made its first real splash early in the new year with a follow-up announcement: It had hired not just McDaniels, who is Black and a well-respected journalist with leadership experience at The Sun, but also that it had stolen veteran reporters Justin Fenton, Liz Bowie, and Tim Prudente from The Sun, and hired Washington Post music and culture contributor Lawrence Burney, whom Watkins had recommended.
Fenton is the author of the Gun Trace Task Force chronicle, We Own This City: A True Story of Crime, Cops, and Corruption, which David Simon made into his latest HBO project and is set to air this month. He also has nearly quadruple the number of Twitter followers as the next-highest Sun journalist and seven or eight times that of most of the prominent journalists in the city. Bowie is an award-winning education reporter with unparalleled experience on that critical beat. Prudente, who covered the courts and cops at The Sun, has already broken one major story for The Banner–that a city parking garage had been turned into a makeshift morgue to cope with a backlog of autopsies, resulting in the resignation of the state's chief medical examiner. Burney is the founder of the award-winning Baltimore and Black-centered arts magazine, True Laurels, and brings city music and arts knowledge and relationships that few, if any, other journalists in Baltimore possess.
For his part, Fenton says his move was borne out of the increasing realization that Alden had no intention to retool and rebuild The Sun. "We've weathered a lot at the paper over the years and had some departures over the summer that felt like we crossed a plane," he says, noting the resignations of experienced editors Anne Tallent and Eileen Canzian. "All of a sudden, I went from thinking we've been doing good work in spite of our circumstances, [to where] I was worried that we finally actually hit the bone and it was going to be real bad."
Since that announcement, The Banner has lured away several other key Sun journalists, including Pam Wood, its top state government reporter, and Taylor DeVille, its top Baltimore County reporter, and business and health reporter Hallie Miller. Yoshino also convinced former Sun editor and former L.A. Times colleague Richard Martin to return to Baltimore, and he will serve as deputy editor under McDaniels.
In late April, The Banner also hired two more Black journalists with Baltimore roots, and overall, it seems to be doing better than The Sun in building a diverse staff, which, even after its formal apology, has hired overwhelmingly white replacements to fill the shoes of the journalists who left for The Banner. Leslie Gray Streeter, an accomplished journalist who spent two decades at The Palm Beach Post, will write a regular column for The Banner, and Jasmine Vaughn-Hall, who previously worked at the York Daily Record, will work as a community reporter.
Having established it will produce content that rivals The Sun, two other questions emerge: 1) How will it be different and more interesting than The Sun, if it's hiring largely former Sun staff and traditional legacy publication journalists at the outset? To date, Burney seems to be the only out-of-the-box editorial hire. And: 2) Can it raise the $15-million annual budget that Bainum and CEO Patel's research tells them it will need to be sustainable once the initial seed money–which is substantial, make no mistake–runs out?
In terms of offering something unique in comparison to The Sun, Yoshino, McDaniels, Fenton, and Bowie say that there is discussion in their newsroom every day about what defines a "Banner story." First and foremost, it means a Baltimore and metro-area focus. Readers shouldn't expect posts on the Russian invasion of Ukraine or the president's State of the Union on the homepage, for example, not even with an Associated Press byline, unless there is a significant Baltimore angle.
That said, the intention is not to cover every breaking news story, homicide, or fire, the way The Sun does as a matter of practice as the city's paper of record. There won't be daily game coverage of the Orioles. Going in, the plan is to do more enterprising, explanatory, and investigative journalism. The kind of work that probes past the "who, what, where" of journalism to the "why and how" questions. To that end, the start-up staff is getting months to dig into, and bank, compelling pieces intended to get The Banner off to a flying start. In-depth local journalism, in other words, that takes time, resources, and commitment that was increasingly in shorter supply at The Sun. It's work that the City Paper, which Tribune purchased and then shuttered, was known for as well.
In fact, Yoshino, who is cautious about invoking the City Paper because she doesn't want to alienate its loyal former readership, says The Banner will have a substantial freelance budget like the City Paper, which is a contrast to The Sun and other traditional legacy papers, which are almost entirely staff-written. That should help bring new voices into the city's journalistic ecosystem.
A formative "creatives in residence" initiative was announced in March. The initial cohort includes D. Watkins, poet and essayist Kondwani Fidel, E.R. Shipp, who won a Pulitzer when she was at the New York Daily News, and Charm City Table blogger Simone Phillips, who has one of the largest social media profiles in Baltimore. Yoshino also said award-winning Baltimore-based photographer Shan Wallace, who should add some striking visual pop, has been hired. Podcasts and more video-oriented journalism are likely just down the road.
As far as revenue, Bainum and Patel envision a mix that is ultimately 50 percent subscriptions, 25 percent ads, 15 percent philanthropic contributions, 5 percent from events, and 5 percent miscellaneous. Subscription prices will be comparable to The Sun, giving Baltimoreans a real choice.
Whether The Banner can become more than the sum of its posts and feel like an integral part of the fabric of Baltimore life the way The Sun, still colloquially referred to by older Baltimoreans as The Sunpapers, and City Paper did remains to be seen. In the battle for pageviews, The Sun certainly hasn't been so stripped that it's without familiar bylines. Columnist Dan Rodricks, neighborhood historian Jacques Kelly, obituary writer Fred Rasmussen, enterprise reporter Jean Marbella, and Ravens beat writer Mike Preston, to name a few, all still bring institutional knowledge and journalistic bona fides, which remain in increasingly short supply for newspapers everywhere in the country.
"It was sad to leave The Sun, it's an institution I love, and I love the people I worked with at The Sun," says Bowie. "But I also spent 18 months trying to find new ownership and came to see the sustainability of local news coverage is a national problem. I don't know how to solve this sustainability problem, but Stewart Bainum is committed to finding an answer. This is an opportunity to experiment and create something new that might last. Who knows? Maybe it'll last 185 years."
The best possible outcome is that Baltimore becomes a two-newspaper town.