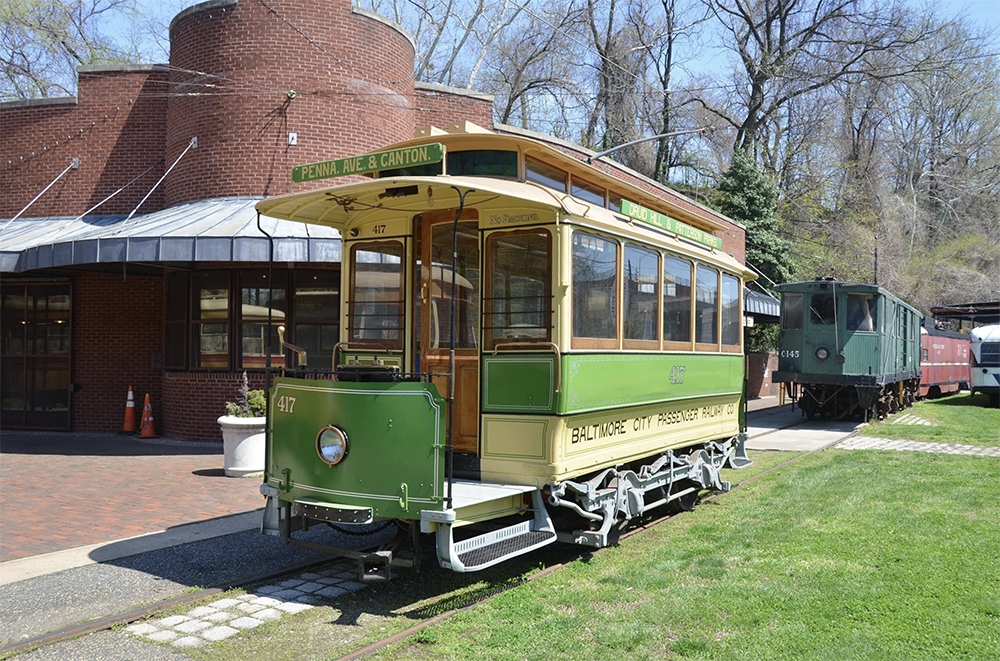 Baltimore Streetcar Museum
On Monday, ten days after a CSX train derailed from a span of track above Falls Road near the Baltimore Streetcar Museum—several empty freighters and a tanker dangled then slowly fell from the overpass above, destroying the power source that runs the museum's antique streetcars, ironically, on a different line of track below—a small construction crew continued work on the cleanup.
From the looks of it, contractors are about halfway through building a new gray cinderblock building for an electric substation, the structure that was destroyed March 15 in the accident. That's true, says Ed Amrhein, administrative vice president of the all-volunteer museum, but there's much more to the recovery than that.
The power is back on in the museum's visitor center, which has been operating since 1977 and reopened on Sunday. But the live jewel for the organization—the running of the electric streetcars themselves that used to take Baltimoreans to and from work in the late 1800s and early 1900s—likely won't happen again until the end of June.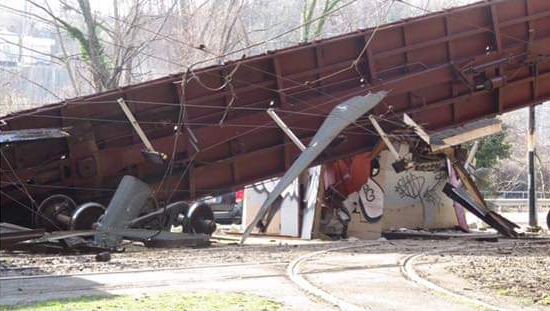 "At the moment, the track has to be repaired," Amrhein says, "and the big thing is all of the overhead wire that was torn down by the car falling on top of it. That's going to take a couple weeks, and we still haven't heard from the people who said they were willing to do it what the price would be."
CSX, the freight train behemoth with a market cap of nearly $60 billion, has offered to pay for the cost of repairs, and the museum's leadership certainly plans on sending them the bill. How much it will be for remains to be seen. Amrhein says the rectifier that converts BGE-supplied AC power to 600 volts of DC current to run the streetcars—did not get destroyed, but he's unsure exactly how much damage it took.
"We're thinking we can save it," he said, "because if we have to buy another one, forget how much it's going to cost CSX, it would be nine months or more away, just waiting for that one piece." The price tag would be roughly $800,000.
Money aside, the incident could have been a lot worse. No one was injured. No hazardous materials were on board the derailed train, nor were any passengers. And Jennifer Gwynn, who cleans the museum and was in her parked car when she heard a loud bang from above, was able to get away safely even after one of the cars that derailed knocked over a telephone pole that landed on her minivan.
Hundreds of people found their way to the scene near the Howard Street Tunnel to see the mess of metal and downed power lines, and surrounding streets were closed for hours.
Probably the deepest impact is the emotional cost paid by the museum's 300-plus volunteers.
"Most of the people at the museum have taken it pretty hard," says Amrhein, who works as a plumber. "It's their hobby. We volunteered a long time to build a lot of this stuff, and to watch it disappear in a couple hours, and that we can't run the streetcars for people, is heartbreaking. But, we'll survive."