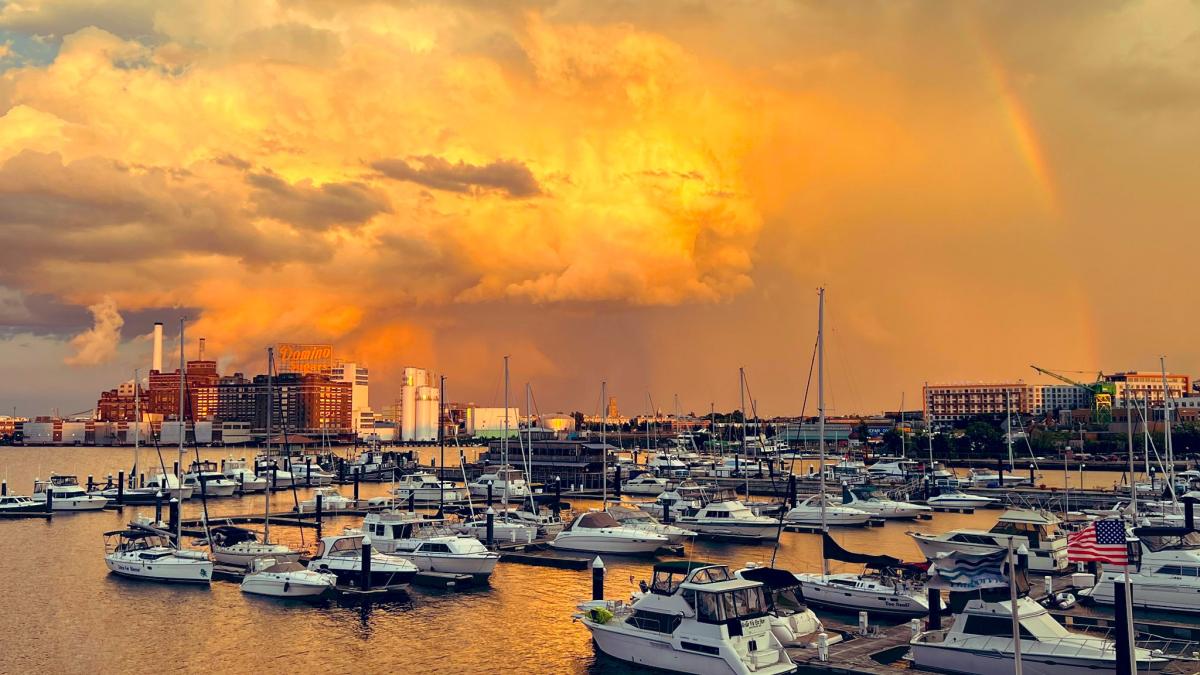 —Isabel Cumming via Twitter
On walks to work at City Hall—before the rest of Baltimore begins its daily grind—Isabel Mercedes Cumming stops, pulls out her iPhone 6, and snaps a photo of the sunrise over the Inner Harbor. Ideally, skies are clear, and Baltimore City's Inspector General can see rich shades of lavender, peach pink, and neon orange reflected on the water's surface.
"It's my happy place," says Cumming, who shares photos of each sighting with her followers on Twitter, often with a morning greeting.
Cumming says the ritual began around the time her mother passed away four years ago. While "looking for a sign," the former prosecutor started photographing the birds and rows of ducks she passed on her commute. 
Soon enough, Cumming's photos sparked a "Twitter renegade," which is how she first discovered three other Baltimoreans who shared similar routines of documenting city sunrises. One was firefighter Andrew Doyle, whose photos flaunt the fireboat he operates near Fort McHenry. Another was now-retired Maryland public defender Paul DeWolfe, who takes his pictures overlooking the harbor "way up high," as Cumming says. Then, there was Baltimore's own famed crime fiction writer Laura Lippman, whose photos and their witty captions serve as mini writing prompts. 
"I get up, go out, see what's out there, then respond to it," says Lippman, whose own sunrise journey took off near the start of the pandemic. On early-morning walks along the waterfront, the novelist took photos of the old Domino Sugars signage as it was dismantled, then replaced with LED bulbs. Lippman says that this became "the central motif" of her mornings.
This year, after one devoted Twitter user placed the four members' faces overtop the iconic '80s movie poster, the early-rising locals formed the "Baltimore Sunrise Breakfast Club." At the moment, "We're still looking for a Brian," Cumming quips.
This past winter, things became official after Cumming sent Lippman a direct message with encouragement from mutual followers, who hoped the two would orchestrate a meeting IRL. In her message, Cumming wrote, "Let's give them something to talk about."
Lippman was on board. And fittingly, on February 12 at 6 a.m., the sky was pink when the two crossed paths. Followers of the story went crazy for the selfie that ensued. "People were tweeting 'They met! They met!' It was a pure Baltimore moment."
"It was lovely," Lippman tells us. "It's nice sharing an obsession." 
While the entire group has yet to meet to recreate the aforementioned poster, Cumming often posts their sunrise photos side-by-side on Twitter. "We feel guilty if we miss a day," she says, adding that the group's consistency draws local followers. 
"People look forward to the pictures, so I guess that encourages us to keep doing it," explains DeWolfe, who spends his mornings biking near the waterfront. "Some days can just be magical." And not just for their sunrises: "There was an Argentinian tall ship in the harbor a few weeks ago and some of us were able to capture it. You never know what to expect."
Doyle finds this common sense of wonder reassuring. "What I see every morning isn't unilateral. It gives me hope," the firefighter explains. "I'm privileged to be able to take what I see and use an internet megaphone to show everybody else what's out there."
Given an often tense internet atmosphere, Lippman agrees. 
"Twitter is an increasingly contentious place, or so it seems to me," she says. "Lots of dog piles over innocuous things, people looking to be outraged. I like beginning the day with a tribute to my beloved but imperfect hometown." She adds: "So far, no one's worked themselves up into a snit about anything I've posted—but give it time." 
For Cumming's part, she's proud that the club plays a role in amplifying the allure of the city.
"Sometimes, my personal job has me pointing out things that are problems in Baltimore," she says. "My pictures kind of balance that to remind people how beautiful it is. I want people to realize there's balance in life. A lot of times, I'm pointing out the negative. But I also believe strongly in the positive of Baltimore." 
So do her fellow members. 
"I mean, if you think about it, Paul was the public defender for the state of Maryland. I'm a career prosecutor," Cumming says. "Laura is a world famous writer, and Andrew is a fireman. We're all just people who truly love Baltimore."