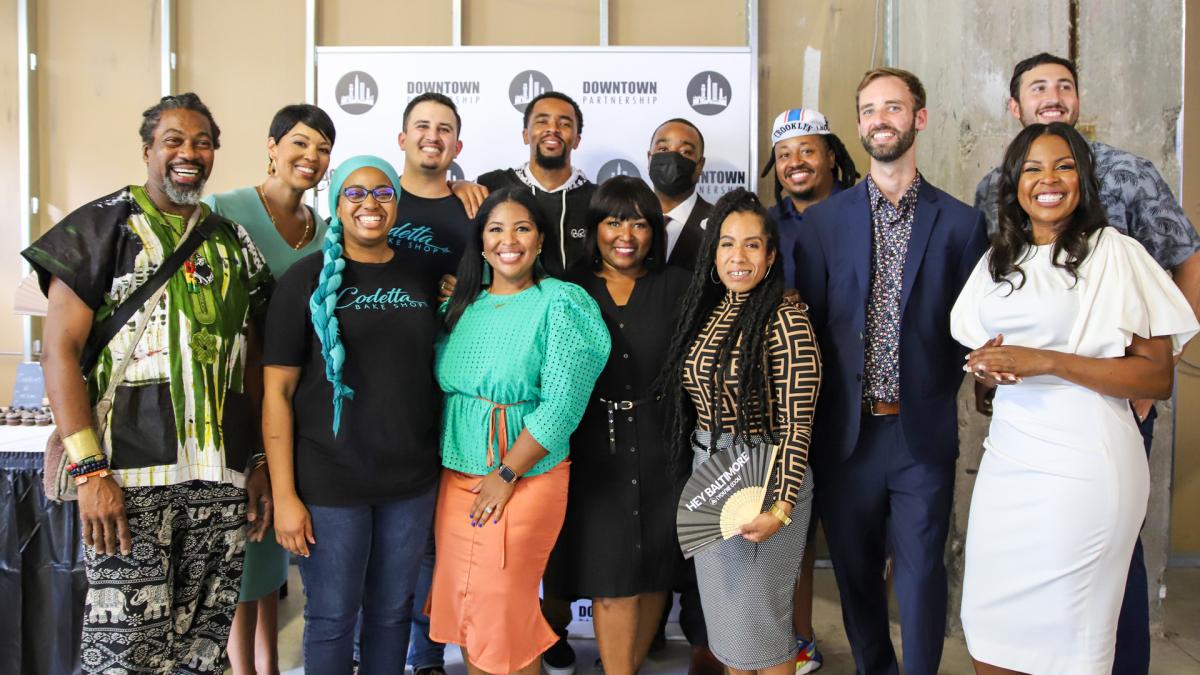 The inaugural group of entrepreneurs to participate in DPOB's BOOST program. —Courtesy of Nicole Rohrer/DPOB
Owning and operating a small business is no easy task. Doing it as a person of color in a major city can make things even harder.
Nikia Vaughan experienced this firsthand. That is until last year, when she was selected to participate in the new BOOST program from the Downtown Partnership of Baltimore (DPOB). Vaughan started NKVSkin, her skincare line and aesthetic services business, out of her own home. Now, she has her own storefront downtown on Charles Street.
"Just having signage up on Charles, my clientele has grown immensely," Vaughan says.
While working full-time as a community health worker at Johns Hopkins University, she started her skin care line as an extra source of income to better support her daughter and husband with sickle cell disease. She eventually became a licensed esthetician, but Vaughn credits the BOOST program with helping her turn NKVSkin into a main gig.
"I just thought 'I'm going to open up a little suite and work hard for my family,'" she says. "Being a part of this amazing program, I was able to find an attorney, a CPA, a business coach."
BOOST, aka the Black-Owned & Occupied Storefront Tenancy program, was launched in February 2021 to support Black business owners in Baltimore with business expertise, grant opportunities up to $50,000, and commercial locations throughout the downtown area. The program is run by DPOB and its first year was sponsored by Fearless, a Black-owned tech company based in downtown Baltimore.
Baltimore's population is 60 percent Black, with 47 percent of the city's small businesses having Black ownership, according to the U.S. Senate Committee on Small Business and Entrepreneurship. BOOST is aimed at leveling the playing field and making downtown commercial areas more representative of Baltimore as a whole. After an application and interview process, chosen business owners receive six months of intensive education and networking opportunities, as well as a lease to a storefront location downtown. For the initial class, the five businesses selected were NKVSKin, Media Rhythm Institute, Elite Secrets Bridal, Codetta Bake Shop, and Black Genius Art Show.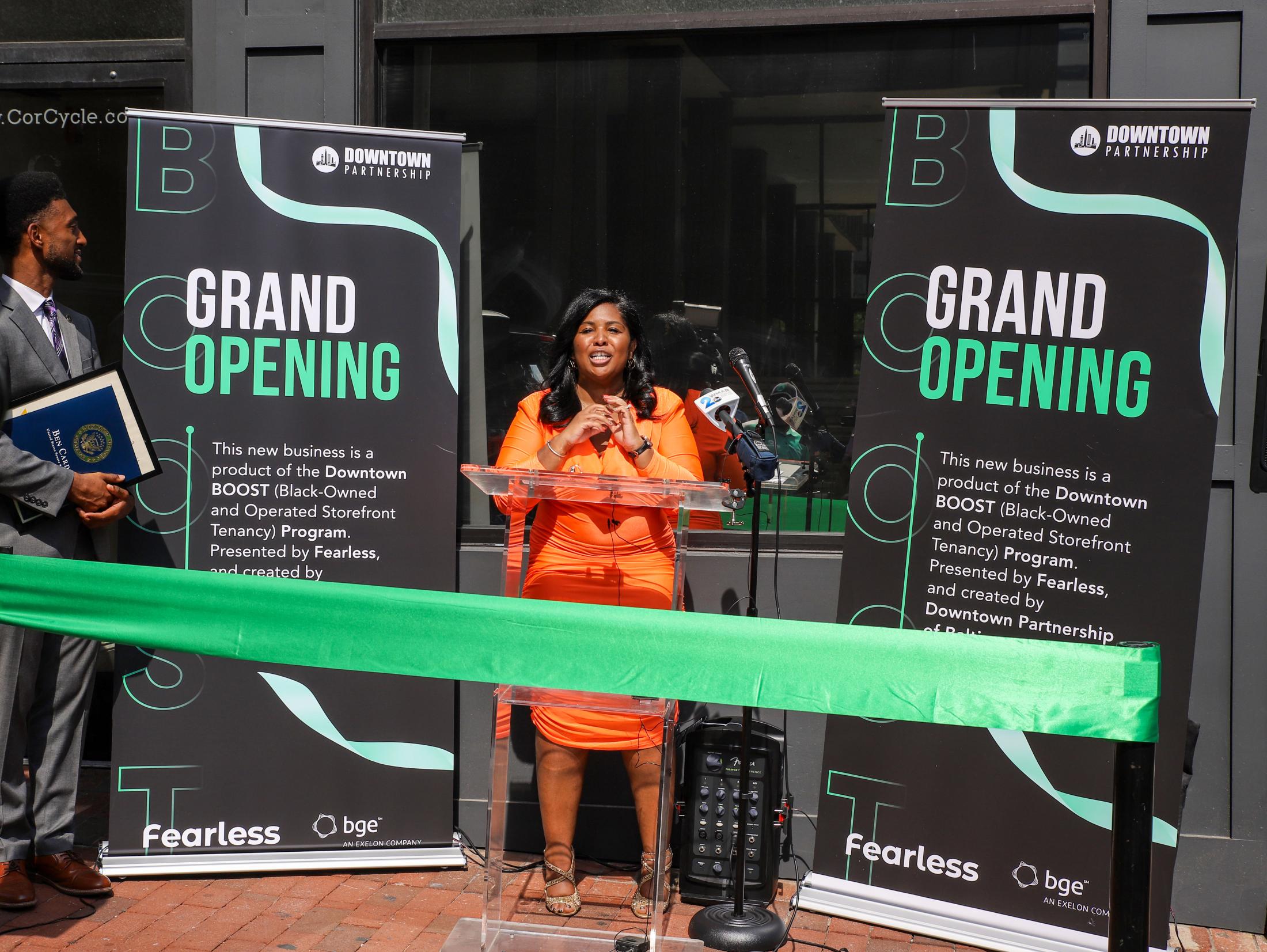 The BOOST program was the brainchild of DPOB president Shelonda Stokes, one that felt especially important following the murder of George Floyd in Minneapolis in May 2020 and the subsequent push for racial justice across America, which sparked protests in Baltimore.
"We needed to have a really proactive role in promoting racial justice downtown," says Sam Storey, DPOB's director of economic development. "Black-owned businesses have twice the rate of denied loans, they start with less capital, and they have lower success rates."
The program's selected recipients take biweekly courses over a six-month period that teach them how to grow their business in profitable, sustainable ways. They also receive assistance with logistical and legal aspects, such as writing letters of intent, reaching out to contractors, and working with accountants. BOOST also aids with grant applications and provides networking opportunities with other businesses and organizations through DPOB.
"This is an innovative program that mixes an incubator with an accelerator," says Tiffany Welch, co-owner of the Media Rhythm Institute (MRI), a Loch Raven youth education program. "It's challenging, you have to be serious, but the knowledge is invaluable."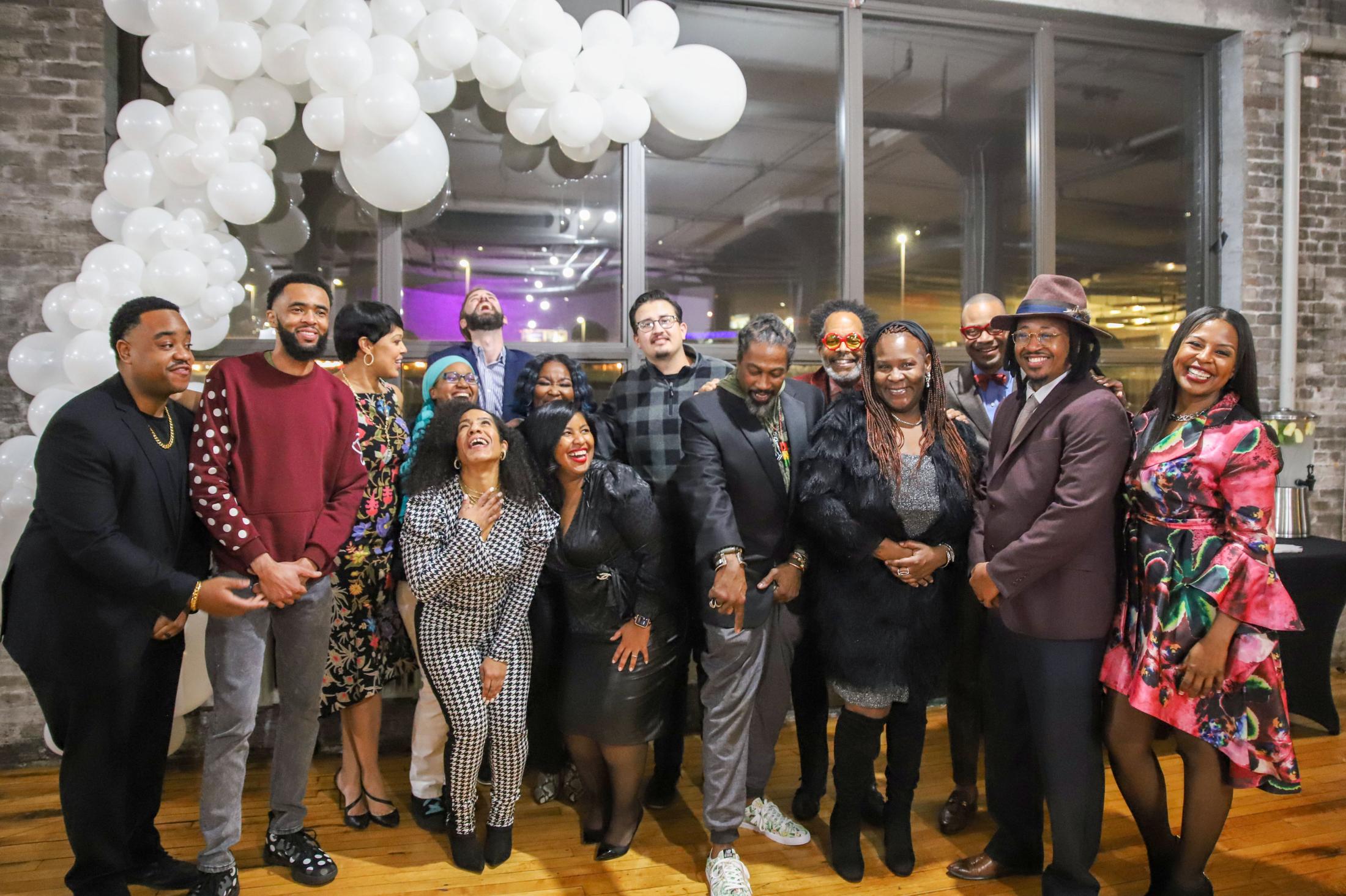 Welch and co-owners Jimmie Thomas and Deverick Murray opened MRI in 2017 to promote the arts and other creative industries among Baltimore's young people. They work with children in grades 5 through 12 to give them the opportunity to produce their own music, dance, and video projects in a professional setting and learn how to turn creative skills into profitable businesses. A new downtown retail space on Howard Street will be a central hub for their creative productions.
"They know how to make a model sustainable," Thomas says. "This is to ensure that [the businesses] are scalable and will be around long term."
The goal of BOOST is to create continued growth for these Black-owned businesses in the future—beyond their initial involvement with the program.
"We ask ourselves, 'How can we promote long-term growth?', not 'How can we fill a retail space?'," says DPOB's Storey. "BOOST is the start of a long-term relationship."
Applications for 2022 are not open yet, but will be later this year. DPOB plans to run their BOOST program at least through 2024 and hopes to give more Black-owned businesses the chance the thrive in Baltimore.