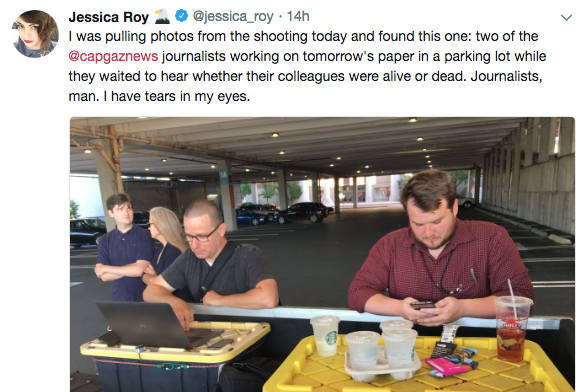 Jessica Roy via Twitter
Five people lost their lives in the Capital Gazette newsroom on Thursday. Local journalists, politicians, and Gazette reporters themselves share their perspectives on the tragedy through words and images.
"It's a journalist's duty to tell the public what is happening. We buckle up and mourn later," said Adrianne Flynn, an ethics professor at University of Maryland's Philip Merrill College of Journalism. Read more on the lives and legacies of the victims here.
There is nothing more terrifying than hearing multiple people get shot while you're under your desk and then hear the gunman reload

— Phil Davis (@PhilDavis_CG) June 28, 2018
These men and women were targeted for doing their job - reporting on the community they cherished and constantly seeking the truth. The shooter, who had a history of harassing women, took exception with their honest reporting of the facts and resorted to senseless violence. https://t.co/td4bSA6P7b

— Anthony G. Brown (@RepAnthonyBrown) June 29, 2018
I would need 2.8 million characters to tell you about Rob Hiaasen, one of the most curious and open-hearted journalists I've ever known.

— Laura Lippman (@LauraMLippman) June 29, 2018
I'm heartbroken, but catching up on emails this morning has given me so much solace. The first people to contact me — before all the national outlets — were my sources. In Annapolis, the paper is part of the community.

That's the legacy Rob, Wendi, Gerald, John and Rebecca left.

— Danielle Ohl (@DTOhl) June 29, 2018
Only been at @capgaznews a year. I remember once wondering why a coach emailed asking to print an open pos on his staff. "We aren't the classifieds"I said. "We're a community paper" my editor said. Rings true now.What happened was a community tragedy, and whole community feels it

— Jack Chavez (@ChavezJM3) June 29, 2018
I was pulling photos from the shooting today and found this one: two of the @capgaznews journalists working on tomorrow's paper in a parking lot while they waited to hear whether their colleagues were alive or dead. Journalists, man. I have tears in my eyes. pic.twitter.com/KjfZ0fqSd2

— Jessica Roy ???? (@jessica_roy) June 29, 2018
While we wait for more news from Maryland shooting, perhaps this is the moment when Trump and the GOP, including sitting U.S. Senators, may consider stopping their attacks on the press. Now. Right now.

— David Jolly (@DavidJollyFL) June 28, 2018
Yeah. If Donald Trump were standing in front of me right now ready to deliver thoughts and prayers to the dead in Annapolis, I wouldn't waste the spit. This man will destroy every norm on which the republic depends in order to advantage himself only. pic.twitter.com/LxVp7I7LJb

— David Simon (@AoDespair) June 29, 2018
Feeling safer reporting on organized crime and corruption in Eastern Europe than local news in Maryland. #CapitalGazette #Annapolis shooter

— Jesse Chase-Lubitz (@jesschaselubitz) June 28, 2018
Devastated & heartbroken. Numb. Please stop asking for information/interviews. I'm in no position to speak, just know @capgaznews reporters & editors give all they have every day. There are no 40 hour weeks, no big paydays - just a passion for telling stories from our communty.

— Jimmy DeButts (@jd3217) June 28, 2018
Emotional Capital Gazette staffer interview just now on CNN: "Thanks for your prayers, but I couldn't give a fuck about them if there's nothing else."

— Will Sommer (@willsommer) June 29, 2018