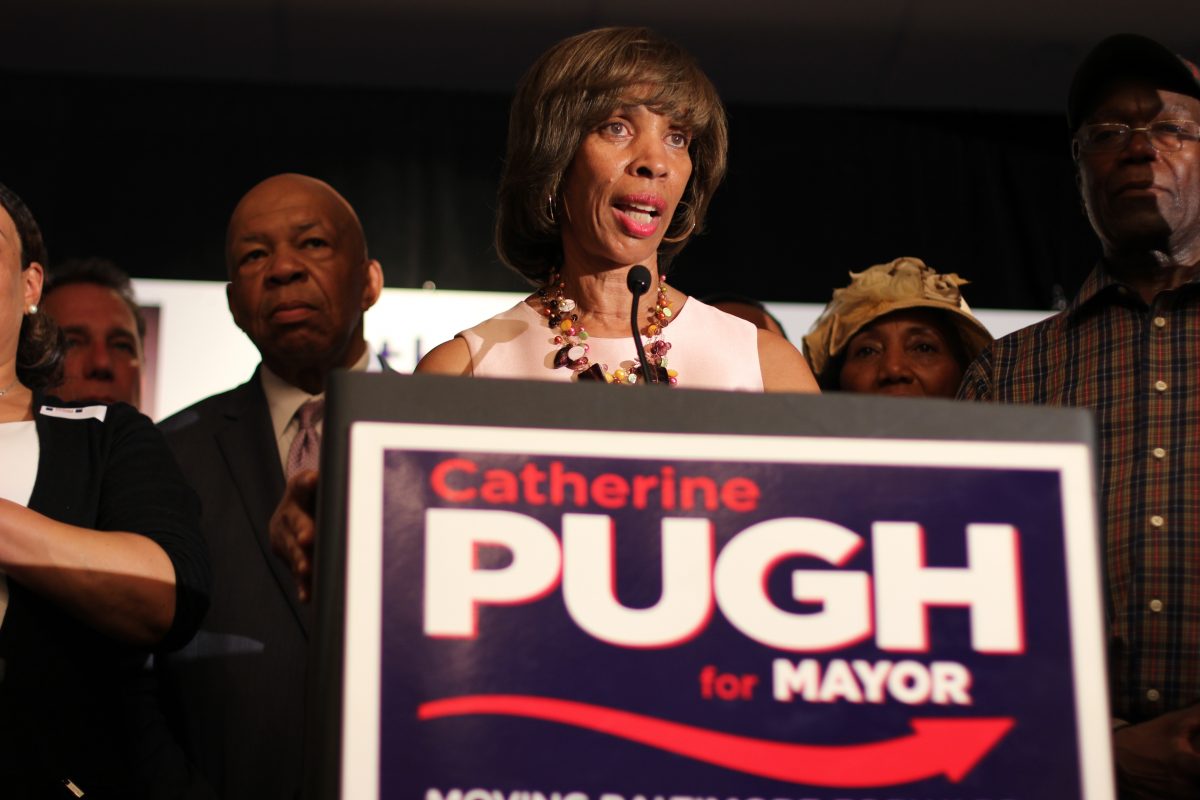 Photography by Meredith Herzing
State Sen. Catherine Pugh, considered the frontrunner in the race to become Baltimore's next mayor, opened a lead over her Democratic primary rivals during last week's early voting period, which sustained her through Tuesday's close voting.
Pugh won with 36.8 percent of the tally, edging out her closest rival, former Mayor Sheila Dixon, who received 34.5 percent of the vote.
"I am the Democratic nominee," Pugh said, smiling as she greeted a couple hundred enthusiastic supporters at the downtown Baltimore Harbor Hotel, only a few blocks from City Hall, as the race was being called by the Associated Press. "My message is about inclusion, about lifting up the least of us."
"Having been through a lot, we are now in the process of transformation," Rep. Elijah Cummings said in introducing Pugh to her election night campaign party at about 11 p.m..
In last week's early voting—in which 9 percent of eligible residents voted—Pugh garnered 44.5 percent of the tally. Former Mayor Sheila Dixon won received 33.2 percent, followed by attorney Elizabeth Embry at 8.4 percent, businessman David Warnock at 7.1 percent and City Councilman Carl Stokes at 3.4 percent. Although the final percentages of Embry, Warnock and Stokes' totals changed slightly after the final count, the order of their finish remained the same. DeRay Mckesson, an activist with a large social media following, received 2.5 percent of the overall vote.
On the Republican side, former WBAL radio host Alan Walden won the GOP mayoral nomination with 41 percent of the vote. In heavily Democratic Baltimore City, however, Walden's raw vote total was smaller than Mckesson's.
"If the early results show that Sen. Pugh has a significant lead, I think that means we will have a very good night," Pugh spokesman Anthony McCarthy said earlier in the day. "If they show that Sheila Dixon has a substantial lead, well, we'll still hold out hope," McCarthy added with a chuckle.
McCarthy's take proved prophetic as Dixon led Pugh by a small margin in votes actually cast on election day, but not by enough to overtake Pugh's substantial lead among early voters.
Pugh touched on several themes in her brief acceptance speech, including helping ex-offenders, promoting small business and city tourism, and supporting community policing initiatives.
"This is an exciting time for the Democratic Party. I extend my deepest congratulations to Senator Pugh, Congressman Van Hollen, and all of the other winners of today's Democratic primary," said Mayor Stephanie Rawlings-Blake, who decided not to seek re-election after last April's unrest, in a statement. "I look forward to a spirited summer and fall as we work toward a Democratic victory in Maryland and across our nation this November."
Pugh's campaign received endorsements from much of city Democratic party establishment and elected officials in recent weeks, including from Cummings. She also received the endorsement of former NAACP head and Baltimorean Ben Jealous, West Baltimore pastor Jamal Bryant, and prominent local attorney Billy Murphy.
The Baltimore Sun also endorsed Pugh. The Afro-American newspaper endorsed her top rival, former Mayor Sheila Dixon.
In the state's presidential primaries, CNN projected Donald Trump as the Republican winner and Hillary Clinton as the Democratic winner—both had maintained large margins in polls leading up to election—before any of precincts had officially reported.
In the state's U.S. Senate Democratic primary, Montgomery County Rep. Chris Van Hollen defeated Prince George's County Rep. Donna Edwards and will be vying in November's general election to fill the shoes of retiring Sen. Barbara Mikulski.
In the state's U.S. Senate Republican primary, Baltimore County Del. Kathy Szeliga captured the GOP's nomination.
Meanwhile, the Baltimore City Council is also getting a shake-up this election cycle.
Six of the current 15 City Council members declined this year to seek re-election, including longtime legislators Robert Curran, Helen Holton, and Rochelle "Ricki" Spector, all whom are retiring. First District Councilman Jim Kraft gave up his seat to run for judge, and fellow members Carl Stokes and Nick Mosby gave up their seats to campaign for mayor, although Mosby recently dropped out of the race and endorsed Pugh.
Two other incumbent City Council legislators, District 9 member William "Pete" Welch and District 13 member Warren Branch, lost their seats, to challengers John Bullock and Shannon Sneed, respectively.
Finally, some questionable tactics during the election season continued on election day. One example was the slashing of 3rd District City Council candidate Ryan Dorsey's tires, which he discovered at 4:30 a.m. as he was starting his day.
"Thankfully, I have some great neighbors who were willing to help me with transportation," Dorsey said while greeting voters outside Northwood Elementary. "I have had signs slashed and stolen as well during this entire campaign. Big signs, too. Not just the small yard signs that are easily pulled up."
In Bolton Hill, windshield fliers headed "Press Release," with no address or name attached, claimed that former Mayor Dixon, who was forced to resign during her term because of theft and perjury charges, was "set up" by political opponents.
And at Catherine Pugh's campaign headquarters, the windshield of a van that belonged to her campaign was smashed and its tires slashed, and another van was damaged after part-time campaign workers, expecting to be paid, were told they wouldn't be needed today,according to reporting by The Sun.
There were also reports of campaign polling places opening late Tuesday, struggles at some venues with the return to paper but scanned ballots, and also a shortage of "I Voted" stickers.
*This story will be updated.