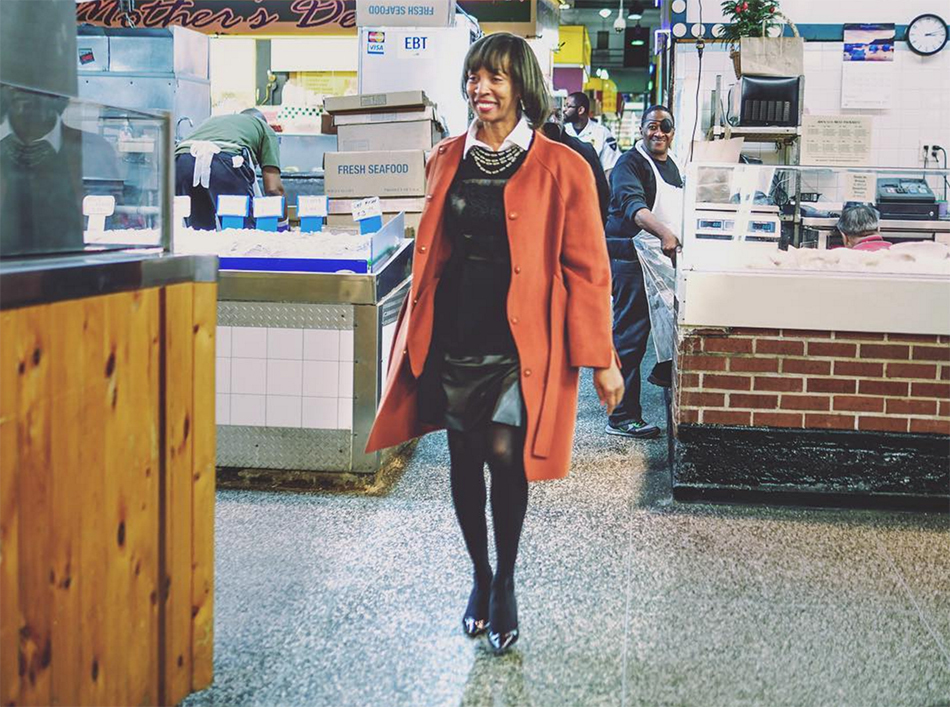 Courtesy of Catherine Pugh via Instagram
Pugh bested Republican Alan Walden and Green Party candidate Joshua Harris, who received 9 percent and 10 percent of the vote, respectively. Former mayor Sheila Dixon also mounted a challenge as a write-in candidate after narrowly losing the April democratic primary to Pugh and received 23 percent of the vote.
"To all of my opponents out there . . . there's room under this tent for all of us," Pugh said. "So let's work together. Let's move our city forward, not backward. Let's become more inclusive, more diverse. Let's create businesses, expand business, and create opportunity. Let's get people working in Baltimore. I look forward to working for all of you."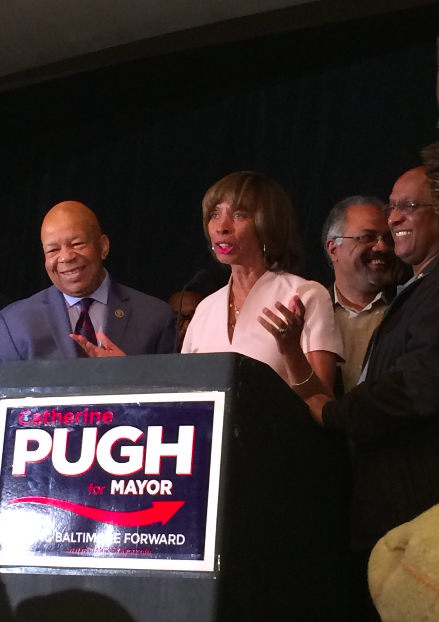 Overall, turnout was up from the last mayoral election, in 2011, when Stephanie Rawlings-Blake was elected to her first full term, reaping 84 percent of 45,000 votes cast. (Rawlings-Blake assumed the mayor's seat in 2010 after Dixon was forced to resign amidst a scandal in which she was found to have misappropriated gift cards meant for the needy.) After that election, the city moved mayoral elections to coincide with the presidential election cycle—and Pugh's margin of victory surely benefitted from an engaged electorate. Many polling places throughout the city reported long lines, several even experienced technical problems, and many residents were still waiting to vote until 9 p.m. tonight.
Though Pugh's victory is not surprising in a city where registered Democrats outnumber Republicans 10 to 1, some wondered about the strength of her winning coalition, especially after her slim margin of victory in the April primary. But today's results indicate widespread, if not necessarily enthusiastic, support.
Also in attendance at the Radisson Hotel was Locust Point resident Sophia Silbergeld, who supported Pugh in both the primary and general elections.
"She has had a ton of experience," Silbergeld said. "She has the city's best interest at heart. She said this is the job she has always dreamed of and that's the kind of mayor we want to have."
In Northeast Baltimore, restaurateur Shawn Lagergren cast his ballot for Pugh. Though he supported Pugh in the primary, he also said his preference was solidified by a dearth of other viable candidates.
"I wasn't going to vote for Sheila Dixon," he explained. "It just didn't look good for her with the scandals that had happened prior to this. I don't think she should be back in."
Cassandra Bridgeforth of Lauraville was even more frustrated with the options.
"I voted for Catherine Pugh. I hated it," she said. "They gave me choices of the same old crap, or the same old crap, or the same old crap. At least show me new crap. [But] the other [candidates] just didn't look like they had the power to be it. So I just held my nose and voted for Pugh."
Pugh, a resident of Ashburton, is a former journalist, talk show host, and dean and director of Strayer Business College. She earned a BS and MBA from Morgan State University and runs CEPugh and Company, a marketing and public relations firm. She also co-owns a consignment shop in Pigtown called 2 Chic Boutique. Look for more on Pugh in the January issue of Baltimore magazine, on newsstands December 21.
If elected, Pugh has vowed to strengthen penalties for possession of a loaded handgun; enhance crime prevention programs like Citizens on Patrols, Neighborhood Watch, and Safe Streets; and establish an Office of Returning Citizens to help ex-offenders re-enter society.
She also has voiced support for increased funding for after-school and youth job programs, a return of Baltimore's public school system to city control, and firing controversial Baltimore City Housing Chief Paul Graziano.
In addition to the mayor's race, all 15 seats on the City Council were on the ballot this year. Many longtime incumbents chose not to seek reelection, providing opportunities for new faces on the council, which usually sees very limited turnover. Below is a list of all official entrants in City Council races. Bold type denotes the winner and an asterisk indicates a new council member.
President
Sharon Black – Unaffiliated
Susan Gaztanaga – Libertarian
Connor Meek – Green
Shannon Wright – Republican
Bernard C. "Jack" Young – Democrat (incumbent)
District 1
Zeke Cohen – Democrat*
Matthew McDaniel – Republican
District 2
Brandon M. Scott – Democrat (incumbent)
Gregory Yarberough – Republican
District 3
Ryan Dorsey – Democrat*
G. Andreas "Spilly" Spiliadis – Green
District 4
William "Sam" Broaddus III – Republican
Bill Henry – Democrat (incumbent)
District 5
Isaac "Yitzy" Schleifer – Democrat *
District 6
Sharon Green Middleton – Democrat (incumbent)
Richard Thomas White Jr. – Green
District 7
Leon F. Pinkett III – Democrat*
Tamara Purnell – Republican
Nnamdi Scott – unaffiliated
District 8
Joseph Brown Jr. – Republican
Kristerfer Burnett – Democrat*
District 9
John T. Bullock – Democrat*
Kenneth Earl Ebron Jr. – Republican
Jamie Latear Frierson – Green
District 10
Christine Digman – Republican
Amanda E. Maminski – Green
Edward L. Reisinger – Democrat (incumbent)
District 11
Eric Costello – Democrat (incumbent)
District 12
Frank W. Richardson – Unaffiliated
Ian Schlakman – Green
Dan Sparaco – Unaffiliated
Robert Stokes Sr. – Democrat*
District 13
George Johnson – Republican
Shannon Sneed – Democrat*
District 14
Thomas T. Boyce – Republican
Mary Pat Clarke – Democrat (incumbent)
David Harding – Unaffiliated