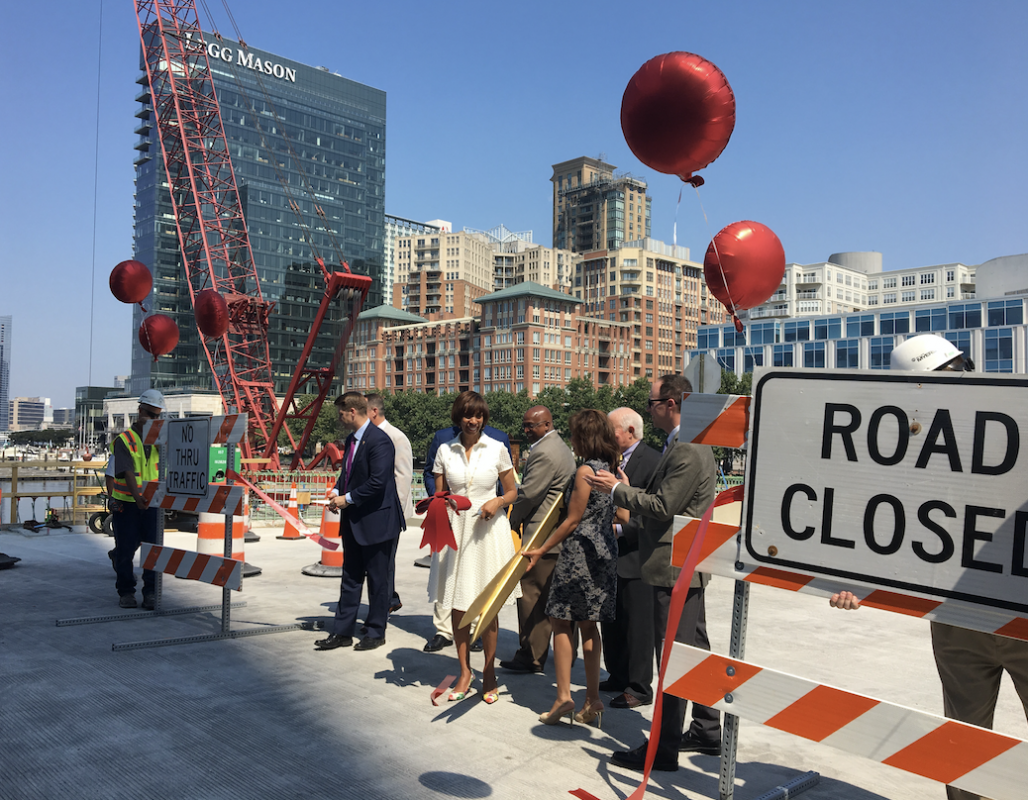 Multiple construction signs barricading the Central Avenue Bridge on the corner of Lancaster Street and South Central Avenue were officially removed this morning, making way for pedestrians, cyclists, and vehicles to easily travel back and forth between Harbor East and Harbor Point.
"This is a really important corridor for us," said Mayor Catherine Pugh at the ribbon-cutting ceremony. "It's providing opportunities for our community to engage from one section of the city to another. These are the kinds of great developments that say, 'Baltimore is moving forward.'"
Construction work to connect the two areas began in January of 2017, and currently, the bridge offers two driving lanes, as well as bike lanes, and pedestrian walkways connecting to Lancaster Street. The new pathway is part of a larger initiative by the city's Department of Transportation (DOT) to accommodate increased traffic and improve the streetscape along Central Avenue from Baltimore to Lancaster streets.
"What we're doing here is creating a brand new connection to this part of our city," said DOT director Michelle Pourciau, mentioning that, until now, the only way to enter Harbor Point was on South Caroline Street. "This project adds safety, roadway capacity, accessibility, mobility, and, more than anything else, it adds a nice aesthetic and visual connection."
Come September, the completed bridge will extend all four lanes of Central Avenue to Beatty Development Group's Harbor Point. The 27-acre peninsula houses the Exelon headquarters and Sandlot recreation space, as well as other retailers like West Elm, Ceremony Coffee Roasters, CorePower Yoga, Plantbar, and Honeygrow.
"We're happy that the neighborhood has finally been connected to the rest of the city," says Honeygrow's general manager Mike Wainwright. "A year ago, people didn't know what Harbor Point was, and now it's part of a lot of people's routines as they're walking through the city."
Now that the bridge has made the development more accessible, Wainwright is looking forward to introducing the wholesome salads and noodle bowls to patrons coming from all over the city.
"I'm a little nervous about how busy it's going to be," he admits. "But we're excited to get more people to come over this way. It's pretty cool that it's not just a peninsula anymore. Now it's part of the route of traffic along the water."
At Plantbar, the Belvedere Square business that opened a second location at Harbor Point in May, staffers are eager to serve the shop's cold-pressed juices to more customers as the sweltering summer weather continues.
"It's kind of confusing right now with all of the different construction going on," says Plantbar employee Meg Neale. "From a visibility standpoint, it's going to make it a lot easier for people to get here. All of these businesses are going to be a lot more successful."
In addition to increasing foot traffic to the businesses at Harbor Point, Beatty Development is passionate about fostering a closer connection to the waterfront for residents and tourists alike. The bridge's opening now makes it possible for pedestrians to walk along the water from Harborview in Federal Hill, all the way to Canton.
"Some of the things that make our city so great are the passion, people, and our waterfront," said Jonathan Flesher, vice president of development for Beatty Development Group. "But it isn't just any other waterfront—we have an accessible waterfront. This bridge will finally allow us to connect the promenade to Harbor Point and beyond."
On the Harbor East side, construction barriers that once detoured traffic on Lancaster Street have been removed, making it easier for diners to get to neighborhood restaurants like Gordon Biersch and Ouzo Bay. At the press conference Monday morning, officials made a point to thank the local businesses on both sides of the bridge for their patience throughout construction.
"Bridges unite people," summed up Tim O'Donald, president of Harbor East Management and Waterfront Partnership chairman. "They break through natural barriers and connect areas that were once isolated from each other. Our hope is that this bridge will stand long and bring our city closer together."