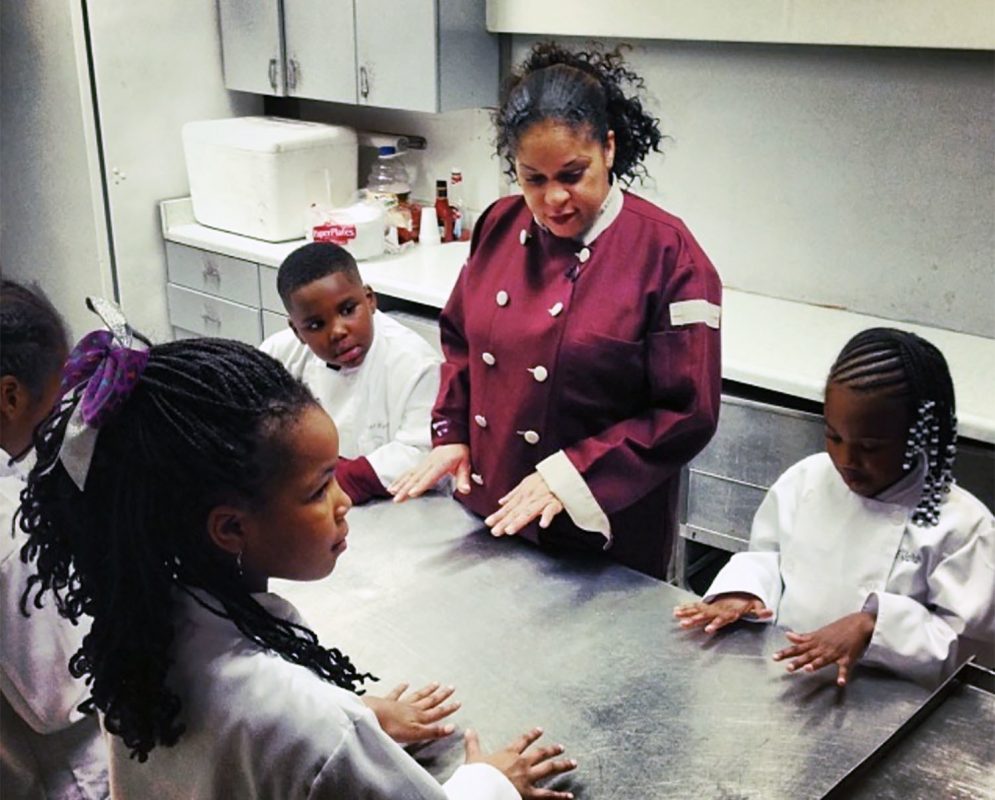 Most people know Connie Johnson as, "Chef Connie." She's earned the title after more than 20 years of experience in local kitchens, once serving as an executive chef at Ciao Bella—now known as Lew Gambino's—in Little Italy.
But in her current position as the assistant manager of food and hospitality services at the University of Maryland Medical Center's (UMMC) midtown campus, Johnson takes on more of a supervisor role. Her main focus is collaborating with chefs to ensure the food served is compatible with a given patient's diet.
Johnson loves the work, but also enjoys being the person in charge of a kitchen. In one week's time, she'll have the opportunity to do that on a large scale as she heads to Miami to cater events leading up to Super Bowl LIV. It was announced last week that Johnson, through connections at Lew Gambino's, was selected as one of several Baltimore-area chefs heading down south for the football festivities.
"I'm a woman who knows the art [of cooking] and puts her heart into it," Johnson says. "I want this to be about Baltimore and all the chefs going to the Super Bowl."
In Miami, she'll focus mainly on appetizers. Fig prosciutto bruschetta, as well as a sirloin with horseradish cream sauce, shaved onions, and olives, are some of the menu highlights. She'll be cooking at a party for wives of the National Football League, a celebrity gala, a dinner with NFL Legends, and other private events.
A West Baltimore native through and through, Johnson attended Western High School, and has spent most of her life in the city—which is why she's made it a priority to give back to her hometown.
For a while, she ran a culinary program, "Vegetable Time," at Calvin M. Rodwell Elementary School in West Baltimore to teach kids how to cook gourmet meals. An initiative that started with 25 students grew to 100-plus, drawing the attention of the Obama White House, which sent its chef to learn more. Subsequently, HBO sent a crew to film a segment on the program as part of its four-part obesity documentary, The Weight of the Nation.
These opportunities have allowed her to further her work helping kids understand how to cook and choose a healthy lifestyle. Through the publicity that came with the documentary, she was able to secure funding to start a free sports and culinary-focused summer camp at the Gwynn Oak United Church's community center.
After a snag with funding, Johnson was forced to stop organizing the camp a few years ago, but she hopes that cooking at the Super Bowl will help boost her profile and get the program up and running again. And, with the recent renovation of Calvin M. Rodwell into a 21st-century school with brand new facilities, the timing is right.
"I'm not a celebrity chef," Johnson says. "I don't want the notoriety. This is a way for funders to know that I'm still here—having events for these children is my ultimate goal. I want my art to provide a safe place for children with nowhere to go in the summer."
But before that can happen, Johnson has a full plate ahead of her. She says that, while it's an honor to be selected, the high expectations she has for herself are no different as she prepares for the Super Bowl. In total, the events are a way for her to show off her skills to a larger audience, and do some good in the process.
"It means a lot to me to represent Baltimore," Johnson says. "I believe in the good of this city. I just want to do what I do and make people smile through my food."