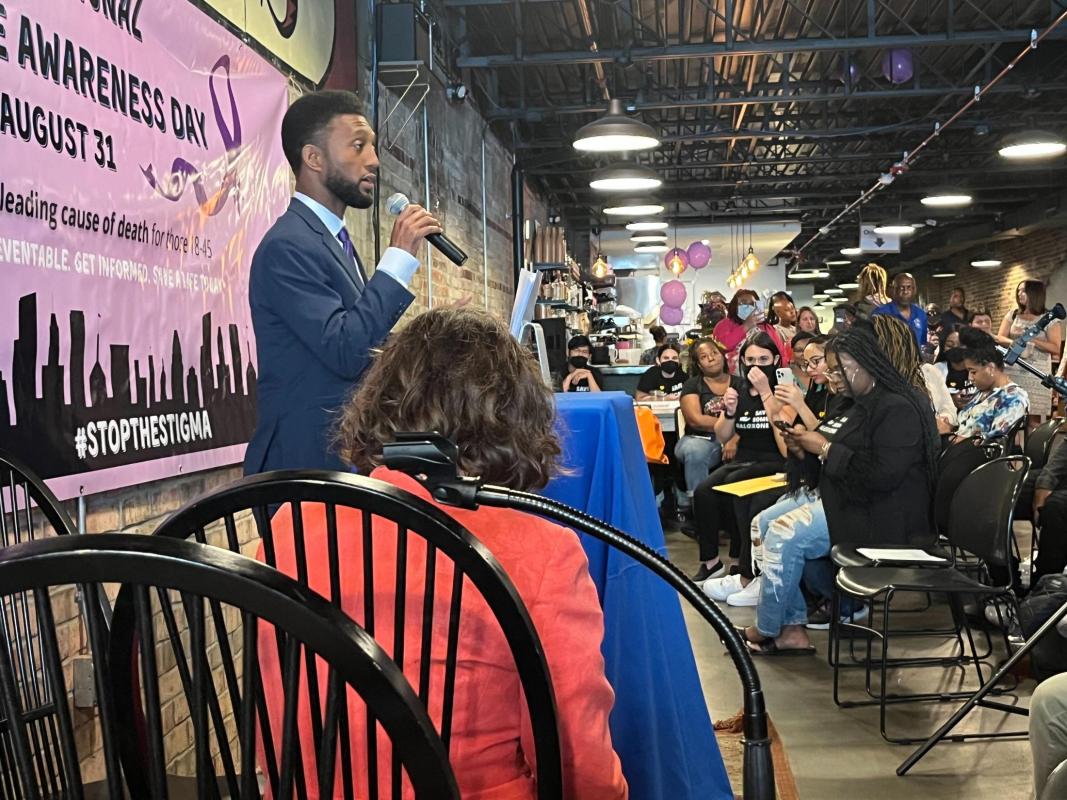 Mayor Brandon Scott speaks at Overdose Awareness Day 2023. —Photography by Grace Hebron
Purple and white balloon arrangements—the colors used to amplify the mission of overdose prevention—filled the cafe of Red Emma's Bookstore Coffeehouse in Waverly on Thursday, August 31, when the Baltimore City Health Department hosted its eighth-annual Overdose Awareness Day.
From 12-5 p.m. the free event to raise awareness of addiction and overdose fatalities in Baltimore City featured panel discussions that addressed everything from navigating overdose grief and loss to the intersectionality of hip-hop, the opioid crisis, and how youth perceive risk.
At 2 p.m., Mayor Brandon Scott joined Baltimore City Health Department Director of Overdose Prevention Brittney Spencer, the department's interim health commissioner Mary Beth Haller, and Baltimore City Councilmembers Danielle McCray and Odette Ramos to discuss the opioid crisis in Baltimore City, with Scott sharing that the last two years have seen more than 2,000 local overdose fatalities.
"That [number] trumps gun violence," Scott said. "But very rarely do you hear anyone talking about the neighbors that we lose to overdose—and we all know why that is. We have to continue to call out those who think of folks with addiction issues as less than them, because they are our neighbors. They are the people living next to us. They are our family members. We have to support them in every way that we can."
There was also a resource fair with onsite organizations including the Mayor's Office of Neighborhood Safety and Engagement (MONSE), National Alliance on Mental Illness (NAMI), and Behavioral Health System Baltimore (BHSB). Montessa Trips, community education coordinator for BHSB, shared information with attendees about 988, the national suicide and crisis hotline that offers mental health and substance abuse resources.
"If you don't know what to do, then it's hard to do the right thing," Trips said. "When it comes to overdoses, the numbers are still increasing. The more people who are informed about what types of products are sold on the street and what can be done to stop the harm, [the more] we can bring those numbers down."
Here are some of the biggest takeaways from Scott and other city leaders on battling the public health crisis:
Local Overdose Fatalities Continue to Cause Concern
Councilwoman McCray shared that Baltimore City saw a 318 percent increase in fatal overdoses between 2013 and 2020. There was a dip in fatal overdoses between 2021 and 2022 (decreasing from 2,800 to 2,590) and the first quarter of 2023 saw overdose trends remain below the levels seen in 2021. Still, the numbers are staggering. "It's imperative that we treat substance misuse like any other chronic disease," McCray said. "This is something that we cannot police ourselves out of. It has to be treated."
City Officials Test New Approaches to Harm-Reduction, Especially for Youth
In that regard, officials continue to pivot their approaches to addressing the crisis. "The opioid epidemic is unprecedented and our response needs to be unprecedented, as well," Spencer said. "Traditional strategies alone are not going to decrease the number of fatal and non fatal overdoses." Keeping this in mind, the Baltimore City Health Department is using trend and data-based strategies to ensure access to treatment, reduce stigma, and increase education. Among those resources is Healthcare on the Spot, a mobile health clinic that visits city neighborhoods to offer free, low-barrier services ranging from basic wound care to overdose treatment. The department has also launched the Kids off Drugs initiative in conjunction with BHSB, which teaches hundreds of young adults at Baltimore schools and universities about drugs and their impacts through the lens of hip-hop culture.
Fentanyl is on the Rise
Congresswoman McCray shared that 92 percent of all illicit drugs in Baltimore City contain fentanyl—the synthetic opioid that is 100 times more potent than morphine, according to the Drug Enforcement Administration—which was the cause of 89 percent (more than 2,300 deaths total) of Baltimore's overdose fatalities in 2020. More recently, between September 2021 and September 2022, fentanyl was the cause of 80 percent of the state's fatal overdoses, according to Maryland's Overdose Data Dashboard.
Mayor Scott Pushes for More Overdose Prevention Sites
Thanking local mental health providers, legal support, and peer recovery specialists, Scott called for community advocacy to bring overdose prevention sites—facilities that allow the supervised use of previously purchased drugs and work to reduce the risk of hazardous drug use—to Baltimore. In 2021, New York City opened the nation's first two overdose prevention sites, and last year, Scott worked alongside the BRIDGES Coalition—an arm of the Baltimore Harm Reduction Coalition that has been working to legalize the sites in Maryland since 2021—to present a mock overdose prevention site at North Howard Street art gallery NoMüNoMü. Although the pop-up exhibit wasn't actually operational, it helped to amplify the mission of the sites, which have proven to reduce 35 percent of fatalities in a given area within one year of opening, according to BRIDGES. 
Stigma Prevails
City officials agreed that greater tolerance for locals who are struggling with addiction-related issues could reduce overdose fatalities. "Criminalizing, silencing, and stigmatizing those who misuse opioids pushes vulnerable populations into the shadows," McCray said. Doing this creates "an unsafe ecosystem where individuals suffer in silence, increasing their chances of falling victim to this disease." Mayor Scott addressed reducing the stigma as a  community-wide push. "You can do your part," he said. "You can lock prescriptions. You can carry Naloxone [an emergency medication used to treat suspected opioid overdoses] and call 911 when you see someone overdosing."