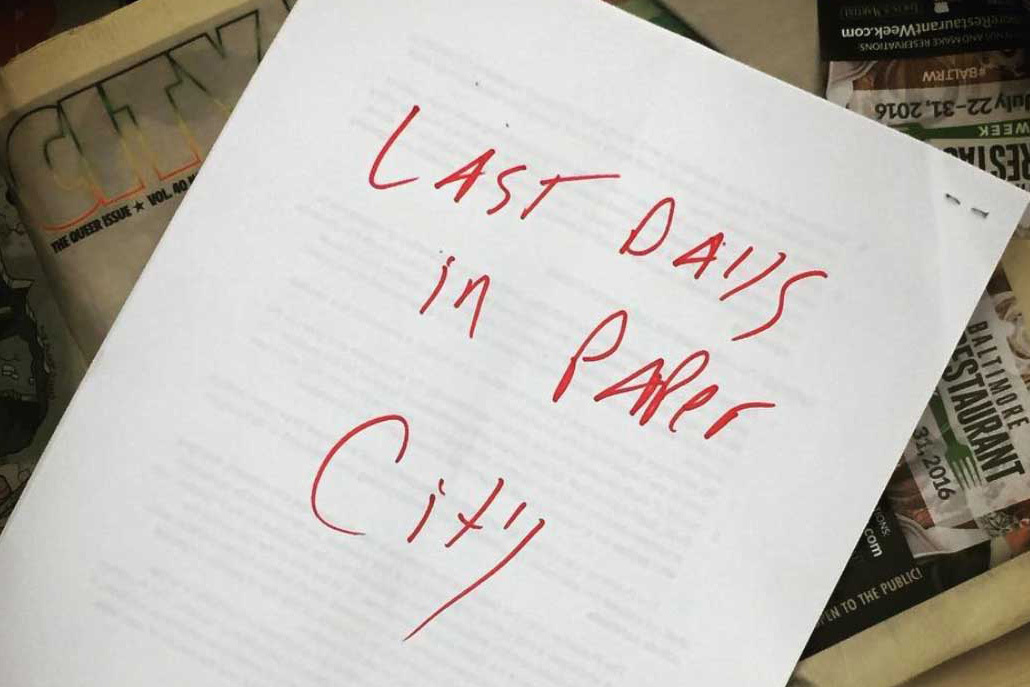 JM Giordano
This summer, the Baltimore Sun Media Group announced that it would be closing City Paper after 40 years. Since that announcement and subsequent layoffs, the alt-weekly's downtown offices have become increasingly deserted, with empty cubicles and piles of old newspapers.
While the remaining editorial staff are hard at work on the last four issues, City Paper photographer and co-host of photojournalism podcast 10 Frames Per Second Joe Giordano is documenting his "last days in paper city" on Instagram, giving his followers a sense of what it's like when a publication shutters.
"I'm not trying to flood my Instagram with depressing pictures," he told Baltimore recently. "But I want to use well-crafted photos that show what's going on now." 
From photos of City Paper's art director, Athena Towery, to a mini Divine perched upon an empty bookcase, Giordano promises to update his Instagram series until the release of the paper's final issue on November 1. Here, he reflects on some of his favorites so far. 
"Athena has been at the paper for quite a while—since [the publication's offices were on] Park Avenue. This photo really represents the bridge between the old City Paper and the new City Paper. I put Athena in front of the roller girls, one because of the composition, and two because she seemed to fit with that era of City Paper—'90s to the early 2000s."
"Reggie came to us as an intern and he's skyrocketed up there. . . . Those are his clips behind him. I'm immensely proud of everything that he's done. He represents how I see the paper as mentoring young photographers and journalist—giving them the space they need to go on and do great things."
"That was in our former ad exec's office—he'd been there for maybe 20 years, I think. That's old-school City Paper—it represents what City Paper is about. They're in a pretty conservative building, so the fact that he has Divine, the boob, and the butt plug all on one shelf, it represents sticking your tongue out to the establishment. I couldn't stop looking at this arrangement."
"The crumpled American flag represents journalism right now. It's a flag with corporate symbols on it instead of stars, if you look closely. Without getting too deep—with everything that's going on in the country right now—this crumpled flag, discarded and thrown in the corner, caught my eye. It was just a very potent symbol for journalism."