Like Father, Like Son
Deja vu all over again as the two johnsons get their first wins 23 years apart to the day!
On August 8, an Orioles pitcher named Johnson made his first career start in his hometown of Baltimore. A journeyman prospect, he recently had been called up from the minors in the midst of a pennant race. Certifiably awful the year before, the O's were surprise contenders this season, captivating a city starved for winning baseball.
Johnson was spectacular, and the O's cruised to an easy victory. It was his first Major League win.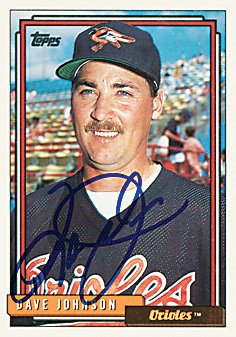 No, we're not talking about Dave Johnson, although we could very well be. In a crazy twist, Steve got his first big-league win at Camden Yards 23 years to the day after his father Dave earned his at Memorial Stadium, another remarkable bridge from the Orioles "Why Not?" 1989 team to their storybook 2012 one.
"It was unbelievable the way it worked out," Steve says. "Being a part of the team, to see the city get behind us, there's nothing that can beat it."
As an analyst for MASN, Dave wears a lot of O's hats: fan, former player, team employee. Now he's a proud papa as well.
"I enjoyed last year in multiple ways," he says. "I'm really happy that all Steve's hard work paid off, that this happened for him in his hometown."