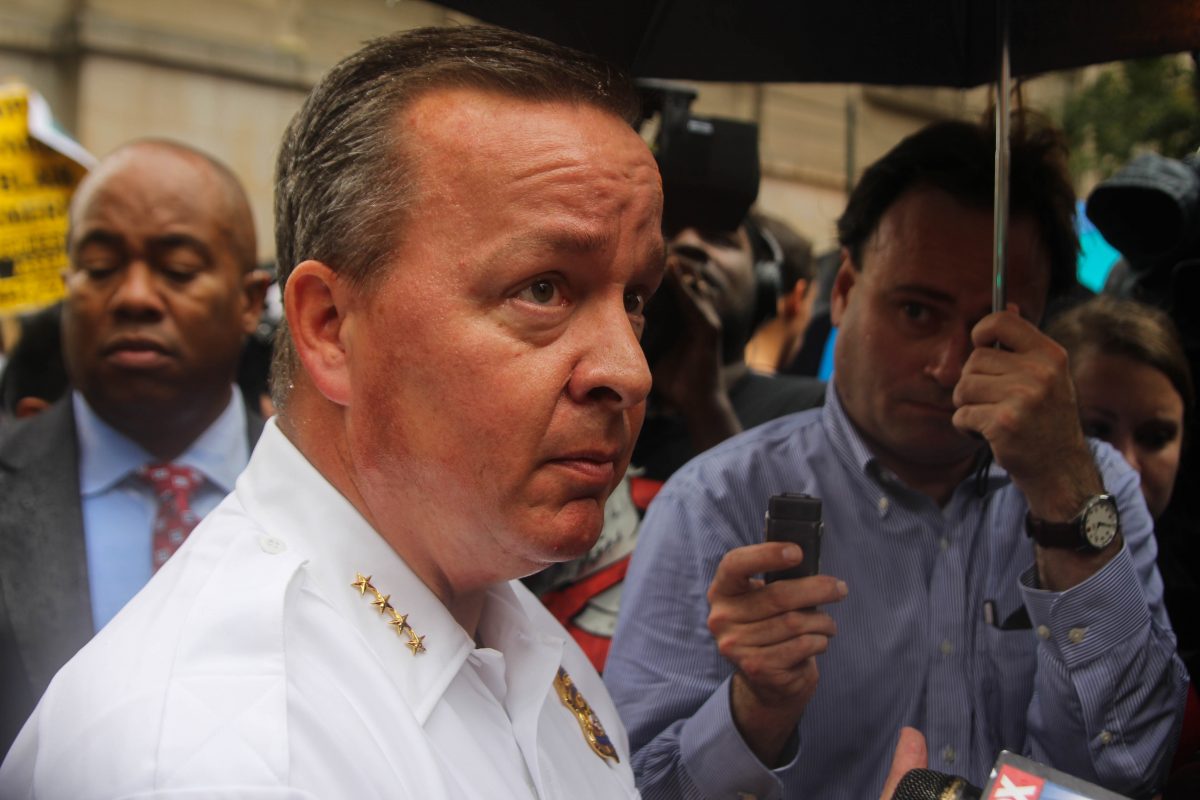 Meredith Herzing
Amid protests by youth activists, the Baltimore City Council voted overwhelmingly to confirm Kevin Davis as the city's new police chief Monday night.
Davis, a former deputy to past commissioner Anthony Batts, had previously served as chief of police in Anne Arundel County and assistant police chief in Prince George's County. He has been working as interim commissioner since Batts was fired on July 8 by Mayor Stephanie Rawlings-Blake. Davis earned degrees Towson University and Johns Hopkins University after graduating from DeMatha High School.
Only Councilman Carl Stokes, who has announced that he is running to replace Rawlings-Blake, who will not seek re-election, and Councilman Nick Mosby, who has indicated that he's considering a bid for mayor, voted against Davis' confirmation. Both have raised issue with the $150,000 severance package that Rawlings-Blake has said she will offer Davis, whose tenure will include employment under a new mayor after next year's election.
Last week, police arrested more than a dozen mostly young protesters who occupied City Hall after hours following a City Council hearing supporting Davis for promotion to the full-time position. That demonstration was followed with more protests yesterday at City Hall, and later, on downtown streets by activists alleging that Davis is not committed to protecting the right of peaceful protests.
Activists known as Baltimore Bloc, along with the Baltimore Algebra Project, Leaders of a Beautiful Struggle, and City Bloc, among other local groups, recently drafted a 19-point plan designed to ensure free speech rights for public protestors as the trial dates for the six police officers charged in the death of 25-year-old Freddie Gray approach.
Although Davis said he and the police department have "taken steps to ensure a better flow of communication" with protestors, City Bloc organizer and City College high school senior Makayla Gilliam-Price told The Real News that the new commissioner hasn't promised accountability, in terms of protecting demonstrators' safety.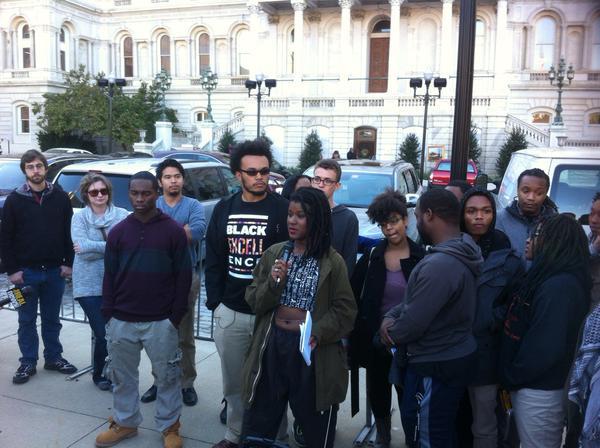 Baltimore had recorded a relatively low number of homicides (65) prior to Gray's death in mid-April. Afterward, however, a four-decade high of 42 murders in May was followed with 45 killed in July—the month Batts was fired—once again placing Baltimore among the most dangerous cities in the country.
Councilman Brandon Scott, who earlier this year opposed naming Davis to replace Batts, said while promoting him may not be the most popular decision right now, "confirming Davis is the best decision for Baltimore."
"I understand the concerns that many have about appointing a new commissioner when we know a new mayor will take office next year," Scott said in a statement. "However, with the violence that is occurring in our city right now I believe that we cannot afford to have the department operate without a permanent leader."
Scott added that he believes that the city leaders should begin having conversations about how Baltimore police commissioners are hired, noting that he has introduced a council resolution asking that the General Assembly and governor of Maryland no longer require that Baltimore police commissioner terms be six years in length.
Davis recently told Baltimore magazine at a Western District public safety that it's his hope that 2015 will mark a turning point in relations between the police department and aggrieved communities—and the city as a whole.
Eugene O'Donnell, a John Jay College of Criminal Justice professor and a former New York City police officer, has called the challenge facing Davis, "the toughest job in the United States at the moment."
The Baltimore City Fraternal Order of Police Lodge 3, "the voice of the active and retired officers of the Baltimore City Police Department," immediately tweeted their support for Davis last night: