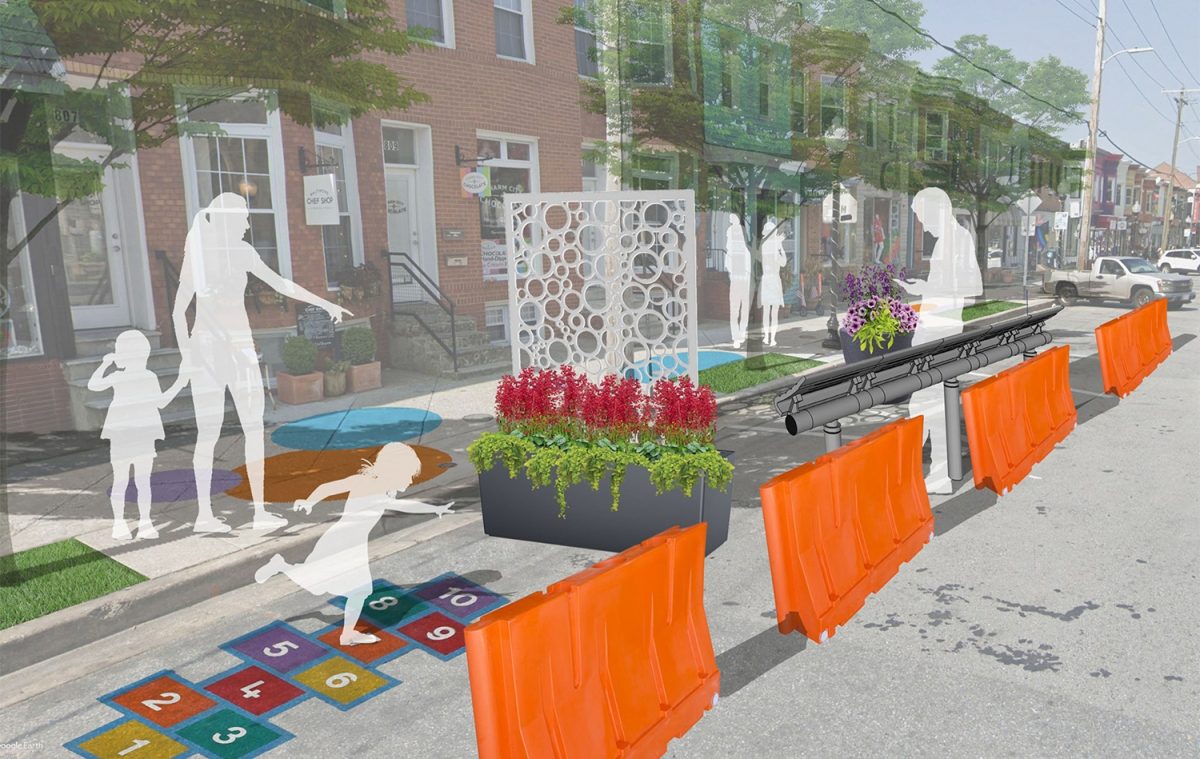 After months of waiting in the car to pick up no-contact delivery orders, Zoe Roane-Hopkins, like many of us, felt frustrated that the coronavirus pandemic brought even the smallest daily interactions—with baristas, waiters, and salespeople—to a halt. The 23-year-old, currently living in Silver Spring, noticed how the state-mandated social-distancing measures had not only cut the bottom lines of local businesses, but also transformed her community overnight.
So when Roane-Hopkins, who is finishing her master's degree in industrial design from The Savannah College of Art and Design, heard about Baltimore's call for designers to develop innovative approaches to safe, physically distant gatherings, she knew exactly how she could help.
"I wanted to create something that allowed people to be socially distant, but still social," Roane-Hopkins says. "It would be nice if people could stay separate—so that they're not breathing on each other—but still have that human interaction of walking somewhere and talking to someone else."
Within a few days, the "Space Frame" was born. Roane-Hopkins drew up plans for a modular, customizable structure that, with a few adjustments, could transform into an outdoor eating area, a takeout counter, or a product-hanging platform. She submitted her colorful design to the Design for Distancing: Reopening Baltimore Together competition, an initiative by the City of Baltimore, Office of the Mayor, Baltimore Development Corporation, and the nonprofit Neighborhood Design Center (NDC) to reconfigure public spaces so shoppers can safely patronize local businesses in the age of COVID-19.
Roane-Hopkins says she was "extremely elated" to learn that "Space Frame" was one of 10 concepts selected by a panel of local small-business and public-health experts to win a $5,000 stipend, as well as the potential to see her concept come alive on the streets of Baltimore.
"Other cities are talking about little things people could do to promote social distancing," Roane-Hopkins says, "but to have Baltimore come together, ask for ideas, and put them on in a way that benefits the people that live there—that's impressive."
The Design for Distancing competition, which is backed by a $1.5 million investment from Baltimore City's COVID-19 Small Business Assistance Initiative, received 162 design submissions from across the country. The winning ideas were recently published in the Design for Distancing Guidebook, which is a free digital compendium that explains how the concepts can be adapted and installed in cities across the world.
Jennifer Goold, the executive director of the NDC, says the purpose of the guidebook is to help communities recover from the pandemic crisis together.
"The brilliant ideas of the design community are not ours to keep," Gould says. "From the beginning, we wanted to share [these concepts] with others—to show how the resilience and wisdom of Baltimore can be an asset in times of challenges."
Now that the 10 winning designs have been published, the next step is to use them as jumping-off points for the second part of the Design for Distancing initiative—public space interventions. This month, 17 Baltimore City districts—ranging from Mt. Washington and Pimlico to Hollins Market—will be paired with a local design-build team that will install temporary changes to neighborhood spaces in order to accommodate social distancing guidelines.
Although design-build teams may choose to incorporate ideas from the winning concepts, each installation will be based on the specific needs and preferences of each district. The Baltimore Development Corporation, which is funding the construction process, plans to begin the design-build stage at the end of July.
Doug Bothner and Kelly Danz, who were part of the Ziger|Snead Architects team that created the winning concept "Hygiene, Hon," said that the four-person group focused on introducing manageable additions—such as hands-free hardware—that would help local businesses adapt to ever-changing public-health guidelines.
The Mt. Vernon-based team proposed implementing colorful signage to reiterate distancing recommendations, adaptive door hardware, and modular hand-washing stations that collect wastewater as irrigation for nearby planters.
"There's so much in the scheme that speaks to how the physical environment has changed and how it might need to innovate in order to move into the new normal," Bothner says. "As designers, we hope that this opportunity shows how design can help communicate best practices around health and the environment."
Danz says that even if the "Hygiene, Hon" concept isn't installed in one of the 17 Baltimore districts, she hopes that the team's idea serves as inspiration for how urban areas across the country can reimagine their public spaces.
"In Baltimore and beyond, I hope that, if anyone builds this project, it helps people adapt to being in public with the restrictions of the pandemic," she says. "I hope it brings some normalcy back to society."
For Roane-Hopkins, the process of creating, developing, and publishing her "Space Frame" concept taught her that design can be a powerful tool for showing people how to see the world differently. She's in talks with the local landscape architecture firm EnviroCollab to create a version of the "Space Frame" in Baltimore, and feels eager to be a part of this forward-thinking movement.
"The way that things are designed can show people that socially distancing can be beautiful, it can be colorful, and it can bring people together," Roane-Hopkins says. "There's not a lot of positivity in the world right now, so it's important that if we have opportunities to show positivity in a space through design—we take them."