Duckpin Bowling Rolls On at Stoneleigh Lanes in Towson
The 76-year-old community hangout is now said to be the oldest continuously operating duckpin bowling alley in North America.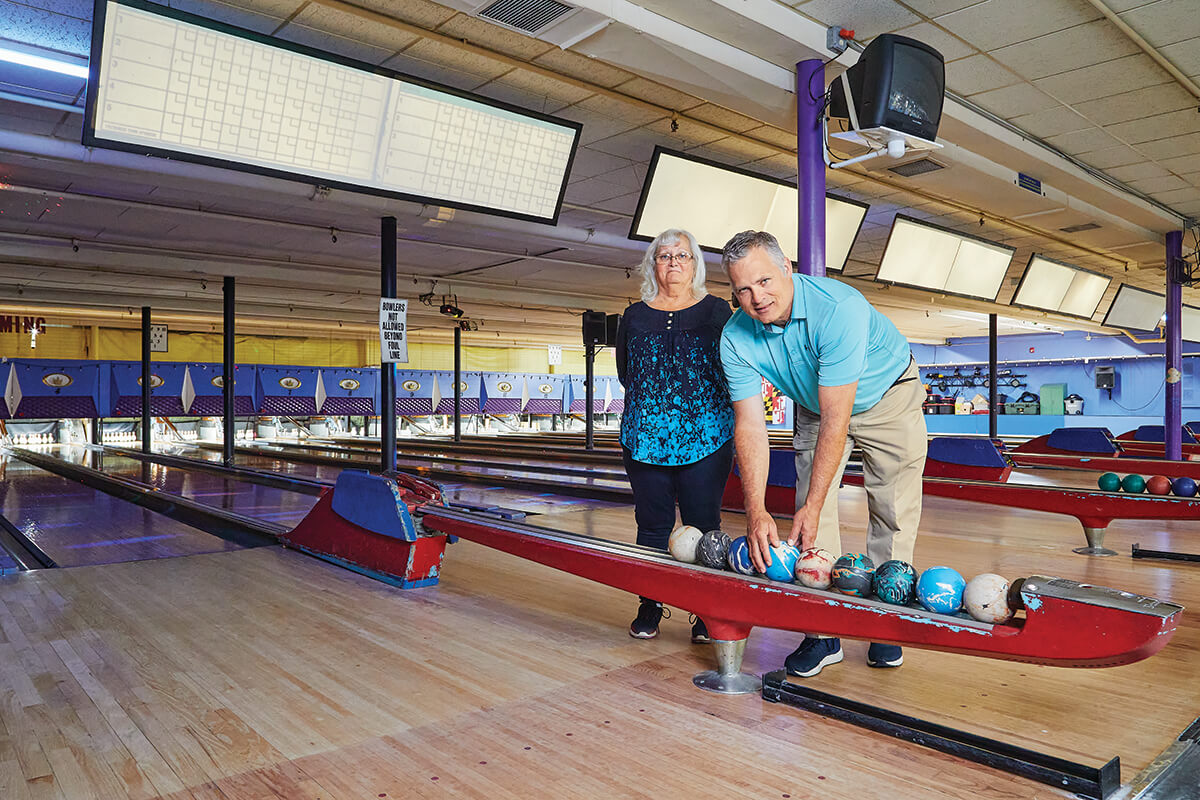 Just over the Baltimore City line into South Towson, there sits The Anneslie, a low brick building, where, once you pass the hastily scrawled "BYOB" policy taped to the glass door and descend the stairs, it feels like time has stopped. Is it 1940? 1980? It's hard to say.
Stretched throughout the room, a black carpet adorned with rainbow squiggles and specks of confetti alerts visitors to the fact that they are in what sociologist Ray Oldenburg called a "third place"—not work and not home but rather a space where communities come together for pleasure and camaraderie. Which is certainly the case at Stoneleigh Lanes, now said to be the oldest continuously operating duckpin bowling alley in North America.
In this basement, the old familiar waft of popcorn and liquid cheese fills the air amidst the clamor of crashing wood. To outsiders, the game being played on these 16 lanes looks like your average American bowling. But as you get closer, it's easy to see: Everything here is in miniature—from the half-pint pins to the grapefruit-like balls, at least half the size of what the Dude might abide in The Big Lebowski. And, of course, as folks in Baltimore know, duckpin is anything but ordinary.
"It's the fellowship and the socialization of it all," says new Stoneleigh owner Richard Briggs, who purchased the lanes this past March. "It started as a way for people to have a good time. It brought families and neighborhoods together."
Throughout much of the 20th century, duckpin bowling was as synonymous with Baltimore as Orioles baseball and Natty Boh beer. The sport can be found up and down the East Coast, but it is said to have been born here, in the spring of 1900.
Though the true origins are disputed, legend has it that two local baseball players, John McGraw and Wilbert Robinson (both members of the original Baltimore Orioles and eventual inductees into the Baseball Hall of Fame), owned a popular bowling hall and bar called Diamond Alleys, on the corner of Howard and Centre streets. In addition to the main game, they had a few small balls and refurbished pins for oddball games and, one day, a group of regulars invented the first unofficial game of duckpin, named by the owners as such because when struck, the little pins flew like a flock of waterfowl.
By the 1960s, there were more than 1,200 lanes throughout the region, making the sport an official pastime. Today, only a handful remain here, but some regional players have broken world records at the National Duckpin Bowling Congress, which happens to be run out of a small alley in Linthicum Heights.
The 16 original maple alleys that make up Stoneleigh Lanes have been rolling on York Road since their grand opening on Dec. 7, 1946, then featuring a soda fountain, luncheonette, and neon lights—not to mention an inaugural showdown between bowlers from Washington, D.C., and players from Natty Boh's National Brewing league team. For the first nine years at Stoneleigh, "pin boys" scrambled to reset with every frame, earning 10 cents an hour.
All that changed in 1955, when the center's Sherman-brand automatic pin-setting machines were installed. These newfangled machines, intricately invented in New England but manufactured at the Bethlehem Steel plant at Sparrows Point, reinvented the game of duckpin, making it faster and more efficient. And to this day, they are, says long-time Stoneleigh manager Deb Gill, what makes duckpin, duckpin. But there is one catch.
"Duckpin bowling is becoming a dinosaur," explains Gill, 66, who's run Stoneleigh since 2006, "since it's hard to get someone who knows how to work on the machines."
There are now only a few public alleys remaining in the Baltimore area—including Stoneleigh, Parkville Bowling Lanes, and both AMF and Pinland in Dundalk—and part of that is because, when the Sherman company stopped operating more than 50 years ago, its patent went to the grave with it, ceasing production of the some-1,000 moving parts needed for each pin-setter.
When new gears and gaskets are needed, Stoneleigh often ends up buying them from other lanes that are closing, which has become an increasingly common occurrence over the last few decades. That includes the beloved Patterson Bowling Center, which closed last year, much to the dismay of locals. (Not all is grim on that front, however: The new owners of the Patterson property announced in April that they will be reopening a few lanes after renovations—albeit in the midst of the building's newly created apartment complex.)
"DUCKPIN BOWLING IS BECOMING A DINOSAUR, SINCE IT'S HARD TO GET SOMEONE WHO KNOWS HOW TO WORK ON THE MACHINES."
For now, the Stoneleigh Lanes roll on, remaining a consistent community hangout much as it has since first opening, when the local high school, family, and after-work crowds began flocking from the surrounding York Road neighborhoods—not just for duckpin but also air-conditioning and arcade games. It has been the backdrop to hundreds of birthday parties, retirement parties, and even a couple weddings.
But then and now, the heart and soul of this county bowling alley has been its league nights, which take place most weeks of the year, namely on Sundays, Tuesdays, and Wednesdays, when the "Traffic Club" still meets, going on its 76th year. Bowling leagues were once extremely popular and, back in 1947, Stoneleigh hosted a regular roster of men's, women's, and co-ed leagues, as well as teams of employees from local manufacturers like Black+Decker and Boeing.
On a Wednesday evening this past April, the modern-day league members of the 2022-2023 season threw back both Bud Lights and, unironically, Duckpin pale ales by Union Craft Brewing, while playfully teasing one another about both their bowling and sex lives and trying to beat their own high scores. They're a motley crew, including men and women ranging from their 20s well into middle age, wearing casual clothing and an assortment of those well-worn classic bowling shoes.
Teams consist of three to four players who face off on the hardwood each week. They play on side-by-side lanes and alternate who bowls in each frame, so any advantage is evened out. Rotating who keeps score on Stoneleigh's original manual scoreboard projectors, the players follow rules largely the same as classic 10- pin bowling. The main difference is that duckpin players throw three small, light balls instead of two large, heavy ones. And, of course, there are the short, squat pins, standing at just 9.4 inches.
"I never knew any of these people before [joining the league]," says Steve Barrick, who started playing duckpin only a year and a half ago. "I just wanted to get out of the house and get in some activity."
Like most duckpinners, the 61-year-old Towson resident enjoys the game's increased level of difficulty compared to 10-pin, with the smaller pins and lighter balls requiring more precision when throwing. For this reason, there has never been a perfect game of duckpin played—aka earning a total 300 points—in the sport's history.
In the 1970s, someone bowled a 274 at Stoneleigh and it remained the highest score on record until it was bested in 1992 (279) in Connecticut, which happens to be another duckpin haven. At Stoneleigh, teammates cheer each other on from cream and powder-blue plastic seats, but the competition is real.
Facing off against Barrick's team, Angela Miller competes primarily against herself. "I'm not super competitive with other people, but I'm very competitive with myself, because I know I can do well," says Miller, echoing a common refrain, with players often focusing on beating their personal best.
Growing up in Baltimore City, the 33-year-old Mt. Vernon resident (whose average score this season is a 96) has been playing the game since she was five years old, and she comes from a long line of duckpin players. Several of the league teams are composed entirely of family members who use the weekly outing as a way to stay connected, and back in the '60s, Miller's grandmother was a duckpin coach at Parkville Lanes.
"There's another league player, Denise, and through talking to her when we played her team, she told me her first-ever job was at the Parkville bowling alley, and she remembered my grandmother," she says. "It's just fun to still have that connection."
Of course, Miller, like every bowler, has developed her own unique style. On this Wednesday night, one young man in a green T-shirt flicks his wrist as he releases his ball, as if waving goodbye while doing so. And another, playing on lane six, is what Miller's teammate Andy Gepert calls a "hopper," aka a player who releases their ball with force and then lightly bounces on the balls of their feet to regain their balance, or perhaps relieve nervous tension. There are also "pinchers" and "spreaders," who either hold the ball tightly to help themselves throw straight or stretch their fingers wide like a baseball mitt, to chart a curved path to the pins.
Growing up in Bowie, Gepert was "born and raised on duckpins," with his dad taking him bowling when he was a kid. Eventually, he moved to Baltimore, where, pre-pandemic, he played the occasional game before joining the league this season to connect with old friends and make new ones over what he considers to be a perfect weeknight activity.
"A normal game should last two beers," says the 32-year-old Hampden resident, who likes to be home by 10 p.m. (and who's happy to break 100). "As the season has progressed, one of my favorite things is we're always facing a different team. It's been cool just to talk to people and get to know them and learn their stories."
Adding to the allure, league nights can also feature pots for strikes and spares. Each week, players can decide to contribute $1 or $2 each for a chance to win. Then a ticket is drawn and an emcee will announce which frame is in the running for the pot. On any given evening, the strike pot could be on the third game and the third frame, for instance, and a randomly chosen player will need to bowl either a strike or spare accordingly. If the player doesn't complete the play, the pot rolls over from week to week.
Still, no one freely recalls the exact cash prizes at the end of their 32-week league. At the end of the day, they're here for something that's worth more—a palpable collective joy and participation in the continuous effort of getting better at a game for its own sake. Stoneleigh's new owner knows this well.
"IT'S BEEN COOL JUST TO TALK TO PEOPLE AND GET TO KNOW THEM AND LEARN THEIR STORIES."
Originally from Richmond, Virginia, Briggs is another lifelong bowler. The 56-year-old Timonium resident played the game as a kid, and during college, worked as a pin boy, or "jammer," at Valley Lanes Bowling in Harrisonburg. As a full-time consultant, he daydreamed of owning his own alley but knew that the cost of a larger 10-pin setup was going to be more than he could afford.
Briggs also pivoted to duckpin because the self-proclaimed "pseudo-history buff" wants to preserve the local pastime. His 16 lanes are still run by those old Sherman pin-setters—a point of honor, as Gill mentioned, when other alleys have begun transitioning to new cost-saving "string" machines, where each pin is attached to a line and reset by simply pulling it.
Stoneleigh's prized equipment is also its largest expense. And on top of that, there's only one remaining manufacturer of those tiny pins left in the entire country—American Products, located in Rhode Island. Duckpins were originally made of wood, often maple, but companies switched to resin in the 1990s because it was easier to repair and the wooden ones "became too expensive to make," says Ken Staub, who owned Stoneleigh—and several other Baltimore duckpin alleys, including the Patterson—until earlier this year, when he sold it to Briggs.
The new owner has a five-year, three-phase plan to renovate and refashion some of the underutilized spaces inside the Towson alley, including possibly adding an official bar. For now, the BYOB policy remains, and the business stays open in the afternoon and evenings six days a week (it's closed on Mondays). And it still has a certain sturdy, midcentury beauty, as colorful balls return and rack up in swirls of different colors like life-size marbles.
Before them on this mid-April evening, Gepert is dismayed to roll a seven-10 split, leaving only the two pins in the back corners of the pin triangle. The odds of knocking both down are against him. Not that it matters—he looks forward to bowling all week and relishes the moment to step back in time, across Stoneleigh's 77 years.
"I know I have something to do, I know the environment, I know there's going to be lane hiccups," he says with a laugh, "because we've got, like, 1950s dairy machinery back there, but it's part of the experience."
On his last ball, Gepert knocked down pin seven but missed 10, scoring a nine for the frame.
Cristian Herrera (highest score 111) knows what he means. He describes the place as awesomely uncool. The high school junior lives in the neighborhood and walks to work two or three days a week to run the counter at Stoneleigh. Seven months ago, he visited the alley for the first time, hearing about the job through a friend who already worked there.
"I've been working here ever since," says Herrera, leaning on the shoe rental counter.
Now, he bowls for fun himself, and the best part of his job is working during league nights. With a big smile, he looks away, a little embarrassed, as he calls the players "so nice."
"It might be odd because I'm just so young and they're, like, a little old," says Herrera, "but it's okay. I love it here."