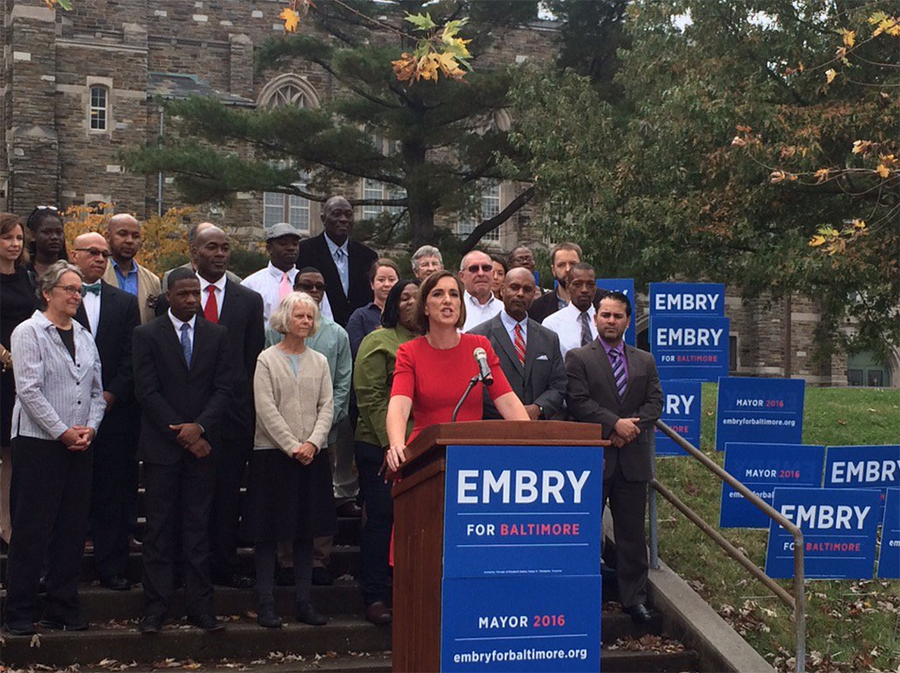 Courtesy of Twitter
Elizabeth Embry, a senior member of the Maryland Attorney General's Office, formally declared herself as a candidate for mayor of Baltimore this morning.
The announcement of her 2016 campaign "and vision for Baltimore" took place at City College high school at 10:30 a.m. A Twitter account, @Embry4Baltimore, and website, EmbryForBaltimore.org, has already been launched.
"And so, because I am not a politician, you may not know my name yet; you may not know my story yet; but you will. And that starts today," she announced this morning, before going into her stance on criminal justice. "Public safety does not require mass arrests or zero tolerance . . . The war on drugs is too often, and for too many, a war on drug addicts."
Embry, who has long been rumored to run, is currently the director of the criminal division in the Office of the Attorney General, headed by Brian Frosh. She is the daughter of longtime Abell Foundation president Robert Embry.
The Yale and Columbia University graduate previously served as acting director of the Mayor's Office of Criminal Justice in Baltimore and as deputy for policy and planning in the Baltimore City State's Attorney's Office.
Embry has been an assistant solicitor in the Baltimore City Office of Law and was a felony prosecutor in the Baltimore State's Attorney's Office.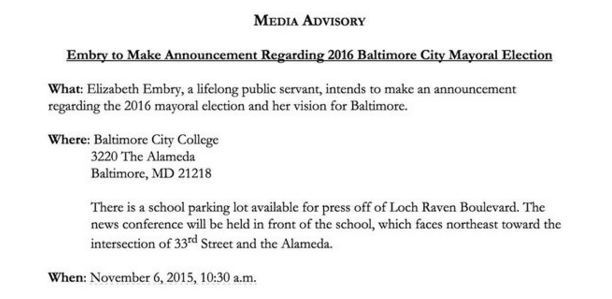 Embry joins a seemingly ever-growing field, which expanded earlier this week with the addition of venture capitalist and philanthropist David Warnock.
"Never more than now has our city needed a leader who puts the people of Baltimore above all else, who has a clear vision and real solutions to get the city running again and the experience and energy to get the job done," Embry told The Sun in a recent interview.
In September, in the ongoing wake of Freddie Gray's death, a spike in homicides in the city, and the departure of former police commissioner Anthony Batts, Mayor Stephanie Rawlings-Blake, who announced in September that she is not be running for re-election.
City Councilman Nick Mosby, former Mayor Sheila Dixon, City Councilman Carl Stokes, and State Sen. Catherine Pugh—already in the race. Other Democratic candidates that have filed include, in alphabetical order: Richard Black, Mack Clifton, Joshua Harris, Mike Maraziti, and Calvin Young III.
One Republican, Brian Charles Vaeth, has also filed to run, and two Green Party candidates, Bonnie Renee Lane and Emanuel McCray. One Independent Party candidate, Collins Otonna, and one unaffiliated candidate, Connor Meek, have also filed.
Early voting in the 2016 Maryland primary begins April 14, 2016. Primary election day is April 26, 2016.