News & Community
After the Flood
Ellicott City proves you can't keep a good town down.
The first raindrops fell
about 6:15 p.m., but no one gave them much thought. After all, July 30, 2016, was a typical summer Saturday in Ellicott City's historic Main Street district: Restaurants were busy and sidewalks were bustling. Some of the town's many independently owned boutiques, galleries, and stores were still open in order to capitalize on the pedestrian traffic. A little rain was no big deal.
Precipitation continued steadily, however, and at 7:18 p.m., the National Weather Service issued a flash flood warning. What meteorologists could see—but many of those patronizing Ellicott City establishments could not—was that a line of rain-soaked clouds had merged into a mega storm that was moving west to east across the region, with Ellicott City right in its crosshairs.
As anticipated, the heavens opened, dumping 6.6 inches of rain over the town, much of it falling in one particularly intense two-hour period.
This kind of deluge would be cause for alarm anywhere, but it's especially problematic in Ellicott City, a former mill town that owes its very existence to its ability to channel water. Tucked inside a narrow valley, the town's sloping Main Street acts as a funnel, whisking runoff from parking lots, rooftops, sidewalks, and streets down to the Patapsco River at the eastern end of town. In addition, three substantial tributaries of the Patapsco—the Hudson, the Tiber, and the New Cut—thread through the area, sometimes running directly underneath buildings. With all these factors at play, flooding can and does occur here regularly, even during modest storms.
"I mean, it looked like a movie set. I didn't even know where businesses were supposed to be," remembers Maureen Sweeney Smith, the executive director of the Ellicott City Partnership, the town's de facto chamber of commerce.
Howard County Executive Allan Kittleman, one of the first officials on the scene that night, says it took him some time to process the scope of the destruction.
"I got to Main Street about 11 o'clock that night, but it was probably the next morning, when light came, when I really saw it and could better comprehend it," he recalls. "It really looked like Katrina, just on a smaller scale."
As stunning as the damage was, Kittleman spent that sleepless night preoccupied with more pressing matters.
"We had two people [missing]," he says. "So I was hopeful that somehow they had escaped or they were somewhere else. So that, for sure, was the first thing going through my mind: Is everybody safe?"
"It really looked like
Katrina

, just on a smaller Scale," says County Executive Allan Kittleman.
They weren't. On Sunday morning, the bodies of Jessica Watsula, a 35-year-old single mother from Pennsylvania, and Joseph Anthony Blevins, a 38-year-old director of financial aid at the University of Baltimore, were recovered. Each had come to Ellicott City for a fun night out—Watsula for a paint night with friends; Blevins on a date—only to be swept to their deaths in the turgid waters that sluiced down Main Street. As far as anyone could remember, theirs were the first deaths to result from flooding since Hurricane Agnes in 1972. And while mourning the dead, residents and business owners struggled to understand their own losses, too.
Jason Barnes, the owner of All Time Toys, was on his way home from work when he decided to turn around and check on his shop's basement, which sometimes takes on water during storms. "I was just planning on setting up dehumidifiers and fans and waiting it out," he says.
Instead, Barnes watched as a wall of water burst through his back door, eventually flooding his store's basement all the way to the ceiling, ruining all of his online retail and backup stock in the process. Next, he watched helplessly as his car floated away in the current rushing down Main Street. And then, most dramatically, he became an unwitting viral video star when he and a few others formed a human chain to pull a woman to safety from her soon-to-be-swamped VW bug.
"I mean, the day after, I was shell-shocked," he says.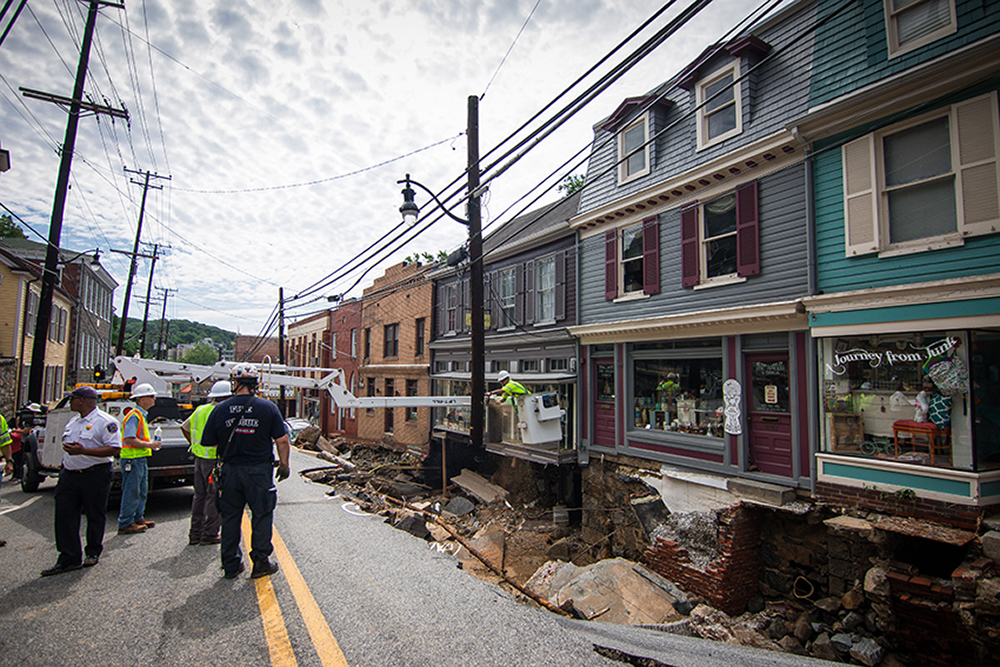 Many have similar stories. The owners of Tersiguel's French Country Restaurant lost about $250,000 worth of equipment and foodstuffs, including a painstakingly curated wine collection. Tammy Beideman's clothing boutique, Sweet Elizabeth Jane, was wiped out. And just up the street, Craig Coyne Jewelers was obliterated, too. The list goes on: Portalli's Italian restaurant, Shoemaker Country furniture store, Bean Hollow coffee shop, The Forget-Me-Not Factory, Tea on the Tiber. And this doesn't even begin to touch the damage inflicted on residences and hundreds of cars.
With such widespread destruction, it was never going to be an easy recovery—and it hasn't been. Talk to residents, business owners, and government workers and they'll tell it to you straight: It has been a long, hard slog. Even now, almost a full year after the event, some businesses have yet to reopen, and many homeowners—particularly along Main Street's more residential West End—are still dealing with repairs. But in between tales of insurance woes and contracting delays, most will say that some good has come out of it—a strengthened civic bond, a humble appreciation of fortune and fate, and a faith in their own resiliency.
It has been, as Sweeney Smith says, a year of reckoning.
"Back in the winter, the Urban Land Institute came in and did a 48-hour evaluation [of the town] . . . a vision exercise of what Ellicott City could be," she explains. "They're the ones who coined the term—'this is a terrible gift.' People lost their lives. But their point was, we have this wonderful opportunity to rebuild brand, spanking new. And that, really, has been the silver lining in all this."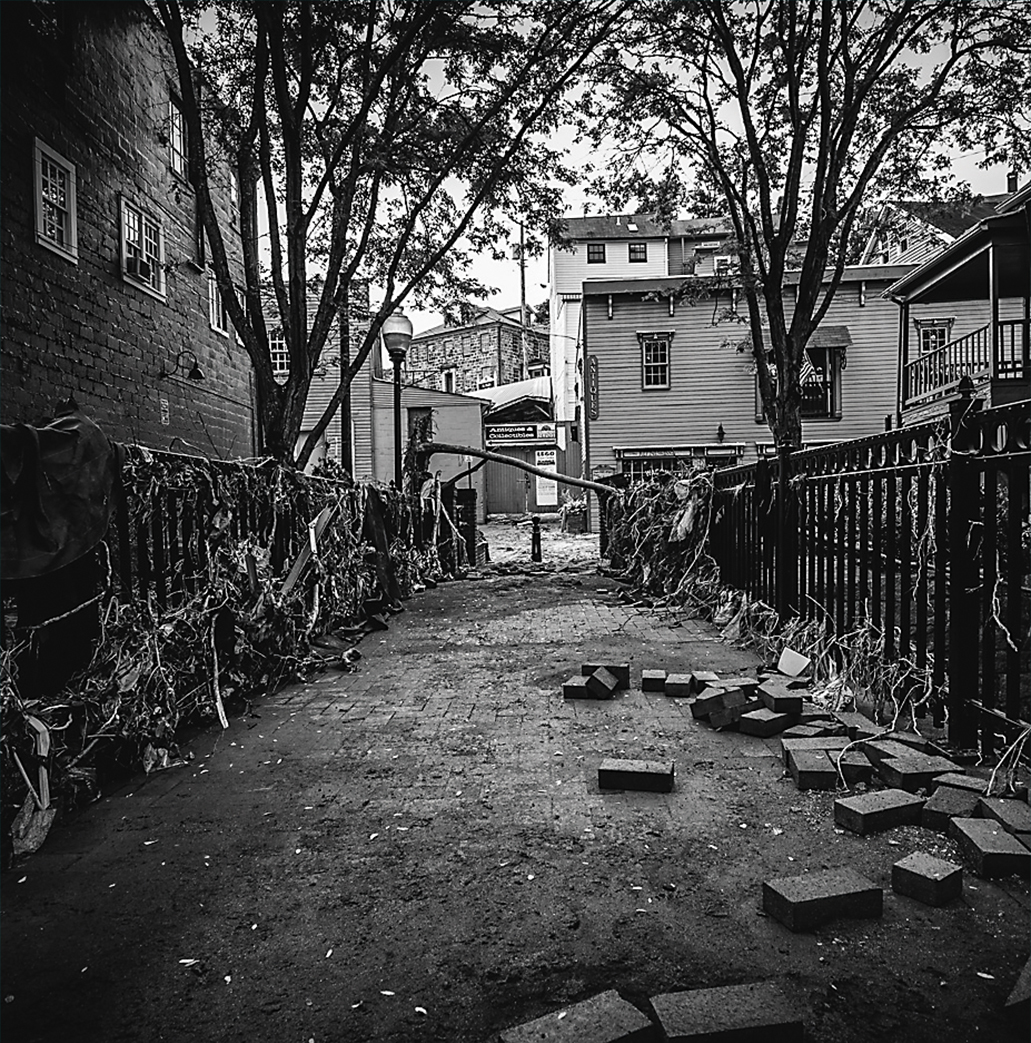 The rebuilding effort started the night of the flood, when Kittleman formally requested that Gov. Larry Hogan declare a state of emergency, which he did the next morning. That set in motion the process of obtaining federal disaster relief, which the town qualified for in September. All the while, Kittleman directed what he calls his "unified command"—a team of disaster relief experts, government employees, and utility service crews that inspected buildings, repaired infrastructure, and helped business owners and residents collect left-behind belongings.
"There was never a day when everything went the way you thought it was going to," says Kittleman of the early recovery efforts. "Something always came up."
There did seem to be agreement on one crucial point, however. Ellicott City, as a bustling commercial center, was over.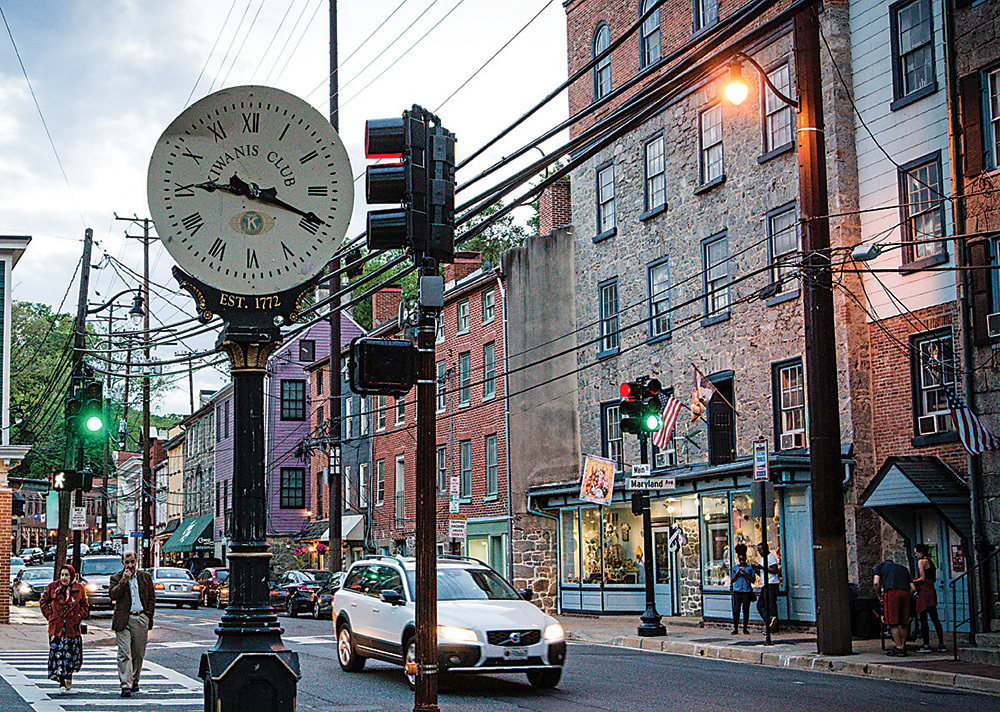 "[Disaster relief specialists] told us at the beginning that we'd be lucky if 30 percent of the people came back," says Kittleman.
But that's not what happened. Yes, some businesses shuttered. Popular eateries such as Cocoa Lane, Rumor Mill Fusion Bar & Restaurant, and Johnny's Bistro are now gone. Craig Coyne Jewelers decided to throw in the towel, too. A couple others, like Time Warp, moved out of town.
Remarkably, though, these are exceptions. Out of the approximately 141 businesses and services in the historic district before the flood, only 19 decided not to return. Even more incredibly, the downtown—which one recent study estimated contributes almost $200 million to Howard County's economy—continues to attract new businesses.
"We basically have no vacancies," says Sweeney Smith. "Any [space] that's available, we have people standing in line."
The relatively quick comeback is attributable in no small part to Sweeney Smith's leadership at Ellicott City Partnership. The night of the flood, she commissioned a fundraising website, HelpEllicottCity.com. By morning, it had collected $10,000. And by the time it stopped accepting donations on Dec. 31, 2016, it had raised and distributed $1.85 million to businesses, property owners, and residents in the historic district. The Maryland Small Business Development Center also helped by providing the town with a retail consultant to help the entrepreneurs strategize and modernize.
Some proprietors, like Tea on the Tiber's Linda Jones, say their businesses function better than ever now. Jones lost just about everything in her Victorian teahouse during the flood. She had no flood insurance, but her landlord did, and, luckily, he was sympathetic and accommodating.
"He basically did everything that we possibly could have asked for . . . right down to [letting us] pick the color of the paint, and he put it on the walls for us," she says. Now, Jones enjoys a larger kitchen, a finished lower level gift shop, and updated lighting—part of what she calls her "38 miracles" the flood made possible.
Jones says it never occurred to her to not rebuild, but others do admit to wavering.
Sherry Fackler-Berkowitz has co-owned Great Panes Art Glass Studio with her husband, Len Berkowitz, for more than 30 years. The custom glasswork business sits in a circa-1887 building that straddles the Tiber branch near the bottom of Main Street. When the river rose, it flowed straight through the building, absconding with "about 20 percent" of the Berkowitzes' glass inventory, two kilns, paints, and specialty tools. Like Jones, the Berkowitzes lacked flood insurance (they had recently let it lapse amid squabbles with their insurance company). But unlike Jones, the Berkowitzes owned their building, and were on the hook for all the repairs.
After reinvesting a lot of their own money, they reopened in mid-May. Fackler-Berkowitz says they do worry about the next flood. But, she adds hopefully, "They are reassuring us that they're doing all kinds of plans and things to figure out how the water flows and how they can divert it."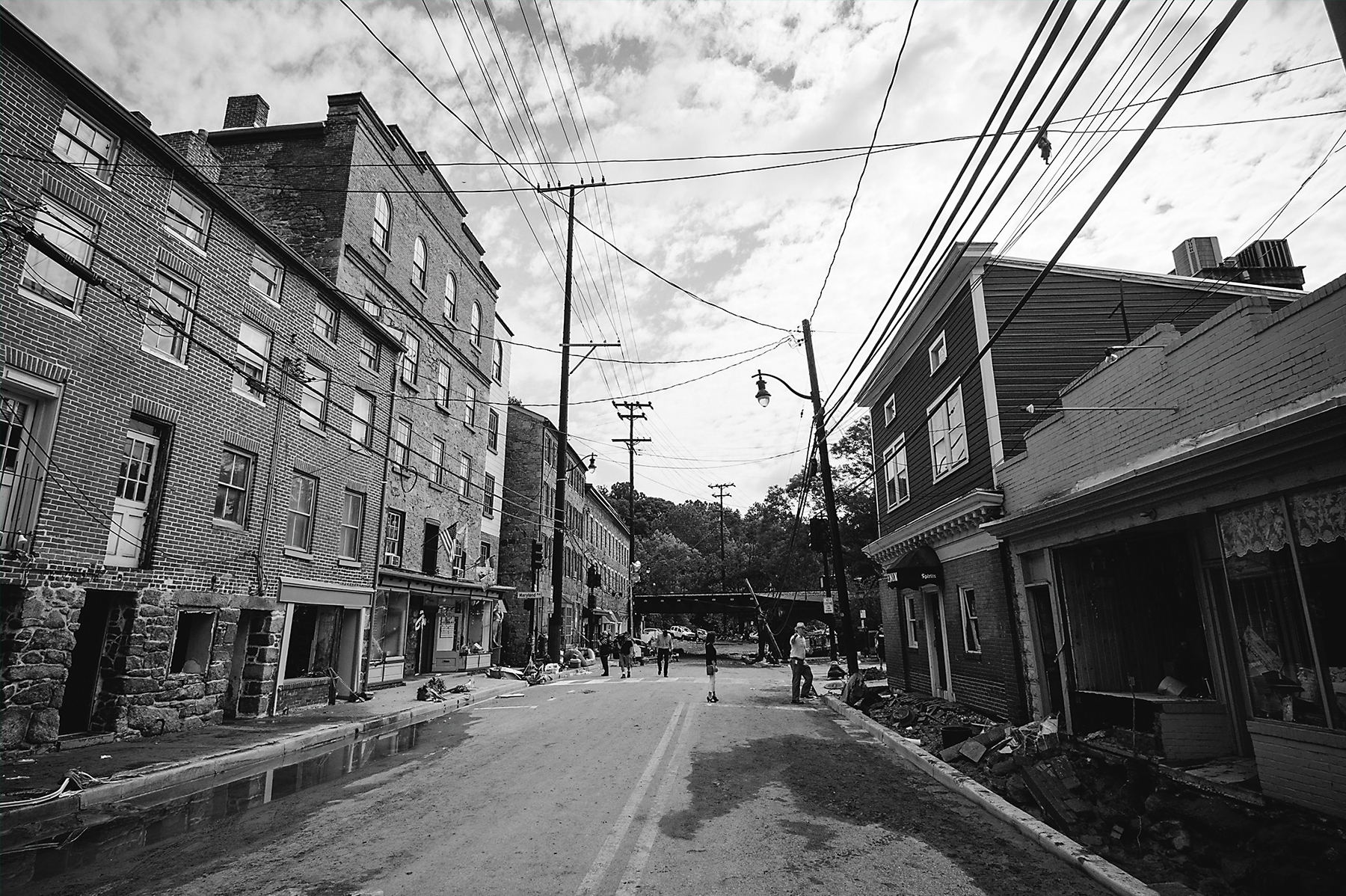 On May 31, dozens of Ellicott City stakeholders and residents filled a room in the George Howard Building at the Howard County municipal campus, just up the hill from historic Ellicott City.
"We basically have
no vacancies

. Any [space] that's available, we have people standing in line."
The occasion was a presentation of the just-completed Hydrology and Hydraulics Study of the 3.7-square-mile watershed that drains through Main Street. The study is part of a larger master planning process the town is undertaking, but it has taken on extra significance following the flood. The good news, say experts from McCormick Taylor—the engineering firm that compiled the report—is that there are things the town can do to mitigate future flooding. These include adding and expanding culverts and "pipe farms" under the town, and installing several storm water retention ponds throughout the watershed. The bad news is that, even those modifications (which could cost in excess of $85 million), still wouldn't prevent all future flooding.
It's an inconvenient truth Kittleman has acknowledged previously. "When people come up to me and go, 'So, are you going to be able to fix this so that it doesn't happen again?' I feel terrible, but I have to say, 'If we get 6 inches of rain in less than two hours, I don't think we're going to be able to stop this from happening again.
"But," he adds quickly, "we've got to do the best we can to mitigate it."
This was the theme at the May 31 meeting, where the public politely grilled the presenters about the study's methodology.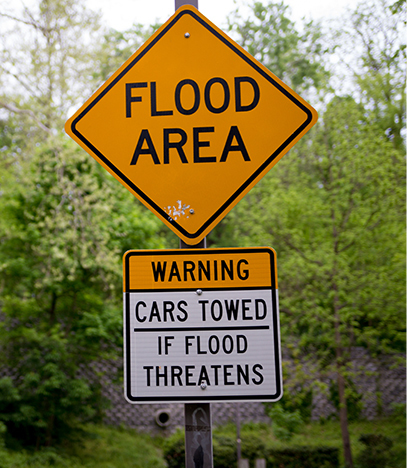 The 2016 storm was a 1,000-year storm, the attendees noted. The study's projections are based on a 100-year storm. Doesn't that skew the data? (No, presenters replied. The 100-year storm used in the model was of similar enough intensity to provide useful comparison data.) Had the experts run a model that examined what flooding would be like if the town were developed to the maximum extent permitted by current zoning regulations? (Yes, they had, the presenters said. It's not much different from current results.) Does the county even have the money for the proposed infrastructure upgrades? ("Not yet!" called Kittleman from the back of the room.)
And though there was more than a little grumbling from audience members, the thrust of most questioners was proactive, informed, and invested. Tell us how we can help, they seemed to be saying, because we're not going anywhere.
And that's the not-so-inconvenient truth about Ellicott City: In many ways, it's a naturally inhospitable place, and yet, from its precarious perch, it persists—because its people will it to.
"That's what's amazing about Ellicott City," marvels Kittleman. "Talk about a city that's the poster child for resilience."