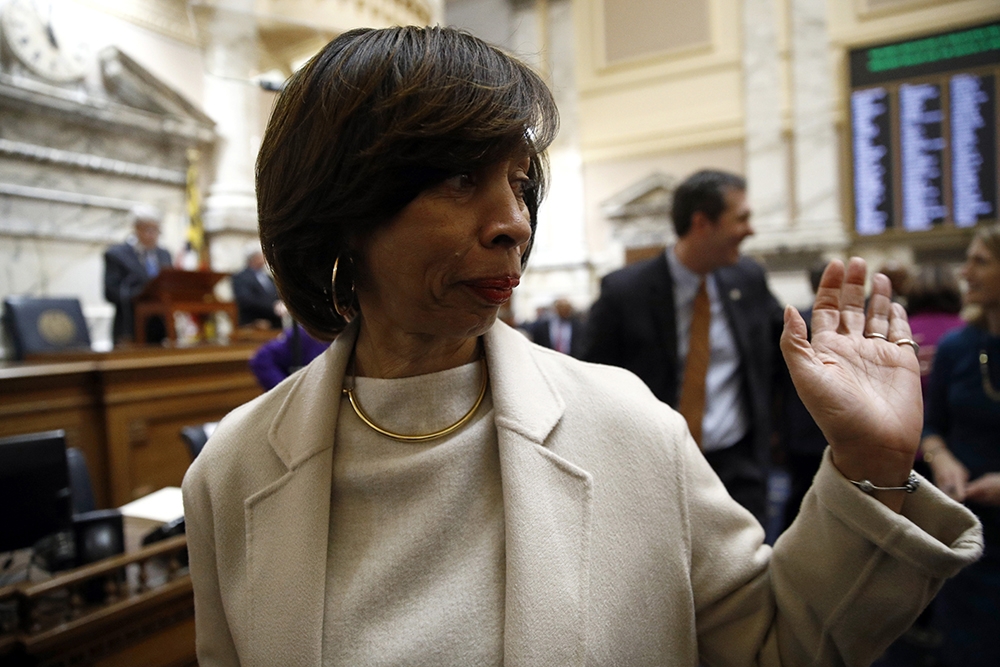 AP Photo/Patrick Semansky
FBI and criminal-division IRS agents raided the Ashburton residence of Mayor Catherine Pugh, another home owned by Pugh, City Hall, her attorney's office, and a nonprofit once led by Pugh Thursday morning.
The Washington D.C. agents were executing federal search warrants authorized by the U.S. District Court of Maryland in Baltimore, said Baltimore-based FBI public affairs specialist Dave Fitz. The Maryland Office of the State Prosecutor is currently investigating Pugh for sales paid for by the University of Maryland Medical System, where she sat on the board, of her self-published Healthy Holly children's books.
FBI agents were also on site at the Maryland Center for Adult Training in Liberty Square. The job training program, once led by Pugh, listed former Pugh staffers fired this week by acting Mayor Bernard C. "Jack" Young"—Gary Brown Jr., Poetri Deal, and Afra Vance-White as board members—according to reporting by The Baltimore Sun. (The online page listing its board of directors was not available this morning, the center was closed Monday for spring break.) Brown had been found guilty of making illegal campaign contributions to Pugh during her bid for mayor in 2016, but nonetheless remained on her staff.
Top Pugh advisor, former judge, and Baltimore County Executive Jim Smith, who was cited for an illegal campaign loan before being given a position in her administration, resigned earlier this month.
Arriving at City Hall Thursday morning—where an estimated 20 FBI agents were at work—Pugh spokesman James Bentley II told Baltimore magazine that he'd just learned of the raids and had no previous knowledge the mayor was under investigation by the FBI. City Solicitor Andre Davis told reporters Thursday morning that he learned of FBI/IRS investigation of Pugh from news reports.
The 69-year-old Pugh, who remains on leave from office following a bout of pneumonia, "is still recovering" from her illness, Bentley said. He added that there was no change to announce regarding Pugh's stated plans to return to office. Pugh said at the start of the month that she was taking an indefinite sick leave on the same day Gov. Larry Hogan called for the investigation into sales of her Healthy Holly books to customers with business with the state and city, including UMMS, Kaiser Permantente, and local developer.
The book deals, first reported by The Sun, earned about $800,000 for the limited liability company Pugh established around her widely derided Healthy Holly series. In the wake of corruption allegations, the entire 14-member City Council—save Young, the City Council president—Baltimore City's contingent of state delegates in General Assembly, Peter Franchot, the state's comptroller, and Greater Baltimore Committee have asked for Pugh's resignation.
Since the revelations of Pugh's book deals, there has been discussion among the city's leaders about amending the Baltimore's charter and the state constitution to enable the removal of a sitting mayor. As it stands, only a criminal conviction can trigger a Baltimore mayor's removal from office.
Young, formally Baltimore's Ex Officio Mayor while Pugh is on paid leave, has said he is not interested in running for mayor. His spokesman, Lester Davis, reiterated to Baltimore magazine Thursday Young "is focused on running the city."
City Councilman Brandon Scott, considered a potential 2020 mayoral candidate, called for Pugh to resign immediately. He described the raids as an "embarrassment" and said the City needs move forward. "Baltimore is a great and resilient city, but we can't afford to waste anymore time on this issue," Scott said. "There are many important issues in front of us that require the complete attention of a full-time Mayor."
In a tweet, Gov. Hogan restated his call for Pugh to step down. "Mayor Pugh has lost the public trust," Hogan said. "She is clearly not fit to lead. For the good of the city, Mayor Pugh must resign."
The raid of Pugh's home, of course, is a reminder of a similar raid in 2008 of then Mayor Sheila Dixon's home. In 2009, Dixon pled guilty to using more than $500 in retail store gift cards intended for needy families