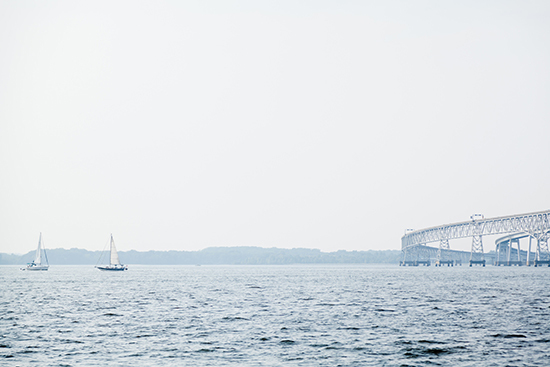 Courtesy of ChesapeakeBay.net
Field Notes is a monthly roundup of environmental news from around the area. If you have a story you'd like considered for a future Field Notes, email [email protected]. Put "Field Notes Suggestion" in the subject line.
Bay Watch
When is a C- a cause for celebration? When we're talking about the Chesapeake Bay's health grade. Late last week, the nonprofit Chesapeake Bay Foundation released its report on the bay's overall health in 2016, granting the estuary its highest grade since the foundation began issuing reports in 1998.
The report divides data into three main categories—pollution, habitat, and fisheries—then grades various indicators within each category to calculate an overall score out of a possible 100 points. This year's overall score was a 34, which equates, in this specially weighted grading system, to a C-.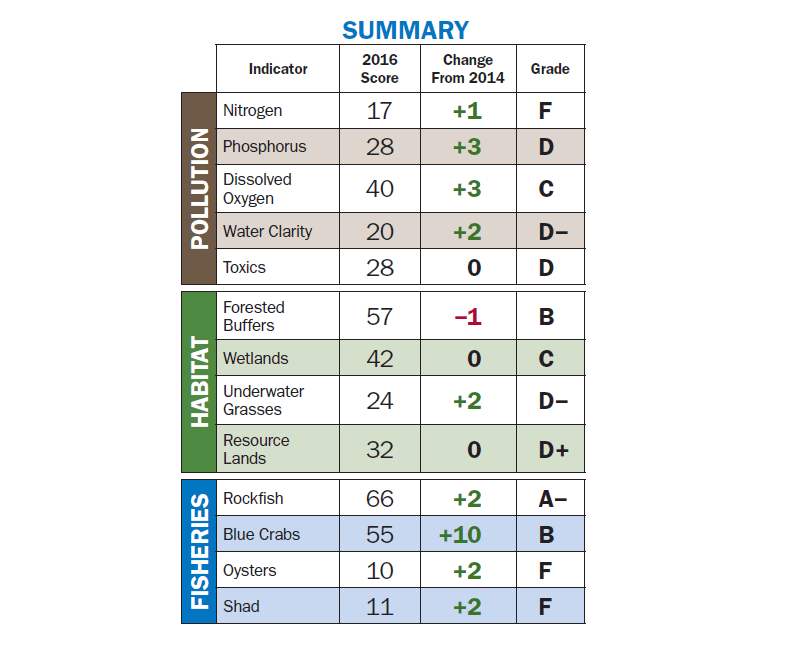 Except for a slight decrease in the amount of forested buffers, the bay showed improvement or remained steady across all sectors. Especially notable is the 10-point jump in the health of the blue crab population and the continued hardiness of the rockfish population, which garnered an A-, the scorecard's highest individual grade.
But while things have improved, there is still a long way to go to reach that 100-point A+ (which would be like restoring the bay to how it was in the 1600s). Particularly troubling are the pollution scores, with nitrogen and phosphorus levels still earning F and D grades, respectively. (Excess nitrogen and phosphorus contribute to algae blooms that block sunlight and create dead zones in the bay. Certain algal blooms can be toxic to humans and pets, as well.)
The largest sources of nitrogen and phosphorus are agriculture runoff (particularly chicken manure and fertilizers), car and power plant emissions, sewage plant discharges, and suburban and urban stormwater runoff. Attempts to curtail the nitrogen and phosphorus runoff have resulted in controversial measures such as the Bay Restoration Fee (the so-called "flush tax") and the much-maligned Stormwater Utility Fee (aka the "rain tax").
But along with a suite of other actions that have been folded into a federally coordinated multi-state initiative called the Chesapeake Clean Water Blueprint, there is a view that the oft-maligned fees are having a positive effect.
"We believe the Bay is reaching a tipping point," the report's introduction states. "As this report shows, the evidence is there. We are seeing the clearest water in decades, regrowth of acres of lush underwater grass beds, and the comeback of the Chesapeake's native oysters, which were nearly eradicated by disease, pollution, and overfishing. . . . The bottom line is our report provides hope and promise for the future."
Full report here.
So, That Was Christmas
And what have you done? Left your tree in the corner, dropping needles by the ton.
Don't worry, Baltimore City Department of Public Works will be collecting Christmas trees with your regularly scheduled trash pickup throughout the rest of January (excluding Monday, January 16, because of Martin Luther King holiday). All tinsel and ornaments must be removed before pickup. Or, if you want to divert your tree from the landfill and turn it into free mulch for future garden projects, bring it to the the Southwest Citizens' Convenience Center at 701 Reedbird Ave. in South Baltimore, Monday through Saturday (excluding the MLK holiday), from 9 a.m. to 2 p.m. Residents should bring their own containers for the mulch. DPW also would like to remind everyone that wrapping paper and many packaging materials are eligible for standard curbside recycling. An extensive list of recycleable items can be found here.
Baltimore County is also collecting old Christmas trees, beginning this week. Detailed instructions can be found here.
Anne Arundel County regulations can be found here.
Howard County runs a free mulch program similar to Baltimore City's, as well as curbside pickup and recycling drop-off. Details are here.
Legislative Briefing
Last week, Gov. Larry Hogan announced his environmental priorities for the 2017 session of the Maryland General Assembly, which starts Wednesday at noon and lasts for 90 days.
Hogan wants to spend $65 million over three years on a variety of programs that focus on "targeted investments and market-based solutions to protect and preserve Maryland's environment and natural resources."
Forty-one million of the $65 million he has earmarked comes from a 2012 settlement with Exelon Corp. and must be invested in Tier 1 renewable energy projects. (Tier 1 renewables include solar, wind, and certain biomass and waste-to-energy methods.)
The rest of the $65 million would be distributed among four initiatives: increased tax credits and rebates for electric cars and charging stations, a $3 million investment in the state's green jobs-training program, $7.5 million for a new clean-energy startup incubator at the University of Maryland, and up to $10 million in funding for a pollution credit-trading program.
But as The Sun pointed out in a recent editorial, those pet projects might not get much traction in the Democratic-controlled legislature. Instead, the General Assembly might focus on its own green agenda, which includes possibly overriding Gov. Hogan's veto of a measure that would have boosted the state's required quota of Tier 1 renewable energy from 20 percent to 25 percent by 2020. The legislature and the governor are also due for a reckoning about hydraulic fracturing, aka fracking. The controversial practice, in which a solution of water and chemicals is blasted into bedrock to release deposits of natural gas, is under a moratorium in the state while officials investigated its potential environmental impact. (It has been implicated in water and air pollution, as well as drilling-induced earthquakes.) But the ban expires this year and Hogan and the legislature will need to decide whether or not to allow it and, if so, how strictly it should be regulated.
Energy Star
Kudos to Columbia's Wilde Lake Middle School. When the newly constructed school opened last week, it did so as the state's first "net-zero energy" school. This means that, over the course of a year, the $33 million building will generate as much energy as it uses. The energy efficiency is achieved through both low-tech and high-tech means. There's the school's 2,000 solar panels, geothermal heating system, and lights that automatically dim when conditions are sunny.
But, as Scott Washington, the Director of School Construction for the Howard County Public School System, said in a video update on the project this fall, "Number one is the building orientation and envelope. That means how the building is situated on the site, as well as the envelope that the building is made out of—the roof structure, the wall structure, how insulated they are."
The school also boasts an "energy kiosk" in the main hallway, which allows students to see, in real time, how much energy the building is using and generating. The school replaces the 48-year-old Wilde Lake school, which will be razed to make room for new playing fields and a bus loop.
Great Vertical
Time to add another entry into the city's ever-growing register of urban farms.
Last month, a trio of organizations led by a Canadian agriculture technology companysigned a letter of intent to start a vertical farming operation in East Baltimore. The triumvirate is led by a Canadian agriculture technology company Arcturus Growthstar Technologies Inc., which procured financial backing from the Columbia-based venture capital firm CBO Financial to lease 25,000 square feet of indoor space from the local nonprofit Volunteers of America Chesapeake. The farm will grow greens like lettuce, basil, oregano, and cilantro in a climate-controlled environment and will offer agriculture job training to ex-offenders participating in Volunteers of America Chesapeake's workforce re-entry program.
The $6 million project joins other agriculture and food system-related ventures popping up throughout East Baltimore. In the parking lot of the American Brewery building, another vertical farm, Urban Pastoral, grows greens in a LED-light-laden shipping container. Down the road, Walker Marsh raises cut flowers for market at Tha Flower Factory, a half-acre parcel where vacant rowhomes once stood. And in late September, the long-awaited Baltimore Food Hub broke ground at its 3.5-acre site at the corner of East Oliver and North Wolfe streets. The $23.5 million project, spearheaded by American Communities Trust and local workforce nonprofit Humanin, will eventually host job-training facilities, communal incubator space, and an excess of land to be dedicated to urban farming.