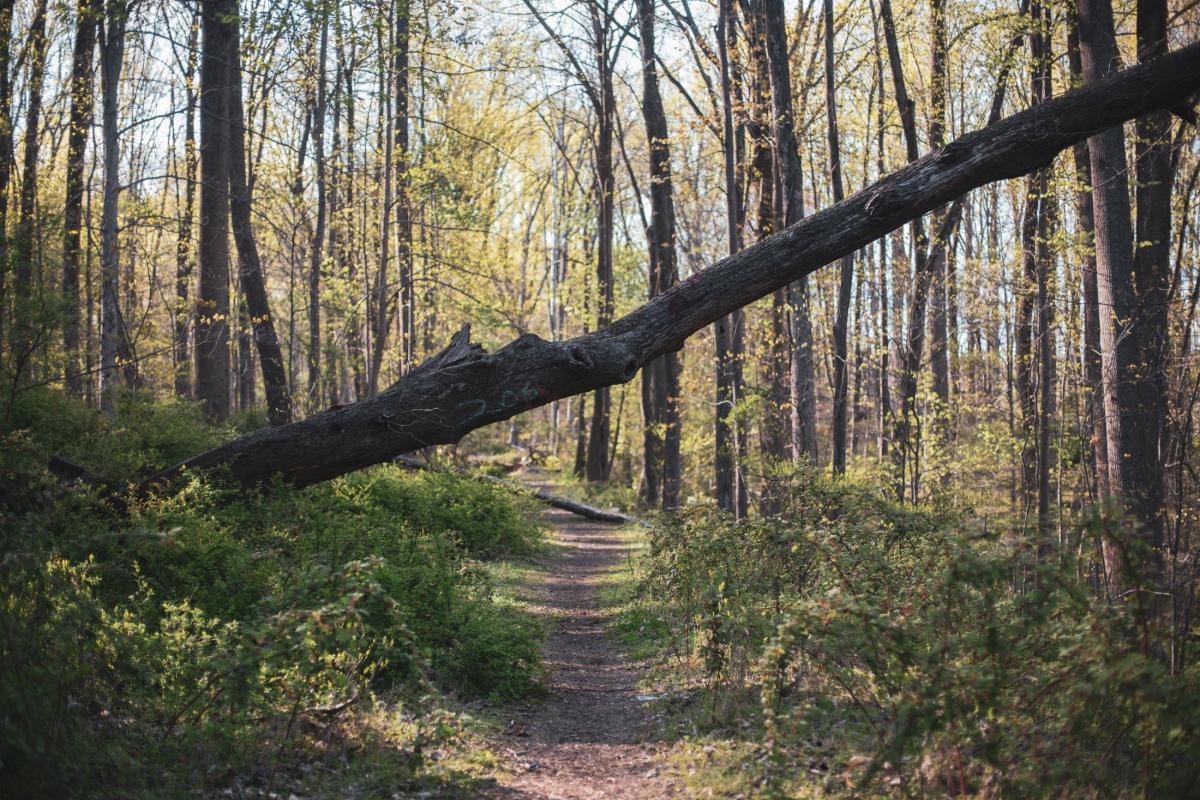 Hiking trail leading through the forests of Patapsco Valley State Park near Ellicott City. —Nicole Glass Photography/Shutterstock
Ten years ago—following the lead of Blue Hills State Reservation in Massachusetts, which hosted the inaugural First Day Hike in 1992—the America's State Parks alliance launched First Day Hikes as a nationwide program that offers free, guided hikes in all 50 states on the first of the year. 
The initiative encourages everyone, from fitness enthusiasts to photographers, to start the year by experiencing the great outdoors—and it's certainly made an impact. According to the American Hiking Society, last year 55,000 people walked 133,000 miles on a First Day Hike in state or national parks. For Marylanders, this tradition has only become more popular, with a 40 percent increase in visitors in 2020, according to the state's Department of Natural Resources.
Local First Day Hikes are back for 2022, and for the first time, they're spanning an entire weekend. The activities will last from Friday, Dec. 31 to Sunday, Jan. 2, with independent walks, bike rides, and guided hikes by rangers organized everywhere from the Torrey C. Brown Rail Trail in Baltimore County to Calvert Cliffs State Park along the Chesapeake shoreline. 
"We've decided to go with first weekend hikes, to extend the experience for folks," says Melissa Boyle, chief of interpretation with the Maryland Department of Natural Resources (DNR.) "It's great. Our park staff gets very creative with putting together the First Day Hikes."
This year's theme chosen by the Maryland DNR team, "Leave No Trace," aims to educate participants about respect for public lands and sustainability. 
"The first part of inspiring that respect is to inspire joy and appreciation," says park service supervisor Alyssa Myers, who adds that it's easy to sense the rangers' enthusiasm. "During any of our hikes, we don't just read off a script."
Aside from experiencing authentic landscapes and native wildlife, parks across the country hope that the initiative teaches people the value of their state's natural resources. 
"Maryland is proud to be doing this with all 49 other state park systems," Boyle says.
Here, we've rounded up a few hikes in the area to help you start 2022 on the right (and left) foot: 
Gunpowder Falls State Park (Bunker Hill Trail)
This moderate to difficult self-guided trail stretches six miles in the Hereford Wildlands, which are home to plenty of scenic views and full of opportunities to learn about local plant species. Parking lot off of Bunker Hill Road, 2813 Jerusalem Rd., Kingsville
Torrey C. Brown Rail Trail
A ranger-led bike ride on the Torrey C. Brown Rail Trail is a great way to breathe in some fresh air (and cure a hangover) on January 1. The group will meet at the Paper Mill parking lot in Cockeysville at 8 a.m. Residents need to bring their own bike, and children 16 years and under must wear a helmet to participate. For regular hiking, the trail is open rain or shine from sunrise to sunset. 1302 Paper Mill Rd., Cockeysville 
North Point State Park
Calling all birdwatchers. This self-guided hike along the Black Marsh Wildlands hosts sights of multiple species that call the wetlands home. Plus, the Black Marsh Trail is ideal for history buffs who will get a kick out of learning about the historic Bay Shore Amusement Park, as well as seeing the 1900's trolley car powerhouse. The DNR advises locals who choose to traverse this route to bring binoculars and water resistant boots. 8400 North Point Road, Edgemere 
Patapsco Valley State Park
The 16,000-acre park will provide a beautiful backdrop for multiple events planned throughout the first weekend of the year. Kicking things off will be a kid-friendly gathering in Catonsville (Hilton Area, Shelter 201, 1101 Hilton Ave.) from 4-5 p.m. on New Year's Eve. The park service has put together discovery packs that are available to borrow as a way to help families learn about nature. Plus, little ones are encouraged to bring their own flashlights to partake in a special sunset countdown well before bedtime.
On Jan. 1, novice hikers can embark on a ranger-led walk on the River Ridge Trail in Ellicott City (Hollofield Area, Shelter 300, 8020 Baltimore National Pike) from 10 a.m. to 12 p.m. An easy to moderate hike, this one will be assisted by senior rangers eager to share facts about the area. To round out the weekend, on Jan 2. Patapsco staff will lead a hike in the McKeldin area (11676 Marriottsville Road, Marriottsville) from 9 a.m. to 3 p.m. Along the Tall Poplar Trail, hikers can experience scenic views of the river and chat with senior rangers along the way. 
Sandy Point State Park
Visit this state park for picturesque views on this self-guided stroll. Perfect for families with children, this trail is offering a choose-your-own-adventure activity, starting in East Beach at the Osprey Pavilion, where the path you take helps you create your own dream park Jan. 1-2. (Leashed pets are welcome!) 1100 E. College Parkway, Annapolis. 
Find more information and other planned hikes, here.