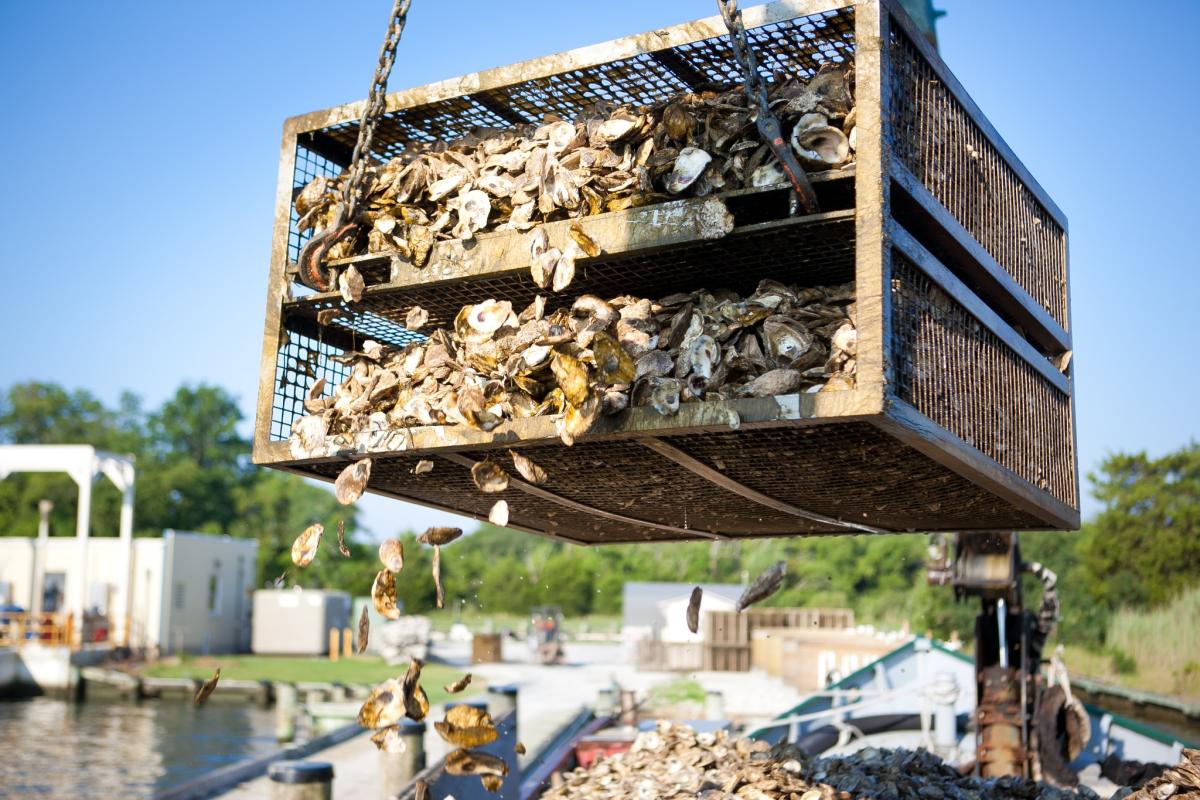 Baltimore County recently opened a residential oyster shell collection site at the Eastern Sanitary Landfill in White Marsh. —Courtesy of Oyster Recovery Partnership via Facebook
Aw Shucks: National Oyster Week Marks Start of New Shell Recycling Program
Did you slurp a bivalve this month? With August 1-6 being National Oyster Week, it was the perfect time. Whether fried or served on the half shell with mignonette or cocktail sauce, the week was a delicious way to educate oyster lovers about the importance of oysters to the health of the Chesapeake Bay. Many of the consumed oysters ended up right back where they came from—in the Bay, serving as hosts for baby oysters thanks to the efforts of the Oyster Recovery Partnership (ORP). Not only does ORP consistently work with restaurants to recycle the shells (more than 260,000 bushels, to be exact), but, since 1994, it has also planted more than 10 billion oysters on 3,000 acres of reef. But you no longer need to support an ORP partner restaurant to help with the recycling effort. For those who enjoy a good shuck at home, there's good news—Baltimore County recently opened a residential oyster shell collection site at the Eastern Sanitary Landfill in White Marsh. For those who believe the old adage "Only eat oysters in months containing an 'r'," you can spend September (mark your calendar for ORP's The World is Your Oyster Festival at the B&O Railroad Museum on September 28) slurping with a clear conscious.
Peace in Poppleton: Neighborhood Celebrates Lack of Violent Crime
Poppleton, the Southwest Baltimore neighborhood located near the stadiums and the University of Maryland Medical Center, had reason to throw itself a party in August, as the area has gone 24 months without violent crime. As reported to WMAR-TV, the community of some 2,500 households has been working for years to bring back the safety and quality of life that many longtime residents remember from their youth. Fittingly, the neighborhood celebrated the two-year milestone on August 23 as part of Poppleton's annual "CommUnity Day," which featured food, entertainment, and plenty of Poppleton pride. 
Food for Thought: Baltimore County Makes Free Breakfast and Lunch Available to All
For years, Baltimore County Public Schools' (BCPS) students in need would have to apply for access to free breakfast and lunch—placing yet another bureaucratic burden on families and opening the door to stigmatize those who lined up for free food. No more. In a letter sent to BCPS families in August, the school system informed parents that free breakfast and lunch will be available to all students. According to Jaime L. Hetzler, director of food and nutrition at BCPS, "lunch includes a variety of fresh and nutritious options, to include a minimum of four entree choices daily. A minimum of three fresh fruits and three fresh vegetables are offered daily, along with milk, juice, and whole grains." The move ensures that all students will have access to healthy, nutritious meals regardless of their socio-economic status. Do you hear that? It's the collective sigh of relief from thousands of parents with one less thing to worry about now that back-to-school season is upon us.
Picture Perfect: 18th-Annual Sondheim Art Prize Winner Announced
Each year, the lucky winner of the Janet & Walter Sondheim Art Prize walks away with a $30,000 fellowship to be used to further their visual art career. This summer, the three finalists—Kyrae Dawaun, Nekisha Durrett, and Abigail Lucien—displayed their works on the walls of The Walters Art Museum at the Sondheim Finalists Exhibition, which is still on view through September 3, 2023. In the end, it was Haitian-American interdisciplinary artist Lucien who claimed the top prize, which is named in honor of philanthropists and civic leaders Janet and Walter Sondheim. But the runners-up made out pretty well, with second-prize winner Dawaun awarded a residency at Civitella Ranieri in Italy, and Durrett earning a residency at the Bromo Art Studios. According to Baltimore Office of Promotion and the Arts, which co-organized the event, the prize has awarded $400,000 to 16 artists since 2006, providing vital funds to help these burgeoning artists to launch their careers.
How 'bout Them O's?: The Orioles' Current Record is a Homerun
No seriously, how about them O's?! The Orioles have been in first place in the American League East the entire month of August and are currently sporting the second-best record in all of baseball. With a record like that, it's no surprise that game attendance numbers at Camden Yards are so high, they're headed out of the ballpark. Average attendance in the 2022 MLB season was 16,893 fans, compared to this year's 22,987 per game. We don't know what they're putting in the hot dogs at The Yard, but whatever it is, let's hope the good vibes last through playoffs and—dare we dream—into the World Series!