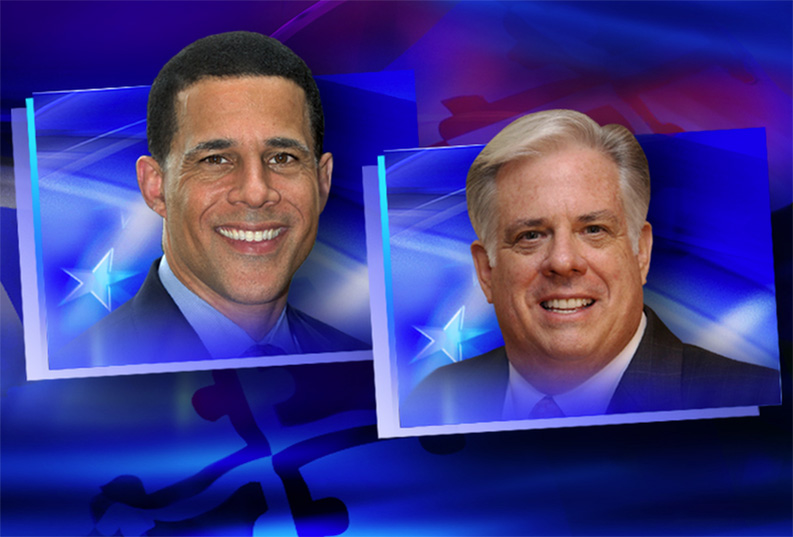 Tomorrow is election day in Maryland, which usually means one thing: We'll go blue. But this year's political landscape looks a bit murkier, with controversial races and issues throughout the state. Here's a roundup of the close calls.
Brown vs. Hogan: It's hard to get a firm grasp on the race for governor this year. One day, a New York Times/CBS poll or Nate Silver's FiveThirtyEight forecast has Democratic Lt. Gov. Anthony Brown comfortably ahead of Republican businessman Larry Hogan and the next, the Cook Political Report is calling the race essentially a toss-up.
Most polls, however, have consistently shown Brown holding a lead, slim or otherwise—not surprising given Maryland's deep blue hue. While it would certainly be a major upset for the GOP to pull off a win, it's not inconceivable by any stretch. Republican Bob Ehrlich, of course, won the governor's race in 2002, and before that, Republican Ellen Sauerbrey lost by less than 6,000 votes to Democrat Parris Glendening in 1994.
Both parties have been bringing out the big hitters on the campaign trail in recent days, with New Jersey Gov. Chris Christie stumping for Hogan and former Secretary of State Hilary Clinton and First Lady Michelle Obama coming to Maryland on Brown's behalf.
Many Democratic activists were excited by former Del. Heather Mizeur's primary campaign and have seemed less enthused by Brown, a qualified candidate who nonetheless has spent the last eight years in Gov. Martin O'Malley's shadow. Hogan, on the other hand, has been enthusiastically embraced by the Maryland GOP from the get-go and has run a solid campaign. It'll be interesting to see how turnout on both sides, well, turns out Tuesday.
Peroutka vs. Armstrong: In what has got to be one of most bizarre races, Michael Peroutka, a staunch conservative Republican is running for a seat on the Anne Arundel County Council against novice Democratic candidate Patrick Armstrong, who was most recently an employee at Party City.
Until about a month ago, Peroutka was a member of the League of the South, an Alabama-based group that urges southern states to secede from the Union and he also opposes gay marriage, believes in creationism, and considers "Dixie" the national anthem. His narrow primary victory in June came as a shock to both parties.
On the flipside, the Democrats bolstered a novice candidate in 31-year-old Armstrong, assuming that a Republican will win the general election in the right-leaning 5th district (as they have done for nearly 30 years). Armstrong's most recent employer was a Party City in Bowie, though before the retailer he was an Iowa organizer for Joe Biden's short-lived 2008 presidential campaign.
Peroutka, who is focusing on repealing taxes to Armstrong's focus on education, is widely believed to have a good chance of winning in the GOP-heavy district.
Bane vs. Gahler: In what may seem like a mundane race, the election for Harford County Sheriff is somewhat of a do-over from 2010. Current Harford County Sheriff Jesse Bane, a Democrat is seeking his third term in a county that typically votes Republican.
His opponent is Republican Jeff Gahler, whom Bane faced in the 2010 general election, and who was defeated by a narrow margin of just 3,086 votes, according to The Baltimore Sun.
Bane has been working in the Sheriff's office for 42 years, while Gahler just retired from the Maryland State Police in June 2012 with the rank of captain. Each candidate has been endorsed by major county organizations, including the Correctional Associate and the Sheriff's Union, so the race, at this point, looks like a toss-up.
Question 2: There are two amendments to the Maryland Constitution being proposed tomorrow, one of which is particularly meta, as it's asking voters to consider how we elect certain politicians.
Question 2 will appear on ballots statewide, asking voters to decide whether to allow, but not require, local government to hold a special election when there is a vacancy in the Baltimore mayor's office or a county executive's seat. The amendment would give the city and county councils the power to authorize these elections.
The amendment is particularly apropos in Baltimore City, as its last two mayors have already been decided by succession instead of through election by the voters.
Vote flipping: This has been a hot-button (pun sort of intended) issue this past week, as early voters were experiencing some complications with the touch-screen ballots.
A few dozen complaints came into the Board of Elections, Maryland Republican Party, and the Hogan campaign from people who said they tried to select a Republican, but the monitor instead showed a Democrat choice.
Whether it's faulty touch-screen machines or user error by several voters, one thing is clear: Be sure to review your ballot before turning it into the election judge tomorrow.
Additional reporting for this article was provided by Ron Cassie.