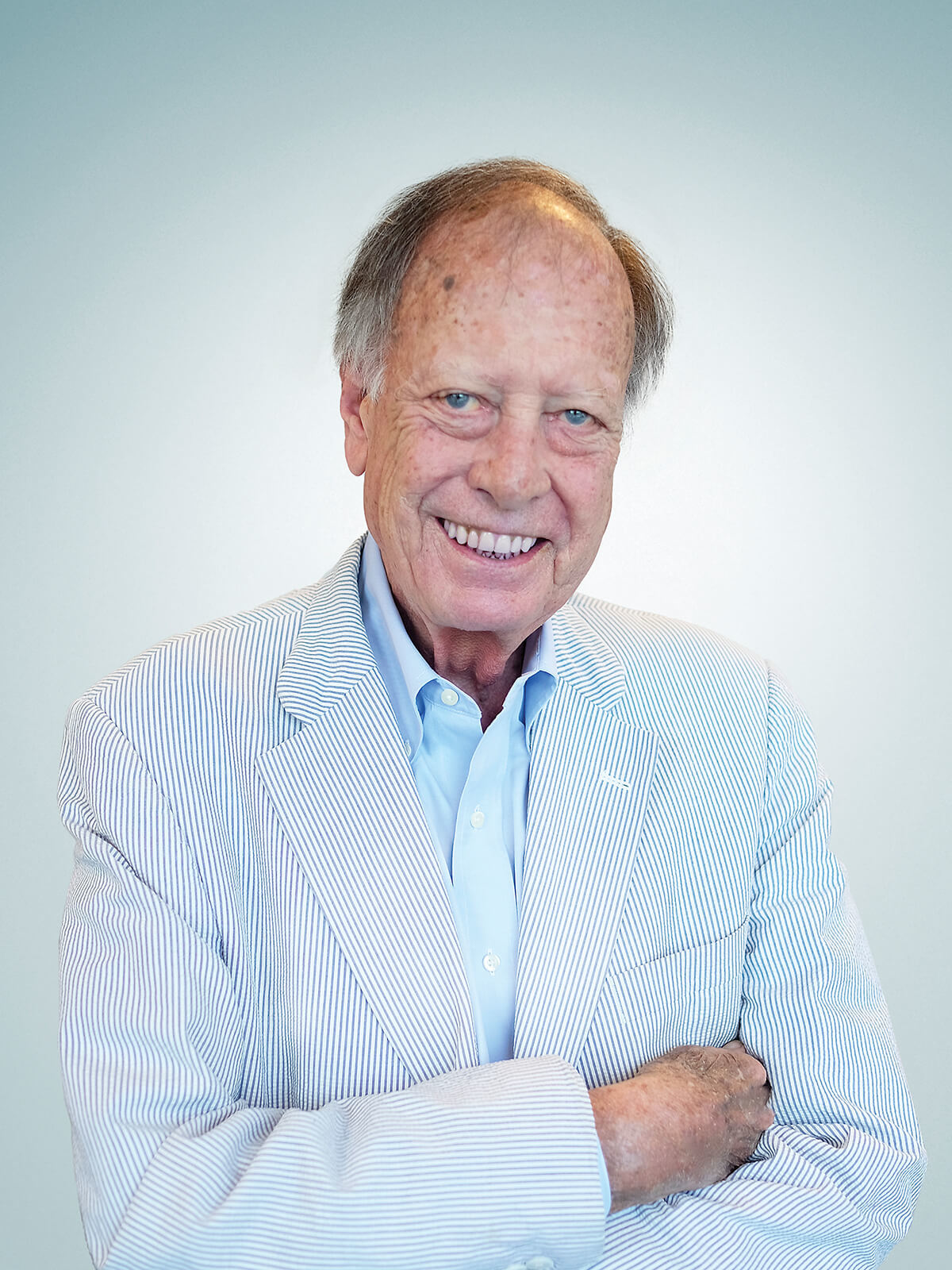 In the final days before Richard Basoco's death at age 81, he texted a Baltimore magazine editor for what was to be the final time. His note said simply: "March was wonderful."
By March, he didn't mean the month, he meant the issue. Though he'd been ailing with respiratory issues for months, he never stopped thinking about the magazine, and his three-word text spoke volumes about a man who cared deeply about journalism, the publication where he'd worked as chief operating officer and executive editor for two decades, and the city that he called home. Though he reluctantly retired in 2017, Baltimore—and those of us who work here—was his world.
Dick, or DB, as some of us affectionately called him, was the last of a breed of hard-boiled, venerable, veteran newspapermen, with a career that spanned from hot type printing to the rise of the digital era. He smoked, he drank, and he yelled. He worried about the changes and challenges in the marketplace, but also understood that the essence of journalism, in any form, would always be about great stories.
His own life was full of them. Born in Lincoln, Nebraska in 1938, he graduated with a degree in English from the University of Nebraska, where his father, who emigrated from Mexico, was a math professor. After graduation in 1960, he served in the U.S. Navy in the Chief of Naval Operations' Office of Naval History Division.
In the mid-1960s, he moved to Baltimore and began his career as a cub reporter at The Sun, covering the likes of then-tumultuous Port of Baltimore and its infamous union battles, as well as the 1968 Baltimore riots after the assassination of Rev. Dr. Martin Luther King Jr.
Along the way, he became familiar with the jazz clubs on Pennsylvania Avenue and the grandstands at Pimlico Race Course, not necessarily because of any work-related assignments. His roles at The Sun ran the gamut from the maritime desk to the sports desk (where he enjoyed a friendship with Yankees owner George Steinbrenner). One claim to fame: he plucked The Wire writer Rafael Alvarez from circulation to the sports desk. In his later years, he became head of the local Newspaper Guild and The Sun's senior vice president.
In the late '80s, he left The Sun to become editor-in-chief of Ski Racing magazine, which was first based in New Mexico and then Vermont. "He tried to ski, and it was a disaster," says his son, Andy, with a laugh. "He was back at the lodge by lunch and never left." In 1997, he moved back to Maryland to head up Baltimore magazine.
Baltimore publisher Steve Geppi recalls meeting Dick for the first time. "When I found Dick, it was like finding the greatest solution for the magazine I could ever find," says Geppi. "Aside from his long tenure at The Sun, he was a really nice man with a fatherly affection toward his employees. I knew that with him at the magazine, I didn't have to worry about a thing. The magazine has lost a great friend who cared for Charm City as much as anyone you'll ever meet."
Full disclosure: Many of us who met Dick for the first time were intimidated. For starters, his desk was always stacked sky-high with rough drafts, layouts, and other articles he wanted his staff to read. He was a character who swore like a sailor (the Navy, and all), happily played the devil's advocate, and never suffered fools.
One editor recalls being told that she was the most overpaid freelancer on the magazine's payroll, while another remembers a comment that his already published story had no business being in the magazine, while another still recalls getting scolded for not knowing about the latest front-page sports news. But that's only because he wanted us to take the bait and engage in thoughtful discourse.
His demeanor at editorial meetings was infamous, too. Dick sat with his arms crossed, eye-rolling, huffing, puffing, and "goddamnit-ing" as we presented our ideas for future issues. It didn't take long to realize that he wanted us to think rigorously, making sure that our stories had relevance and resonance. He didn't want good ideas—he wanted great ones. Ones that would move the magazine off the stands and inspire readers to subscribe.
To that, Dick was an unerring editor with an uncanny ability to find every troubled turn of phrase, poke holes in ledes or faulty logic, or suggest a key source that had yet to be quoted. He was a gifted wordsmith and an insatiable reader.
And despite poring over every issue, front to back and back to front, before they went to press, he took particular pride after each publication. At home, he'd retire to a chair and, over a glass of Dewar's Scotch, devour every word, page by page, anew, and then text each of us about how much he loved a line or story or image or design or advertisement. He was as generous with his constructive criticism as he was with his praise—a tough teacher, but a mentor to many.
"So many people at Baltimore magazine feel like they had a special relationship with Dick, which is remarkable when you think about it," says senior editor Ron Cassie. "It didn't matter if you were in sales, marketing, editorial, or design—he cared about what you did, how you did it, and you. I asked him once why he'd gone from editing at The Sun years ago into management. He told me he'd wanted to do more than help reporters' copy get better—he wanted to help them get better. And that's what he did. Somehow he made you want to be better."
For Dick, the personal and professional were always intertwined. He read one writer's 95-page masters' degree dissertation, walked a salesperson's dog so she could go on a date, attended our weddings, kissed our babies, hugged us when our dogs died, and always earnestly inquired about our lives outside of the office.
He loved the shrimp and grits at Charleston and the crab cakes at Eddie's. He followed the O's and the Ravens and politics. He always read the Sunday New York Times and appreciated the wit of columnist Maureen Dowd. He often reminisced about his Nebraska boyhood, his would-be career playing second base, and his days at The Sun.
As much as he loved reading our work, Dick also had his own great stories to tell, any of which could have been fitting for the magazine, from the college summer he spent digging for dinosaur bones in South Dakota for the Smithsonian to befriending local New Mexican artists, whose works decorated his home, including those of Native-American painter R.C. Gorman, known as "the Picasso of American-Indian artists." Each tale was imbued with some great wisdom or life lesson.
He loved Preakness and remained fond of former Mayor William Donald Schaefer, the first because of its beauty and tradition, and the second because of his tenacity. He was a news junkie and a bookworm whose favorite haunt was The Ivy Bookstore.
He worked for so long not because he had to, but because he wanted to. He hated it when we were out reporting, pretending as if face-to-face interviews weren't a crucial part of the job, but we always knew better.
He missed us when we weren't around.
We miss him, too.
Rest in peace, DB.
Richard Basoco is survived by his sister, Ellen, of Austin, Texas; his brother, Robert, of Lincoln, Nebraska; his son Andy and daughter-in-law Camille, of Baltimore; his son Eric and daughter-in-law Myriam, of Casablanca, Morocco; his son Michael, of Baltimore; his four grandchildren, Ana, Alexis, Yacine, and Sofia; and his ex-wife, Caryl Williamson. He was pre-deceased by his eldest son, David. In memory, the family has requested donations to the William S. Baer School, a Baltimore City public school that serves children with disabilities.