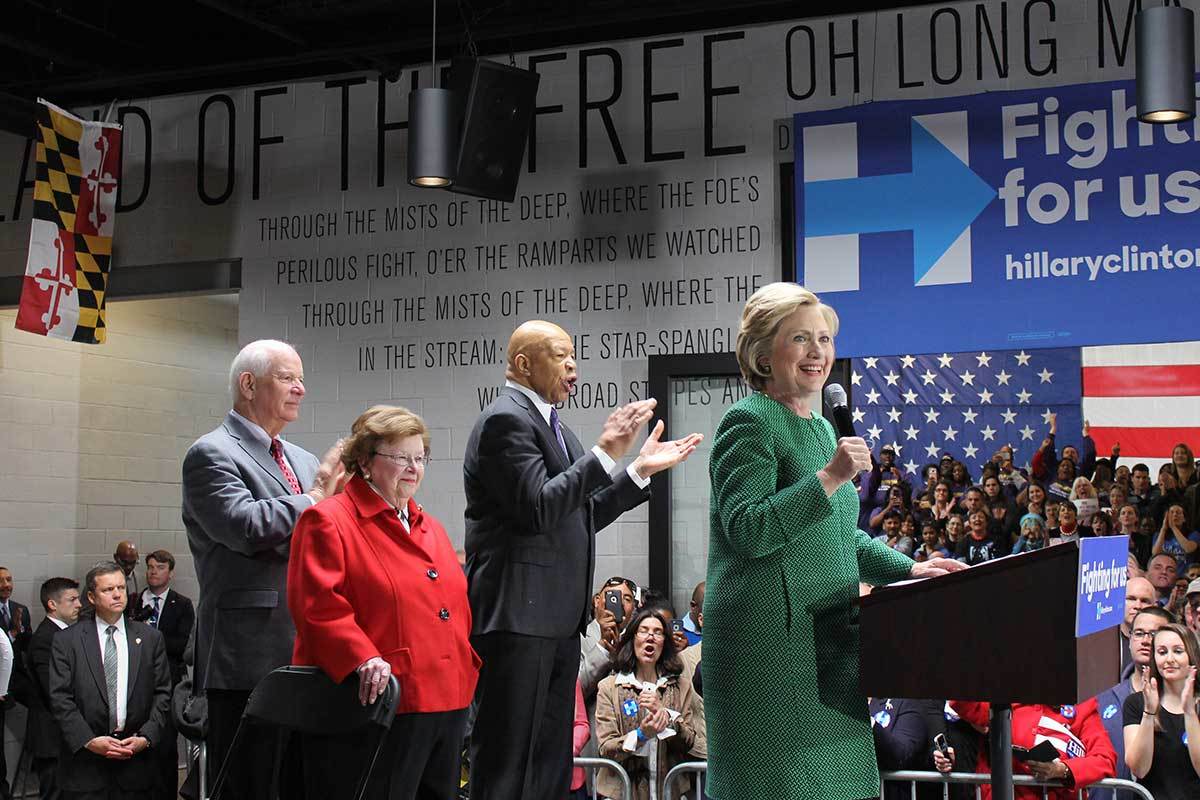 Hillary Clinton took a detour from her busy schedule in New York, where the former secretary of state is locked in a heated primary battle with Vermont Sen. Bernie Sanders, to make a campaign stop in Baltimore Sunday.
The Democratic presidential frontrunner drew a crowd estimated by a fire department official at about 1,000 to City Garage, an innovation space near Port Covington that's part of a development venture of Under Armour CEO Kevin Plank.
Among those introducing Clinton were former U.S. Rep. Kweisi Mfume, a Baltimore native, current Maryland U.S. Sens. Ben Cardin and Barbara Mikulski, and notably, U.S. Rep. Elijah Cummings—a staunch ally of Clinton during her Benghazi hearing last fall, who had remained neutral on the presidential primary until today.
Cummings praised Clinton's advocacy on behalf of children's health care initiatives and pay equity when she served in the U.S. Senate, as well as her work on imposing sanctions on Iran as secretary of state.
Cummings also directed words of praise toward her opponent, commending Sanders on bringing the issue of income and wealth inequality to the fore of the national debate and "spending your career fighting for peace and justice and universal health care." But Cummings added, "I know Hillary Clinton."
"Families in Baltimore who are hurting right now need more than the promise of a political revolution," Cummings wrote earlier in an op-ed submitted to The Washington Post, in announcing his endorsement.
According to a University of Maryland/Washington Post poll released this week, Clinton leads Sanders by 15-point margin in the state. It's a formidable advantage with the Maryland primary scheduled for April 26, but down from her 33-point margin in March in a University of Baltimore/Baltimore Sun poll.
Clinton only mentioned Baltimore briefly in her remarks, saying that if elected she'd invest significant federal dollars in places like West and East Baltimore. She added that she thought the city's Red Line mass transit project, cancelled by Republican Gov. Larry Hogan, "should have been completed."
Clinton did not mention Freddie Gray, last April's riot, or the subsequent protests and demands for political and criminal justice reform in Baltimore. When asked by Baltimore magazine following her address what it meant to be in Baltimore one year after the unrest here, Clinton said, "We have to restore faith in the criminal justice system."
A handful of protestors were also on hand, including a small group that held up a sign reading "Clinton: What about mass incarceration?" and chanted "super predator"—references to policies and statements from the 1990s when her husband was president. Two individuals were also escorted out after shouting questions about the rights of Palestinians.
Mostly, however, it was a very enthusiastic Clinton crowd, which broke into loud applause throughout her speech—an address that ticked off nearly every Democratic issue from early childhood education and clean energy to a minimum wage increase and voting rights. Other than drawing distinctions with Sanders on their gun control records, Clinton spent most of her speech going after Republican presidential primary leaders Donald Trump and Ted Cruz, both of whom she characterized as promoting discrimination and bigotry.
Sanders visited Baltimore in December, touring West Baltimore and meeting with local pastors.
While the crowd was largely white and perhaps not as racially diverse as Clinton might have wished for, it included many who have been looking forward to today since 2008 when they first hoped the former First Lady would break the biggest glass ceiling in the country.
"I'm so excited about Hillary's campaign," said Bronwyn Coltrane, who brought her 8-year-old daughter to the rally. "I was with her eight years ago and I'm glad she's back."
"Eight years ago, I walked into the [primary] voting booth wearing pins for both Hillary and Barack Obama, but I pulled the lever for President Obama," said Darcy Sawatzki, who brought her 9-year-old daughter. "Since then, I've been waiting for my turn to pull the lever for Hillary."
Early primary voting in Maryland begins April 14 with same-day registration offered during the early voting period—which continues through April 21— for the first time ever this year. Early voting centers in the state can be found here.