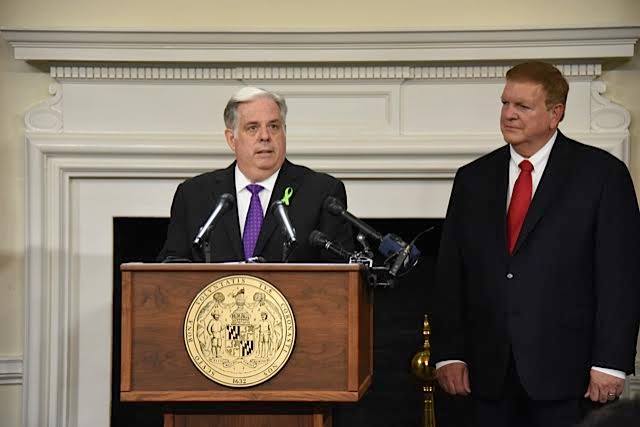 Courtesy Larry Hogan's Facebook page
The Red Line mass transit project came to a screeching halt Thursday afternoon.
At an Annapolis press conference, Gov. Larry Hogan said the long-planned Baltimore Red Line is not cost-effective, in particular, highlighting the planned 3.4-mile, $1 billion tunnel through downtown, Harbor East, and Fells Point.
Years in the works, with millions already spent on environmental impact studies, design, and engineering, the 19-station, east-west Red Line was expected to run from Woodlawn and the Social Security Administration in Baltimore County to Greektown and Johns Hopkins Bayview Medical Center in east Baltimore City. Pitched as a transportation, jobs, and economic game-changer for the city, the federal government has already given preliminary federal approval and provided a $900 million commitment toward the project.
At the same press conference, Hogan announced that the state would go ahead and build the Purple Line, which will connect Montgomery County and Prince George's County, given several conditions, namely that those two counties pick up a greater share of the construction costs. That 16-mile track will connect Bethesda in the west to New Carrollton in the east.
"I have always said this [Purple Line] decision was never about whether public transit was worthwhile, but whether it is affordable and makes sense," Hogan said. "In reducing costs here, hundreds of millions of dollars will become available for other important projects. Our administration promised to chart a new course for Maryland—one where economic development and jobs are our top priority. The Purple Line is a long-term investment that will be an important economic driver for our state."
Hogan also announced that he would increase infrastructure spending on roads and bridges by $1.35 billion—"from Western Maryland to the Eastern Shore," according to a statement from the governor's office—in coming years, with priority projects slated to begin in 2018. When asked, according to the Baltimore Sun, if any of the total $1.97 billion in roads and bridge projects were located in Baltimore City, Hogan said, "Not that I know of."
Both the Red and Purple line projects were immediately viewed as in jeopardy after Hogan's upset of former Lt. Gov. Anthony Brown last fall. Hogan, a Republican, pledged to reduce taxes and keep a lid on spending while running against Brown, a Democrat, and has said the state could not afford two, $2.5 billion-plus projects. He later walked those remarks back a step, saying that he and his new transportation secretary, Pete Rahn, would study the initiatives before making a final decision.
Earlier this year, Red Line advocates reached out to local business groups to help sustain momentum for the project and to try to win Hogan over, touting the effort's potential as an economic engine for Baltimore. The Greater Baltimore Committee, for example, held three Red Line rallies last month.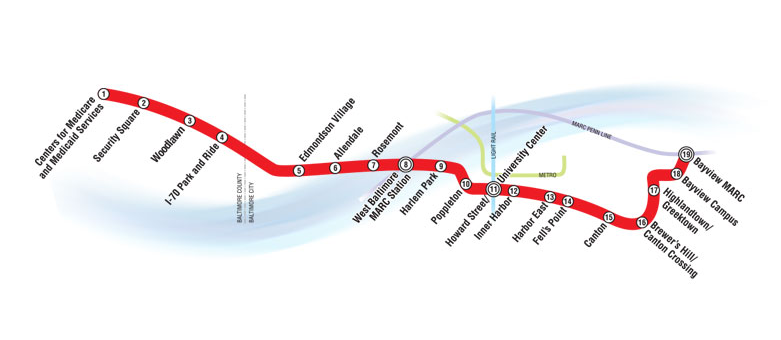 But ultimately, it's hard to imagine that Hogan's decision on the Red Line came as a complete shock to anyone. While earning kudos for largely governing from the center during the General Assembly this winter, the twin Red and Purple line decisions—and potential for real partisan conflict—have loomed since November. Some observers may even interpret Hogan's decision to block the Red Line and support the Purple Line as a choice to appeal to Washington suburban voters—he was born in Washington, D.C., raised in Landover, and his father once represented Prince George's as a congressman and county executive—over Baltimore City voters.
Not surprisingly, Baltimore area politicians were quick to express their displeasure with Hogan's decision. On his Facebook page (see below), state senator Bill Ferguson re-posted a Hogan Administration map—which was originally pushed on social media by the administration to tout their statewide transportation infrastructure plans—but that also erased Baltimore City as a jurisdiction. "See the gaping hole?," Ferguson wrote, noting the city's transportation and transit problems, and their economic impact. "This is not a solution."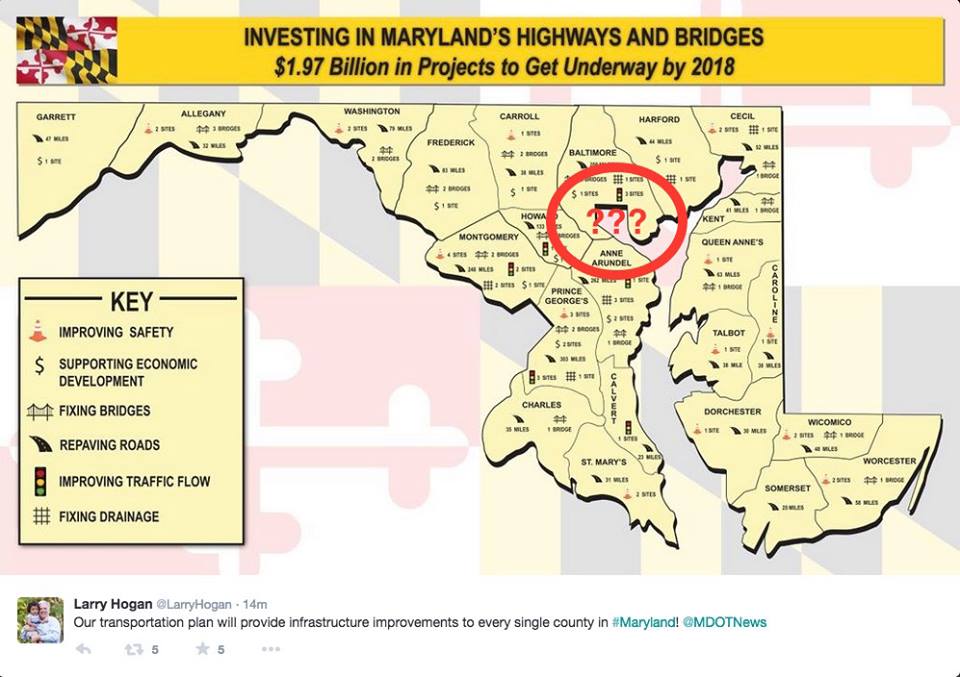 Here's what Mayor Stephanie Rawlings-Blake, Rep. Elijah Cummings, and Baltimore County Executive Kevin Kamenetz had to say:
Rawlings-Blake:
"I am disheartened that Governor Hogan has chosen to ignore the needs of Baltimore City residents by cancelling current plans for the Red Line. Although the Governor has promised to support economic growth in Baltimore, he cancelled a project that would have expanded economic development, created thousands of jobs, increased access to thousands more, and offered residents better health care, childcare, and educational opportunities. I remain committed to working with my partners in government, the business community, and all our community partners to fight for transit opportunities for Baltimore's residents."
Cummings:
"By refusing to build the Red Line, Governor Hogan is telling the City of Baltimore that he doesn't want our residents to have the jobs and economic opportunities that this project would create. He is also leaving up to $900 million in federal taxpayers' money on the table to be invested in a state that wants to build the better future a new transportation system brings. Governor Hogan's decision will haunt Baltimore for decades and I oppose the decision in the strongest possible terms."
Kamenetz:
"Given Governor Hogan's announcement that he will cancel the Red Line as currently planned, it is imperative that he tell us what he proposes as an alternative. The Baltimore region still needs reliable and accessible transportation options other than automobiles to allow people to get to and from work. Baltimore County is home to Social Security and CMS headquarters, with more than 16,000 employees, many of whom would have used the Red Line to come to work. Without presenting viable alternatives, the State not only forfeits available federal funding, it leaves Baltimore County, Baltimore City and the region stuck in traffic."