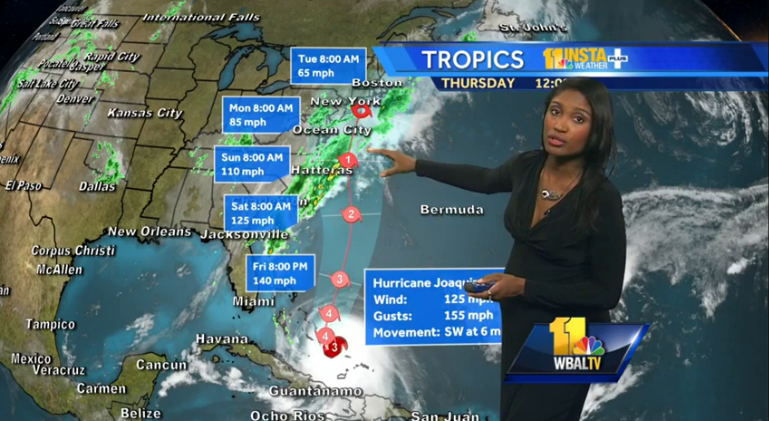 Courtesy of WBAL-TV
The first weekend of October is a popular time for outdoor events, when the humidity has subsided and a nip of fall is in the air.
However, these events are being affected by a frontal system and Hurricane Joaquin, which is currently bearing down on the Bahamas and is forecasted to reach the Maryland coast by Sunday. At 3 p.m., Gov. Larry Hogan declared a state of emergency in Maryland "out of an abundance of caution."
According to WBAL-TV, "Many portions of the eastern U.S. are experiencing heavy rains and gusty winds associated with a frontal system. These heavy rains are likely to continue for the next few days, even if the center of Hurricane Joaquin stays offshore," the station wrote on its website. "We can expect heavy rain on Friday with a potential for flooding in the Maryland region as three inches of rain are possible between now and early Saturday morning."
The specific impact of the storm seems to be a guessing game, which is making it hard for event organizers to plan accordingly. After a bit of debate the past couple of days, organizers of The Fells Point Fun Festival have decided to postpone the outdoor food-and-drink extravaganza. A tentative weekend replacement could be October 23-25.
"If this hurricane is going to be bad on Sunday and Monday, our main concern is preparing to keep our businesses and employees safe, not making a buck over the weekend," said Willy Dely, chief marketing officer for Koopers, Slainte, and Woody's Rum Bar. Delly also stressed that bars and restaurants will remain open for people already planning on being in the area for the festival.
However, the Madonnari Festival, which involves a plethora of chalk art in Little Italy, has announced that it's still on. "We are tenting S. High Street so the artists will be able to continue street chalking no matter what the weather brings," said Aldo's owner Sergio Vitale. "The music and theater will be performed indoors, and every participating restaurant has events occurring all day and night."
Other events near the coast, like the Maryland Ironman in Cambridge and Wine on the Beach in Ocean City, have canceled altogether—and both have proposed tentative reschedule dates. Several sporting events will likely be affected as well, including the Orioles series with New York this weekend and the Terps football game against Michigan, which is being moved up to noon on Saturday.