In Memoriam
We bid farewell to the luminaries we lost this year.
John Paterakis, 87
For good reason he was called the Bread Man: John Paterakis' family-owned company, H&S Bakery, with him at its helm, has produced kazillions of loaves, rolls, muffins, and bagels over the past seven-plus decades. Additionally, through its Northeast Foods subsidiary, H&S has cranked out an untold number of hamburger buns as the principal supplier for McDonald's. Of course, the nickname also applies to Paterakis' multimillionaire status.
And yet, he was a decidedly unpretentious man, who lived in the same Timonium home for nearly 50 years, drove the same car until its odometer exceeded 200,000 miles, and dressed casually, seldom seen in a suit. But despite the pains he took to operate under the public radar, Paterakis nonetheless left an indisputable imprint on the city and state. As a developer, he transformed the once-desolate waterfront between Fells Point and the Inner Harbor into a gleaming mix of shops, residences, offices, and hotels, collectively known as Harbor East. As a philanthropist, he generously supported the Ronald McDonald House charities, Greek businesses, and Greek Orthodox churches. And as a political kingmaker, he contributed significant sums to the campaigns of governors (Spiro Agnew, Marvin Mandel) and mayors (William Donald Schaefer, Kurt Schmoke, Sheila Dixon, Catherine Pugh).
Paterakis' extraordinary success stemmed, in part, from his intrepidness: spending $1.5 million (in 1965, a lot of dough) on an automated, mass-production plant to manufacture buns for McDonald's before he had secured a deal with the fast-food behemoth; and shelling out $11 million in 1985 on behalf of the cash-strapped city to develop that decrepit waterfront strip curiously called the Gold Coast, and then forging ahead with the project when the city refused to honor its pledge to buy back the land.
"John Paterakis was the quintessential self-made businessman," notes Donald Fry, president and CEO of the Greater Baltimore Committee. "He not only built a great company, but was completely dedicated to Baltimore and making it a great place to live, work, and raise a family.
"The city is fortunate that Mr. Paterakis had the foresight and willingness to take a risk and develop the challenged stretch of land that we now call Harbor East. That area is now recognized as a crown jewel for Baltimore, and has been a catalyst for jobs and economic activity. His legacy as a business and civic leader will run deep in the city's blood for many, many decades."
---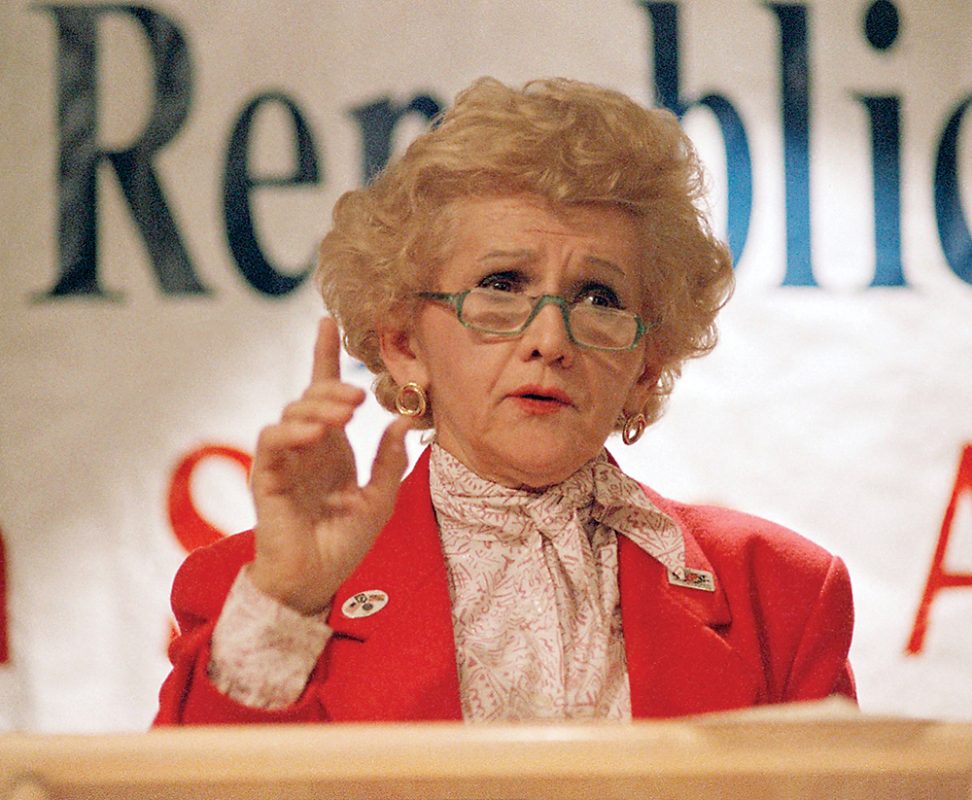 Helen Delich Bentley, 92
Helen Delich Bentley brought a combative nature and a sharp tongue to her roles as a reporter covering the port of Baltimore, chair of the Federal Maritime Commission, and Republican congresswoman who served from 1985 to 1995—attributes forged during her upbringing amid challenging circumstances in rural Nevada. That intensity and fierceness earned her both friends and enemies in high places. Throughout, she tirelessly championed the city, the state, and, especially, the port, heading the maritime commission during the Nixon and Ford administrations. Today, the port bears her name.
In 1994, she achieved a rare setback, losing the Republican gubernatorial primary to Ellen Sauerbrey. Afterward, she worked as a lobbyist for the maritime and defense industries.
"She came up when women weren't supposed to accomplish anything," says David Blumberg, the chair of the Maryland Parole Commission and a decades-long Bentley friend. "When they hired her at The Sun, she said, 'I'm not doing society stuff, I'm not doing cooking things, I'm not doing helpful hints—I'm a reporter.' So they made her their port reporter, which was the most untenable position possible for a woman. But she embraced that, because she was as tough as any longshoreman she had to cover. The thing with Helen was, yeah, she had salty language and everybody knew it, but she could communicate with that segment so effectively . . . she was able to transcend any kind of difference that she may have had with people she was writing about or representing or serving."
---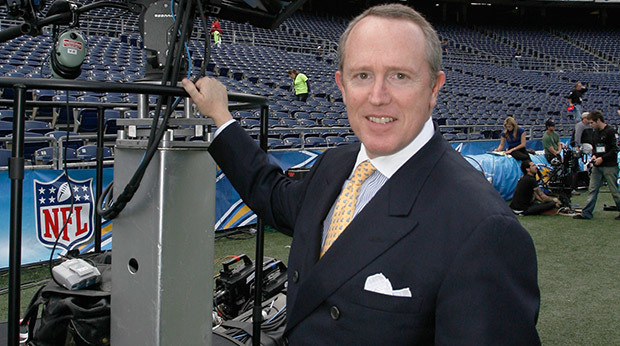 David Modell, 56
Former Baltimore Ravens president, and son of Art Modell, David Modell passed away after battling lung cancer for nearly two years. Modell worked his way up the gridiron corporate ladder, starting as a grounds crew member for the Cleveland Browns when he was just 14 years old and eventually becoming president of the Ravens, a title he held from 1996 until 2004.
During his tenure, David made many monumental decisions for the organization including the hiring of former head coach Brian Billick, which led to the team's first Super Bowl victory in 2000. "The foundation he laid led to one of the model franchises, I believe, in the NFL," the team's senior VP of public and community relations Kevin Byrne told BaltimoreRavens.com. "One of his keys, like his father, was he wanted the fans involved."
In the wake of Modell's death,The Ravens shared a story that exemplified just that: After the team had flown back from Tampa following its first Super Bowl win, they stopped right outside M&T Bank Stadium so that a crowd of fans could hold the Lombardi Trophy, which went on a tour for a year after that. "He wanted to get 100,000 fingerprints on it," Byrne said. "He wanted the community to enjoy the trophy."
In addition, it was Modell who was instrumental in getting the fans' input on the team's name and colors, as well as what amenities would be included inside M&T Bank Stadium. Modell also made sure to include a nod to Baltimore's football past by resurrecting the "Marching Ravens" band, which played for the Baltimore Colts. "He is the godfather of the Marching Ravens," band president John Ziemann told BaltimoreRavens.com. "I always told him he was the P.T. Barnum of the league."
After 2004, Modell served as a consultant for the team, as well as on the board of directors of 3ality Technica, a 3D broadcast company. He lived in Baltimore with his wife, Michel, and their twins, daughter "Fee" (Aoife) and son "Bertie" (Bertram). He is also survived by daughters Breslin and Collier, and sons Arthur and David Jr., as well as his older brother John.
Modell was lauded for his accomplishments by the local media including Baltimore, which named him to our "40 Under 40" list in June 2001. "Luck clearly plays a role in getting to and winning the Super Bowl," he told us. "But if you dream big dreams, are relentless in your pursuit of those dreams, and never give up, great things will happen. —Jess Mayhugh
---
HARRIS / The Baltimore Sun
W. Dale Hess, 86
Like the home run kings of baseball's so-called steroid era, W. Dale Hess—a successful Harford County developer, businessman, and farmer who served in the General Assembly for 15 years—will forever have the equivalent of an asterisk placed beside his name, based on his conviction in federal court on charges of mail fraud and racketeering in connection with a complicated racetrack scandal that also brought down former Maryland Gov. Marvin Mandel.
Elected to the House of Delegates as a Democrat in 1954, Hess ascended through the ranks as a key ally of Mandel, eventually serving as vice chair of the House's powerful Maryland Ways and Means Committee. He also accumulated tracts of land in Harford County.
In 1970, Hess gave up his General Assembly post to become a vice president of Tidewater Insurance, a company that, five years later, became entwined in a federal corruption probe involving Mandel. Ultimately, Hess, Mandel, and four others were found guilty in 1977. (Hess served 18 months of a three-year sentence; in 1987, their convictions were overturned on what amounted to a technicality.)
Hess resumed working as a developer, owning apartment buildings, a shopping center, and a fast-food franchise. But his legacy remains tied to his participation in the racetrack scandal. In Thimbleriggers, Brad Jacobs' perceptive 1984 book about Mandel, Hess is described as "a former Future Farmer of America who graduated to millionaire political fixer."
---
Quentin Lawson, 83

Quietly, doggedly, and professionally, Quentin Lawson spent more than 40 years performing the kinds of man-in-the-gray-flannel-suit administrative tasks that advance public agendas rather than personal ones. In other words, he never created headlines. And yet his management and policy-making expertise in human services, leadership development, and, most notably, education, bettered countless lives, particularly those of African Americans.
For city schools, he oversaw teacher-training programs and an initiative to decrease dropout rates. For the National Forum for Black Public Administrators, which he co-founded, Lawson sought to increase the number of African Americans in the top ranks of government.
Courtesy of The Baltimore Sun
As executive director of the Congressional Black Caucus Foundation, he wove the connective tissue among academic, nonprofit, and government institutions necessary to improve African Americans' economic, educational, and political standing.
Finally, as head of the National Alliance of Black School Educators, he worked to enhance the educational experience for teachers, administrators, and, especially, students. Nancy Grasmick, former state superintendent of schools and now the Presidential Scholar for Innovation in Teacher and Leader Preparation at Towson University, points out that "Quentin Lawson was recognized in this state and the nation as a policy expert on education who advocated for high-quality education for African-American children before this goal was on the national agenda."
---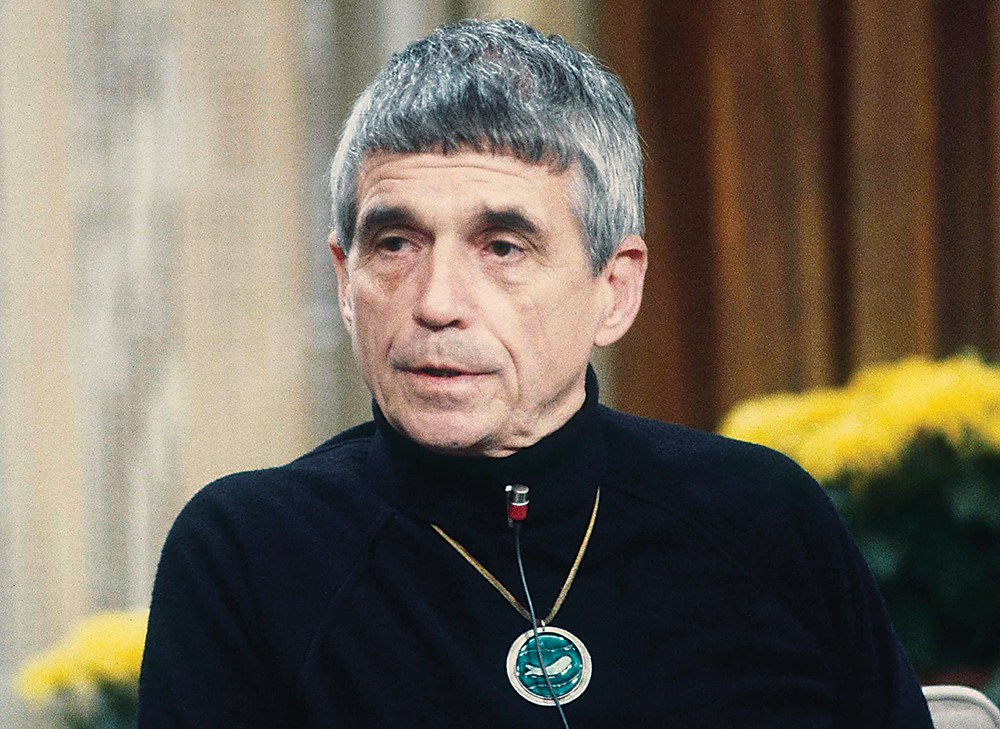 Daniel Berrigan, 94
Handsome, urbane, and uncompromising, Daniel Berrigan came across as the undisputed rock star among the activist, renegade Catholic priests who, beginning in the 1960s, protested against the Vietnam War and nuclear arms in particular, plus racial, social, political, and economic injustice in general.
An award-winning poet and prolific author, Berrigan—along with brother Philip, also a Catholic priest, and seven others—staged a non-violent signal event in the anti-war movement: the 1968 ritual burning of draft cards at the Catonsville Selective Service draft board. Their group's subsequent trial on charges of destroying government property galvanized activists nationwide. Found guilty, the Berrigan brothers went underground but were quickly arrested, with Daniel serving about two years in a federal prison. (Philip served two and a half years.) Daniel's one-act play based on court transcripts, The Trial of the Catonsville Nine, was made into a 1972 film produced by Gregory Peck.
Together, in 1980 the Berrigans established the no-nukes Plowshares Movement, their efforts resulting in repeated arrests, once for taking hammers to nuclear warheads at a weapons plant in 1980. Later, Daniel worked with AIDS patients and stoked the Occupy Wall Street campaign.
"His death symbolizes an ending of an era," notes veteran local peace and justice activist Max Obuszewski. "One of my great memories is getting arrested with Dan in New York City's Times Square as we protested Ronald Reagan's Star Wars program. Afterwards, the arrestees gathered at Dan's apartment in Manhattan, a combination art gallery and resistance museum. Historic memorabilia covered most of the wall space.
"His wake and funeral at St. Francis Xavier church in Manhattan were memorable for the number of people who came out to honor this revolutionary. Before the funeral, hundreds of us marched in the rain from Maryhouse [where The Catholic Worker newspaper is published] in the East Village to the church. At the altar there was a banner that read, 'Daniel Berrigan: priest, poet, prophet presente.'"
---
AP Photo/NFL Photos
Willie Richardson, 76
While most of his teammates turned in subpar performances in the Baltimore Colts' shocking 16-7 loss to the underdog New York Jets in 1969's Super Bowl III, wide receiver Willie Richardson shone, catching six passes for a total of 58 yards. That came as no surprise, considering he was coming off sensational back-to-back seasons in 1967 and 1968, during which he caught a combined 100 passes, including 16 for touchdowns, efforts that earned him two-time Pro-Bowl status.
Drafted by the Colts in 1963 out of Jackson State College (now University), Richardson—a relatively diminutive 6 feet 1 inch and 198 pounds—played seven seasons with the team, then spent one with the Miami Dolphins, before finishing his career back with the Colts. Overall, he caught 195 passes for 2,950 yards and 25 touchdowns, retiring after the 1971 season. But he stayed in town, where he owned a liquor store, helmed sports director duties at Channel 45, and served as football coach at Johns Hopkins. In 1980, he returned to his native Mississippi, working for the state government for 25 years.
"He had all the attributes of being a phenomenal, all-around athlete," recalls Richardson's former Colts teammate, running back Tom Matte. "He had great hands for receiving and was wonderfully coordinated. [Colts quarterback Johnny] Unitas had a a lot of confidence in him. Willie would always get out there and get open, and that's what helped keep us going. He was one of the integral parts of our team when we had so much success, when we were very, very close-knit."
---
Ted Marchibroda, 84

Moving over from his post as offensive coordinator for the Washington Redskins, Ted Marchibroda assumed head coach duties for a 1975 Baltimore Colts squad that the previous season had chalked up a woeful record of two wins, 12 losses. He quickly reversed the team's fortunes, as the Colts went 10-4 to cop the AFC East division title, then repeated as division champs in 1976 and '77, although they lost in the first round of the playoffs all three years. After dismal seasons in 1978 and '79, he was fired.
An innovator, Marchibroda pioneered the hurry-up/no-huddle offense as offensive coordinator for the Buffalo Bills from 1989 to 1991, a team that made it to the Super Bowl four consecutive times (1990 to 1993).
AP Photo/Darron Cummings
Later, he revived a moribund Indianapolis Colts franchise, and, in 1996, returned to Baltimore to serve as the Ravens' first head coach, retiring after three losing seasons.
"He was a man of vision when it came to professional football," recalls former Colts defensive back Bruce Laird, who played under Marchibroda from 1975 to 1979. "He developed the three-wide-receivers formation before anyone was really into it. But the biggest thing about Ted was he knew how to talk to his football team and how to have them understand that winning is a process. In the NFL, just wanting to be a winner is not enough: You have to work at it, you have to believe in it—and he was able to get that across to 50-some guys year-in, year-out.
"He talked to his team every day. I thought that was very important. We had a rapport. He knew his players, their personalities, their likes and dislikes. He was a gentleman who really taught a group of young men how to win."
---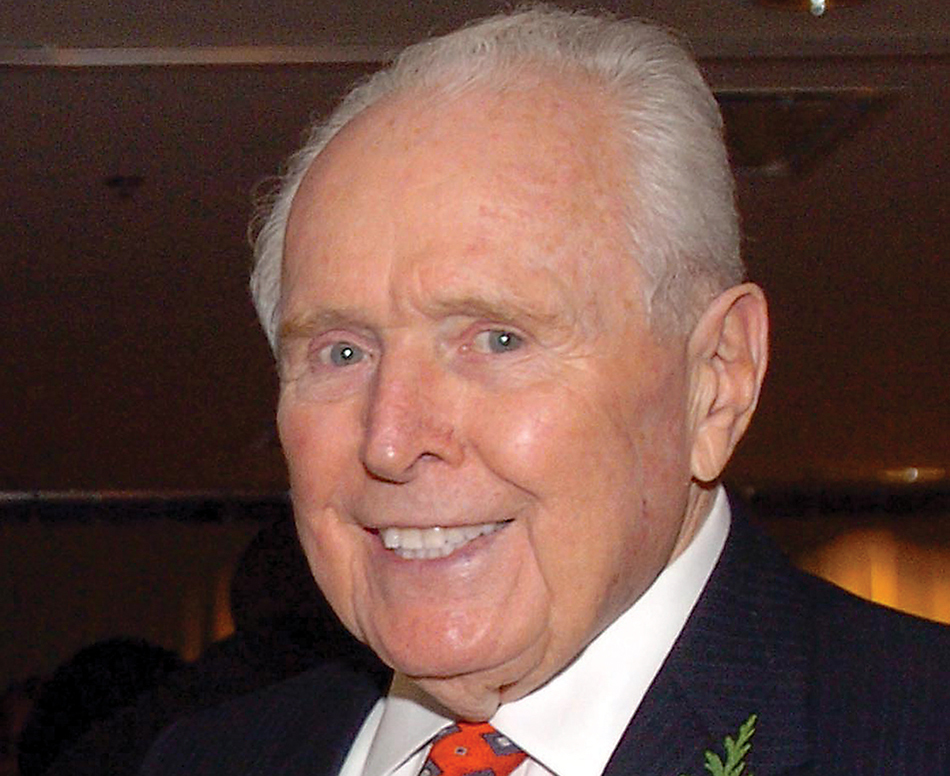 Louis Grasmick, 91
Louis Grasmick batted a thousand—literally! Justly hailed for his achievements as a businessman, developer, philanthropist, and political go-to guy for Mayor William Donald Schaefer, Grasmick also holds the obscure but noteworthy distinction of briefly playing major league baseball, pitching in two games for the Philadelphia Phillies in 1948, and connecting for a hit in his lone at-bat.
More pertinently, Grasmick expanded his Pier 6-located lumber company from a small operation catering to the maritime industry into an international concern. Locally, he supplied goods to the National Aquarium, Oriole Park at Camden Yards, and the World Trade Center. Additionally, his company helped plan and develop The Anchorage condos.
A key member of Schaefer's kitchen cabinet, Grasmick spearheaded a successful city initiative to raise money to house the homeless, and put time and energy into his role on the board of the Department of Recreation and Parks.
Ever charitable, Grasmick, along with his wife, former state schools superintendent Nancy Grasmick, gifted the Johns Hopkins Heart Institute with $2 million and, at Schaefer's urging, convinced his long-time friend, ex-City Solicitor and Judge George L. Russell Jr., to head the commission that launched the Reginald F. Lewis Museum of Maryland African American History & Culture.
"He was such a bright star in this community," recalls Russell. "Beginning in the early '70s with a drive to build the new Provident Hospital, we participated together in a lot of charitable events. There were so many things he was involved with, particularly as a top fundraiser for various projects and causes. He was just so dedicated to public service."
---
Courtesy of The Baltimore Sun
Leroy "Roy" Hoffberger, 91

After securing grants and donations from businesses and foundations, plus state bond money, the American Visionary Art Museum needed one last financial infusion to ensure its 1995 opening. Unhesitatingly, AVAM co-founder Roy Hoffberger—attorney, businessman, philanthropist, and art collector—reached into his own pocket to auction off a clutch of his cherished German Expressionist works on paper.
Hoffberger personified menschdom, walking the walk and talking the talk, a philosophy encapsulated in the subtitle of his 2014 memoir Measure of a Life: What we leave behind is far more important than how far we get ahead.
His family's foundation, which he chaired, has benefited numerous local medical, academic, and religious programs, and he gave privately, too.
"Roy had so much impact on the arts in Baltimore in so many directions," says former BMA director Doreen Bolger. "It's actually hard for me to think of anyone else who approaches his stature. He was a co-founder of AVAM. He was chairman of the board and a major donor to MICA, arguably the nation's leading art school—the graduate program in painting bears his name. He formed an amazing collection of rare German Expressionist works, a significant number of which have been given to the BMA. Any one of these legacies would qualify him for everlasting gratitude. But all three? Wow!"
---
Thomas Ward, 89
In 2007, a Bolton Hill burglar found himself in the wrong place at the wrong time. Retired judge and former Baltimore City Council member Tom Ward, 80 at the time and out for a walk in his neighborhood, heard cries for help and leaped into action, tackling the suspect (6 feet tall!) and holding him until police arrived.
An attorney, Korean War veteran, and long-tenured member of the Mount Royal Democratic Club, Ward loved the city, working hard to protect its historic fabric. In 1967, he alone among council members voted against the proposed East-West Expressway, which would have wiped out vast swathes of several neighborhoods, particularly Fells Point. Ward also co-founded the Society for the Preservation of Federal Hill and Fells Point.
Jed Kirschbaum / The Baltimore Sun
He was elected to the Baltimore Circuit Court in 1982, retiring in 1997, and, in 2014, was appointed chairman of the Baltimore City Liquor Board.
"One of the best friends that I ever had, who was originally a political enemy," says city councilwoman Mary Pat Clarke. "We went to war every time there was an election. But I'll never forget the most wonderful thing happened: At one time, finally, I was invited to the Mount Royal Christmas party at Maryland Institute, and Tom Ward was there to welcome me. And it was like a coming-out party for me, like I had really made it. He was a skinny Irish guy with all the power they bring to every challenge. And he just never quit. He was honest, he was insistently ethical, and he was wonderfully loved—and feared."
---
Allan Prell, 79
An unusual combination of creative showman and meticulous newsman, WBAL Radio talk show host Allan Prell entertained listeners with novel antics, and, not incidentally, brought a left-of-center point of view to a station dominated by conservative on-air commentators. For example, there was the time Prell presided over a passel of taffy makers while broadcasting from WBAL's penthouse. And the time listeners ear-witnessed the predictable chaos that ensued when he brewed root beer amid the comings and goings of colleagues in the station's elevator. Not forgetting his weekly Craigslist-like "Honest Al's Yard Sale," whereby he hawked sundry items—some in worse-for-wear condition—offered up by his audience.
More seriously, Prell, an unvarnished liberal, sat down for a weekly informed exchange with staunchly conservative WBAL talk show host Ron Smith in a segment called "The Friday Tiff," during which they would discuss —sometimes contentiously—current political affairs. Prell held court at the station from 1982 to 1999, when, after tensions apparently rose between him and WBAL management, he decamped to a post at a Seattle radio station, and, later, one in the Washington, D.C. area.
"He was the last moderate voice that 'BAL had, the last holdout before they went to strictly conservative voices," recalls Michael Olesker, former long-time columnist for The Baltimore Sun and commentator on both local TV and radio (where he worked with Prell), who now does radio broadcasts for the national Talk Media News and writes columns and blog posts for JMORE. "And he was one of those rare birds from talk radio who actually left the studio to do some real reporting—went out and did some of his own legwork—whereas most radio talk show guys sit in the sanctity of the studio and pretend to see the whole world."
---
Jody Albright, 82
Tireless, implacable promoter and enabler of arts and culture left an indelible imprint both citywide and statewide by helping to create Artscape, launch the original Children's museum at the Cloisters, found the Baltimore Book Festival, establish School #33 Art Center, and set up BMA tours for city students via the Art to the Schools program.
---
Nathan Barksdale, 54
Convicted drug kingpin claimed to be the model for drug warlord Avon Barksdale on the HBO series The Wire. (Show creator David Simon said this was partly true.) Sentenced to 15 years, the real-life Barksdale participated in the anti-violence Safe Streets program upon his release, but was re-arrested in 2014 on drug charges and died in prison.
---
Andre Brewster, 90
Piper & Marbury law firm managing partner represented numerous eminent local companies while shepherding the firm's considerable expansion. Additionally, he protected key tracts as co-founder/board member of Baltimore County's Land Preservation Trust, and, as board chairman, guided Johns Hopkins Hospital through crucial growth.
---
Reginald "Reggie Reg" Calhoun, 50
Personable DJ initially made his rep on the city's club music scene, before becoming a dominant on-air force in the mid-90s with 92Q (WERQ-FM), where he recognized the talent of emerging rapper Jay Z before he broke big nationally.
---
Johnny Dark, 82
Highly rated Top 40 radio DJ at WCAO-AM when the station ruled the local airwaves during the 1960s. Holds the distinction of emceeing The Beatles' 1964 concert at the Civic Center, the only time the group appeared in Baltimore.
---
Edith "Edie" Dasher, 71
Co-founder (with husband Jim) of Worthington Valley nonprofit Garden Harvest farm, a donater of organically grown/raised fruits and vegetables, eggs, and meats to local soup kitchens and homeless shelters, while also offering on-site instruction in sustainable farming methods.
---
Chris Delaporte, 75
Far-sighted director of Baltimore's Department of Recreation and Parks oversaw transition of municipal golf courses and the city zoo into nonprofits, brainstormed the Patapsco River's Middle Branch's rowing club, and brought Outward Bound to Leakin Park; later helped plan Oriole Park at Camden Yards as chief of the Maryland Stadium Authority.
---
Julie Drake, 64
Assistant state's attorney prosecuted the city's most notorious child abusers, among them a mother, under the spell of a religious cult, who starved her 1-year-old son to death. As head of the State's Attorney's Office's family violence division, she closed loopholes in the law in order to help prevent child abuse.
---
Dr. Lawrence Egbert, 88
Physician and anesthesiologist who, as medical director of the national assisted suicide organization Final Exit Network, unapologetically advocated for "death with dignity," purportedly helping arrange the deaths of approximately 300 people, prompting the state Board of Physicians to revoke his medical license.
---
D.A. Henderson, 87
Spearheaded the World Health Organization's successful initiative to eradicate smallpox in the 1960s and 1970s, before becoming dean of Johns Hopkins Bloomberg School of Public Health, whose facilities and enrollment he greatly expanded. Also advised the White House and Department of Health and Human Services on bioterrorism.
---
Joye Marino, 77
Doyenne of Baltimore hairstylists and colorists ran her Roland Park salon as a cozy coffee klatch, catering to local ladies and celebs alike, with a clientele that included Sen. Barbara Mikulski, actress Zsa Zsa Gabor, and stripper Blaze Starr, whose flaming red hair hue she concocted.
---
Carolyn Manuszak, 82
Assumed presidency of tiny women-only Villa Julie College in 1964, and, over 35 years, transformed it into a co-educational institution with 10 times as many students, a significantly larger campus, and the school's first four-year degree and master's programs, paving the way for its rebranding as Stevenson University nine years after her 1999 retirement.
---
Tom Marr, 73
Memorable radio personality who started as a news reporter with WFBR-AM, ultimately becoming the station's news director and member of its Orioles broadcast team for nearly a decade. Best remembered, however, for his subsequent role as a perceptive, informed conservative talk show host at WCBM-AM.
---
Harry Meyerhoff, 86
Real estate developer and thoroughbred- racing enthusiast hit the jackpot as principal owner (with then-wife, Teresa, and son, Tom) of Spectacular Bid, who won the 1979 Kentucky Derby and Preakness before coming up short as a Triple Crown winner by finishing third in the Belmont Stakes. The colt returned to dominate the sport in 1980, copping Horse of the Year honors.
---
Lou Michaels, 80
Versatile 13-year NFL left-footed placekicker/defensive end spent six solid seasons (1964-1969) with powerhouse Baltimore Colts teams, connecting on 107 field goals and scoring 586 overall points, but missed two key field goal attempts in the Colts' deflating 16-7 loss to the upstart New York Jets in 1969's Super Bowl III.
---
Sidney Mintz, 93

The Johns Hopkins University anthropology professor (he co-founded the department) meticulously probed how food wrought enormous influence on international political, economic, cultural, and social institutions, writing about the phenomenon in several books, most unforgettably 1985's Sweetness and Power: The Place of Sugar in Modern History.
---
Susan Souders Obrecht, 61

Fashionable, formidable, and energetic publishing exec overhauled a sleepy Baltimore County community newspaper chain whose properties included the Towson Times, building it into a more dynamic operation. Later, she owned and operated regional lifestyle magazine Mid-Atlantic Country, before acquiring Baltimore magazine for two years, 1992 to 1994.
---
Milt Pappas, 76

Right-handed starter won 110 games (and appeared in two All-Star games) for the Orioles between 1957 and 1965, before being traded to the Cincinnati Reds for outfielder
(and 1961 National League MVP) Frank Robinson.
---
Royal Parker Pollokoff, 86

Ubiquitous Channel 11 presence from the 1960s to the 1990s played the kid-friendly part of P.W. Doodle, rode herd on countless children contestants on bowling program Pinbusters, and, perhaps most famously, shouted, "Hey, you kids, get off that furniture!" in a voice-over for a long-running slipcover commercial.
---
Gene Raynor, 80

Parsed the complexities of city politics for public and press alike as director of the Baltimore City Board of Elections under Mayor William Donald Schaefer. He performed the same task statewide when Schaefer become governor, while also dabbling as a restaurateur at the Waterfront Hotel and Dalesio's.
---
Carl Schoettler, 83

Baltimore Sun news feature writer infused his prose with style, insight, and attention to detail and texture, whether profiling high-visibility figures or covering major news events such as the dismantling of the Berlin Wall.
---
Lor Scoota, 23

Promising rapper (born Tyriece Watson) on the cusp of attaining national recognition with rhymes that deftly captured the gritty reality of Baltimore's streets was murdered while driving shortly after hosting a charity basketball event that also served as an anti-violence rally at Morgan State University. The crime remains unsolved.
---
William Steinmetz, 89

Designer and artist who, along with his wife, Betty Cooke, established The Store Ltd. in The Village of Cross Keys in 1965, selling thoughtfully selected home goods and clothing, plus elegant jewelry designed and made by Cooke. The MICA alum also served the college as a trustee and devoted benefactor.
---
Robert Timberg, 76

Naval Academy grad who suffered life-altering wounds as a Marine in Vietnam, then became an esteemed political reporter with The Evening Sun and The Baltimore Sun. In 1995, he authored the well-received book The Nightingale's Song, which recounted the Vietnam War experiences of fellow Middies, including Sen. John McCain.