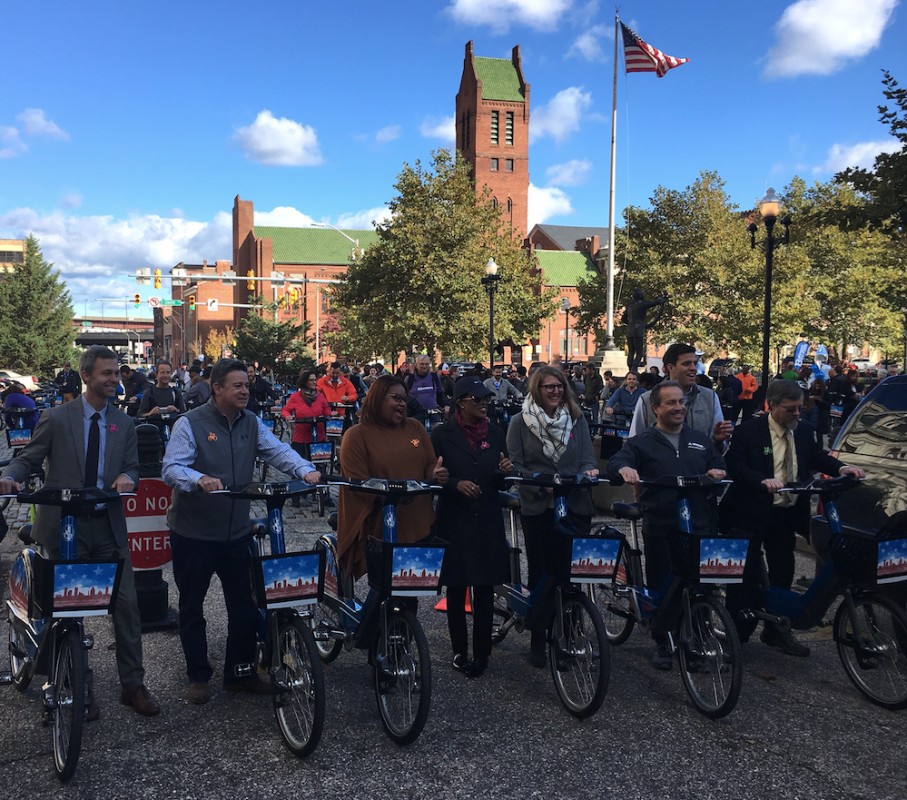 Photography by Ron Cassie
Bikemore's executive director Liz Cornish describes the city's newest transit option.
Kevin Quinn, director of the office of planning and programming for the Maryland Transit Administration, highlighted the potential of the bike-share system to help integrate the city's broader public commuter network. "It extends the reach of our current transportation system," Quinn said. "It connects to the subway, light rail, and buses."
Jon Laria, an attorney with Ballard Spahr and chairman of the Mayor's Bicycle Advisory Committee, said building out the city's bicycle infrastructure is an important component in moving Baltimore forward. "Bike commuting is economic development, it's tourism, it's transportation, and it's business climate," Laria said.
Along with a number of City Department of Transportation officials and bicycling advocates on hand for the announcement, Laria also made a pitch a for local businesses and institutions to step forward and sponsor additional bike stations in hoping of expanding the bike-share network.
Bike-share programs are operating in almost 60 U.S. cities, with more in the "pre-launch" phase. As of the spring of 2015, bike-sharing systems are now functioning in at least 855 cities worldwide, according to The Washington Post. Capital Bikeshare, considered the most successful programs—and one of the first in the U.S. when it began in 2010—now has more 3,500 bikes at 400 stations in D.C., Arlington County, Alexandria, VA, and Montgomery County, adding up to more than 11 million trips since its start.
A Google map of bike-sharing programs around the world can be found here.
Liz Cornish, executive director of Bikemore, the city's nonprofit bicycling advocacy organization, like Laria and others, urged Baltimore's business community and institutions to step up with sponsorship of stations and bike-share operations to help grow bike-share beyond its current 50-station, largely downtown hub. She also encouraged everyone to take one of the new bikes for a road test.
"Try biking," Cornish said with a smile. "Give it a shot."