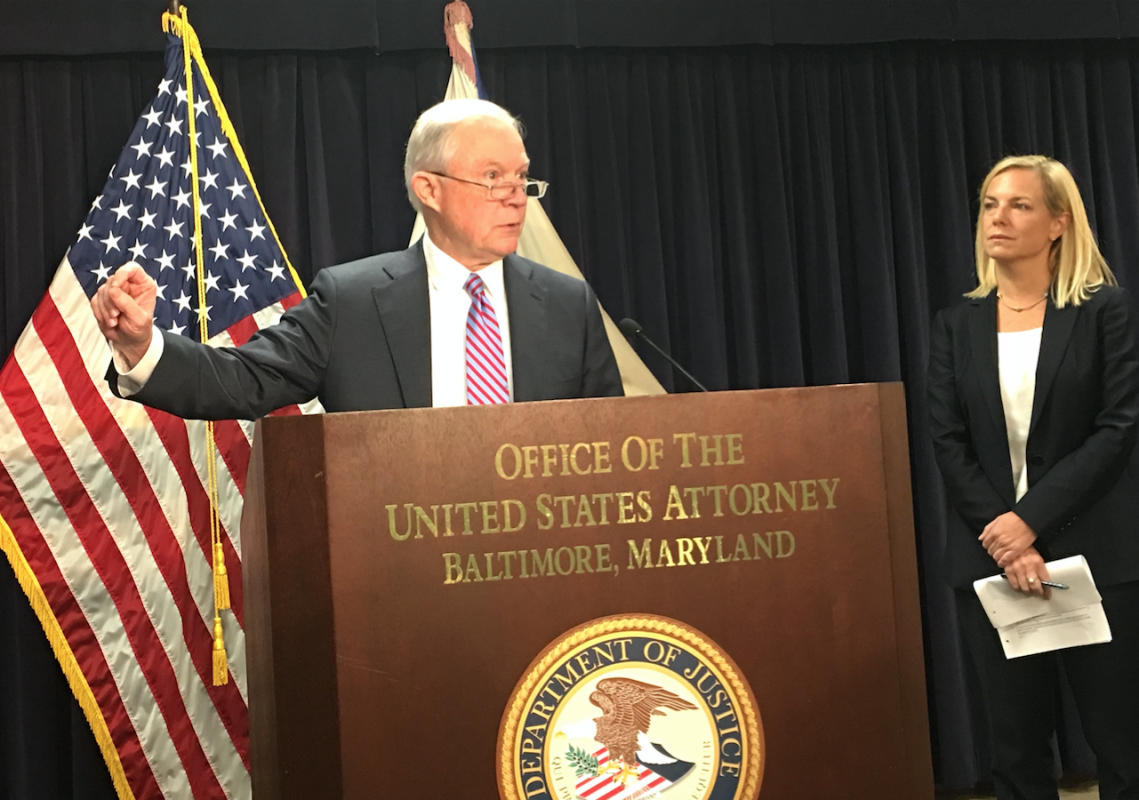 Ron Cassie
Attorney General Jeff Sessions came to Baltimore Tuesday promising to speed up the deportation of immigrants and implement broad Trump administration polices aimed at curbing overall immigration into the United States.
Sessions also said the Department of Justice was refocusing on its partnership with Department of Homeland Security and other federal agencies to crack down on MS-13, an El Salvador-based gang. 
From Trump's inauguration in late January to early September, nearly 54,000 immigrants had been deported from the interior U.S., a 34 percent jump over the same period last year, according to reporting by The Washington Post. 
"Under President Trump, our immigration judges completed 20,000 more cases this last fiscal year than the previous one," Sessions said. "We have hired 50 immigration judges since January, and we plan to hire another 60 over the next six months."
Sessions added that he supports the president's proposals to end chain migration—the opportunity for U.S. citizens to sponsor close members for permanent resident status—and prioritize the applications of immigrants who speak English or are highly skilled.
Later, when asked by a local reporter if the FBI planned to pick up the investigation into the death of Baltimore police detective Sean Suiter—as requested by city police chief Kevin Davis—Sessions said the move was likely. Suiter was shot in November while investigating a triple homicide from 2016. He was scheduled to testify before a grand jury the following day in an ongoing federal investigation of the Baltimore Police Department's gun task force.
What wasn't made clear was why Sessions, who was accompanied by recently confirmed Department of Homeland Security Secretary Kirstjen Nielsen, chose Baltimore for the backdrop of his immigration remarks.
The attorney general recounted two grisly murders, which were attributed to MS-13, but that did not take place in the city or surrounding counties. The El Salvadoran-based gang is not prominent in the city, according to Baltimore police officials. Earlier in his remarks, Sessions highlighted Baltimore's violent crime and murder rates—among the highest in the country—before pivoting to MS-13, which he called "one of the most dangerous gangs in America."
"The people of this community have seen it firsthand," Sessions said of MS-13 violence, conflating Baltimore's crime problems with Central American immigration.
When asked how targeting MS-13 would impact Baltimore's homicide rate, Sessions said, "I don't know that the city itself has a high MS-13 murder rate. But this region—Northern Virginia, Islip, New York, Houston, Los Angeles—are the centerpieces of the most MS-13 violence."
Sessions also appeared to deem Baltimore a "sanctuary" city, a description not legally defined, but which could have adverse consequences for Baltimore, in terms of crime fighting resources and grant opportunities under the Trump administration.
"City officials have declared it so," Sessions said in a response to a Baltimore magazine query about Baltimore's status in his view.
"We're reviewing things to make sure of the details of each city," Sessions continued. "I see no justification whatsoever for any city, any jurisdiction, any state to take the view that someone who enters the country illegally and then commits some other crime should be protected from the federal law to be deported."
Police Commissioner Davis has said that tying local law enforcement to federal immigration policy "sends the wrong message" to immigrant communities and can damage local law enforcement efforts.
In February, the Department of Homeland Security named Baltimore to its list of sanctuary cities, which in large part is made up of jurisdictions that do not cooperate with DHS requests to notify them when immigrants are being detained and hold them until its officers can be present. That same month, a number of immigrants in Baltimore, including some without criminal backgrounds after arriving in the U.S., were picked up in the city, leading to a pro-immigrant march in Highlandtown.
Baltimore does not control immigrant detention policy at its jail, as Mayor Catherine Pugh noted in an interview Tuesday after Sessions' remarks—the state of Maryland does. Currently, the Hogan administration does not detain immigrants beyond their scheduled release when requested by Immigration and Customs Enforcement (ICE) officials. The state does, however, provide advance information to ICE officers about the pending release of immigrant detainees so they can be on hand for their re-arrest.
Pugh described Baltimore not as a sanctuary city, but as a "welcoming city."
"We can't be a sanctuary city because we don't control our jails or prison system," Pugh said when asked about Sessions' characterization. "But we are a welcoming city. We support all those who are in our city, who are working and adding to our city's economy everyday."
In November, Pugh announced that the city would become one of 11 jurisdictions around the country that are a part of the SAFE (Safety and Fairness for Everyone) Cities Network, a group devoted to protecting immigrants and funded by the Vera Institute of Justice. That initiative came on top of the establishment of a $500,000 legal defense fund—Safe City Baltimore—that was made in partnership with several local nonprofits, including the Open Society Institute.