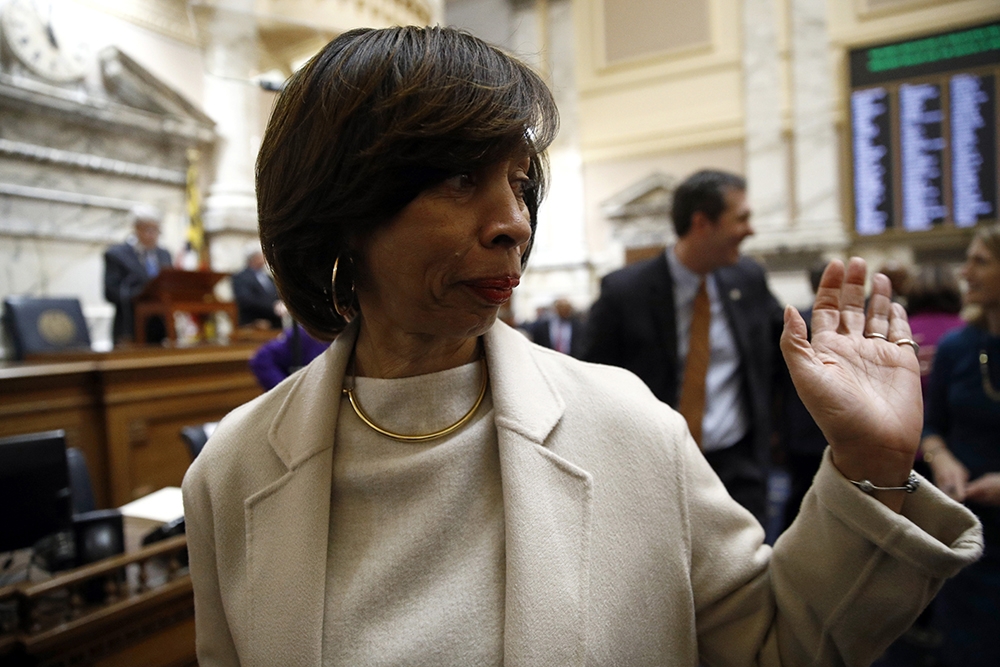 AP Photo/Patrick Semansky
Baltimore Mayor Catherine Pugh announced Monday that she will be taking a leave of absence, citing her health. A number of city and state politicians have expressed growing concern and distrust in her holding the office at all.
According to a press release yesterday afternoon from the mayor's office, she has been "battling pneumonia for the past few weeks." Physicians have advised her to take time to recover and focus on her health. According to The Sun, Pugh will continue to be paid her $185,000 salary.
"At this time, with the Mayor's health deteriorating, she feels as though she is unable to fulfill her obligations as Mayor of Baltimore City," reads part of the release. "To that end, Mayor Pugh will be taking an indefinite leave of absence to recuperate from this serious illness."
The Baltimore City Charter states that if the mayor is unable to fulfill her obligations as mayor of Baltimore City, the President of City Council is to step in as ex officio mayor. As such, City Council President Jack Young will take over during the interim of Pugh's absence. Young has said he has no plans on running for mayor in 2020 and intends to run for City Council President again.
Pugh is currently under fire after revelations of a $500,000 children's book deal with the University of Maryland Medical System (UMMS). Pugh served on the UMMS board while receiving payments for book orders, tallying a $20,000 net profit from each deal. She has since resigned from the board.
Pugh also recently gave back $100,000 from a 2018 book deal with UMMS. The order for 20,000 copies from the mayor's Healthy Holly children's series had not yet been filled due to the illustrator suffering from illness.
The Sun reported that Kaiser Permanente also paid Pugh more than $100,000 to purchase copies of her books from 2015 to 2018. Pugh oversees and controls the city's spending board, and awarded the health insurer a $48-million contract to provide health insurance to city employees from 2018 through 2020, with options to renew.
The announcement from the mayor's office came hours after Gov. Larry Hogan asked the office of the state prosecutor to begin a criminal investigation into the allegations against Pugh.
There have also been calls for Mayor Pugh to resign among growing scandal. State Comptroller Peter Franchot, City Councilman Zeke Cohen, and City Councilman Ryan Dorsey have all expressed these sentiments. Congressman Elijah Cummings, who supported Pugh in her election campaign, said he supports the investigation into her book deal with UMMS. As does Baltimore City's senate delegation in the General Assembly.
"Baltimore City is more than just one person, or one mayor," the city senate delegation wrote in a statement. "We, as Baltimoreans, first and foremost, must hold our City's officials to the highest standard. Our state cannot sustain any further erosion of trust in our institutions."
Pugh was elected mayor in 2016—winning the Democratic primary by securing 37 percent of the vote—and would be up for reelection in a Democratic primary next year.