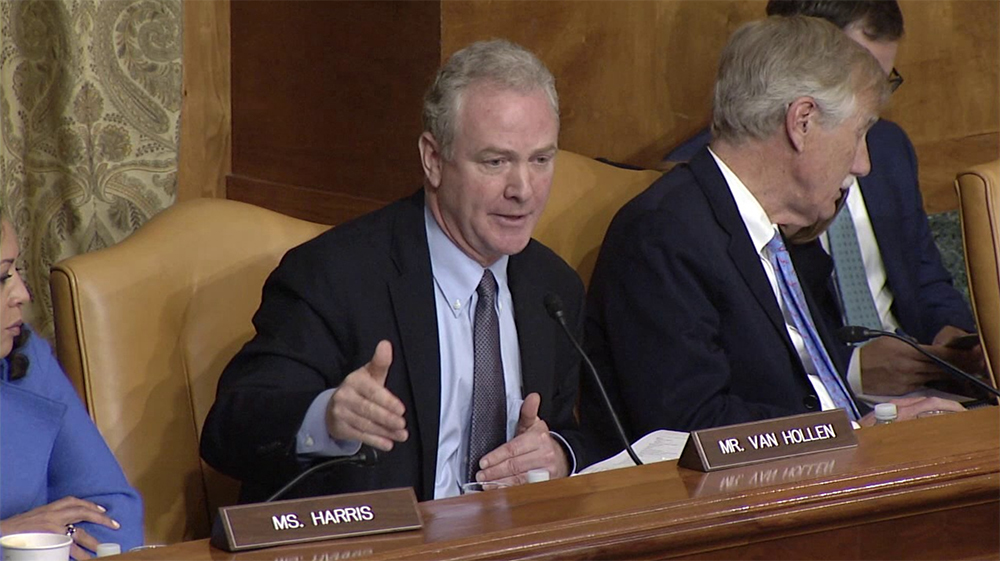 Rep. Chris Van Hollen
Today former FBI director James Comey told the the Senate Intelligence Committee that he believes he was fired by President Donald Trump because of concerns with the Russia investigation. Due to this mistrust, Comey testified, he documented their private conversations, appointed a special counsel to probe the administration, and accused White House officials of telling "lies, plan and simple."
In numerous, seemingly uncomfortable, conversations with President Trump, Comey said he was asked for his "loyalty" and to abandon the FBI's investigation into former national security adviser Michael Flynn. 
Several Maryland representatives had varying reactions to the bombshell testimony, including U.S. Senator Ben Cardin, who called the details "disturbing." 
"There is no reason to doubt the integrity of Mr. Comey's recollection of how Mr. Trump repeatedly used the weight of the presidency to ask a law enforcement official to drop an investigation," Cardin said in a statement. "Such inappropriate actions cannot be simply written off to a learning curve."
Cardin said it should further encourage his colleagues to cosponsor his legislation to create an independent, 9/11-style commission to investigate Russia's actions during the 2016 presidential campaign. 
Other local representatives had a different takeaway from Comey's testimony today.
"I am disturbed by Mr. Comey's statement that former Attorney General Loretta Lynch asked him to refer to the FBI's investigation into Hillary Clinton's email servers as a 'matter' instead of an 'investigation,'" Rep. Andy Harris said in a statement. "If true, this would in fact demonstrate a clear bias by Ms. Lynch and an attempt to influence public perception of Hillary Clinton during the presidential campaign."
The testimony was also of special interest to Rep. Elijah Cummings, the ranking member of the House Oversight and Government Reform committee, which is running an investigation into possible Russian collusion. Today, he announced that Rep. Trey Gowdy, of South Carolina, was chosen by the Republican Steering Committee as the new Committee Chairman, subject to final approval.
"I offer my sincerest congratulations to Rep. Gowdy on his new role as Chairman of the Oversight Committee," Cummings said in a statement. "I look forward to working with him in a constructive and bipartisan manner on an agenda that serves the interests of the American people."
 Cardin concluded his statement with another note of bipartisanship, urging both sides of the aisle to investigate Russia's interference with the American political system.
"It is time for Republican leadership in Congress to acknowledge publicly how dangerous the president's actions and rhetoric have been to American rule of law—the very foundation of our nation," he said. "We need an independent commission to get to the heart of Russia's interference in our country and to make public its findings and recommendations for how we can avoid this kind of nightmare in the future."
Shortly after the Comey hearing, Sen. Chris Van Hollen went down to the Senate floor to urge Congress to pass sanctions on Russia. 
"Right now the world is looking at the United States and asking why we haven't imposed tougher sanctions on Russia for its unprecedented and multifaceted campaign to undermine our elections," he said. "There is no excuse for inaction. The United States must show Putin that we will not stand idly by while he attacks our democracy. We need to be unified in our resolve and put patriotism over partisanship."