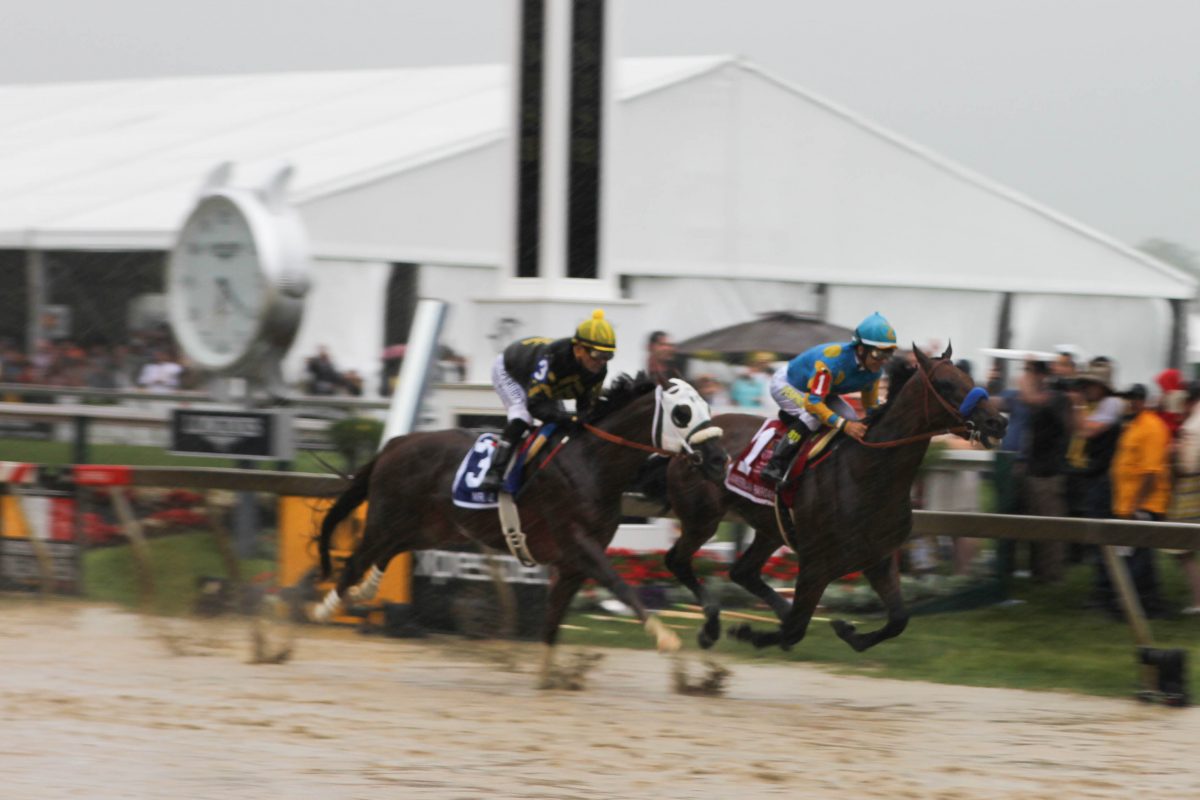 Photography by Meredith Herzing
How did you come to be the director of racing/racing secretary for the Maryland Jockey Club?
My father was a trainer at various Mid-Atlantic tracks, so I grew up around horses. I rode and showed and fox-hunted and everything. I started on the backside in Pimlico and became assistant trainer in college. After my nursing career and college didn't work out, I decided I would like to work back at the racetrack on the front side. I applied for a job for racing office in '84 and have been here ever since.
To put it into context for non-horserace enthusiasts, how big of a deal was it for American Pharoah to win the Triple Crown?
I was up at Belmont, so it was even more exciting. Just listening to the crowd, they were so loud and screaming for him. It was electrifying. Everyone was just in awe of what a nice horse he is and how exciting for it was for him. Even jockeys who rode in the race were cheering him on. Once he won the first two legs, then you really felt like he was gonna win it all. Even non-racing people got excited and involved. He was only the 12th Triple Crown winner in history, so not many people can say they've been around to see one. Since we haven't had one in 37 years, this is really my first Triple Crown winner since my long career working at the track.
Can you talk about what made American Pharoah unique as a horse?
His trainer is very famous because he's had many Preakness and Derby winners. The horse was just plain a nice horse. Some horses are bad behaving and he's just a nice, sweet horse. The trainer would let kids go up and pet him, you can't usually do that with colts in training. I saw the next day after his win that they put him on Good Morning America on the set—you can't do that with every horse. Once he won, they paraded him down further on the track, he was walking with his ears pricked, he just looks like a champion.
His Preakness run was probably the most memorable because of the soggy conditions.
When we got the downpour, a majority of horses don't like to run in that mud and slop. But he loves the mud. So it was a perfect scenario for him. He was out there all by himself the whole race and didn't get dirty. The Preakness race didn't look like it took much out of him. He certainly wasn't tired. Getting ready for his third race in five weeks—which is so grueling on a horse—I think it helped him to have an easier race in conditions that he favored.
His jockey Victor Espinoza donated his share of the purse to a cancer research center. How common is this in horse racing?
I think it's a great thing for Victor to do—he didn't have to do it. You'll have certain jocks that will win big and most will donate to the disabled jockey fund. So to donate to cancer research, that makes him even a nicer guy than we even thought he was. The trainer and his wife donated also donated money to a Thoroughbred retirement farm. So it's a nice story all around.
What comes next in this process when a horse wins the Triple Crown?
Now it's just he doesn't have anything to prove. What else can you win? The trainer said he's going to parade him this Saturday at Churchill [Downs in Louisville, KY]. They're going to have a big day of racing. He's going to take him and parade him so fans in Kentucky can see him. They said they were going to run him again. They want to continue to run him to his 3-year-old year. Next year he'll become a standing stud. When a horse is worth this much, that's when he comes a stallion. I think when we start back racing in Laurel in July, we'll probably have some type of American Pharoah tribute day, too.
People have been talking about moving the Preakness to Laurel? What is the status and likelihood of this happening?
We were just talking about this. They're also talking about moving to Lauren. They're talking about Kevin Plank building a new, fancy track near the Inner Harbor. They're talking about a lot of things, but I don't think anything has been totally decided yet. It will take all year to decide whether we want to move Laurel or redo Pimlico or build another track in Baltimore. I'm pretty sure Baltimore doesn't want it to leave the city and we don't either. Some people say it's old and falling down, but I love Pimlico. When you think of Preakness, you think of Baltimore.