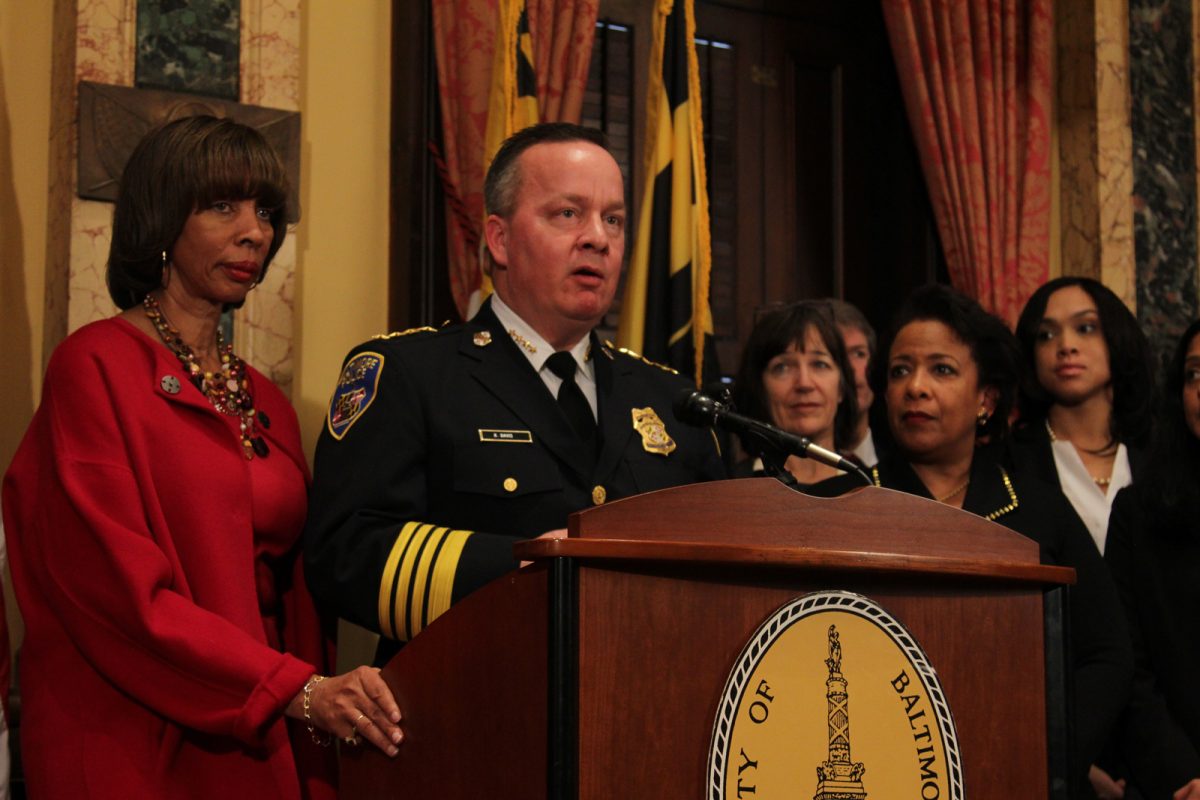 Meredith Herzing
On Friday morning, Mayor Catherine Pugh announced that she would be replacing Baltimore Police Commissioner Kevin Davis with 30-year BPD Deputy Commissioner Darryl D. DeSousa effective immediately. Pugh asserted that the crime in Baltimore needs to be eradicated at faster and Davis is simply not getting the job done.
DeSousa will assume the responsibilities for the police department immediately as the city's 40th police commissioner, and following appropriate measures, his appointment will be made permanent.   
"My decision is because I'm impatient," Mayor Pugh said at a press conference Friday morning. "And we need to get these numbers down now. The fact is, we are not achieving the pace of progress that our residents have every right to expect in the weeks since we ended what was nearly a record year for homicides in the City of Baltimore. As such, I have concluded that a change in leadership is needed at police headquarters."
Commissioner Davis, who was made aware of his dismissal Friday morning, was appointed to his position in 2015 after then Mayor Stephanie Rawlings-Blake fired Commissioner Anthony Batts in the wake of rioting that flooded the city's streets during the Baltimore Uprising.
"I am grateful to Commissioner Davis for all that he has done to implement the initiatives underway to address violent crime at its root causes," Pugh said. "I speak for the entire community in expressing our admiration and gratitude for his service to Baltimore and for his leadership of the women and men who put their lives on the line to serve and protect our citizens."
DeSousa, a New York City native, came to Baltimore in 1983 to attend Morgan State University and joined the Baltimore Police Department in 1988. Since joining the force, he's held many positions with the department over the years, including Area Commander of the Neighborhood Patrol Division, and Chief of Patrol. He was appointed Deputy Police Commissioner in 2015.
"I am deeply honored by the Mayor's confidence in me at this critical time in the life of our city," DeSousa said. "Baltimore has long been my home and I've spent my career on its streets and in its neighborhoods to address problems and bring about solutions that are meaningful for the people we serve. I am committed to this important work more than ever and look forward to validating the trust of Mayor Pugh, my fellow officers, and most importantly, the citizens of Baltimore each and every day."
Commissioner-Designate DeSousa has already begun working in his new position. As of 9 a.m. Friday, a new initiative that places uniformed police officers on the streets hourly has unrolled. The officers have been placed in strategic locations with high violence and will patrol the areas until midnight. The patrol-focused DeSousa assures that this type of "proactive constitutional policing" will help to accelerate the reduction of violence around the city.
"There's a lot of work that needs to be done," he said. "Violence reduction is the first priority, the second priority, and the third priority. We are focused on the repeat offenders and the trigger pullers—we know who they are and we're coming after them."