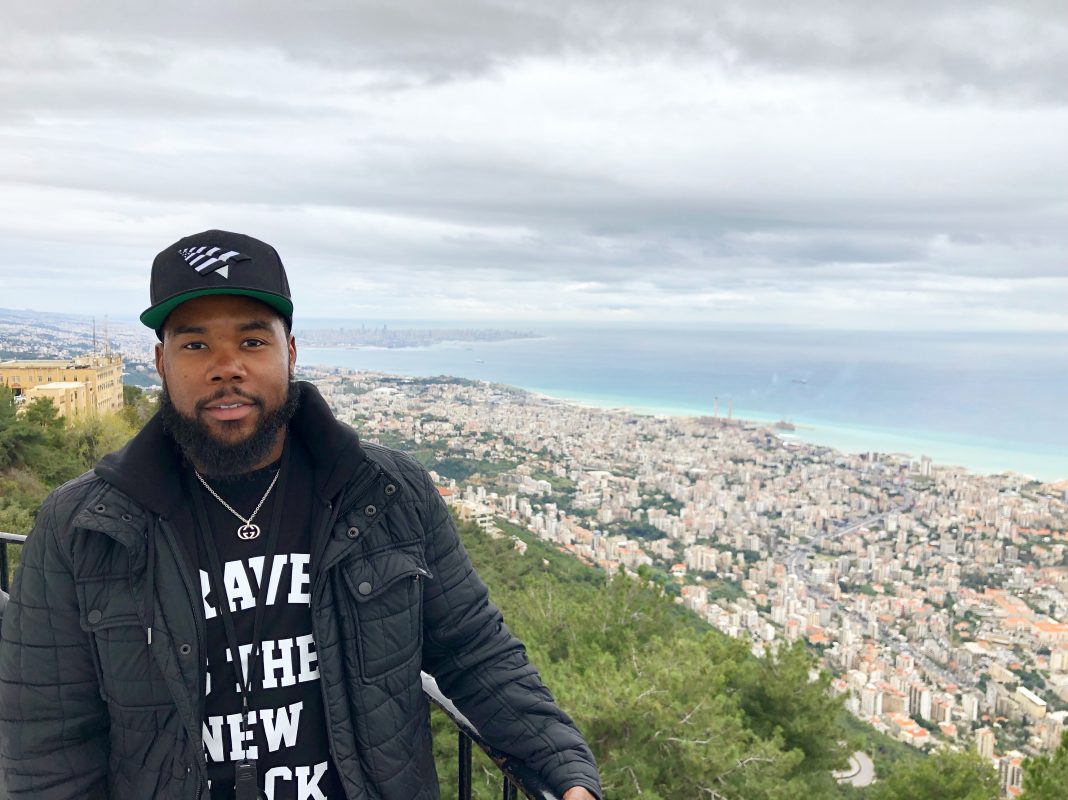 Courtesy of Brian Oliver
A year ago, Brian Oliver told Baltimore about his travel blog, Beyond Bmore, and his efforts to motivate people, and specifically black men, to travel more. A Towson graduate from West Baltimore with a degree in political science, Oliver is now launching BMore See More, a long-gestating idea in the form of a nonprofit that will organize trips and educate young minority men about the benefits of travel in the U.S. and abroad.
"One of my regrets is not traveling earlier," Oliver says. "There was a fear that I had prior to traveling alone. I just know that the first time I went somewhere alone and I was forced to navigate and make a trip work, I felt like Superman after that."
Oliver has been to 55 countries and 26 states. He's traveled halfway across the world, volunteering schools in Kenya, and sightseeing across Europe, and has plans to make his second trip to Ghana this year for New Year's Eve. Oliver made the jump into solo travel when he realized that he didn't want to wait around for friends to commit to coming along. He's long wanted to give back in some way, to instill a passion for young men across Baltimore to see the world.
"There are way too many young men losing their lives to violence and other things in the streets, and it's just because they don't know anything else other than what they wake up and see every day," says Oliver, who works at Howell Funeral Homes, his family's local business, where he writes and designs funeral programs and obituaries. "If you don't come back and try to help out that particular area or tell someone else, 'Look where I've been and how I made it work,' then there's no point."
A few years ago, Oliver took a group of kids to Washington, D.C., where they took in a Washington Wizards game and explored the monuments. The trip went well, but the timing to build upon it wasn't quite right, he says. Throughout this past year, Oliver has been focused on devising a workable plan for BMore See More. Applications for the program won't be out until early 2020, as Oliver and his team are still working on securing funding and donations, as well as plan a January launch event at a yet-to-be-determined location.
"Our goal is to light a fire in them," says Crystal Mosby, one of Oliver's longtime travel partners and the secretary as well as a board member of the organization. "Getting kids to network with other kids hopefully will foster friendships. We want to encourage these kids to travel and be exposed to different cultures and ways of living that will encourage them to want to bring this back home to their communities."
Oliver wants to start with high school sophomores, who will serve as the foundation of the organization, moving forward as mentors as they finish high school and go on to college. He anticipates the inaugural class will comprise of eight to 10 students from all over the city traveling to a destination somewhere within the U.S. next spring. Input from the students will influence where they go, but it's important to Oliver that their destination is a place rife for learning.
"My goal is to focus on somewhere we can compare the two cities that may have had similar issues [to Baltimore]," he says. "There are some cities who have made significant progress over the years with reducing crimes and creating jobs—there's a lesson we can learn."
Oliver envisions the lead-up to the trip as a series of educational sessions. He wants to bring in friends and travel companions to talk about their experiences and have students research what interests them most about the city they're going to. He will also expect those in the program to contribute to his blog to reflect upon their experience and put what they learn through their travels in perspective.
When Oliver pitches his idea to schools or to curious minds, he's often met with reservations. They raise issues that come up with the intricacies of travel—passports, lack of luggage, supplies, to name a few.
"I'm always the guy who thinks very much ahead," he assures. "We can handle those types of problems."
It's the type of confidence you'd expect from someone with Oliver's experience. And despite his travels, he's quick to point out that Baltimore is home, the place he has laid his roots, and the place he wants to impart his wisdom and resources.
"Part of the reason I wanted to make this bigger now is that everyone is always intrigued when they find out I'm from Baltimore," Oliver says. "When you're traveling, you meet people who were brought up differently and you begin to realize that, despite our differences, we are all very similar. I want the world to see that there's something bigger in Baltimore."