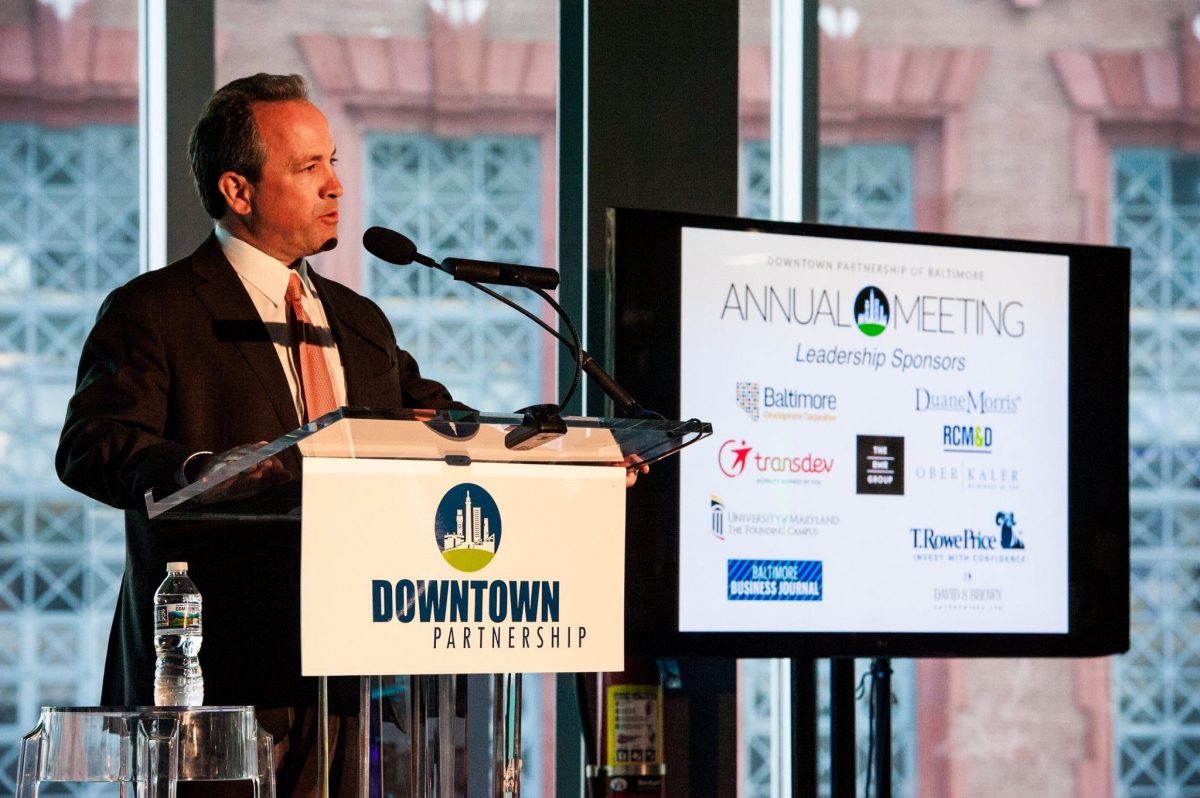 Courtesy of Downtown Partnership/Facebook
Kirby Fowler's daughter, Victoria, has spent more than 300 hours volunteering at The Maryland Zoo. Often, when he came to pick up the 18-year-old environmental studies major from her shifts, he was regaled with behind-the- scenes stories, as she told him about the fast bonds she made with the zoo's animals.
The idea of this type of camaraderie and place with a mission like the zoo's slowly started to appeal to Fowler. When he reached his 15th year this May as the president of Downtown Partnership of Baltimore, the 53-year-old began to take stock of his future. As soon as he became aware this summer that Don Hutchinson, the president and CEO of the zoo, was stepping down, he expressed his interest. And this past week, Fowler was announced as The Maryland Zoo's new president and CEO, effective June 30th of next year.
"I'm so excited to learn so much about zoology," Fowler says. "I was able to see the zoo in a different way from the experience of my daughter. I'm not an expert—I won't pretend to be—but I'm going to learn a lot over the next several months and take those lessons out in the world."
Whatever firsthand knowledge Fowler might lack when it comes to working directly with animals, he makes up for in leadership experience. At Downtown Partnership, he and his team of more than 100 helped transform Downtown Baltimore into the city's fastest-growing neighborhood, oversaw the creation of arts districts in Station North and Bromo Tower, and worked on revitalizing many of the city's markets.
He also collaborated with city and state officials and the private sector to renovate McKeldin Square, and encouraged the overall development of Downtown Baltimore as a residential and commercial center. It's this initiative that drew the zoo's board to Fowler, who was selected after an extensive search process.
"Kirby's history and success with major initiatives through Downtown Partnership were an important consideration," says Jennifer Lowry, president of The Maryland Zoo's board. "We were looking for someone who had a strategic approach as well as an ability to interact with state and local government officials and business leaders. Kirby rose to the top with his engagement, energy, and passion."
A Baltimore resident for 29 years, Fowler feels there is a good amount of overlap between the skills required for his soon-to-be new job and the one he's held for 15 years. In April, he will begin to shadow Hutchinson, as he prepares to take over an institution steeped in tradition as the third-oldest zoo in the country.
"I have tons of ideas," Fowler says. "But I need to spend a decent amount of time learning how zoos work. My main job is to keep the zoo's progress going, to continue to draw attention to its important conservation work, and keep drawing people to experience all the zoo has to offer."
In the past decade-plus, the zoo has had over $65 million in renovations and upgrades, including the addition of lemur and penguin exhibits as well as infrastructural improvements like water and gas lines. The zoo receives an annual $5 million state grant as part of its funding, along with contributions from the City of Baltimore and its surrounding counties.
Fowler will still be hard at work in his current post before he officially steps down—most notably continuing to transform Lexington Market, a project that will pick up steam in 2020. Downtown Partnership has yet to name a successor, but is currently looking for his replacement.
As for his new role, Fowler will assuredly receive help from all those around him, whether on the professional or personal side. Not surprisingly, his daughter was especially excited to hear the news of her dad's new job.
"Victoria can't work at the zoo because I'll be president," he says with a laugh. "But she's already given me special tours given her experience and lessons—and it's been wonderful."