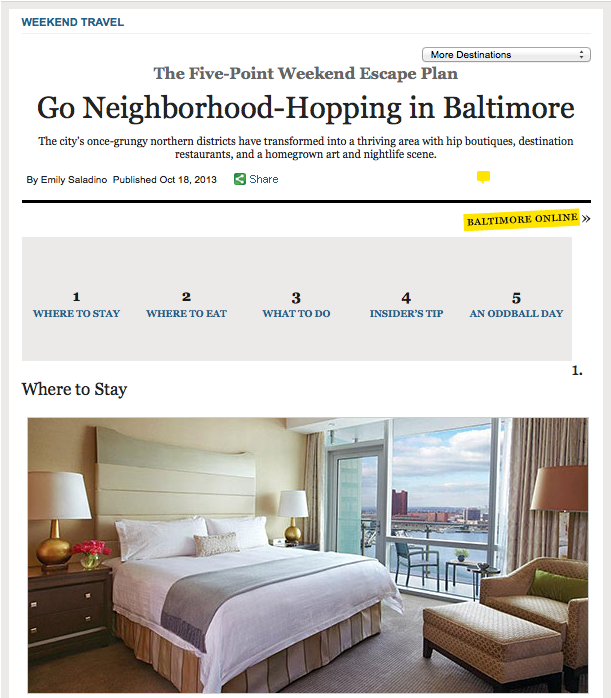 Screenshot via New York Magazine
We always get a kick out of seeing Baltimore celebrated in high-profile media outlets. I mean, we know Baltimore is awesome, but the rest of the world needs to do some catching up.
So we were delighted to see that New York Magazine chose Baltimore as the subject of its most recent weekend travel piece. The piece, dated October 18, and titled "Go Neighborhood-Hopping in Baltimore" does
a pretty good job of eschewing the most obvious tourist traps in favor
of slightly more ecclectic picks. The writer seems to have spent a lot
of time in Hampden and the piece reflects that focus. Several of the
neighborhood's eateries including Golden West Cafe, 13.5% Wine Bar,
Artifact Coffee, The Food Market, and Woodberry Kitchen are mentioned,
as are art dens Gallery 788 and Minas Gallery and Boutique. Station
North and Remington also get shout outs via the Open Walls mural
project, Area 405, and Joe Squared and WC Harlan, respectively. The
Inner Harbor, Harbor East, Fells Point, and Mt. Vernon also get cursory
nods, but really, in this write-up, it's all about Hampden.
Which we guess makes sense. You can't capture the entirety of any
city in a single 1,500-word travel piece, especially one as
contradictory and confounding as Baltimore. Hell, we publish 12 issues a
year about this place and still manage to have more to say, so
we can't fault the writer (travel writer Emily Saladino) for selecting
an angle and sticking to it. It'd be an unmanageable assignment
otherwise. And that she would choose Hampden makes sense. After all,
artsy, upscale New York Magazine readers would probably feel
right at home on The Avenue with its mix of galleries, boutiques,
antique shops, and locavore and specialty eateries. The writer even
explicity compares Hampden to the trendy Brooklyn neighborhood of
Williamsburg 10 years ago. (Is that a compliment? We're not sure . . . )
But, as locals, we would like to set the record straight on a few things.
1) There are emerging neighborhoods in Baltimore, but Mt. Vernon is
not one of them. Anchored by Peabody, the Walters, the Lyric, the
Meyerhoff, and several landmark buildings, Mt. Vernon is one of the
city's nicest downtown neighborhoods, and it has been for quite some
time. "Emerging" is the wrong adjective.
2) Taking a bike ride from "centrally located Hotel Monaco .
. . to edgier nearby areas like Mount Vernon and Belvedere," is going
to be difficult since, if there is a Baltimore neighborhood named
Belvedere, it is nearly six miles away in north Baltimore near Belvedere Square. We suspect the presence of the landmark Belvedere Hotel in Mt. Vernon is what caused the mix-up. Hey-ho. It happens.
3) But what we really couldn't let go—and what inspired this
admittedly pedantic blog post—is this sentence near the end of the
story: "Independent digital resource What Weekly covers
Baltimore's emerging neighborhoods, cultures, and countercultures. It
was rated the city's best new magazine by old stalwart Baltimore Magazine in 2011." Great. We love What Weekly,
and we stand by our Best of Baltimore picks. We're not even (that) mad
that they got a hyperlink in the story and we didn't. But what we
absolutely can not abide is the misidentification of our publication. We
are Baltimore, the same way Newsweek was just plain old Newsweek, not Newsweek Magazine. If you want to clarify that we are a periodical, it is written as Baltimore magazine.
So, New York Magazine, next time you decide to profile good
ol' Charm City, shoot us an email. Since we are the city's "stalwart"
publiciation, we could maybe help you! We're not called Baltimore for nothing.