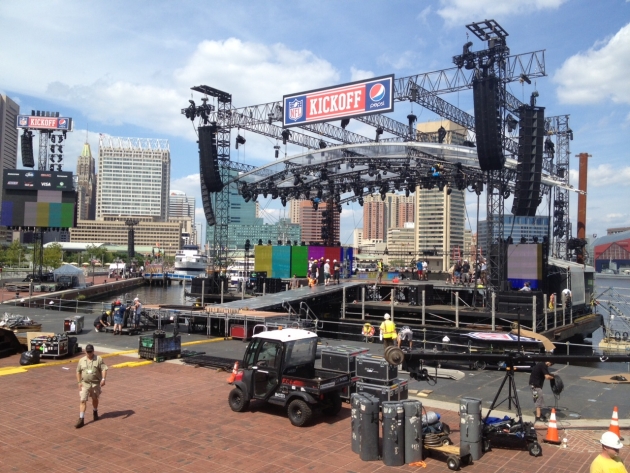 Dan Mayhugh
Even though the first Ravens game won't be played here in Baltimore (due to conflicts with MLB and NBC), the NFL is still hosting plenty of events around town this week to kick off the start of football season. Here's a round-up of what to expect:
NFL Kickoff Community Legacy Project: Former Ravens Jamal Lewis and Duane Starks will join volunteers for a community-service project at Hilton Elementary near Ashburton on Wednesday from 9:30 a.m.-12:30 p.m. Mayor Stephanie Rawlings-Blake will also be in attendance, as they celebrate the school's success in the Fuel Up to Play 60 program. Volunteers will transform the outdoor area behind the school, adding a greenhouse and garden beds. In addition, a new active play space will be built.
Kickoff Village: The NFL Kickoff Village will be open to fans on Wednesday from 10 a.m.-10 p.m. and Thursday from 10 a.m. to 8:15 p.m. The fan zone is located at the Harborplace Amphitheater, where there will be NFL players on hand both days to sign autographs for fans.
NFL Play 60 Youth Football Festival: Former Ravens players Rod Woodson, Jamal Lewis, Kyle Richardson, Jamie Sharper, Duane Starks, and Matt Stover will team up with more than 850 students in the area on Wednesday and Thursday at Utz Field at Patterson Park. Students will learn NFL flag drills, and Heads Up football skills from USA Football coaches and participate in activities with players. They will also learn about hydrating, helmet fitting, and concussion awareness at the event, which is also sponsored by HOPSprts, the National Dairy Council, and Under Armour.
Under Armour/GE Press Conference: The NFL, GE, and Under Armour will host a press conference entitled "Head Health Challenge: Innovative Approaches for Identifying and Preventing Brain Injury" on Wednesday at 3 p.m. at UA headquarters in Locust Point. Participants include NFL Commissioner Roger Goodell, Kevin Plank, Boomer Esiason, and Cal Ripken, Jr.
NFL Back to Football Run & Play 60 Fun Run: On Wednesday night at M&T Bank Stadium, fans can celebrate the return of football with a youth half-mile run at 6 p.m. and a 5K at 7 p.m. Ravens cheerleaders and mascot Poe will be in attendance, and fans will have an opportunity to receive autographs from Ravens alumni and take a photo with the Lombardi trophy. Fans can sign up here.
NFL Kickoff 2013 Concert: Country star Keith Urban will perform live from a floating stage barge in the Inner Harbor next to the Maryland Science Center. The event starts at 6 p.m. and will include the concert, fireworks, a showing of America's Game: 2012 Baltimore Ravens, and a water light show. The event is free and open to the public, and guests should enter at the Baltimore Visitor Center. Guests planning to attend the event should follow @NFL345 on Twitter for the most up-to-date concert details.
Of course, this is all in preparation for the season opener between the Ravens and Denver Broncos on Thursday at 8:30 p.m. Go Ravens!