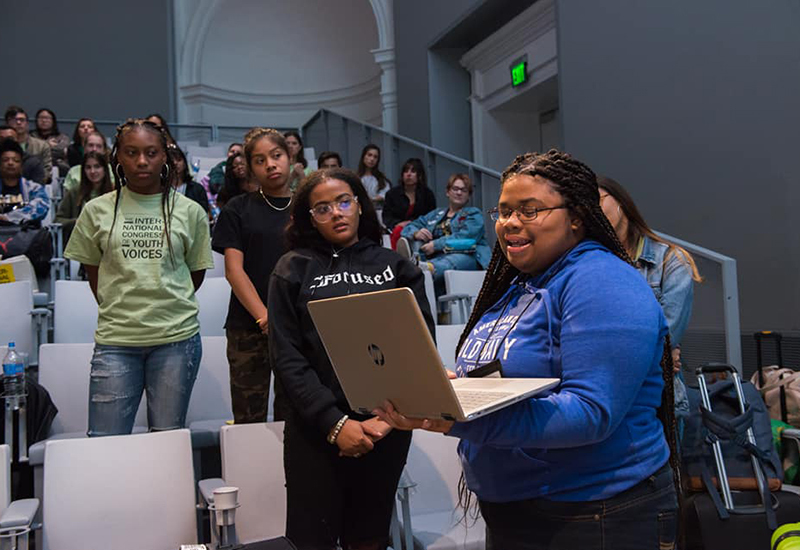 Jamesha Caldwell
There was a period where Jamesha Caldwell wasn't writing. She took a break for a bit after a middle school writing class, and it wasn't until she started performing at open mics and appearing at the Baltimore Book Festival and CityLit Festival that she developed her voice and exactly what she wanted to say with her work. And now, for the second year in a row, she's bringing those ideas to an international audience.
The International Congress of Youth Voices was established in 2018 by author Dave Eggers as a way to convene young adults ages 16 to 20, all of whom have a defined and specific passion, whether that be in a leadership role or shepherding social justice and communicating their ideas in thoughtful and artistic ways. Based on that criteria, there is no better delegate for Baltimore than Caldwell.
Caldwell, 19, will travel to Puerto Rico in August for her second go-round at the Congress. She is a first-generation college student majoring in criminology with a minor in psychology at Notre Dame of Maryland University, a poet and writer whose work focuses on issues surrounding the city of Baltimore. More specifically, her focus is on the language that those inside and outside Baltimore use to describe the city and its reputation, particularly as it relates to youth in the city.
In high school, she was involved in various organizations that afforded her the ability to travel to surrounding schools. One of those organizations, Writers in Baltimore Schools, which, according to its website, works to "empower the voices of Baltimore City students," nominated her as a delegate for the conference. As part of the nomination process, Caldwell submitted a piece of writing and completed a questionnaire answering biographical information, what she does in the community, and what she is passionate about.
Caldwell's studies are based around her experiences traveling to other schools as she started to notice a disconnect between her Baltimore and the comments and questions she would get about the city. With this foundation, she's dedicated herself to studying criminological theory while at school, and hopes that, through her work, she can help shine a light on the stereotypes, common misconceptions, and sweeping generalizations people often use when talking about Baltimore City.
"I really want to articulate that we are not what's represented in the news," Caldwell says. "Our stories are so much more deeper and impactful than what is broadcasted."
Poetry is the means by which Caldwell is often articulating her ideas, though she has written for publications like the now-defunct City Paper, as well. Red Emma's is one of her favorite places in the city, and she often participates in readings at the book shop as a means of outreach.
Every spring semester, Caldwell participates in a program where she visits with incarcerated women at the Maryland Correctional Institution in Jessup. Conversations with these women, she says, have helped inform her research and reiterate that everyone has a story to tell. "Interacting with incarcerated populations really drives my activism and research and how I interact with people in giving them the space to know that what we generalize them as them in our textbooks is not actually the stories of these people," she says.
Her love of hip-hop—Queen Latifah is a favorite—is a major influence on her work, too. "[Hip- hop helps] cultivate how I see and interact with Baltimore because of how the language and production is so raw and gritty to the language of said rapper or artist," she says. "It helps me convey a message that reaches further than corporations and institutions. It reaches my peers, it reaches people younger than me."
And attending the Congress, where she's interacting with like-minded high schoolers and college students who have their own causes and ways in which they're impacting their communities, has only aided and abetted her work. The conference, spread out over five days, is structured around starting conversations, among speakers and peers who share similar common goals. Past speakers included Twitter co-founder Ev Williams and 13 Reasons Why creator Brian Yorkey.
It's an invaluable resource, to be able to bounce ideas off one another, and what Caldwell says she looks forward to most when attending. "Being in the space of a Congress and having all of these different activists who have all of these multifaceted interests and having this being a space where we can cultivate and sharpen our skills and take it back to our communities or even have the network after we leave the Congress to ask each other questions . . . I think that was really important," she says.
As for the future for the now-rising junior, there are two different tracks she'd like to choose from—going to law school or film school. With the latter, she'd be interested in "connecting both my passion of writing with presenting the city with a new narrative through cinematography." Either way, what is certain is that Caldwell and her work are getting noticed.
"I'm a researcher," she says. "When people think of activism, they think you must be on the street. I don't think people actually take into account that researching is a form of activism. I think that a lot of my peers, especially in Baltimore City, we're all doing the work to refine the image of Baltimore in different ways."