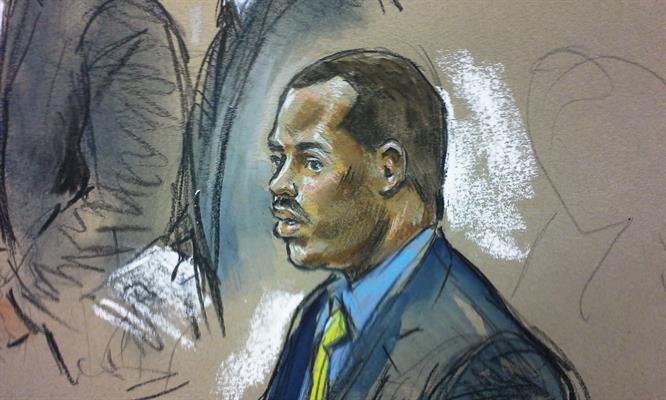 Bill Hennessy
Baltimore police officer William Porter, facing charges related to the death of Freddie Gray from injuries suffered while in a police transport van, took the witness stand in his defense Wednesday.
Porter, the first of six officers to be tried separately in Gray's death, has been accused of involuntary manslaughter, reckless endangerment, second-degree assault, and misconduct in office. More than once during his cross-examination, Porter and Chief Deputy State's Attorney Michael Schatzow got into combative exchanges.
"You did not protect Freddie Gray's life, did you?" Schatzow asked Porter just before one court break.
"Untrue," said Porter. He added: "It's untrue because Freddie Gray wasn't injured at the fourth stop and the fifth stop and had he'd been injured, I would've called for a medic."
Porter did testify that Gray asked for medical help during his ride in the police transport van and that he told fellow officers about Gray's request for medical assistance. Porter said he did not believe Gray was injured and wanted to avoid a trip to jail by going to the hospital. No medic call was made until after the transport van's sixth and final stop at the Western District police station where Gray was found not breathing.
Schatzow also asked Porter, for example, why he didn't identify Lt. Brian Rice by name during his recorded interview with internal affairs five days after Gray's death, indicating that perhaps Porter was trying to protect a fellow officer. Schatzow noted Porter's earlier remarks regarding a "stop snitching" culture among Baltimore's criminal element and asked if a similar culture exists in the police department.
"Absolutely not," Porter, 26, said. "I'm actually offended that you would say something like that."
On the stand, Porter, described a desperate scene at the Western District police station after Gray was found unconscious with mucus around his mouth and nose.
"It was very traumatic for me also, seeing him in the neighborhood every day, calling his name and not getting a response," Porter said.
"It felt like an eternity, I don't know," Porter said when asked how long it took an emergency medical team to arrive on the scene after Gray was found unconscious.
While Porter expressed concern for Gray's safety on the stand, he and his defense team also repeatedly said that fellow officer Caesar Goodson, the driver of the transport wagon in which the 25-year-old suffered a broken neck, maintained primary responsibility for Gray.
Prosecutors allege that Porter "criminally neglected his duty" by failing to seat belt Gray into the back of the police wagon and failing to radio for emergency medical assistance when Gray indicated he needed medical assistance.
Prosecutors say Porter was obligated to do both per department guidelines. The defense claims that whatever the guidelines, in practice, few arrestees are ever seat belted into police transport vans. Porter and his team also brought in a medical expert to testify that Gray likely was not injured until just before arriving at the Western District—after the last time that Porter checked on Gray.
Also in dispute, as Porter spent nearly the entire day on the stand, were what the prosecution described as "discrepancies" in his statements to internal affairs investigators five days after Gray's death, and his subsequent testimony in court. Porter said any differences in testimony on the witness stand were only additions or elaborations on his recorded interview with internal affairs investigators.
At one point, when prosecutor Michael Schatzow asked Porter why he was providing additional information on the stand that was not part of his interview shortly after Gray's death, Porter responded, "When I made that statement, I made it as a witness. When I made that statement today, I was a defendant."
Porter looked at ease and confident during questioning by his attorneys, in contrast to the sharper tone during cross-examination. Schatzow, the state's lead prosecutor, appeared agitated at times during the cross-examination by Porter's responses.
Called into question by Schatzow were earlier statements regarding when exactly Porter heard Gray say, "I can't breathe," as well as the position of Gray's body before and after the alleged time of the fatal incident in the van. Prosecutors say Porter initially told internal affairs that Gray said he couldn't breathe when Porter checked on him at the police van's fourth stop—not at the first stop, when Porter said it took place on the stand.
Based on the medical examiner's report, prosecutors also say that Gray's critical injury during the unsecured ride took place before the fourth of ultimately six stops. Porter testified that Gray was not injured when he checked on him at that point.
Following Porter, Officer Zachary Novak took the stand for the defense. Novak, who was present at Gray's arrest and later at the Western District station where he testified he pulled an unconscious Gray from the van, had previously been given immunity by prosecutors.
He testified that it is his practice to always call for a medic when an arrestee requests medical assistance. He also testified that only about 10 percent of those he's personally arrested have been secured in police vans by seat belts.
University of Maryland law professor Douglas Colbert, who has been attending the trial, said he believes prosecutors helped their cause while Porter was on the stand. "I think the prosecution was very methodical in pointing out some discrepancies in Porter's testimony," Colbert said. "What I think they'll do is follow up on those during closing statements."
Ultimately, Colbert said, the case may come down to whether the jury trusts Porter's testimony on the stand—that he never witnessed any indication Gray was injured, for example—or goes by his earlier recorded testimony to internal affairs. As far as testimony from various experts and character witnesses, Colbert said, "What's wonderful about our jury system is that they are able to distinguish the relevant from the irrelevant."
Prominent Baltimore defense attorney Warren A. Brown, also attending Wednesday's trial, said he believes that prosecutors have focused too much on whether Porter should've have called for potentially life-saving medical assistance earlier. He thinks the prosecution would be better served by concentrating on Porter's failure to seat belt Gray. "There are too many questions around when Gray's injury took place," Brown said.
Brown also said he thought Porter acquitted himself well on the stand, adding, however, that putting defendants on the stand sometimes raises the bar in jury's minds—from the prosecution merely proving beyond a reasonable doubt to proving innocence.
As far as the verdict, Brown said he can't make a prediction.
"It's 50-50. It could go either way."
*Presiding Judge Barry G. Williams has said that Porter's trial will conclude no later than Dec. 17. The other five trials are scheduled as follows:
Ofc. Caesar Goodson: January 6, 2016,
Sgt. Alicia White: January 25, 2016,
Ofc. Garrett Miller: February 9, 2016
Ofc. Edward Nero: February 22, 2016
Lt. Brian Rice: March 9, 2016