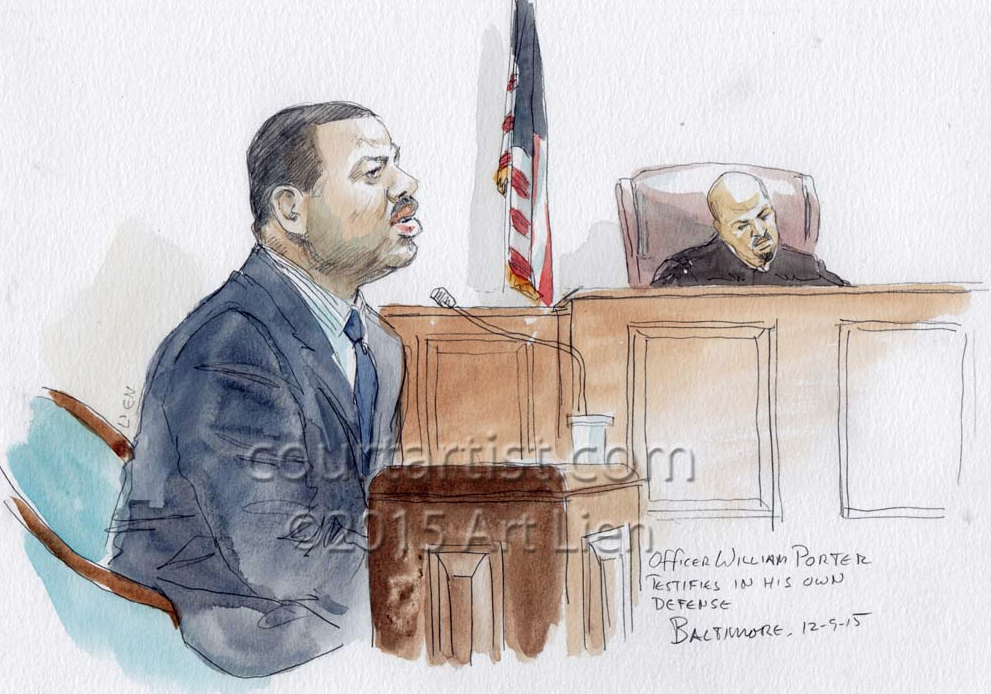 Courtroom sketch by Art Lien
The Maryland Court of Appeals ruled on Tuesday that Officer William Porter must testify against all other officers facing charges related to the death of 25-year-old Freddie Gray.
In January, the court postponed Officer Caesar Goodson Jr.'s trial, pending the final ruling on whether Porter can be compelled to testify as a prosecution witness. Porter was the first of six officers tried and his case ended in a deadlocked jury, with a retrial set for June.
Prosecutors said that Porter is a material witness in their cases against Goodson and Sgt. Alicia White, whose trial is scheduled to follow Goodson's. Porter's attorneys argued that their client has a fifth amendment right against self-incrimination that he can invoke to avoid being put on the witness stand in the prosecution's case against Goodson.
Back in December, Porter testified that Gray asked for medical help during his ride in the police transport van and that he told fellow officers about Gray's request for medical assistance. While Porter expressed concern for Gray's safety on the stand, he and his defense team also repeatedly said that Goodson, the driver of the transport wagon in which the 25-year-old suffered a broken neck, maintained primary responsibility for Gray.
Steven Levin, a defense attorney and former prosecutor, told the Associated Press that case against Goodson could be hard to prove without Porter's testimony.
"I don't think the state can come close to meeting its burden without Porter's testimony," Levin said. "I think it could be another hung jury."
Tuesday's rulings mean the cases will be sent back to a lower court and the trials can move forward throughout the next several months.