The Chatter: August 2015
Firsthand accounts of what's happening in Baltimore.
Homeward Bound

Eastern Avenue
June 13, 2015
"Feel how soft this bird is," says Dave Glorioso, handing a pigeon to a slightly nervous young girl outside at the annual Maryland Traditions Folklife Festival. "Go ahead. You can let him go, too. He'll find his way home."
Glorioso, 63, has been raising racing pigeons—also known as homing pigeons—for four decades, keeping a couple hundred birds behind his house in Lansdowne. With his son, Fish, he's brought about 50 birds here.
Big races start as far away as Georgia, with the birds' speed calculated by how long their return flight takes. "Nobody really knows how they do it," Glorioso says. "I think it has something to do with the sun. On cloudy days, it takes them longer."
Pigeon racing used to be very popular in Baltimore, Glorioso continues. "Men would work in the factories, give the little money they made to their wives, and then go in the backyard and fool around with their birds," he says. "The women may not have been crazy about the hobby, but at least they knew their husband wasn't down the street at the bar."
When on form, the birds can make it back from, say, a race in North Carolina faster than Glorioso can in his pickup. Once, he pulled into his driveway after a six-hour trip—only to find them already there, waiting in the coop. "It's estimated they flap those little arms a million times during a 500-mile flight," he says. "I'm dead tired after driving that far. Of course, they're dead tired, too."
---
Windows Into Life

Gough Street
June 13, 2015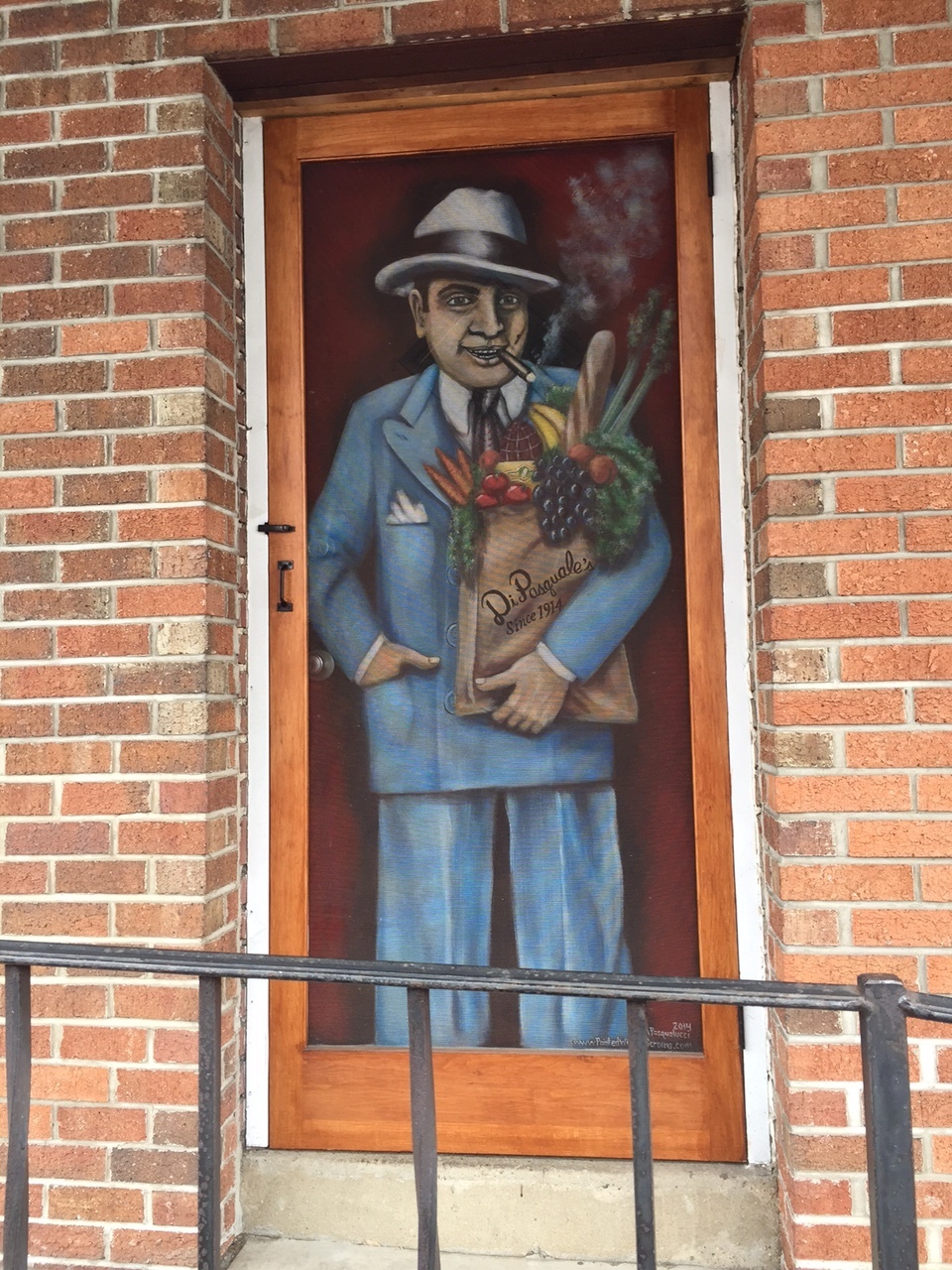 "By 1950, there were more than 100,000 painted screens in Baltimore," explains Amanda Smit-Peters, a manager with the nonprofit Southeast Community Development Corporation, during the midday, "painted-screen" walking tour of Southeast Baltimore. Discussing the craft's current revival in Highlandtown and the neighborhood's immigrant roots, she notes that nearby Butchers Hill was largely settled by Germans, and the painted-screen phenomenon itself—the peculiar, row-house folk art of those pre-air conditioning days—was started by a Czech grocer named William Oktavec. She also points to a screen painting down the street depicting the nearby Ukrainian church's iconic golden domes.
And, actually, a good number of the recent screen paintings here pay homage to Baltimore's unofficial mascot "Mr. Boh," whose very name is a nod to the Central European Bohemians who also established roots here.
At one stop, a newer Salvadoran immigrant steps out from his row house to describe how the brightly colored rural scene on his window screen depicts the village where he grew up. Not far away, at the century-old DiPasquale's Italian Marketplace, there's a freshly painted door-screen portrait of Al Capone—fedora and blue suit—holding a bag of fruit, vegetables, and bread. The future mobster, it turns out, once worked in the building as a bookkeeper for another Italian family. "He was 19 or 20 then," Joe DiPasquale says. "It was before his promotion."
Capone, of course, later landed in Chicago, and then federal prison. He returned to Baltimore upon his release, however, to seek treatment for syphilis at The Johns Hopkins Hospital. "It's a small world," DiPasquale says. "We get a lot of our lunch orders from Hopkins."
---
Hon Speak

West 36th Street
June 14, 2015
Accompanied by a bald, mutton-chopped Elvis impersonator in a blue polyester jumpsuit, the 10 finalists at the 22nd Annual Baltimore's Best Hon Contest take the stage one at a time for the talent portion of the show. Variously jitterbugging, hula hooping, and skateboarding across the platform, the surprisingly diverse group channels the working-class fashions and towering beehives of Charm City past, later blowing kisses and tossing Berger cookies to the adoring crowd on The Avenue in Hampden.
Most of the women perform ballads expressing their deep affection for their boyfriends, their football team, and their town. However, the eventual winning "hon"—Nikki Bass, an Aberdeen Proving Ground scientist by day—demonstrates how she helps her Department of Defense colleagues understand her "Bawlmerese" dialect.
It's worth noting that Bass, who grew up in Parkville, is also the first multiracial Best Hon. "Moms of the brown girls, the Latina, African-American, and Asian little girls entered in the [earlier] Miss Honette contest brought their daughters up to me and my mom," she says later.
Utilizing a classroom periodic table, Bass literally spells out "Bawlmer" for the crowd, employing element symbols. "Ba, for example, is for barium," she begins. "As in, 'It's best to barium flower seeds after Mother's Day, hon.'" Donning safety goggles to protect her eyes "from all the Aqua Net" on stage, she continues: "W is for tungsten, as in, 'You better make sure every pin is tungsten all the way, hon, otherwise that hairdo won't hold together.'"