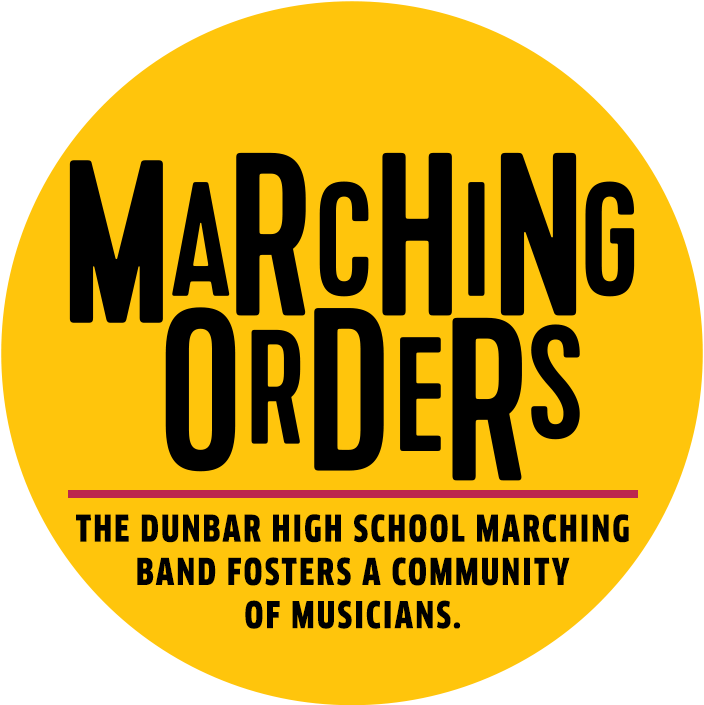 Arts & Culture
Marching Orders
The Dunbar High School marching band fosters a community of musicians.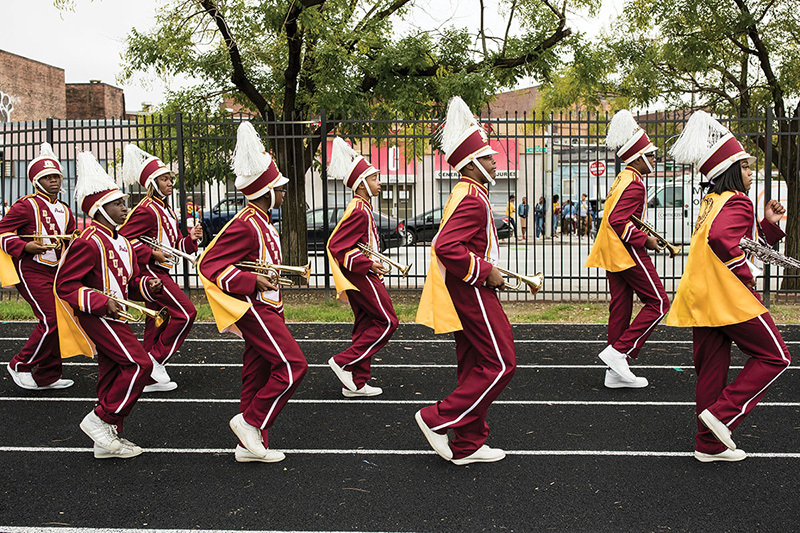 "Sit down, shut your mouths, and listen,"
yells Charles Funn, marching band director for Dunbar High School, to a room full of student musicians. "I'm not going to tell you again. Listen up, because I don't want to hear you mess up." The chatter quiets, and all eyes and ears snap to attention as Funn delivers his latest lesson. Inside this band room, there are more than 30 students ready to go over new music to perform for the upcoming homecoming game. This is nothing new for Funn, who has been teaching music for 45 years—25 of them at Dunbar. He knows what it takes to be the best, and he has drilled these philosophies into every student who crosses his path. Although his last name suggests an easygoing manner, he's a drill sergeant when it comes to perfecting his music and prides himself on his students' abilities to perform at the drop of a hat.
"They're in a state of constant readiness," he says. "If they aren't ready, they don't go out. And if they do not perform, they do not pass my class."
For some students in Baltimore, sports reign supreme when it comes to extracurriculars. But for students like senior trumpet player Jonathan English, being in a marching band is more thrilling—and gratifying—than any athletic feat. "Being in the band, for me, it's so much fun, because over the years we've bonded, and we're a family," he says. "We have each others' backs."
And Funn makes sure of it.
The son of a former high school principal and a cafeteria administrator, Funn began playing the cornet in elementary school in Prince Frederick. "Growing up in the country, all we had was band and church," he explains.
"I really didn't become serious until high school. I had to quit basketball due to an injury, so I put my energy into playing the horn." Since picking up that horn half a century ago, Funn has transformed Dunbar's maroon and gold, finely pressed uniforms with their matching plumed hats into the most recognized band in Baltimore. Under his strict, yet paternal, tutelage, the band averages 100 performances each year, including Morgan State University's homecoming parade and the annual downtown Martin Luther King Jr. Day parade. "I don't say this to brag, but there's no other band in the city that performs as much as we do," Funn proclaims. But performing is only half the battle.
The hours-long rehearsals are just as physically straining as running 40-yard sprints. Memorizing complex sheet music is just as daunting as studying for the SATs. And performing flawless musical routines at championship games is just as intense as playing in one. "There was a lot of pressure put on us this year," says Bria Williams, a senior trombone player. "We have been teaching the music to the lowerclassmen and writing the music—it's a lot, but it's so rewarding."
"Sometimes practices are hilarious, sometimes it's torture—it depends," Funn says. "I tell them, 'You are here to make music, not excuses.'"
If you've seen the marching band perform, you know that all of this hard work pays off. They are a marvel of precision, dancing and high-stepping as one and inspiring crowds with their spirited, irresistible performances.
And Funn says being a part of the marching Dunbar Poets isn't just about performance; it's about building relationships with your bandmates and becoming a better, more well-rounded person. "If you can stand four years with Mr. Funn, there isn't too much that life can throw at you that you aren't able to handle," Funn says. "That's why I tell the kids it's not only about music, I am trying to teach them responsibility."
"He doesn't give up on his students," notes junior drummer Krischin Townes. "But he won't take any disrespect from anyone. He's hard on you, but that's how life is. He's preparing us for the real world."
As Funn parades down the streets of Northeast Baltimore with his students at the Morgan State Homecoming Parade, he's like a local celebrity, recognized on nearly every block. Whether he's interacting with former students, parents, or people who are simply fans of his work with the band, his tough exterior quickly fades away and a warm, smiling face greets the crowd. "I've had so many former students come back to thank me for my teaching style," Funn says. "These are my kids—they drive me crazy, but I love them all, and I love what I do."
"I tell them, 'You are here to make music, not excuses.'"
Band room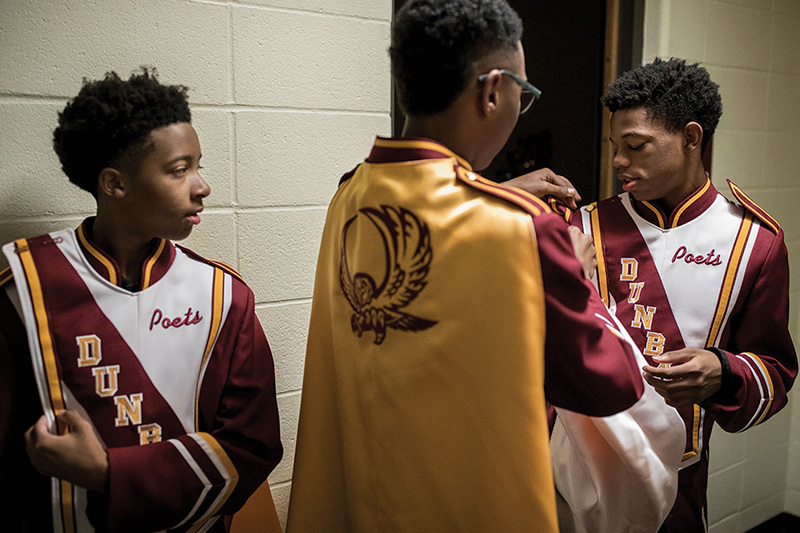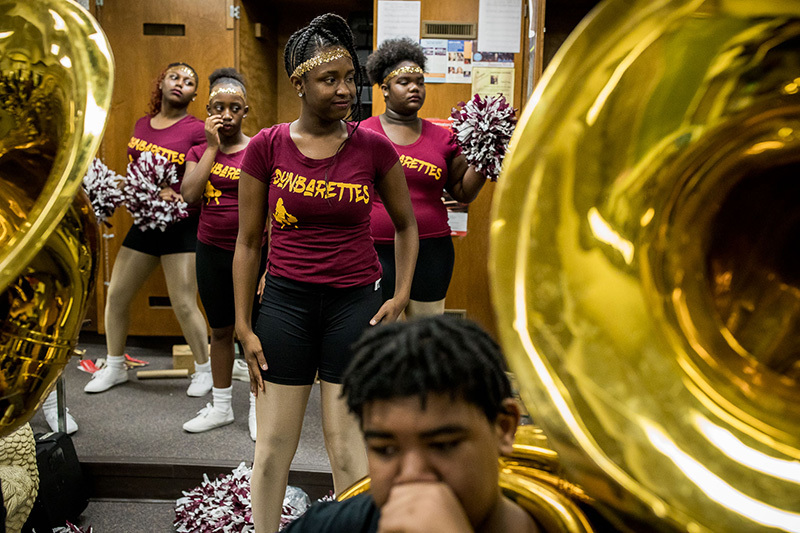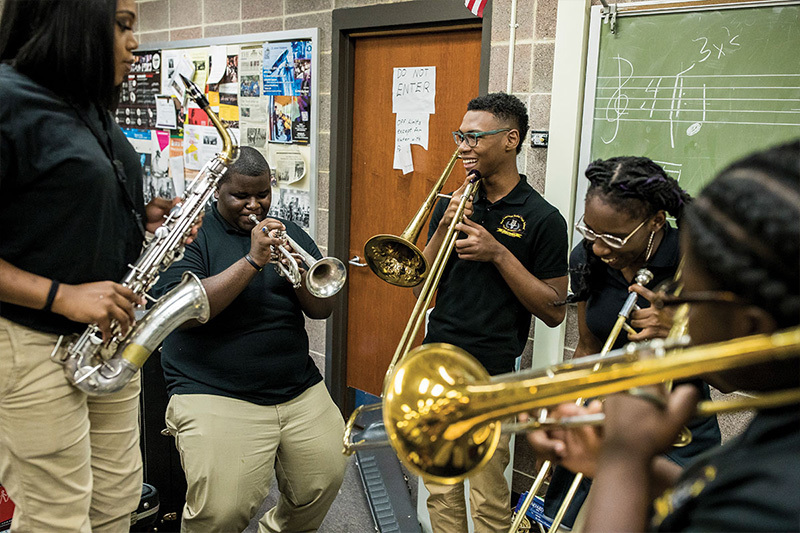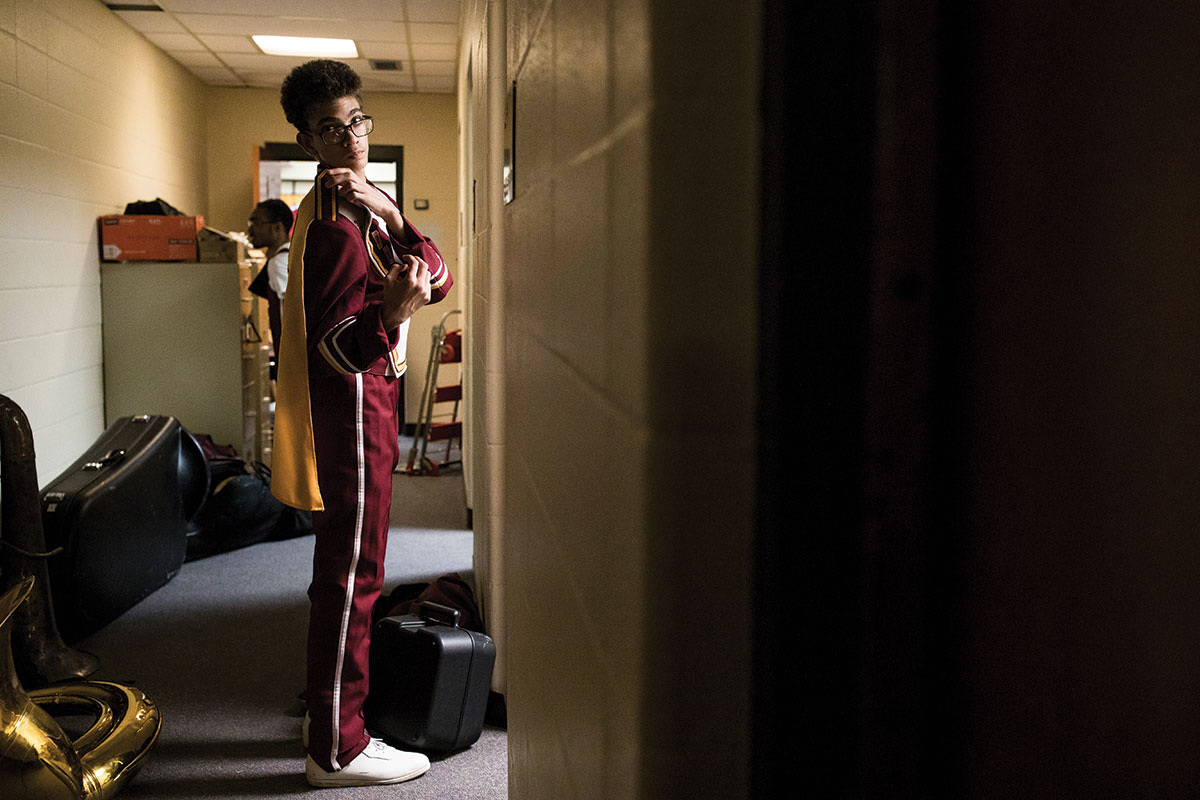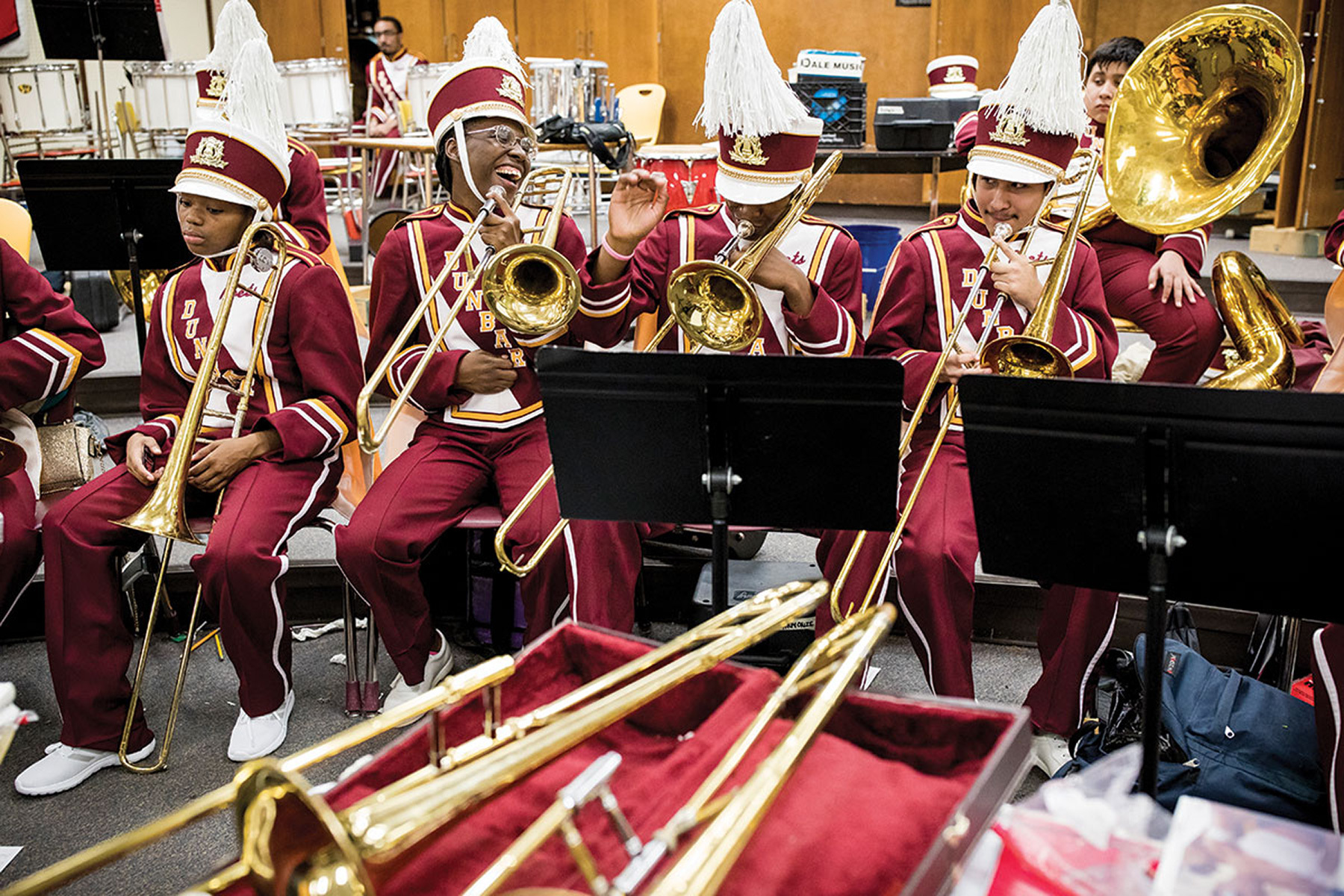 "Being in the band, it's so much
fun because . . . we're a family."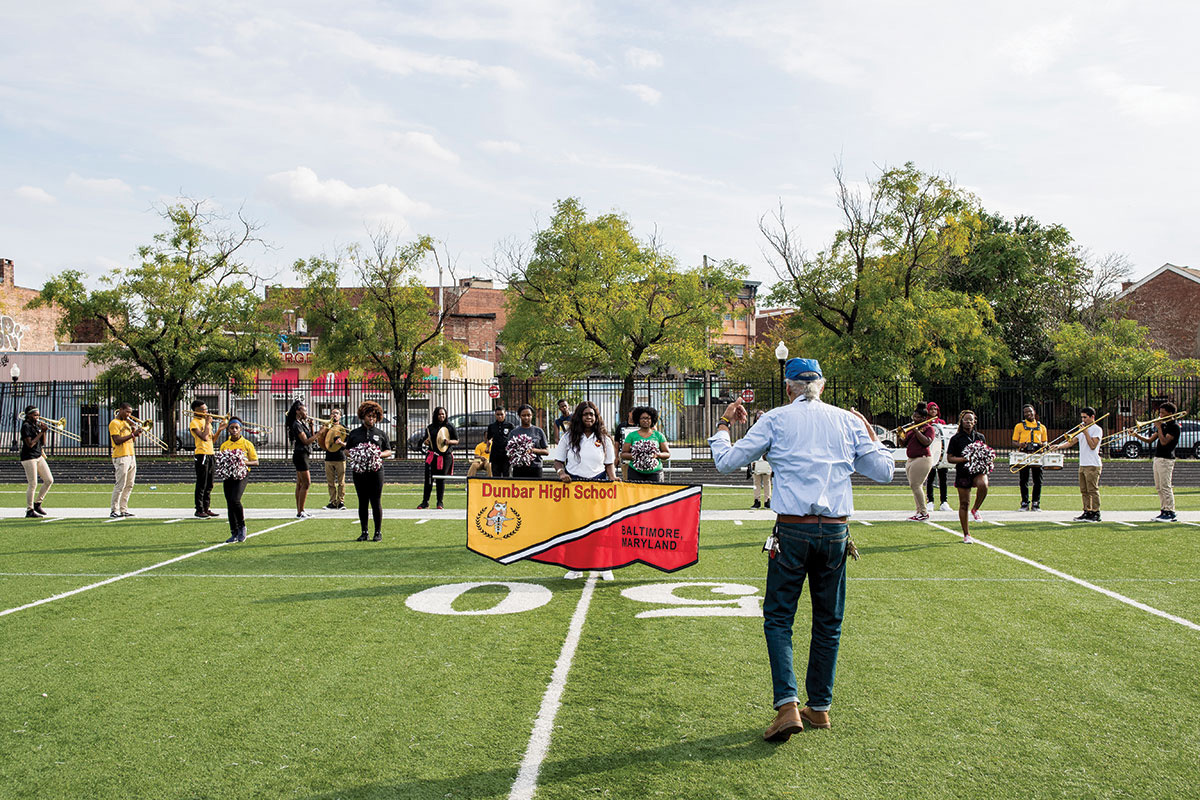 Practice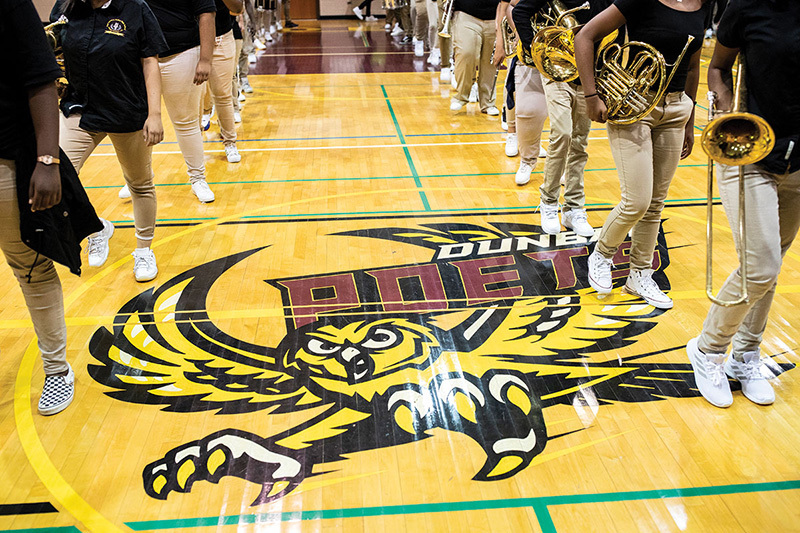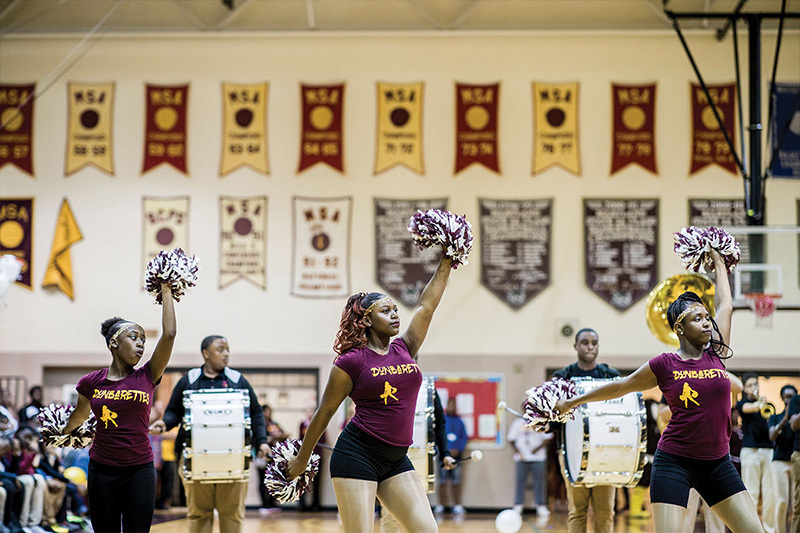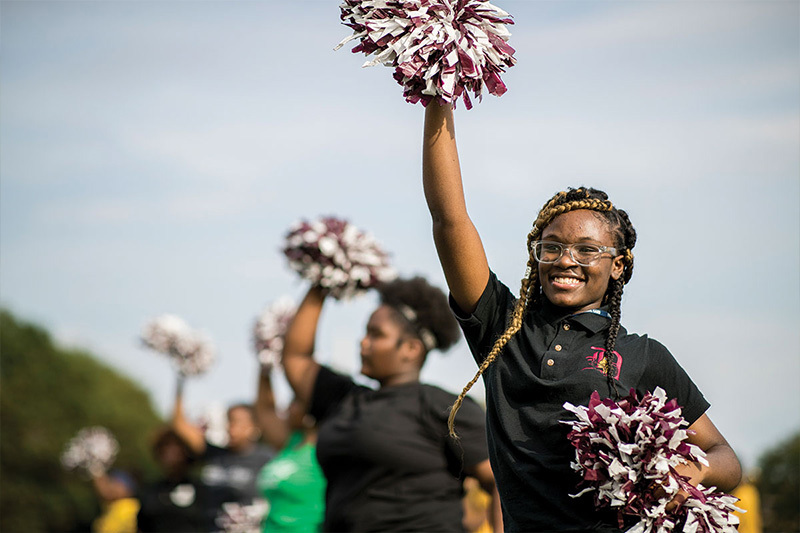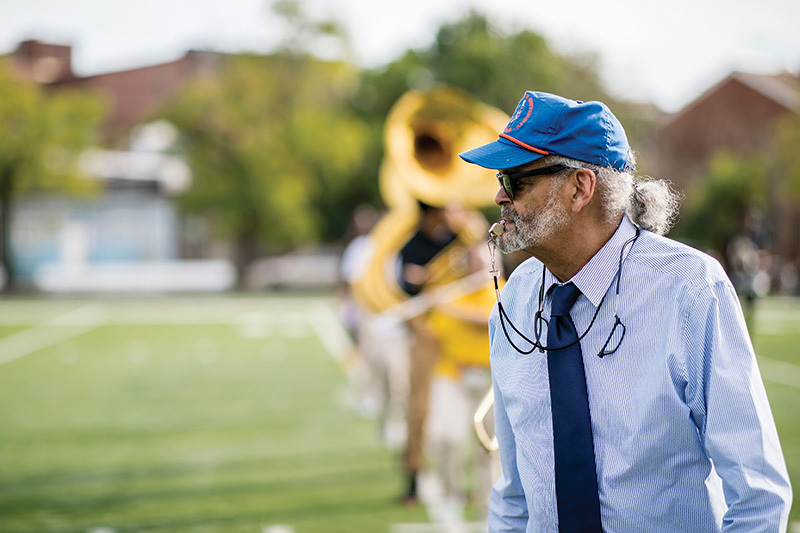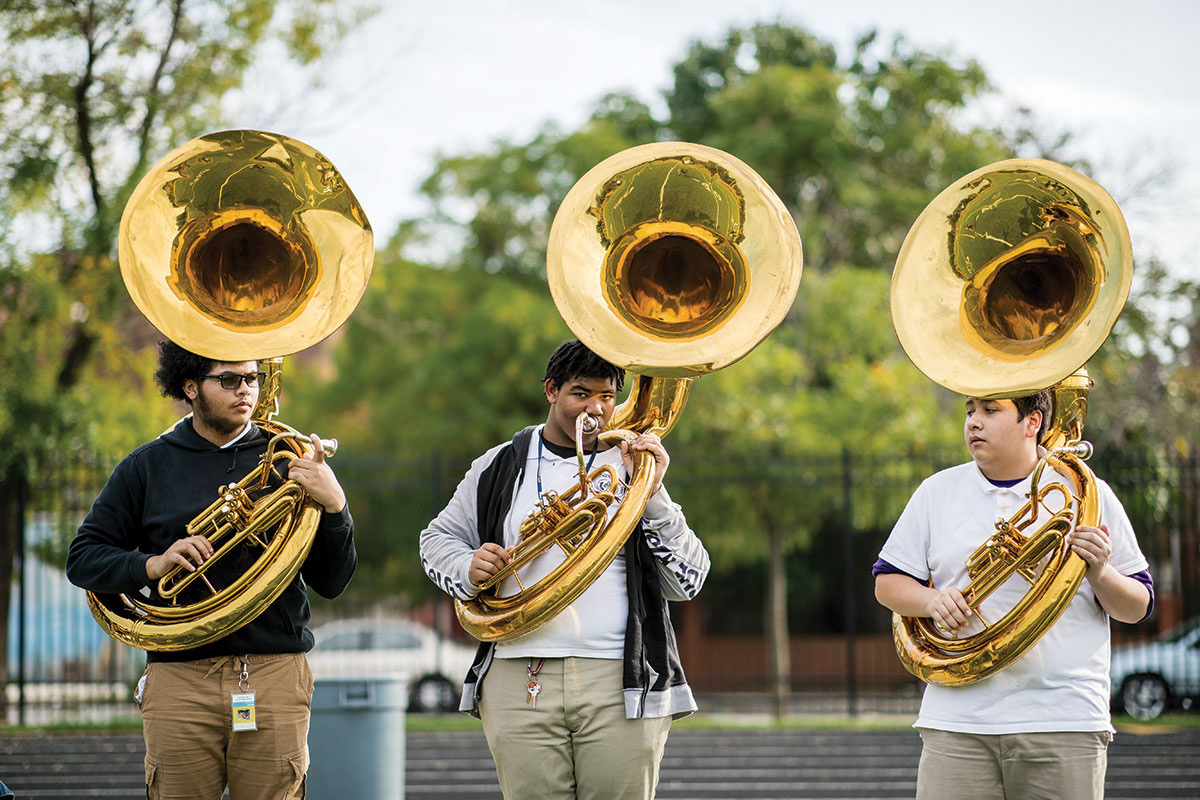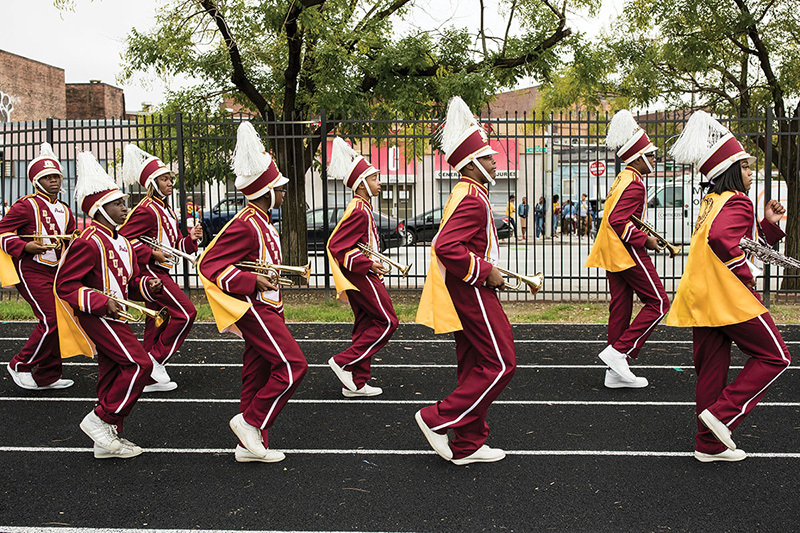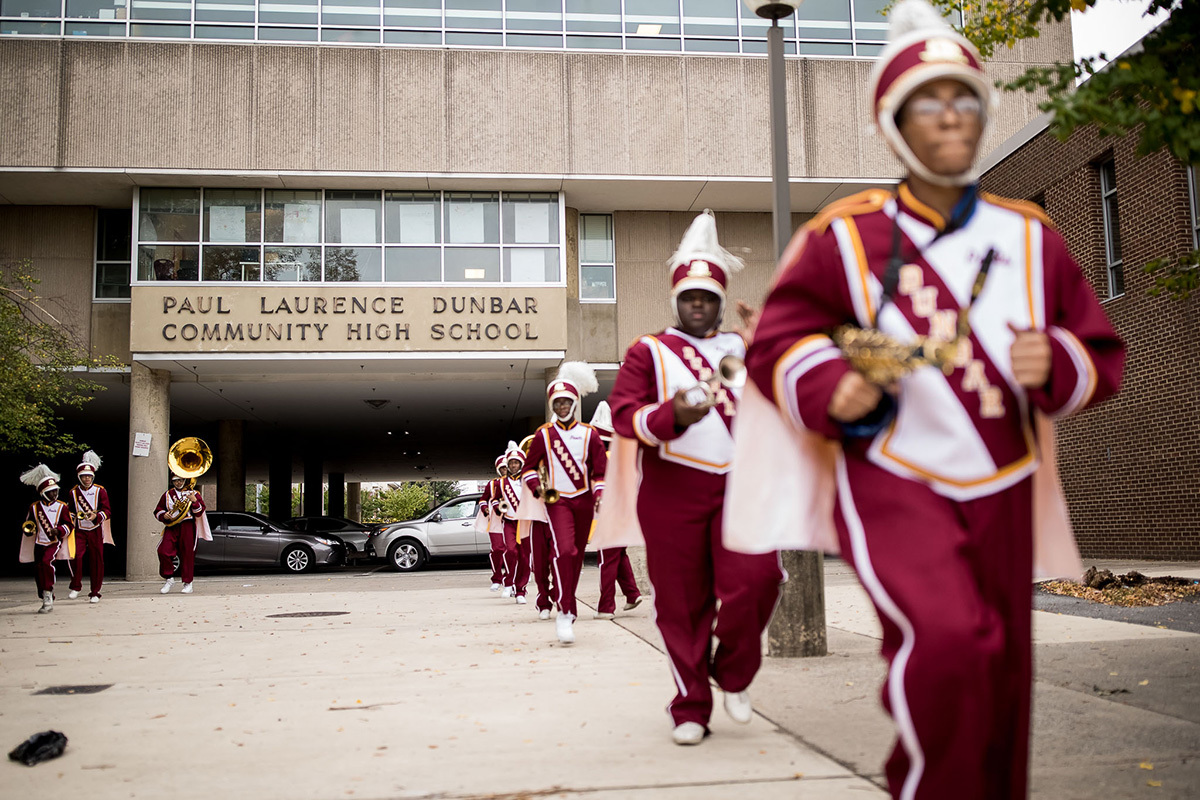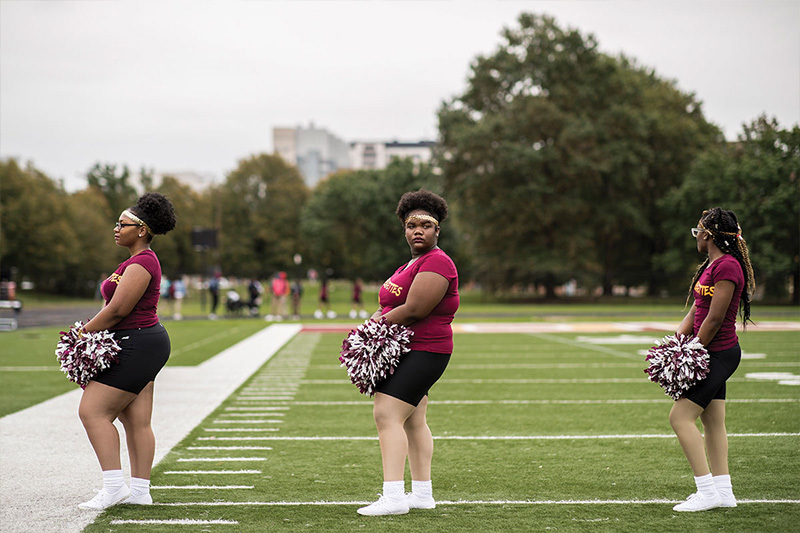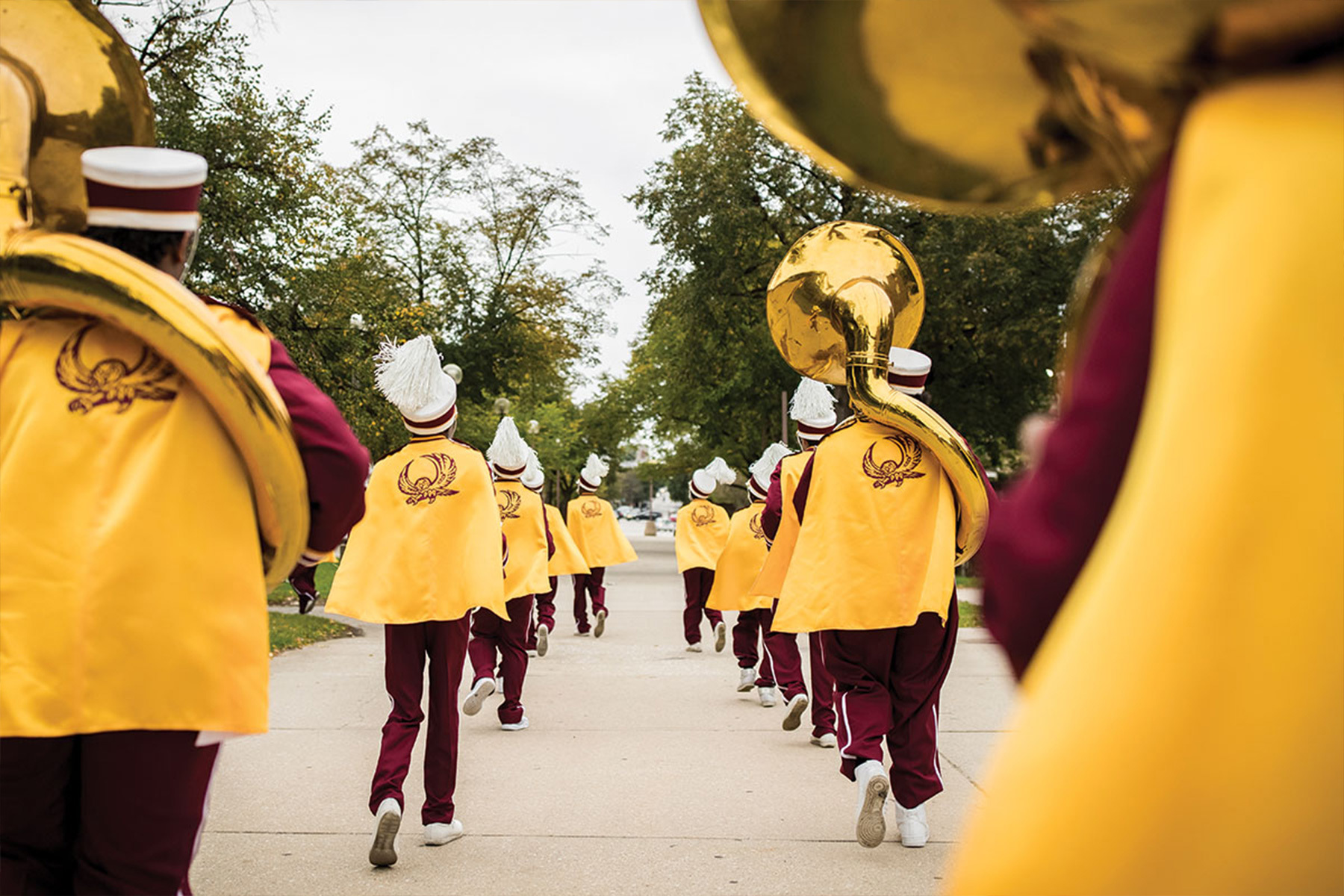 "There's no other band in the city that performs as much as we do."
Performance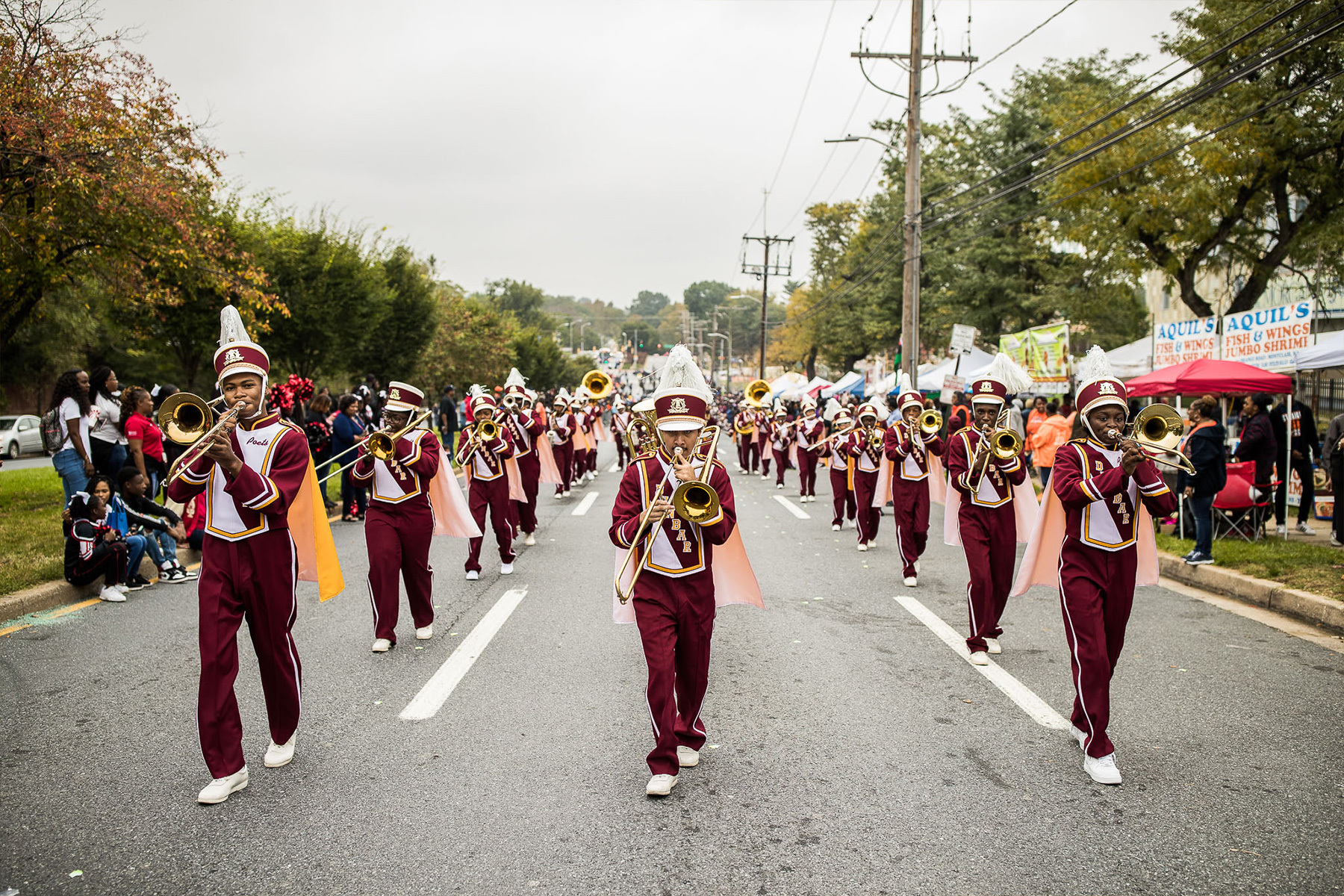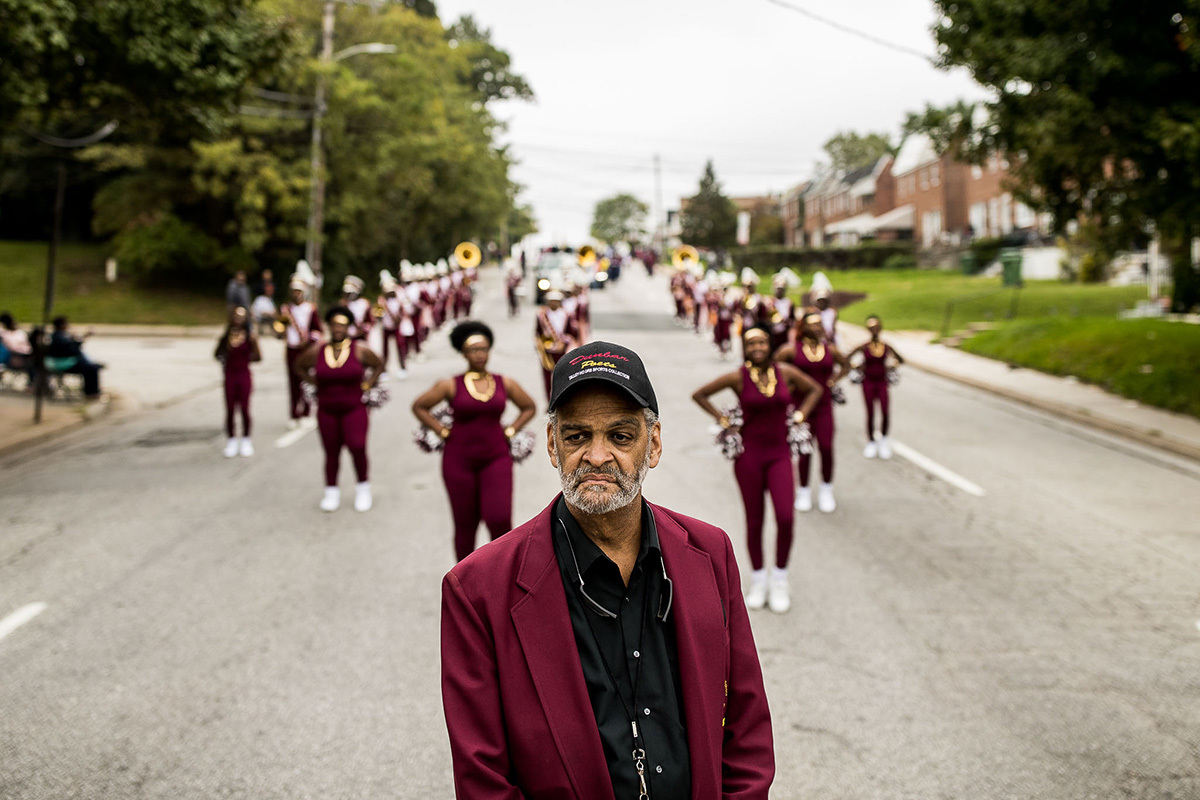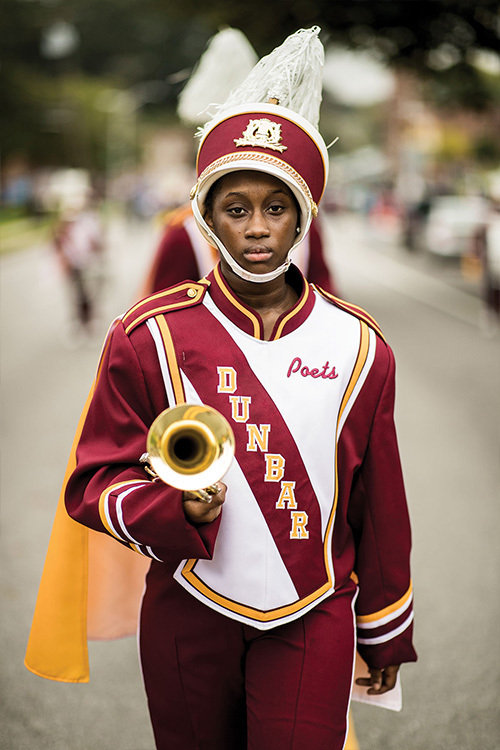 "If they do not perform,
they do not pass my class."